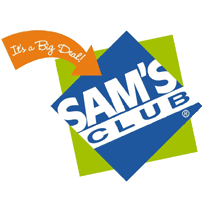 Sam's Wholesale Club
is rolling out discount  e-coupons called "e-Values"  to their Advantage and Business Plus card holders. These Sam's Wholesale Club memberships cost $100 annually. These members  will get customized offers tailored to them and the discounts will automatically come off at the register (e-coupons) when they swipe their Sam's Wholesale Club card at check out.
Members can access their eValues accounts at Sam's Club  or at the kiosks that have been installed inside of over 600 Sam's  Wholesale Club locations. The e-Values coupons can also be sent to iPhone's, Blackberrys and other "smart" phones.
According to the press release from Sam's Wholesale Club, the new discount e-coupons will provide personalized savings on hundreds of offers including fresh food, health & beauty items, office supplies, appliances, electronics, tires, mattresses and even optical services.
HERE is a link  to a TV interview I did about discount e-coupons, "Coupons With No Clipping"
Posts may contain affiliate links. If you purchase a product through an affiliate link, your cost will be the same, and More with Less Today will receive a small commission. Your support is greatly appreciated and it helps this free site to grow and add even more useful content for you. My readers are my first priority. The views and reviews are solely mine. Please share when you find helpful links. I always welcome your input and I appreciate the time you spend with me.
View Today's HOT Deals compiled by Lori at More with Less Today! Click here to see what is free, cheap, or deeply discounted today!