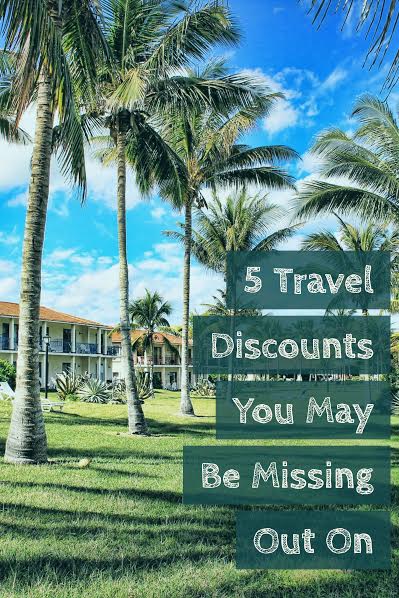 5 Travel Discounts You May Be Missing Out On
If you're looking to cut costs on your next vacation, you may be wondering what discounts are available to you. There are a number of travel discounts that you may not even be aware of or that you simply aren't utilizing. Here are five travel discounts you're missing out on.
Airline Rewards Programs
If you have a credit card that offers frequent flyer miles, why not use it to your advantage? By using these cards throughout the year when you go grocery shopping, holiday shopping, or make other purchases, you can earn free plane tickets. To ensure that you're making the most of your airline rewards programs, check out RewardExpert, which helps travelers create a plan to make sure your next flight is free.
Car Rental Discounts
Once you book a car rental, you might think you can't get a lower rate. This isn't true. Most car rental companies allow you to cancel and rebook at the last minute without a penalty, so you can still make the most of the discounts. To make sure that you don't miss out on a rate drop, try AutoSlash, a free service that checks for rate drops and automatically rebooks your car rental to save you money.
Hotel Loyalty Discounts
Do you regularly stay at chain hotels, such as Marriott, Hilton, Best Western, or Hyatt? If so, you may not be aware of the loyalty programs they offer customers who stay at their hotels regularly. By staying a certain number of nights, you will receive free nights. They also generally offer hotel discounts and room upgrades to loyalty members.
I like Hotels.com because you can earn free nights from all of the major hotel chains and combine them for free nights.
AAA Discounts
Being a member of AAA makes you eligible for a number of different types of discounts. Being a member can help save you money on your hotel room or when dining at restaurants, even on theme park tickets. If you're already a member, it's a must to take advantage of these discounts. And if you're not a member, it can't hurt to sign up. It's great to have roadside assistance, especially if you're planning a road trip.
Gas Rewards
Don't pay full price at the gas pump. Look to FuelRewards. You can earn cashback for money that you spend when you shopping online, dining out, and even when you book flights, rental cars, and hotels. Since FuelRewards is free to use, there's no reason not to take advantage of it.
These are just some of the travel discounts that you may want to consider using. Not only are they easy to use, but they can help lead to huge savings!
Erin Gifford is a mother of four who looks up and down for ways to save money on travel for her big family. She has a family travel blog, Kidventurous, which was recently selected as a top family travel resource by Parents magazine.