This post is in partnership with Omaha Steaks. As always, all opinions are 100% my own.
Send Love Across the Miles for Mother's Day- Staying Close When You Live Far Apart
Mother's Day always gives me a lump in my throat. I remember when I was growing up that my dad would conspire with us to serve breakfast in bed to our mom who was mysteriously sleeping in. We would make a ton of noise and a huge mess in the kitchen. We never caught on that she was in on the plan. It brings back so many happy memories. Food was at the center of all of our traditions and happy times and that part has not changed.
Now I live on the other side of the country and only see my mom a few times a year. My brother and sisters live closer to her and see her often.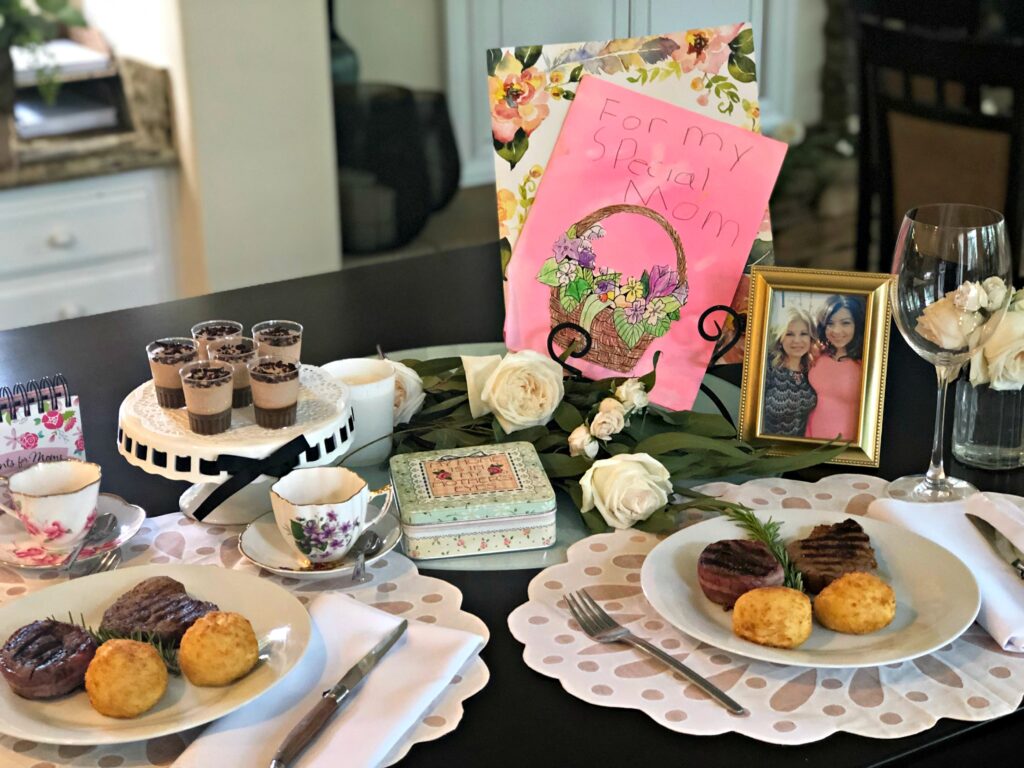 To stay connected and be part of their celebration, I'm sending my mom a special meal from Omaha Steaks.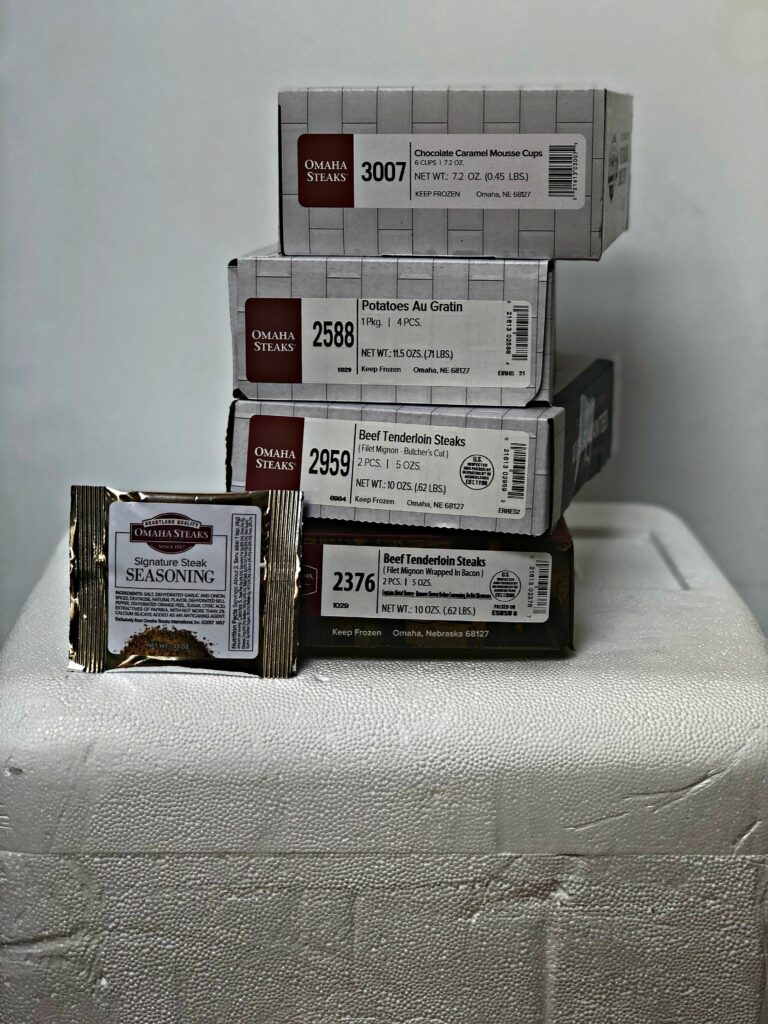 She loves a good meal and Omaha Steaks makes it so easy. Did you know they also have seafood, oven ready prepared meals, slow cooker meals, and skillet meals too? If mom prefers brunch, you can choose among several options. There are so many delicious ways to spoil mom with a gift sent from Omaha Steaks.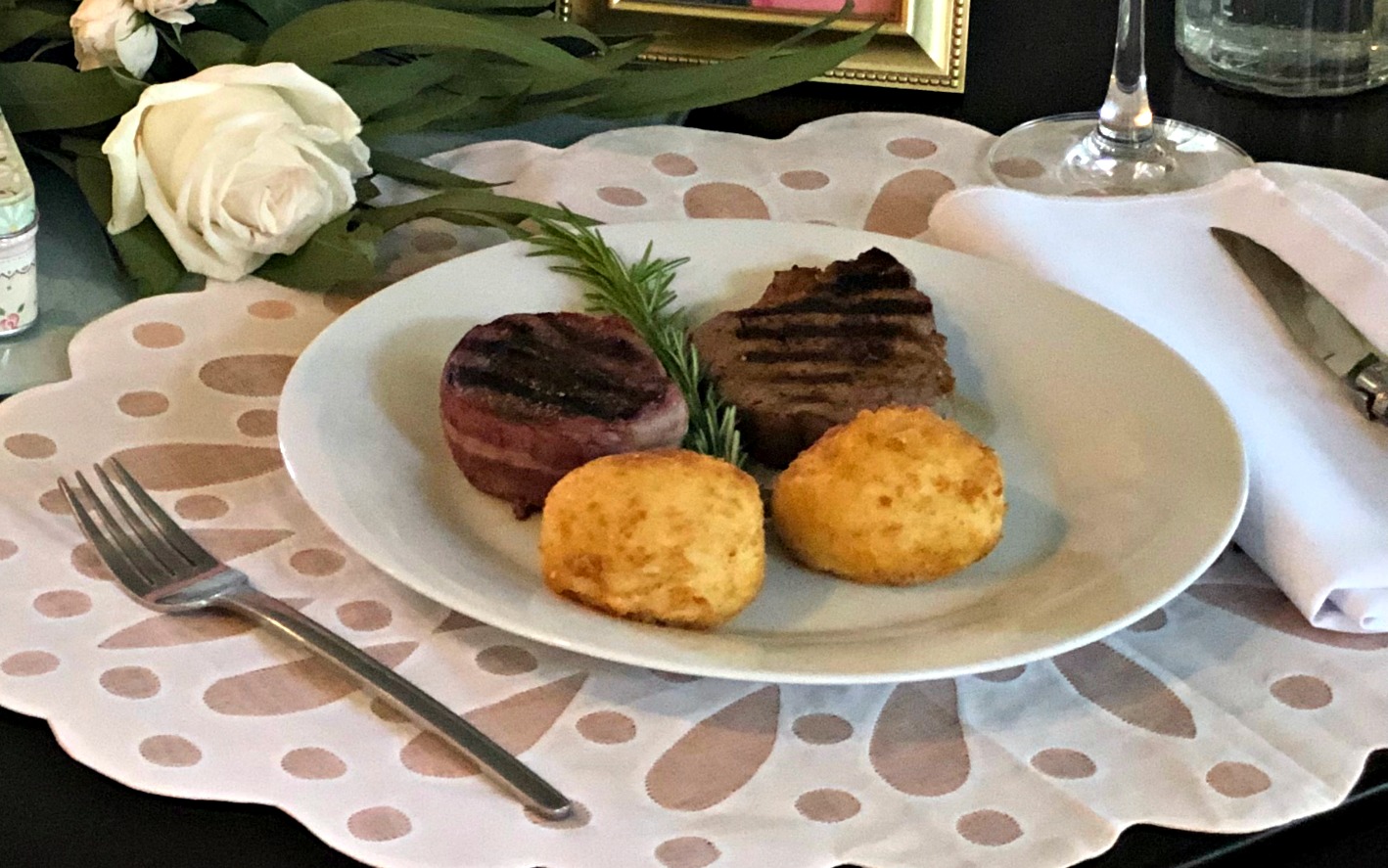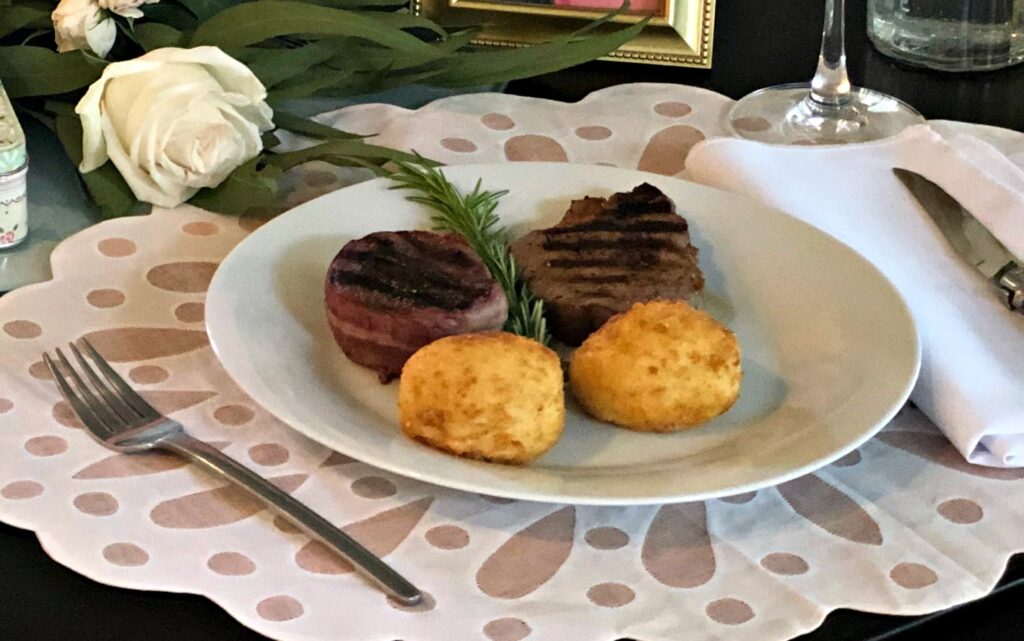 My family and I had a chance to enjoy an early Mother's Day meal from Omaha Steaks. I chose the Steakhouse Dinner Essentials package because I just love their Filet Mignon. I decorated our table with a few of my favorite Mother's Day cards and notes from when the kids were small. Did you save all of them too?
My Steakhouse Dinner package contained:
2 (5 oz.) Butcher's Cut Filet Mignons
2 (5 oz.) Bacon-Wrapped Filet Mignons
4 (2.88) Potatoes au Gratin
6 (1.2 oz.) Mini Chocolate Mousse & Caramel Cups
1 OS Seasoning Packet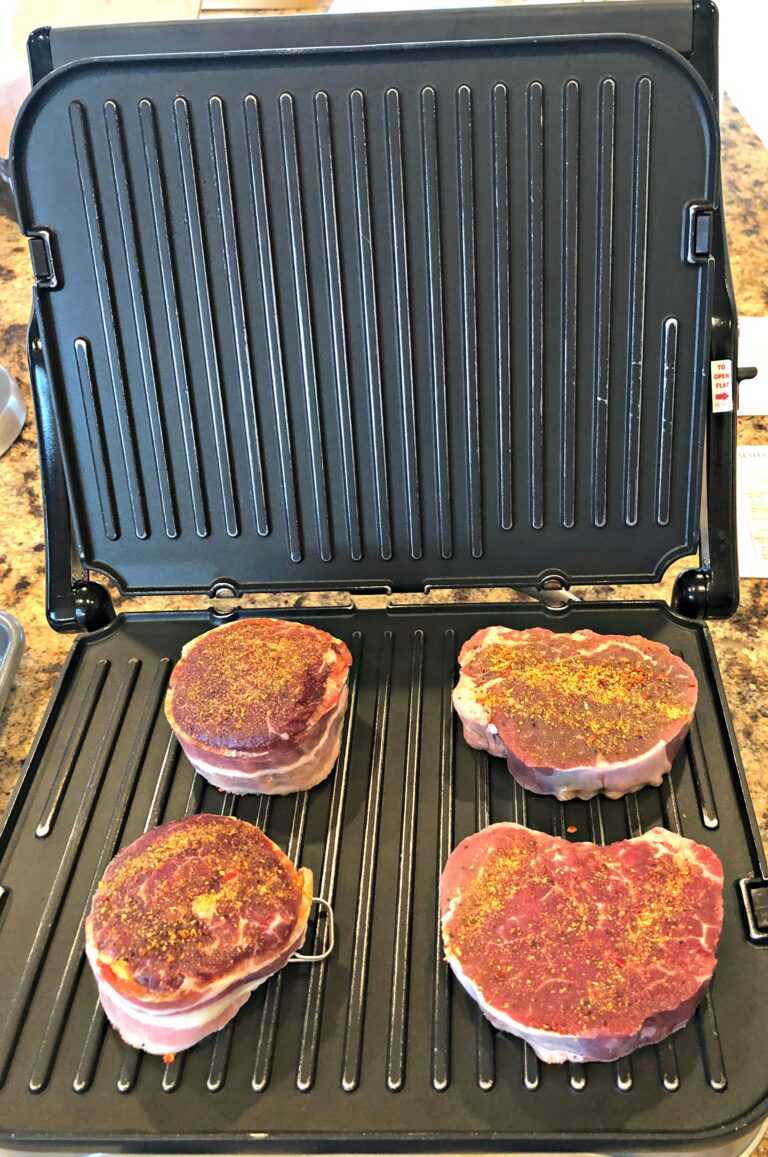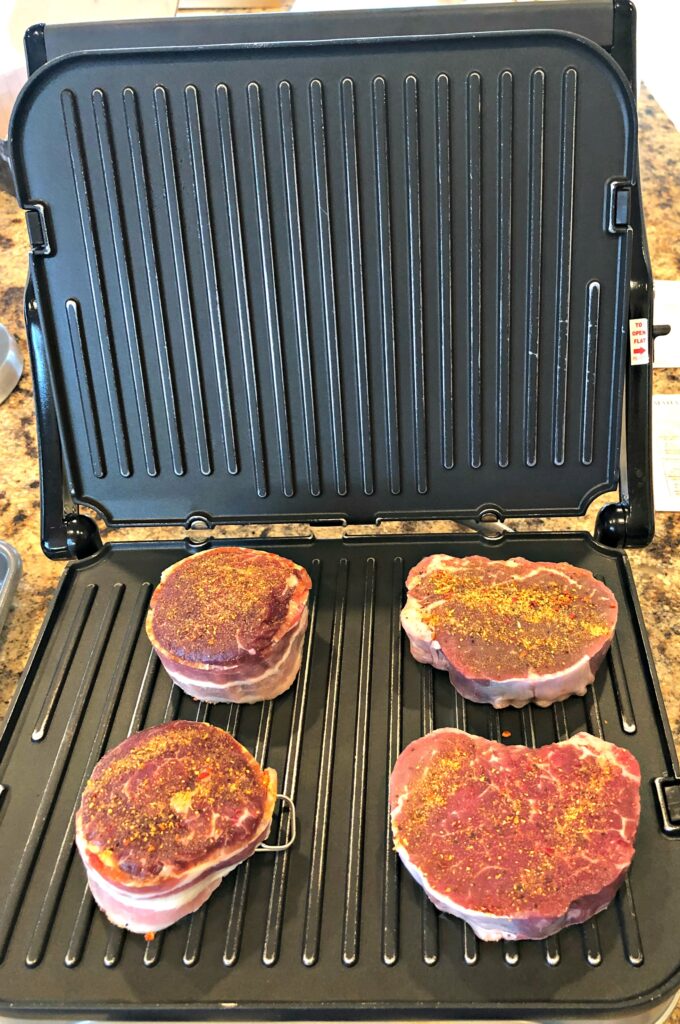 This was the first time I used an indoor grill to cook my Omaha Steaks and they came out perfect! It's another easy option if you don't want to fire up the grill.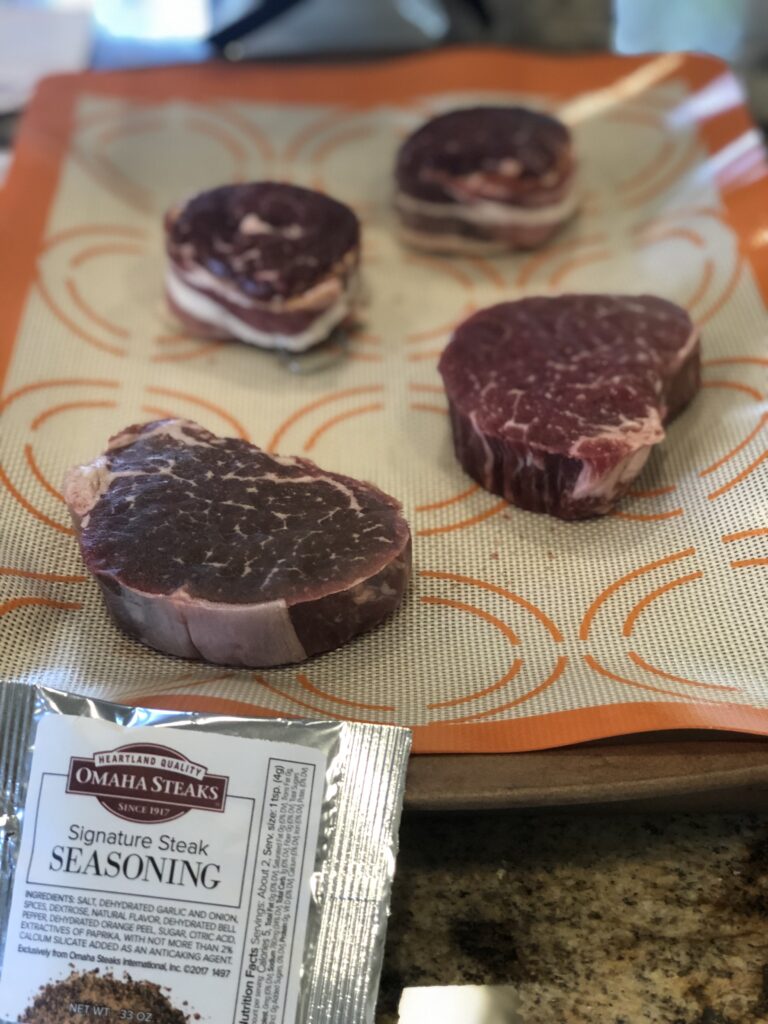 I just added the Seasoning Packet to the steaks that came with my meal. It could not have been any easier! You will find easy instructions for cooking your items on every package and on their website.
Mom can choose between a tender filet-mignon or one of Omaha Steaks signature bacon-wrapped fillets, or she can have both. It's her day!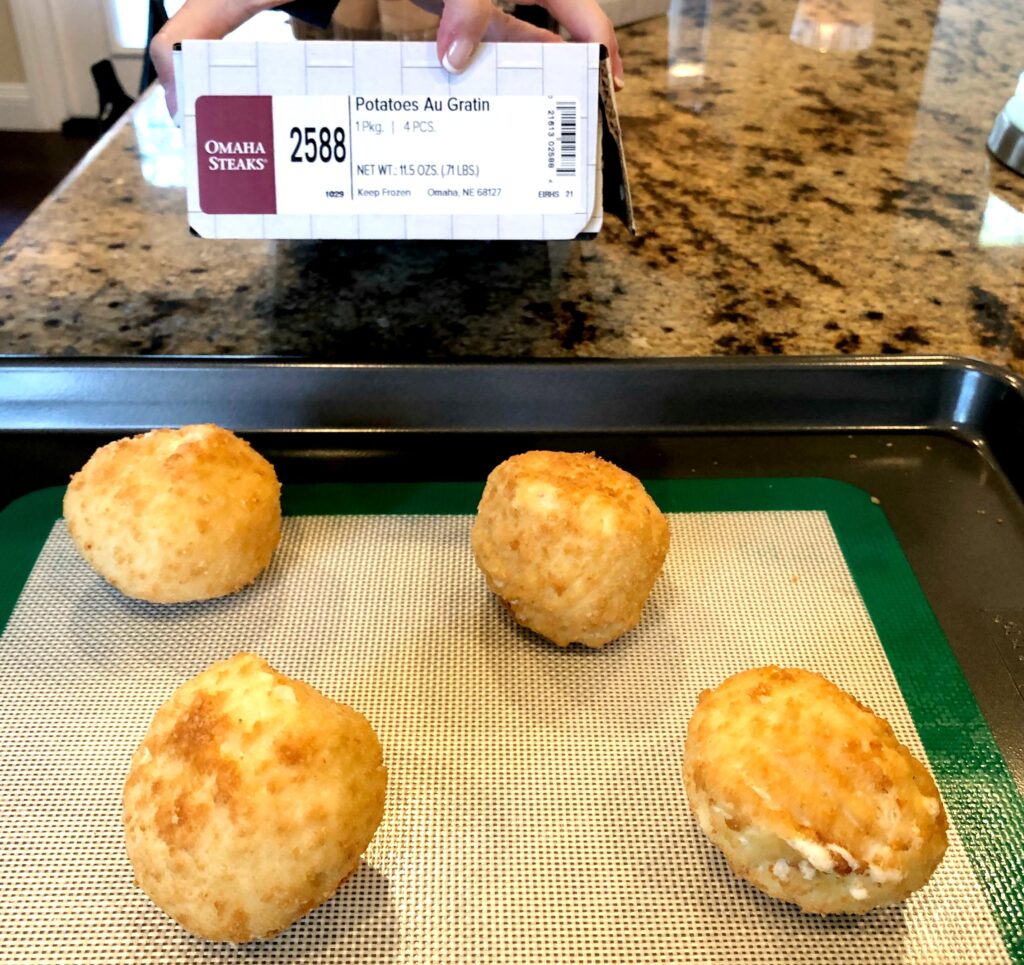 We enjoyed the Potaoes au Gratin once again. We also ordered them with our Easter meal. They are pre-browned and you do is bake and serve. They look and taste like a gourmet cook made them!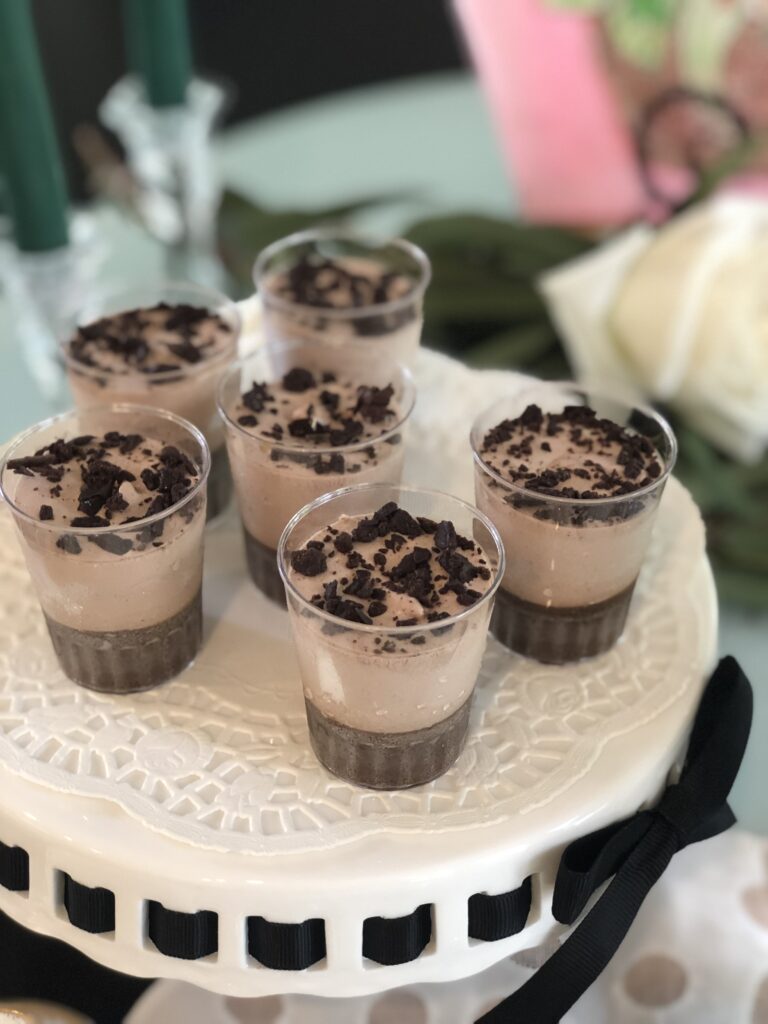 The Mini Chocolate Mousse & Caramel Cups were such a hit. How can you miss when you combine chocolate and caramel? Not only were they delicious, but the portion size was also just right. I know my mom is going to love the dessert too. There are six in each order so she will get to enjoy them a few times! All you do is thaw and serve.
With any choice you make from Omaha Steaks, you know you will be sending or receiving the very best. They guarantee that you are thrilled with an unconditional guarantee. Place your order today to take advantage of standard delivery!
Over the years, I have come up with some thoughtful ways to celebrate Mom across the miles and I wanted to share them with you.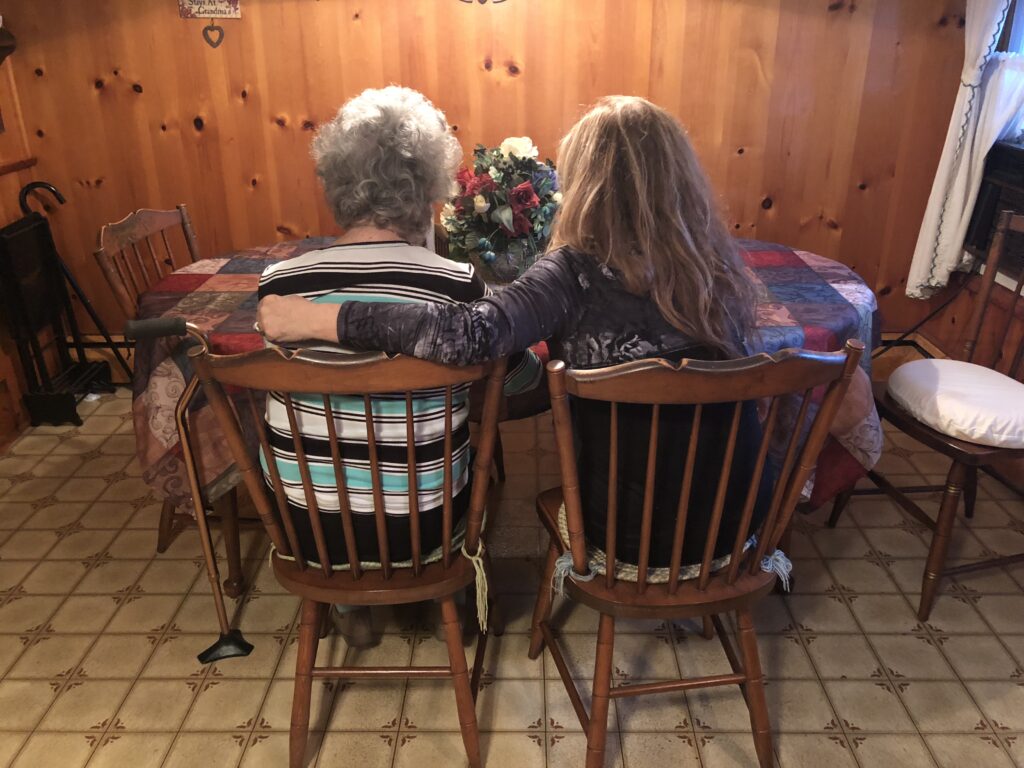 If you have an older mom as I do, she probably does not need any more clothes or knickknacks. Each time I visit, my mom encourages me to "take something from the house" as she wants to pare down.
Make a family video or arrange a time to "face time" with mom for Mother's Day. If you have an older mom like me, ask someone to help mom to log in and see you in action. It is so much better than just a card!
Buy a white tablecloth and fabric markers and have your family members write favorite quotes, memories, and drawings for mom to enjoy on her table every day.
Make a personalized journal for mom from a plain small notebook. Include a photo on the cover and include quotes, pictures, and memories of time spent together.
Select a book that mom would enjoy and buy two copies. Keep one for yourself and start a book club together. Read the book at the same time and discuss it in phone calls or emails. Include a homemade bookmark with a photo or a quote. I made bookmarks for my family as a Christmas gift one year using a photo of my parents when they were dating and a photocopy of something my dad wrote in a card before he passed away. We all treasure the bookmark and remember him through his handwriting. You can find plain bookmarks to decorate at your craft store.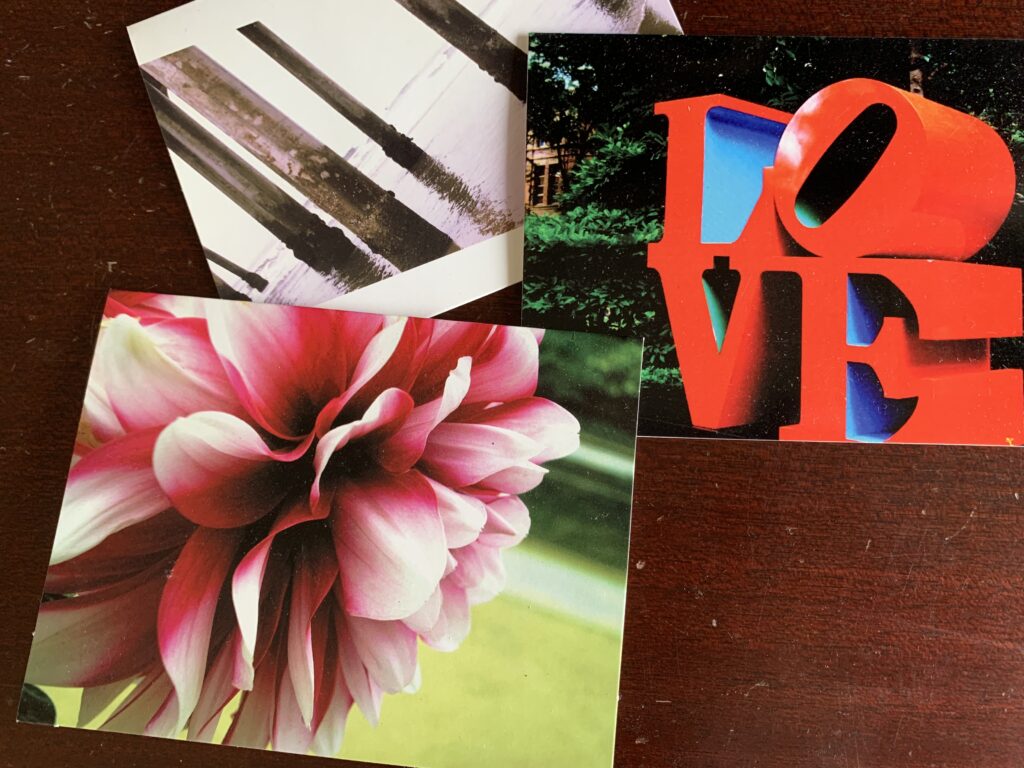 Find special photographs and turn them into note cards. This is easy to do through Vistaprint or online photo service companies. Perhaps you can include mom's favorite flowers or a family photograph. I made these as a gift one year when my daughter was taking a photography class at school, and they came out so lovely that family members framed many of them instead of writing in them.
Create a family blog or Facebook group as a place to stay connected throughout the year.
Make a cookbook of Mom's favorite recipes to share with her and other family members to preserve the traditions and her best recipes.
These are just a few ideas to help you honor mom across the miles. Don't let distance hinder you from showering mom with love on her special day.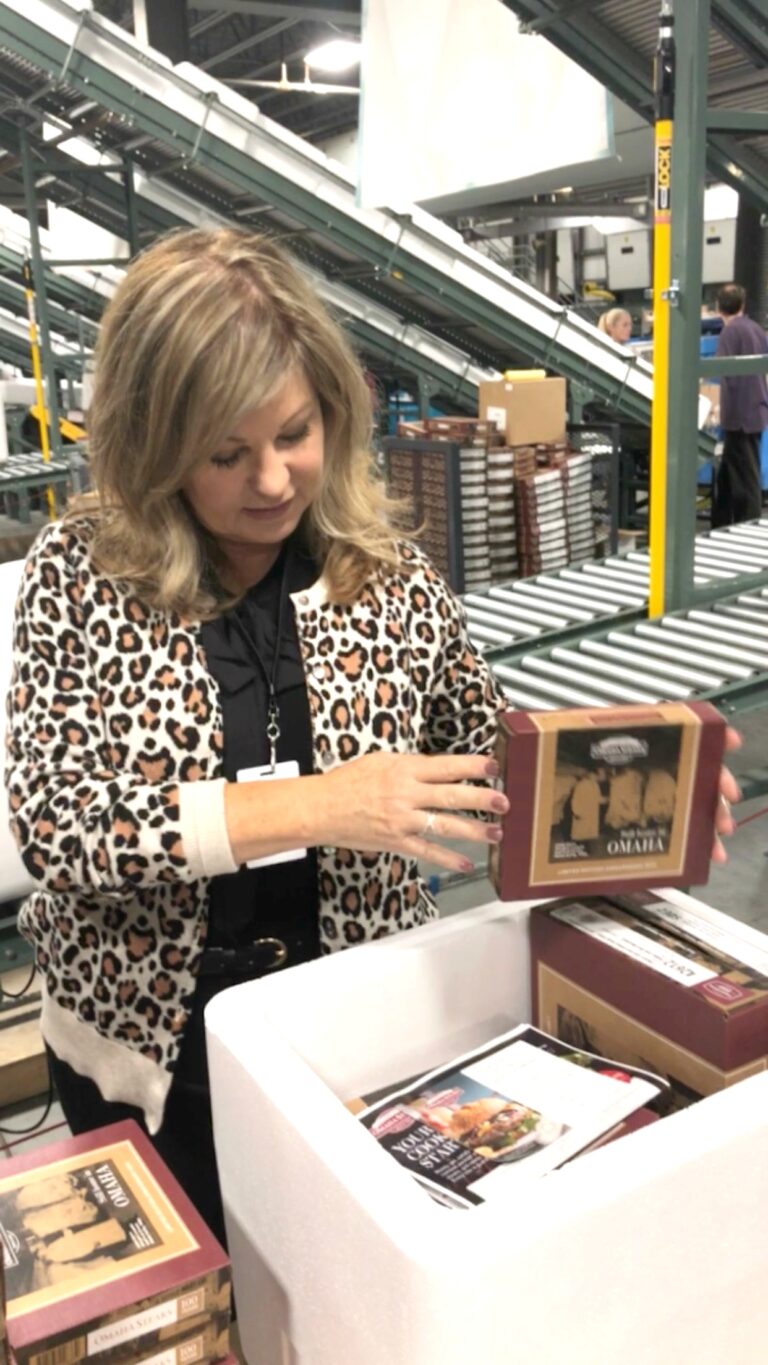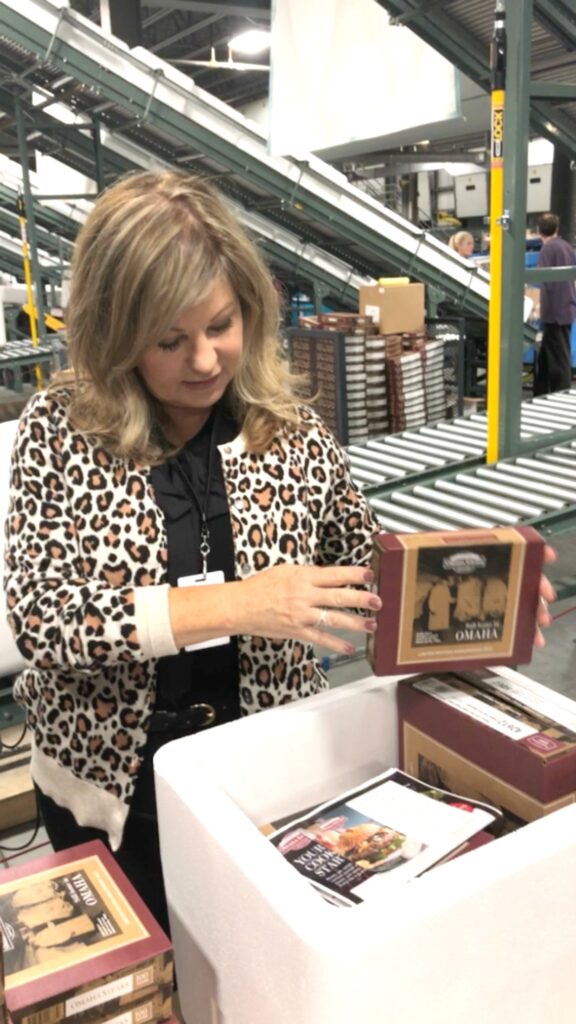 I'm proud to be an ambassador for Omaha Steaks. The quality and care they put into each delivery were apparent when I got a behind the scenes tour in Omaha last year.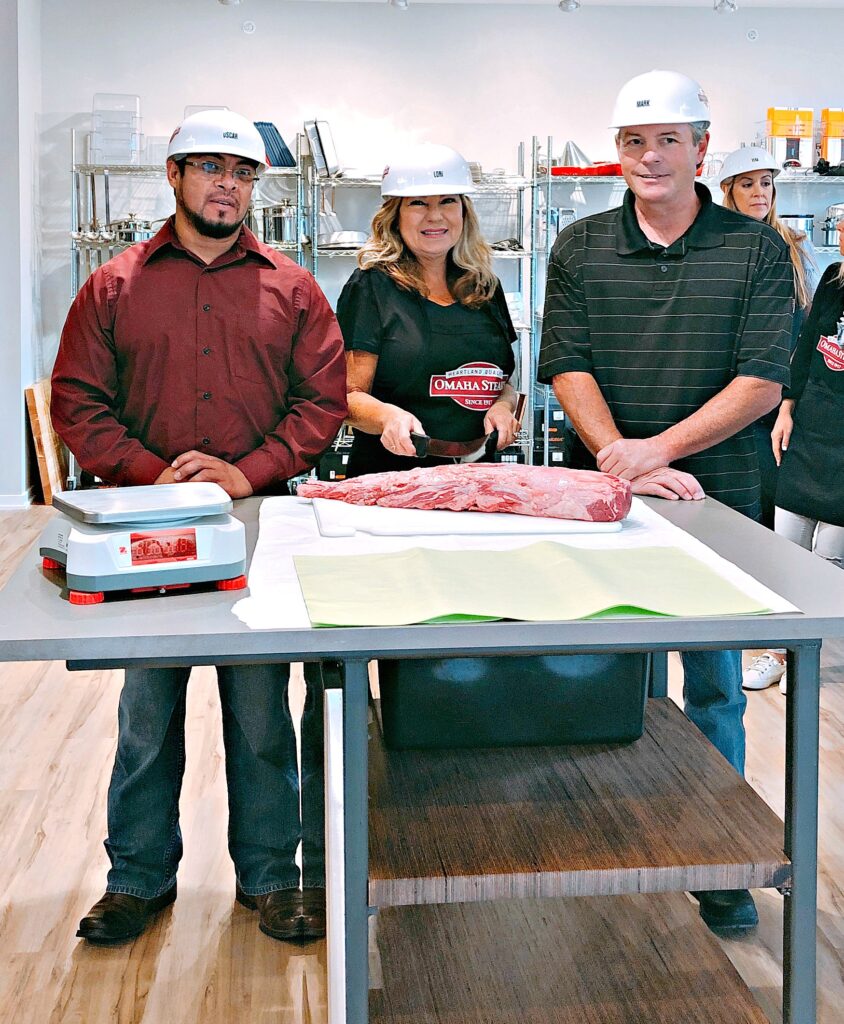 For more delicious options, check out these Omaha Steaks selections our family has enjoyed:
Easy Appetizers for a Party from Omaha Steaks
The Omaha Cut Ribeye from Omaha Steaks
Boneless Chicken Breasts from Omaha Steaks
Argentinian Shrimp from World Port Seafood/Omaha Steaks
Butcher's Breakfast – one pan skillet breakfasts
My Thanksgiving Meal Delivered from Omaha Steaks
Here is one of my most popular posts: Money Saving Tips for Omaha Steaks
Omaha Steaks has a 100% guarantee and they stand behind every item on their menu with no questions asked. You can order from them with complete confidence knowing that they will deliver the highest quality food to you in the safest way possible.
Omaha Steaks is also very community-minded and they support many local and national charities. They also provide products and discounts to the military which as a veteran, is near and dear to my heart.
PIN for Later!