I'm partnering with Omaha Steaks as an ambassador to tell you about a tasty lean-protein option you may not have tried. Our family loved these Bacon-Wrapped Center-Cut Boneless Pork Chops from Omaha Steaks. They are extra thick and extra flavorful. I'm sure it's the big strip of sugar-cured pork bacon that adds the magic touch. They will melt in your mouth!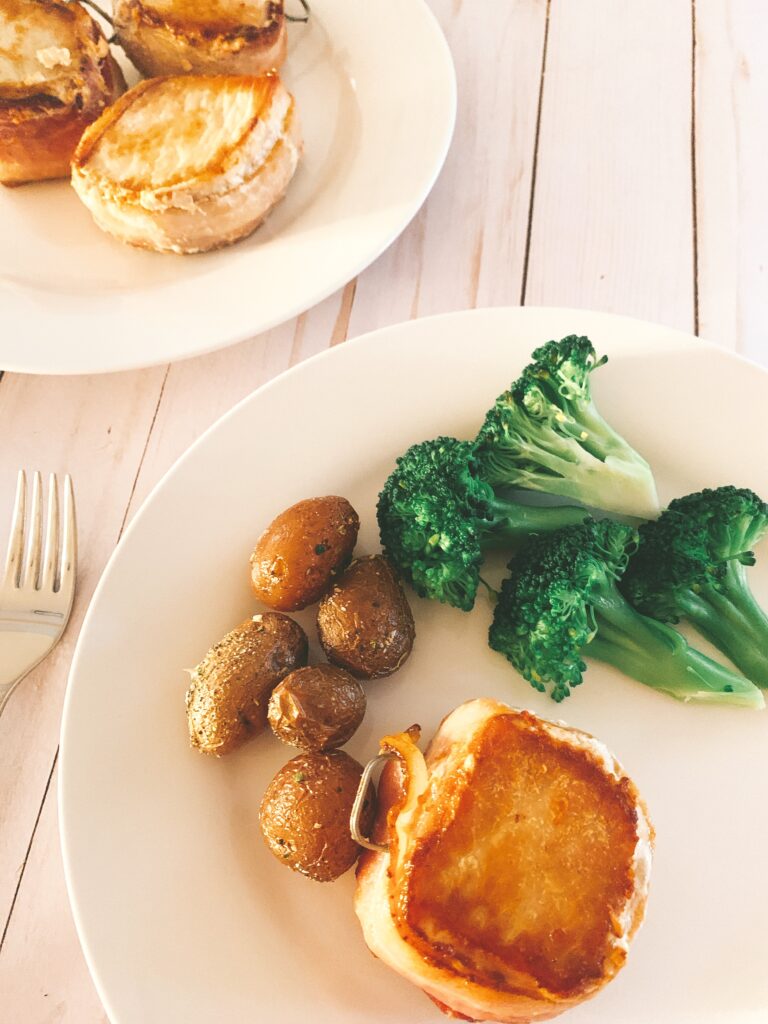 You can choose your favorite method to prepare them; grilled, pan-fried, baked or broiled. Stay tuned, and I will share how I prepared mine.
Bacon-Wrapped Pork Chops Ingredients
I made an easy garlic butter glaze, but that is optional. The bacon alone adds a lot of flavor.
Here are the ingredients:
Good quality butter (if possible organic, grass-fed or ghee)

Garlic

Salt and ground black pepper

Olive Oil

Pork Chops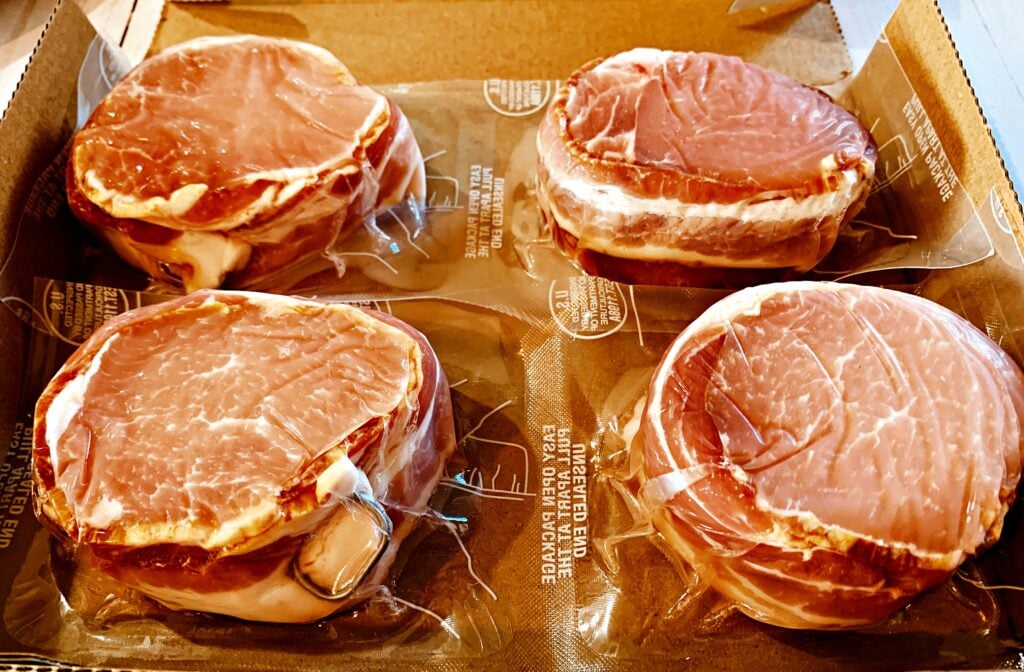 The Bacon-Wrapped Pork Chops from Omaha Steaks are individually flash-frozen and individually sealed so you can cook as many as you need and save the rest to enjoy later.
What is the Best Way to Cook Pork Chops?
You'll find different opinions but I think the best way to cook pork chops is to first sear them in a cast iron pan on the stove and then finish cooking them by baking them in the oven. You will have that beautiful brown crust on the outside and a very tender and juicy pork chop in the middle.
Bacon-Wrapped Pork Chops Directions
Follow these easy directions and you'll have a delicious meal on the table in about 30 minutes.
First, thaw the pork chops in the refrigerator overnight.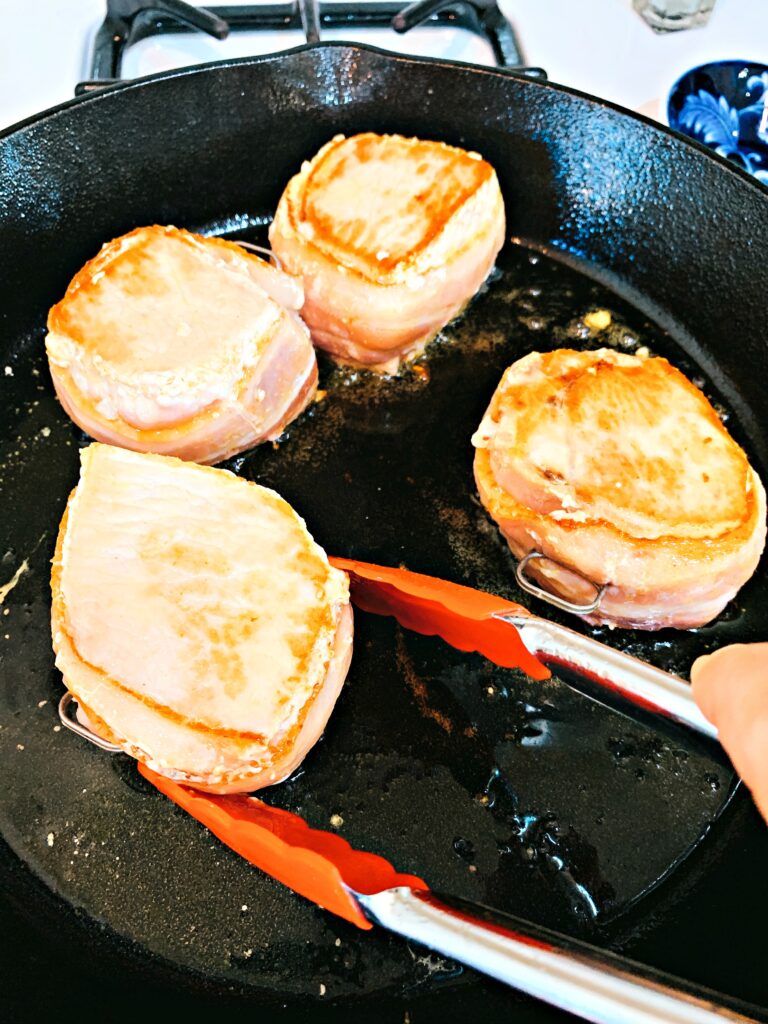 Preheat 2 tbsp of olive oil in the cast iron pan on medium heat for 2-3 minutes.
Remove pork chops from packaging and season with salt and pepper to taste.
Add them to a Cast Iron Skillet and cook until the sides are nice and brown. It will only take about 2-4 minutes per side, so flip them and watch them carefully.
Add 4 tablespoons of butter and mince one garlic clove and add that to the cast iron pan. Stir continuously and make sure the garlic does not burn. It only takes a few minutes, just until the garlic is fragrant.
While you are searing the pork chops, pre-heat your oven to 400°F.
Pour the sauce from the pan (which will include your garlic butter) over the pork chops and bake them.
You can bake your pork chops right in the cast iron pan. I prefer transferring it to a roasting pan or baking sheet only because I am more familiar with how long items take to bake in my oven this way.
Cook for 20-25 minutes until they reach an internal temperature of 150ºF. Test it by inserting a meat thermometer into the thickest part of the pork chop.
Tip- put some foil loosely over the pork chops to prevent the bacon from splattering inside the oven.
Oh, the aroma of them baking should be put in a bottle and sold!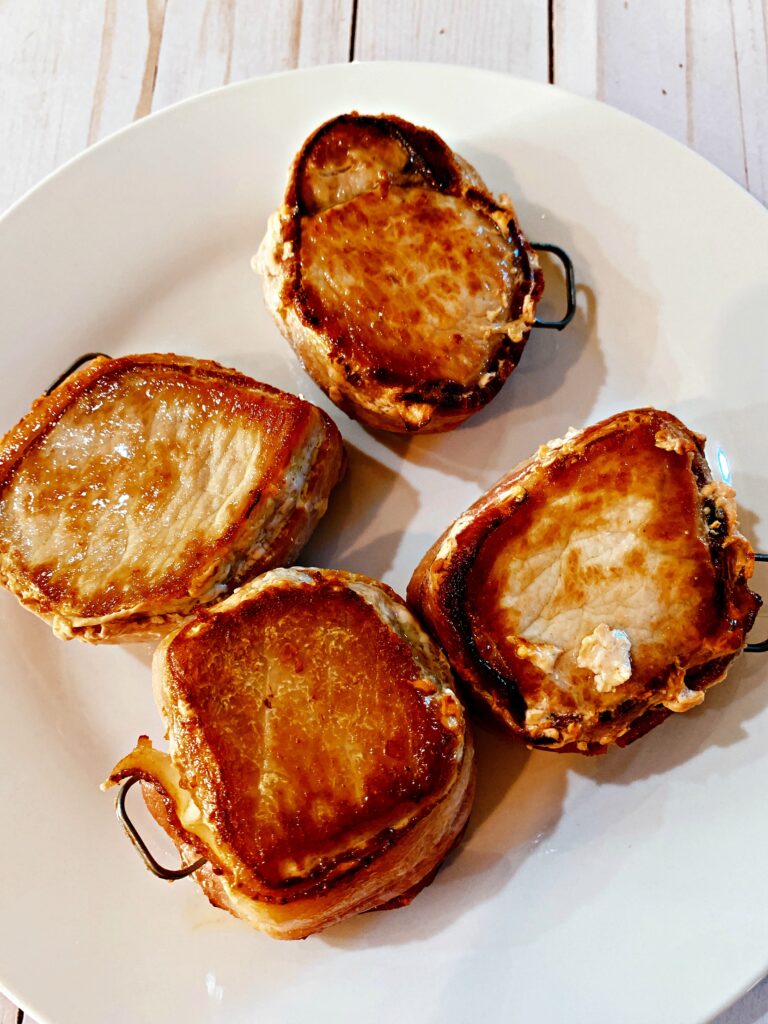 Sides that go well with Garlic Butter Baked Pork Chops
Any vegetable will pair perfectly. Here are some you can order right from Omaha Steaks and don't forget to add on a dessert. You can thank me later!
You May Also Enjoy:
About Omaha Steaks
Omaha Steaks has a stellar reputation as America's original butcher. They are known for only the highest-quality cuts of meat, all delivered right to your door (or at one of their store locations).
When I was introduced as an ambassador with Omaha Steaks, I got to meet the Simon brothers, the fifth generation of this family-owned company that dates back to 1917, and the Omaha Steaks family of employees who take such pride in their work, their attention to food safety, quality control, and customer care. They made me feel both comfortable and proud to share their story and their products with my family and with you.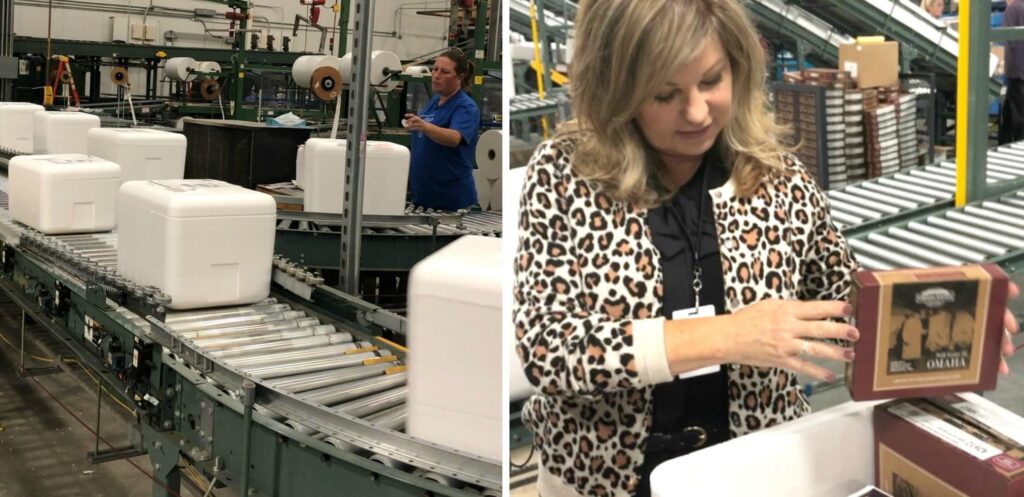 I toured the shipping facility that packs and ships out their products. with so much care. It is quite an operation!
For more delicious options, check out these Omaha Steaks selections our family has enjoyed:
Delicious Desserts You Can Order Online
Easy Appetizers for a Party from Omaha Steaks
The Omaha Cut Ribeye from Omaha Steaks
Boneless Chicken Breasts from Omaha Steaks
Argentinian Shrimp from World Port Seafood/Omaha Steaks
Butcher's Breakfast – one pan skillet breakfasts
My Thanksgiving Meal Delivered from Omaha Steaks
Easy Easter Meals to Order Online
Here is one of my most popular posts: Money-Saving Tips for Omaha Steaks
Omaha Steaks has a 100% guarantee and they stand behind every item on their menu with no questions asked. You can order from them with complete confidence knowing that they will deliver the highest quality food to you in the safest way possible.
Omaha Steaks is also very community-minded and they support many local and national charities. They also provide products and discounts to the military which as a veteran, is near and dear to my heart.