This post is in partnership with Acorn. All opinions are 100% my own.
My daughter is an elementary school teacher in an inner-city school. I get to see firsthand the challenges she faces in wanting to provide her students with what they need and having to pay for many of things herself. In her first year of teaching, I know she spent over $4000 out of pocket. We can talk forever about how to fix this but today's reality is that most of our schools don't have the money they need.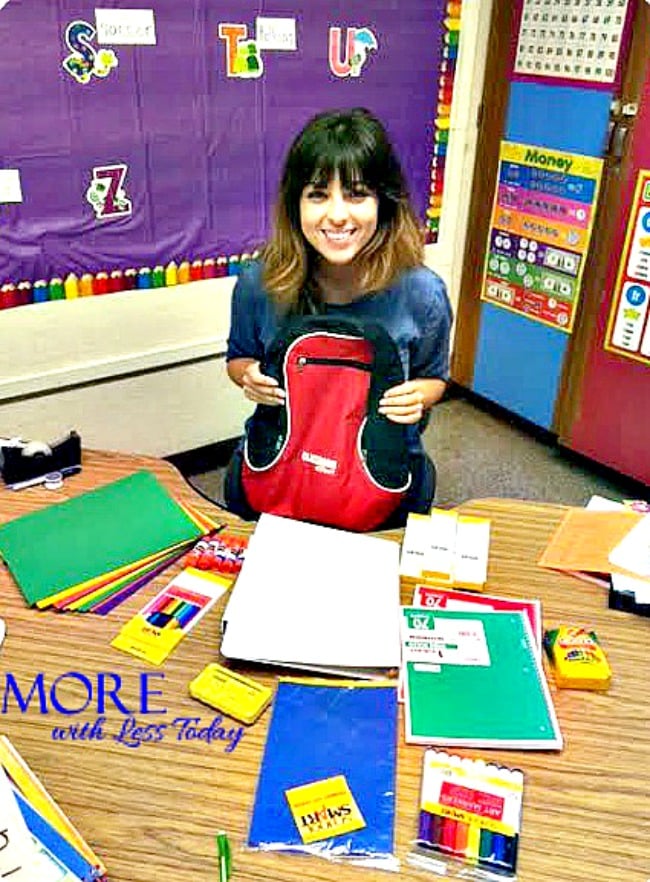 The good news is that there is an easy way to help – even if you don't have your own children, you can help our schools and teachers simply by downloading and using the new Box Tops Bonus App.
You may already be familiar with Box Tops for Education. You will see them on all kinds of popular products from cereal, snacks, and household staples like Kleenex®.
Box Tops for Education was started by General Mills in California in 1996 as a way to help support education and benefit America's schools.
More info on the History of Box Tops for Education
"General Mills wanted to create a program to help support education and benefit America's schools – and so, Box Tops for Education™ was born. As part of the initial test program, Box Tops were only available on select Big G cereals, such as Cheerios™, Total™, and Lucky Charms™.
The program was such a huge success that it soon launched on other General Mills products and expanded across the nation. By 1998, more than 30,000 schools were clipping Box Tops and earning cash to buy the things they needed: books, computers, playground equipment and more.
Over the next four years, the Box Tops for Education™ program doubled to include brands such as Pillsbury™, Old El Paso™, and Green Giant™. By 2004, over 82,000 schools across the nation participated in Box Tops, earning more than $100 million.
In 2006, for the first time, non-food brands began to participate; now families could clip Box Tops from Ziploc®, Hefty®, Kleenex® and Scott® products, too. As the program expanded, school earnings increased. By 2010, schools across the nation had earned over $320 million.
Today, America's schools have earned over $868 million, and you can find Box Tops on hundreds of products throughout the grocery store and online."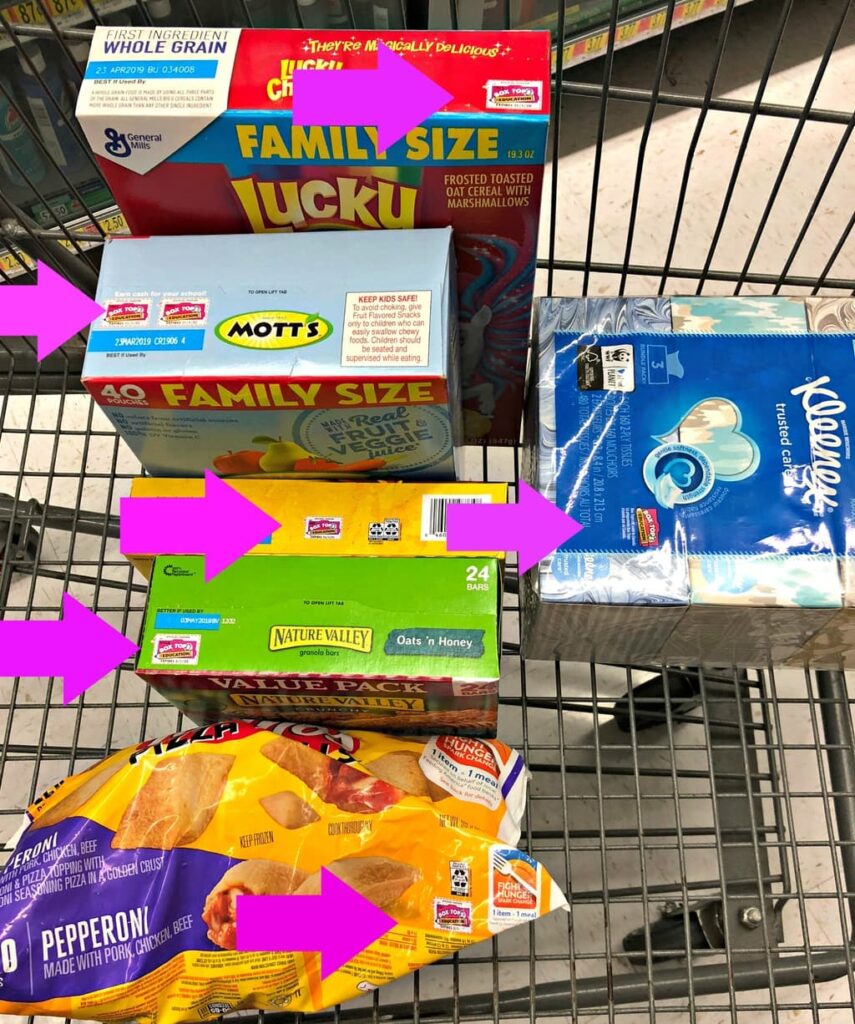 Once you know what to look for, you can spot the Boxtops on the packaging, they are usually on the top or bottom.
Our schools get 10 cents each for every Box Top redeemed and that can add up if we all participate.



General Mills has recognized that many of us have gotten away from clipping coupons and now use apps to help us shop and save at the grocery store.
They've launched a free Box Tops Bonus App so you can automatically scan your receipts to credit the Box Tops directly into your school's account. You don't have to collect and clip the Box Tops. How awesome is that!
For those who still prefer to collect them and turn them in, that program has not gone away. The new App offers an alternative way for those who prefer to use their smartphones for these tasks.
If you want to take turns supporting different schools, you can edit your choices in the app. The new app also has exclusive bonus offers. Right now, I see 32 different offers in my app.
There is also a new tool on the Box Tops website called the Clip Board. Schools can share their needs and have a Box Tops collection drive so everyone can participate and track the progress right on the app.
This is a great way to get friends and family involved in helping your school fund a goal. Some popular fundraisers are for extras like art and music classes, field trips, computers, and equipment.
Start Earning Today!
Walmart is one of my favorite places to shop and it makes shopping for items with Boxtops on them so easy. Plus General Mills and Walmart are teaming up to offer a Buy 5 products, Get 50 Box Tops offer through the BTFE App!
You can even use it online at Walmart. One offer you can take advantage of right away – Buy 5 Participating Products > Scan Your Receipt with the Box Tops app > Earn 50 Bonus Box Tops.
It easy – just go HERE and download the app. All you need to do is scan your receipts for Box Top eligible products.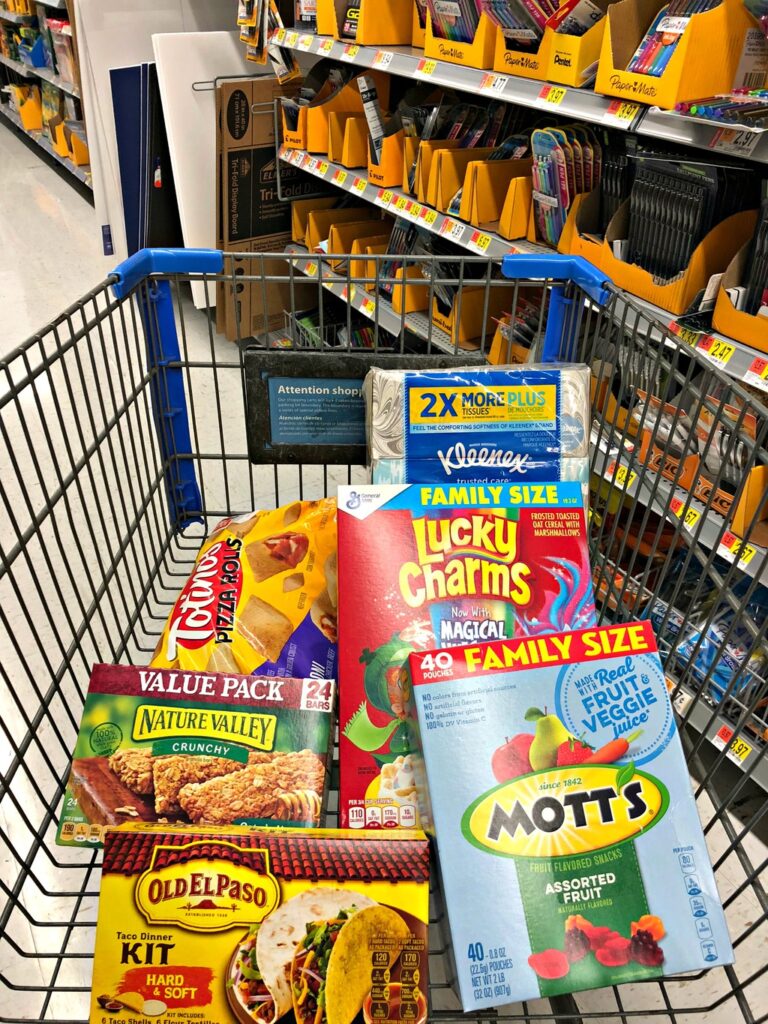 Popular Participating Items Include:
Family Size Lucky Charms

Family Size Honey Nut Cheerios

Nature Valley Oats n Honey Value Pack

Yogurt: Sour Patch Go-GURT

Meals: Old El Paso Kits

Frozen: Totino's Pizza Rolls Pepperoni, 120ct.

Fruit: Mott's Mega Pack

Kleenex Facial Tissues Back to School 3 pack (160 ct)

Kleenex Facial Tissues Back to School 4 pack (85 ct.)
Bonus Offer from Walmart:
For every 5 Box Tops for Education (BTFE) products you purchase in a single transaction at Walmart on or after 7/10/18 and entered by you by scanning your receipt through the Box Tops Bonus App by 9/10/2018, you can earn 50 Bonus Box Tops, for your BTFE eligible enrolled school. Only available at Walmart. Multipack BTFE products purchased at Walmart count as 1 participating product for purposes of this offer.
To redeem offer, you must download the free Box Tops Bonus App available through the Apple App Store or Google Play store and be or become a member of BTFE.com, supporting an eligible, listed enrolled school and follow offer redemption instructions within the App. Bonus Box Tops are worth 10 cents each and will be awarded directly to your selected BTFE school. There is a combined maximum of $500,000 in Bonus Box Tops that may be collectively redeemed in connection with this Walmart offer. If maximum is reached, offer will be discontinued and removed from the Box Tops Bonus App. Only BTFE eligible enrolled schools can be awarded earnings. All Bonus BoxTops offers are subject to the App Terms of Service, Official Rules, and Privacy Policy, available at www.BoxTopsWM.com Standard Data Rates May Apply. You also can learn more at www.walmart.com/boxtops. © 2018 General Mills. All rights reserved. App store is a service mark of Apple, Inc. Google Play is a trademark of Google, Inc.
Does your school participate in Box Tops for Education? Will you collect Box Tops by clipping or will you try the new app to scan and deposit them automatically into your school's account? Our teachers, our schools, and our kids will all benefit and you will enjoy the satisfaction of helping out.