Have you heard of buy now pay later? Is it the same thing as credit? Today we are exploring them and thinking about the advantages and disadvantages of using a Buy Now Pay Later app and also how they compare to layaway..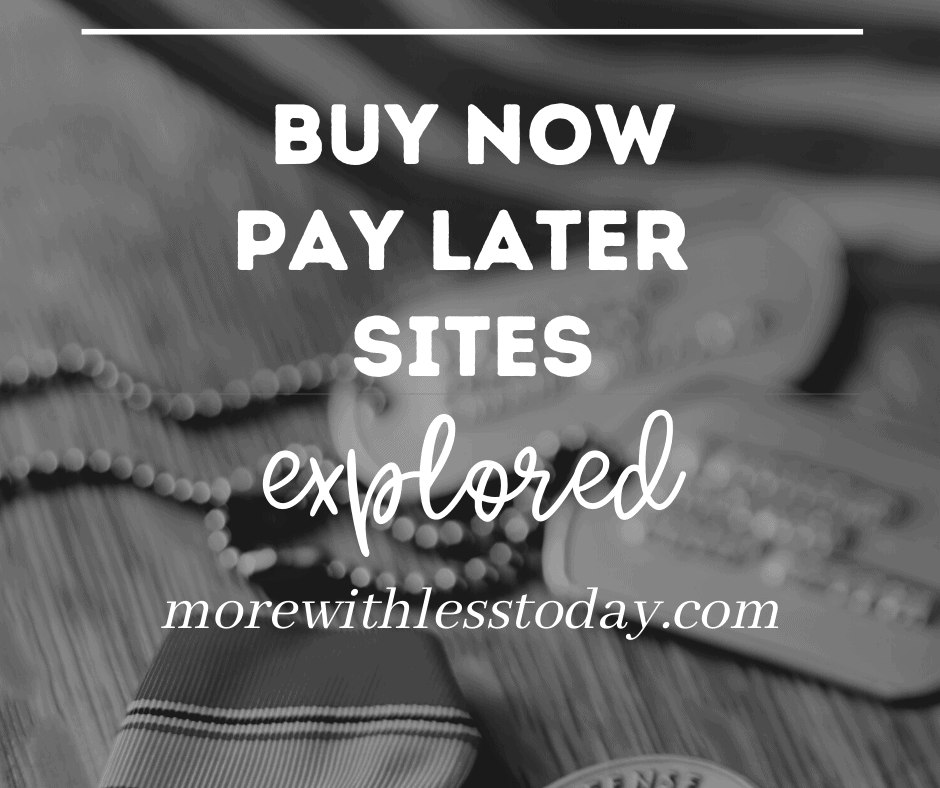 When you don't have the full amount to pay for a large purchase – but you know you'll have it within a certain time frame – using a buy now pay later program might be the way to go. It's usually interest-free so it can be a better option than a credit card, too.
What is Buy Now Pay Later (BNPL)
They are payment options that offer to help you pay in installments and set up payment plans to help you manage your cash flow. Some of these BNPL plans do check your credit, some do a check that won't impact your credit score and some don't do any credit check. As you do your research to see if any of these plans are right for you, be sure to read the fine print. Watch out for late fees and interest.
How Buy Now Pay Later Is Different Than A Credit Card
Buy now pay later sounds like the same kind of thing as a credit card. You buy something, get to take it home, and then pay it back. That's literally how a credit card works, right? There is a slight difference between a "buy now pay later" program and a credit card.
A credit card gives you a certain amount of money that you can use to make purchases. It charges an interest rate on the money you use and your payments go mostly toward paying the interest on your purchase, not the principal balance.
Buy Now Pay Later (BNPL) programs don't give you a line of credit. Instead, they cover the amount of your purchase and allow you to pay them back in interest-free payments as long as you pay off the entire amount by the agreed-on date.
Most BNPL programs don't do credit checks – which is great for your credit score.
The consequences of BNPL are different than a credit card as well. With a credit card, if you miss a payment, you are charged lots of fees and it hurts your credit score. With BNPL, if you fail to make a payment, you have to pay fees and you could be banned from making more purchases through their program.
BNPL does report missing payments to credit reporting agencies as well.
If you want the advantages of a credit card without the interest – and you know you'll be able to make the payments on time – BNPL might be the option for you.
How Buy Now Pay Later Is Different Than Layaway
Alright, so if there isn't any interest, isn't this just like layaway?
Kind of.
With layaway, you put a deposit down, and you don't get to take your purchase home with you until the item is paid in full.
With BNPL, you get to take the item home before you pay it off.
Another way they are different – layaway is a store-specific thing. You can't use Walmart's layaway at Target. Lots of BNPL programs are accepted at multiple stores.
Here is all we know about stores offering layaway in 2020.
Interested in Walmart layaway? It is only offered in certain stores this year.
Most Popular Buy Now Pay Later Programs
There are new BNPL programs popping up all the time, but these are the most popular ones that you'll see the most – and how they work.
Affirm
Affirm is a program that you'll be able to sign up for right at the place you are making your online purchase. As of 2020, residents of Iowa and West Virginia do not qualify because of state regulations. Everyone else is eligible.
Affirm does a credit check and they charge interest. However, they have a partnership with Walmart where they give interest-free repayment plans of 3, 6, and 12 months. In fact, if you have an account with Affirm, you can scan the app at the register in a Walmart store. On their website, you will see other merchants offering 0% APR
Four and Sezzle
I'm grouping these together because they are so similar. With Four and Sezzle, your purchase amount is split up into 4 payments that are automatically withdrawn from the account of your choice every 2 weeks. You can make those bi-weekly payments via Google Pay, Apple Pay, credit card, or debit card.
Neither of these two programs does a credit check.
The only downside to them is that their partner stores are more boutique and specialty-end retail. There aren't any big box stores that work with them yet.
SplitIt
Use your existing credit card to pay over time.
This is probably one of my favorite options on the list. SplitIt divides payments up into monthly installments that you can spread out from 3 months long to 24 months.
After you create an account with SplitIt, you can use it wherever it is accepted. They automatically deduct the agreed-on amounts from your account each month.
QuadPay
Just like Four and Sezzle, QuadPay splits your purchase up into 4 payments. With QuadPay, your linked debit or credit card will be charged in 4 installments over 6 weeks.
Get more information on the QuadPay website.
Klarna
Just like QuadPay, Klarna gives you a "ghost" credit card that you can just at any online store. They even have loyalty points you can earn. These are called "vibes" and you get $1 per vibe that you can save up and use for rewards like gift cards.
When you set up an account with Klarna, you connect your bank or credit card account information to it. Klarna pays the retailer in full and then they debit your account in four payments. Featured stores included Adidas, Sephora and Finish Line.
Afterpay
Afterpay works directly with online retailers. You can't use them unless they have a partnership with that retailer. The good news is that their partner list is really long and growing.
After you create an Afterpay account, you can use them to place online orders up to $1,000.
Another thing I really like about Afterpay is that they sell gift cards for stores and you can pay for these gift cards in four easy payments. Then those gifts are yours to use right away.
Some of the popular Afterpay partners include retailers such as American Eagle, Anthropology, Cost Plus World Market, DSW, and more.
PayPal
While it's not ready just yet, PayPal is setting up a new "pay in 4" program that will partner with lots of online retailers. PayPal already offers PayPal credit, but this will be different.
Customers will be able to use "Pay in Four" on purchases between $30-600. You will have to make an upfront percentage payment and then the remainder is split up interest-free payments from your bank account. These payments happen over 6 weeks.
It is slated to begin in October 2020. PayPal already partners with popular retailers such as Home Depot, JC Penney, Office Depot and many more.
Buy Now Pay Later – Is It For You?
If you prefer to make smaller payments directly from your bank account for large purchases instead of saving up for them, then these options could be perfect for you. They aren't a credit card, so you won't pay fees. Unlike layaway, you get to take the item home right away.