My teacher/daughter is counting down the days. Some days I hear the pride and the joy in her voice and other days are tough. My friends know that I'm the daughter of a teacher too so showing teachers gratitude is near and dear to my heart. If you are looking for a sweet way to thank a teacher with an end of the year teacher appreciation gift, we came up with a cake-themed idea along with a card you can print.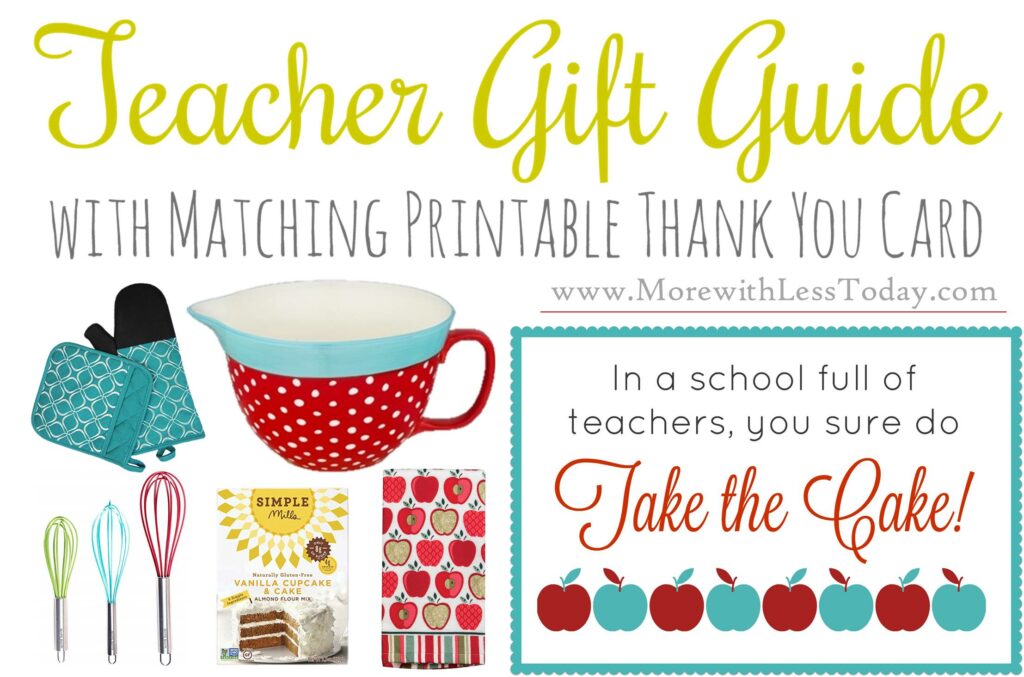 When you take a simple theme and plan a gift around it, it elevates the gift to something extraordinary and looks like you put time and effort into the gift. We love theme gifts!
We have affiliate relationships which means we may earn a small referral commission at no additional cost to you if you shop using our links.
All of these cake-themed teacher gift ideas are available on Amazon so shipping should be quick but double-check!
Enjoy Life Oven Mitt Potholder Set
This oven mitt is commercial grade heat resistant up to 500 degrees F which protects hands and forearms from hot dishes off the stove, from the microwave or from your grill. They are cotton quilted and lined with terrycloth and are machine-washable.
This adorable red polka dot dish is made of stoneware and is dishwasher safe. It is a qt batter bowl and holds 2.83 qt.
Set of 3 Silicone Baking Wisks
This three-piece whisk set is perfect for all cooking needs, The blue whisk is 12-inches, the red whisk is 10-inches, and the green whisk is 8.5-inches. The set has silicone wire heads and is resistant to high temperatures and withstand the heat while cooking. The whisk set is dishwasher-safe and comes with a 100% money back guarantee.
These cake mixes have great reviews on Amazon. I have family members who eat gluten-free and say that everyone will enjoy these cakes, whether they have dietary restrictions or not.
This 100% cotton with the vibrant apple design will make anyone smile, especially your favorite teacher. It has a loop for hanging when not in use and is machine washable.