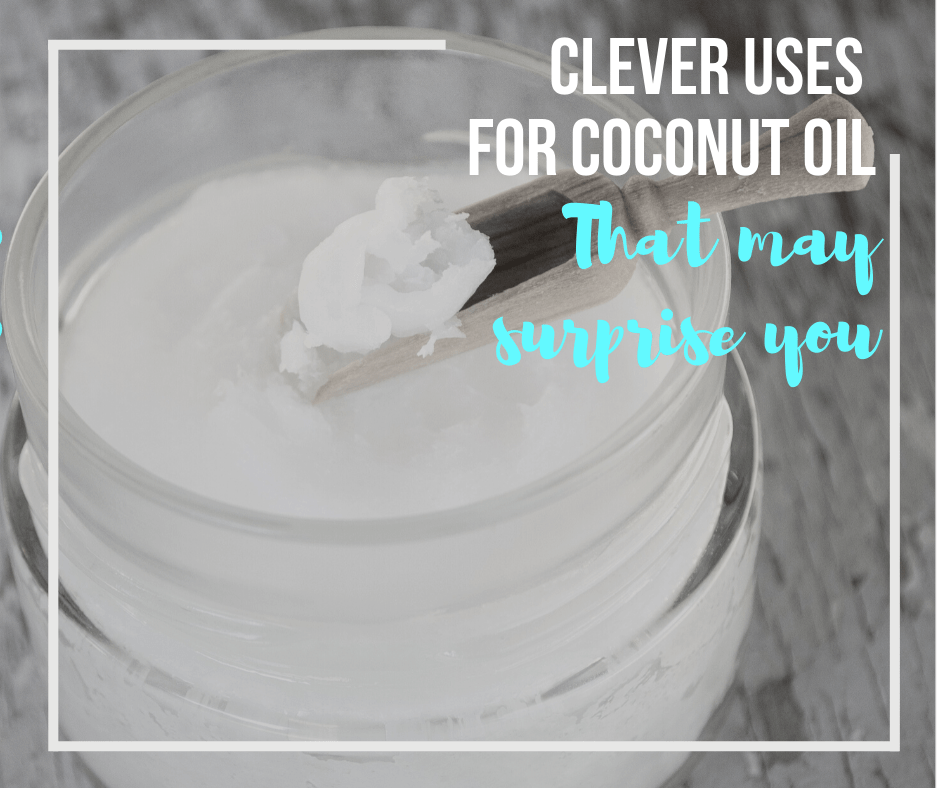 Coconut oil is an amazing product! Most of us know it's good for cooking with but there are so many other reasons to keep this gift from nature in your cupboard. Coconut oil has some wonderful health and practical properties too. Here are some clever uses for Coconut Oil that may surprise you.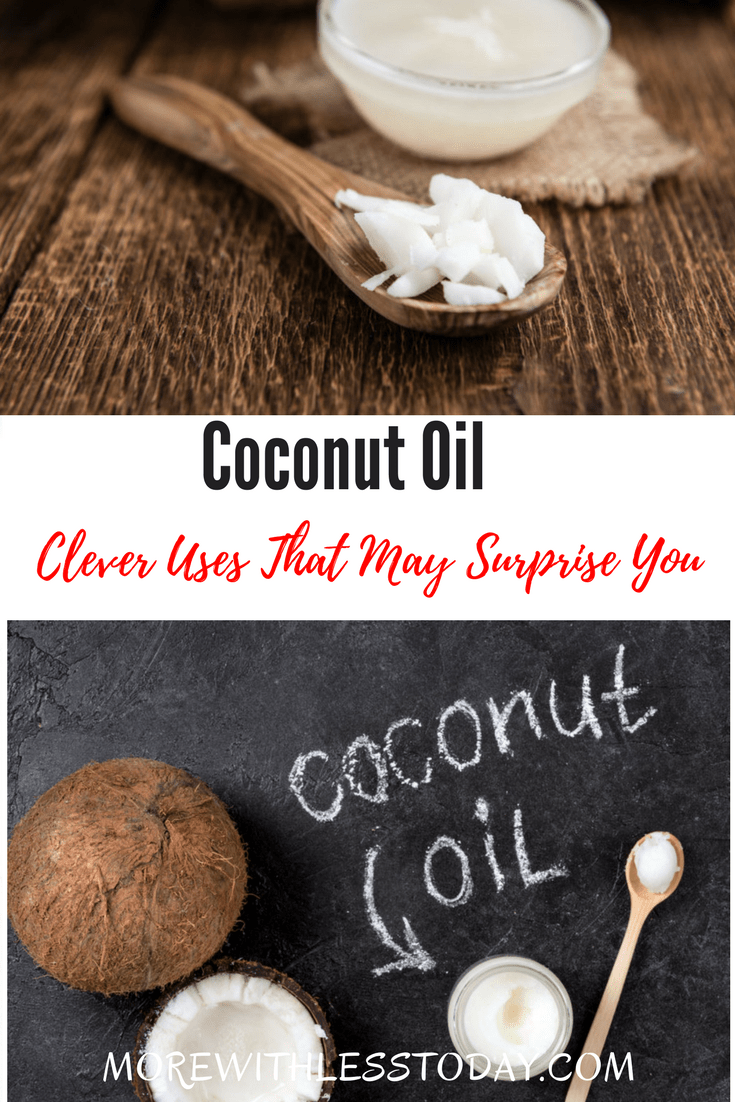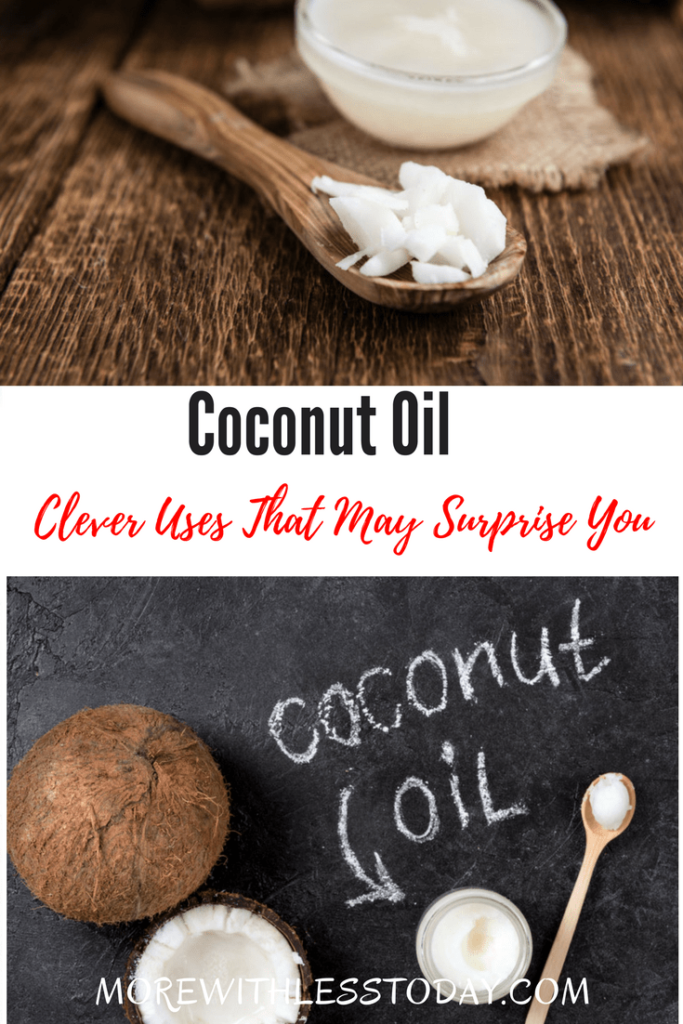 Coconut Oil as a Skin Moisturizer
Coconut oil is fantastic for softening and hydrating dry skin. You can rub it on dry skin spots or use it as you would any other skin moisturizer. It works well on cracked skin like those found on your feet.
Coconut Oil as a Massage Oil
Make a DIY massage oil by adding a few drops of your favorite essential oils to your coconut oil. Try lavender at bedtime. It's the perfect massage oil. You will love it!
Coconut Oil as a Hair Conditioner
Use coconut oil condition, strengthen and revitalize hair. Rub in it your hair, wrap it up for at least 10 minutes and wash. You can also rub a small amount on the ends of dry, frizzy hair to tame the "frizzies."
Coconut Oil as a Stain Remover
If you combine coconut oil with some baking soda you have a great spot remover. This works great on carpets and furniture. If you need to remove a label from something coconut oil can help with that too. Once you have removed all of the labels you can coat the rest with the paste, let sit for 15 – 20 minutes and wash. You can also use it to remove gum.
Coconut Oil as a Wood Polish
Make your wood look it's best by using coconut oil as a wood polish. If you have a wooden cutting board rubbing coconut oil on both sides will help keep it in nice shape. It not only makes the wood look great but it helps keep dust away. It can spoof up leather too.
Coconut Oil as a Lip Balm
Make your own lip balm and toss out your chapstick. It will hydrate your lips and provide natural sunscreen. Here is a great recipe for making your own lip balm.
Coconut Oil as an After Shave
Coconut oil works as an aftershave to soothe sensitive skin.
Coconut Oil as a Makeup Remover
Remove your makeup and see your skin glow! Let it sit on your face and then remove it with a cotton pad.
Coconut Oil to Protect Your Hair
Coat your hair with coconut oil before swimming in the ocean or pool to provide a barrier so your hair absorbs a minimum amount of chemicals and salt.
Coconut Oil to Soften Cuticles
Apply coconut oil to your dry cuticles and soften them right up.
Coconut Oil as a Body Moisturizer
Coconut oil is rich in fatty-acids and it absorbs quickly. It makes a great skin moisturizer.
Coconut Oil as a Body Scrub
Mix a half cup of coconut oil with a handful of coarse salt or sugar to exfoliator.
Coconut Oil for Cooking
Everyone needs coconut oil in the kitchen. It is great for sautéing, frying or anything you would use oil for when cooking. It doesn't oxidize at high heat so its great for grilling.
Coconut Oil to Help Heal Wounds Faster
Cuts and would heal faster when you place coconut oil on them. It boosts collagen and reduces inflammation thus speeding up healing. If you have a deep wound or cut, seek medical care first.
As you can see there are so many wonderful ways to use coconut oil. Make sure you keep a stock on hand at all times.
You may also like these hacks for common household items
46 Ways Apple Cider Vinegar Can Improve Your Life
DIY Cleaners You Can Make at Home
PIN Now and Enjoy Later: