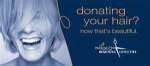 Pantene Beautiful Lengths wants you long hair! Together with the American Cancer Society, they are distributing real hair wigs to women battling cancer. The program is celebrating it's fifth year anniversary and has donated thousands of wigs.
All it takes is an eight-inch ponytail to make a difference. Get all the details at the Pantene Facebook page here: www.facebook.com/pantene.
While at Facebook, won't you join my page too? www.facebook.com/MoreWithLessToday/.
Want more simple ways to bless others? Visit my category Today's Good Deed. Try and get the kids involved whenever you do a good deed!