Press. Play. Date Night In!
This post is in partnership with Drinkworks® Home Bar by Keurig® but all opinions are 100% my own. Content for 21+, please enjoy responsibly.
Last weekend my husband and I enjoyed a fun date night at home. Before this challenging season that we are in, we used to go out on dates regularly. I looked forward to getting dressed up, putting on some lipstick, and being intentional about putting down our devices and reconnecting. Even after 35 years of marriage, we make an effort to keep it fresh and try new things together. We've enjoyed an African Drum Class, Clay Pigeon Shooting, and Stand-Up Paddleboarding just to name a few. We've cooked together over these last few months and tried some new dishes, but making drinks together was new and we had a great time.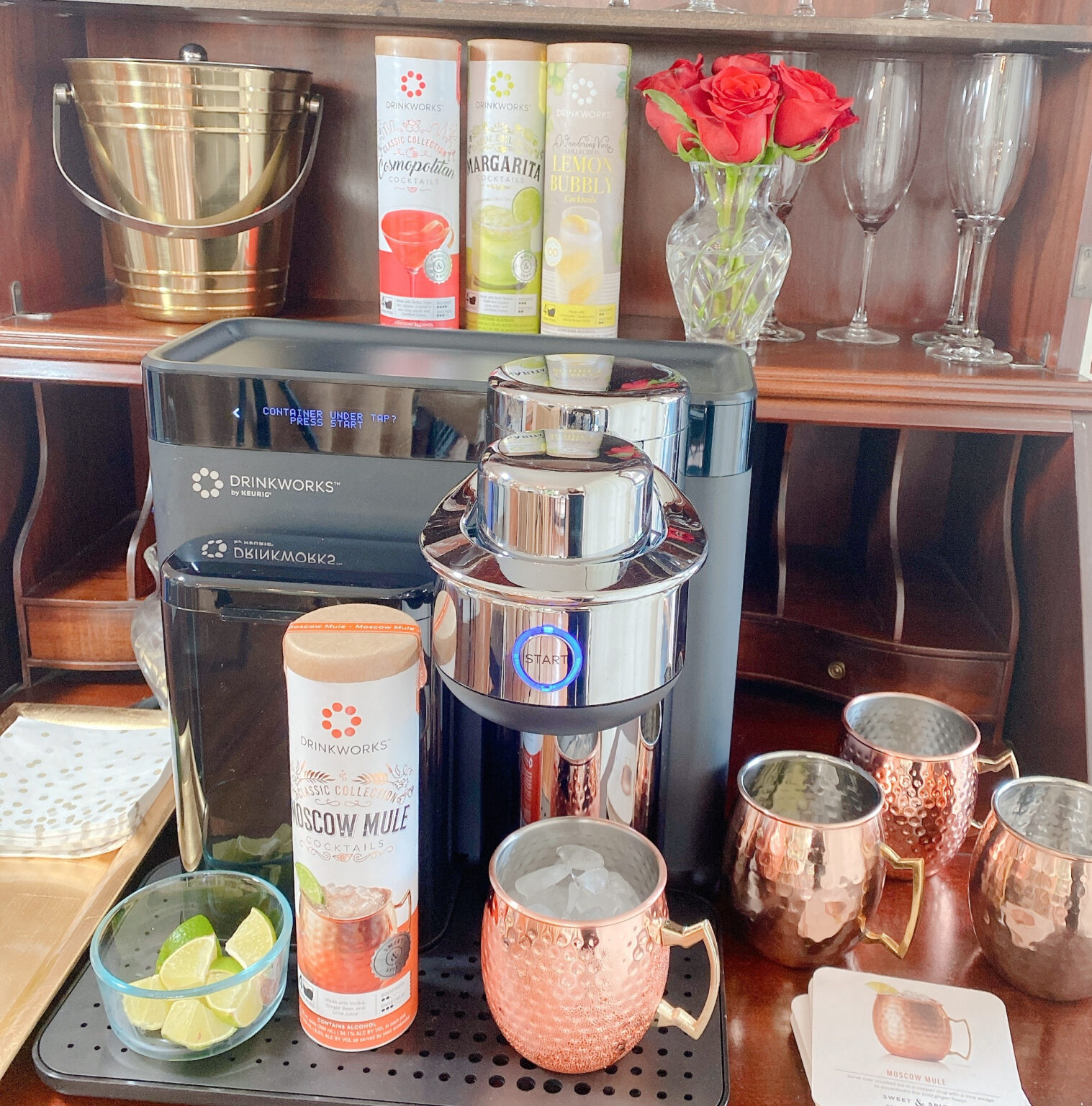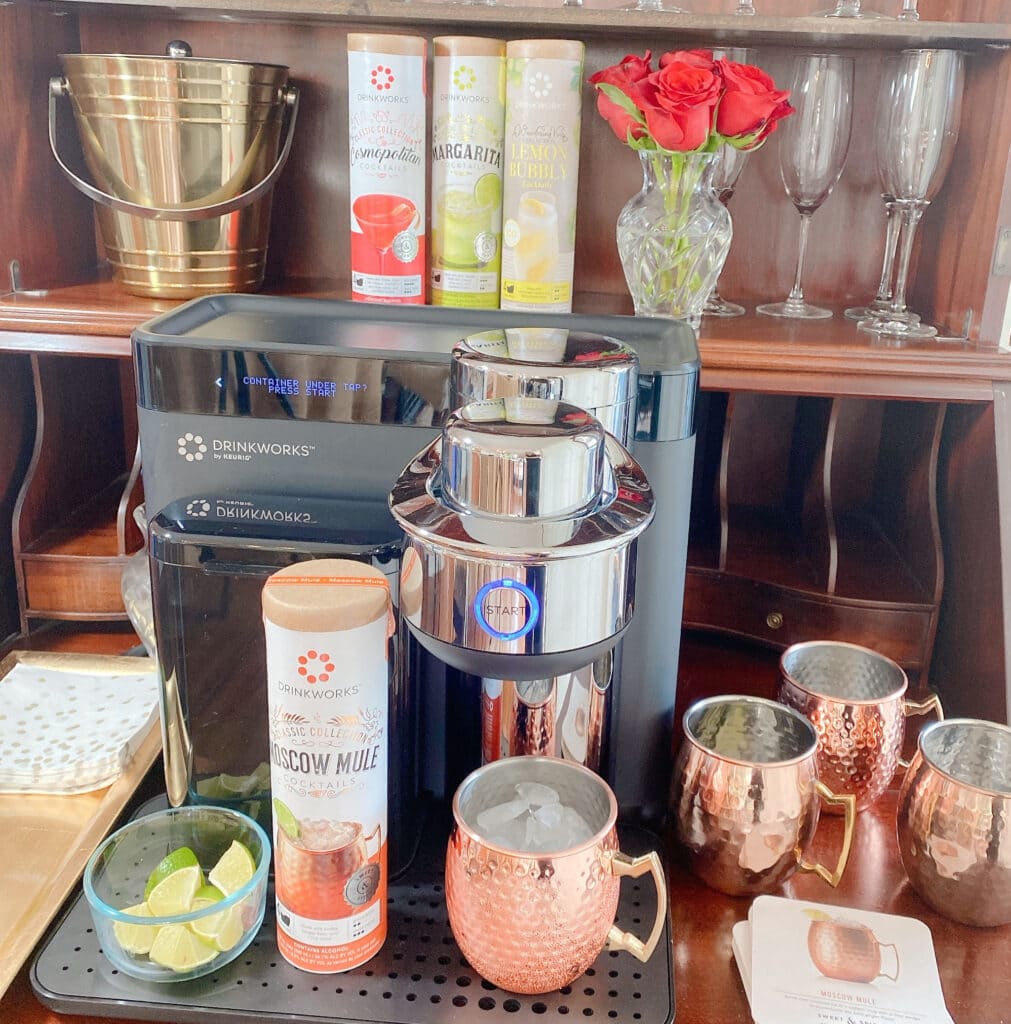 I was sent a Drinkworks® Home Bar by Keurig® to try and, it's perfect for us. We enjoy cocktails on the weekends, but we have gotten in a rut and usually just have the same thing. Part of the reason is that it's costly to stock a bar and we were being thrifty by consuming one type of liquor at a time. We don't drink that much, so that has been going on for quite a while!
My husband and I are in a sweet season of life. We are enjoying our empty nest and also celebrating that both of our children are married to wonderful spouses. Plus we became first-time grandparents this year! We are growing closer and more appreciative of our blessings. Last weekend we set the vibe by getting dressed up and putting on some of our favorite music.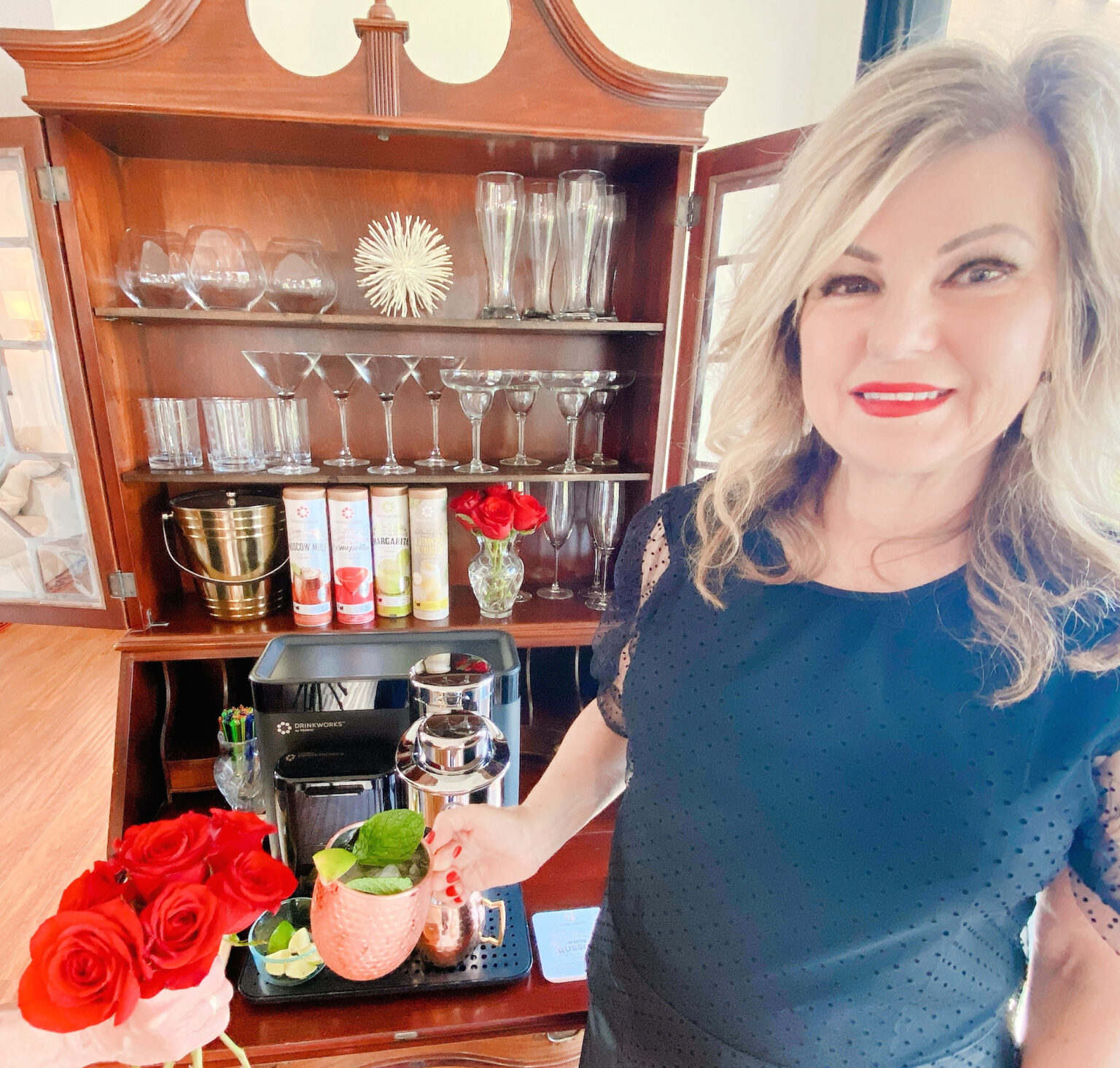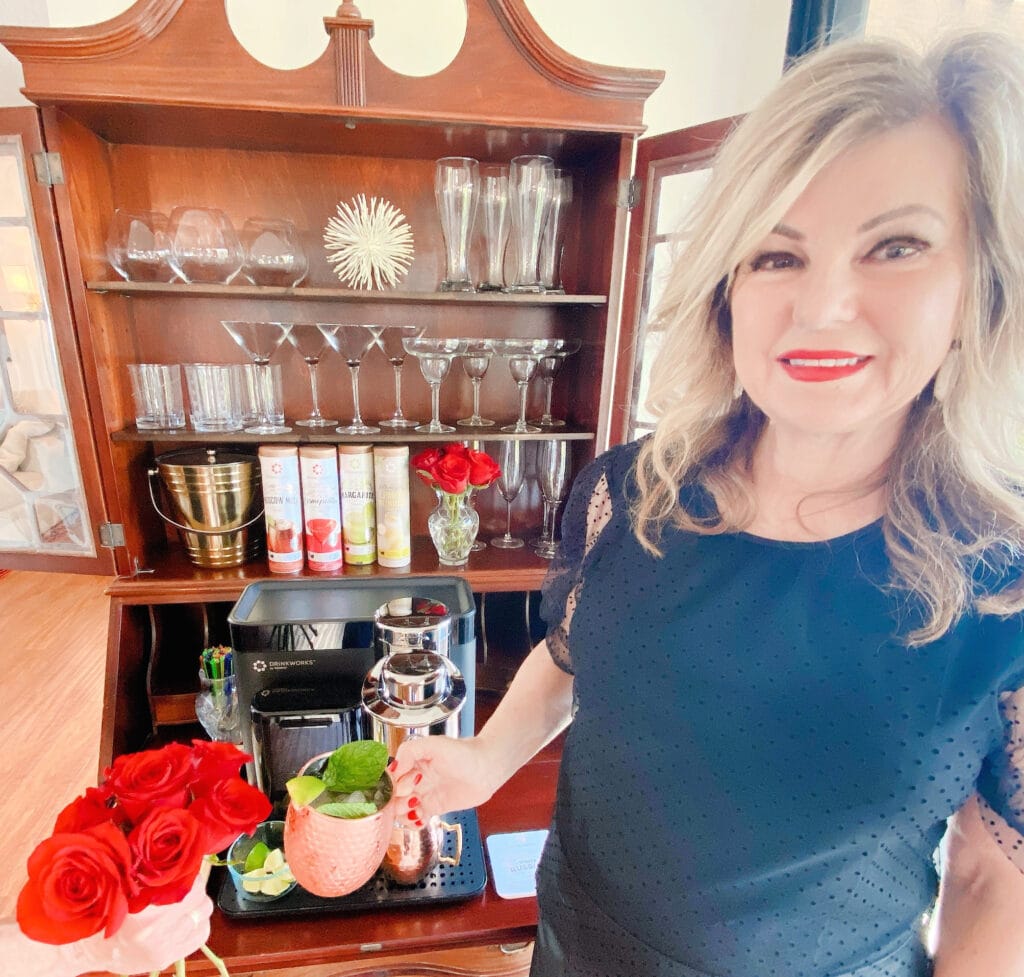 We unboxed the Drinkworks Home Bar by Keurig together. The set up for fast and easy. The hardest part was choosing which cocktail we wanted to try first. I was sent four different Pods to try; Moscow Mule, Cosmopolitan, Margarita, and Lemon Bubbly.
The Drinkworks Home Bar is an appliance that makes delicious cocktails. You press a button and everything you need for a perfect pre-portioned cocktail is right in the pod – mixers, bubbles, even the alcohol. Every cocktail pod is filled with real ingredients and natural flavors, including premium alcohol.
Life is hard right now, but enjoying a delicious, bar-quality cocktail, brews, and more at the press of a button is easy! If you are staying in, the Drinkworks Home Bar is a great alternative and will turn an ordinary evening into a special celebration.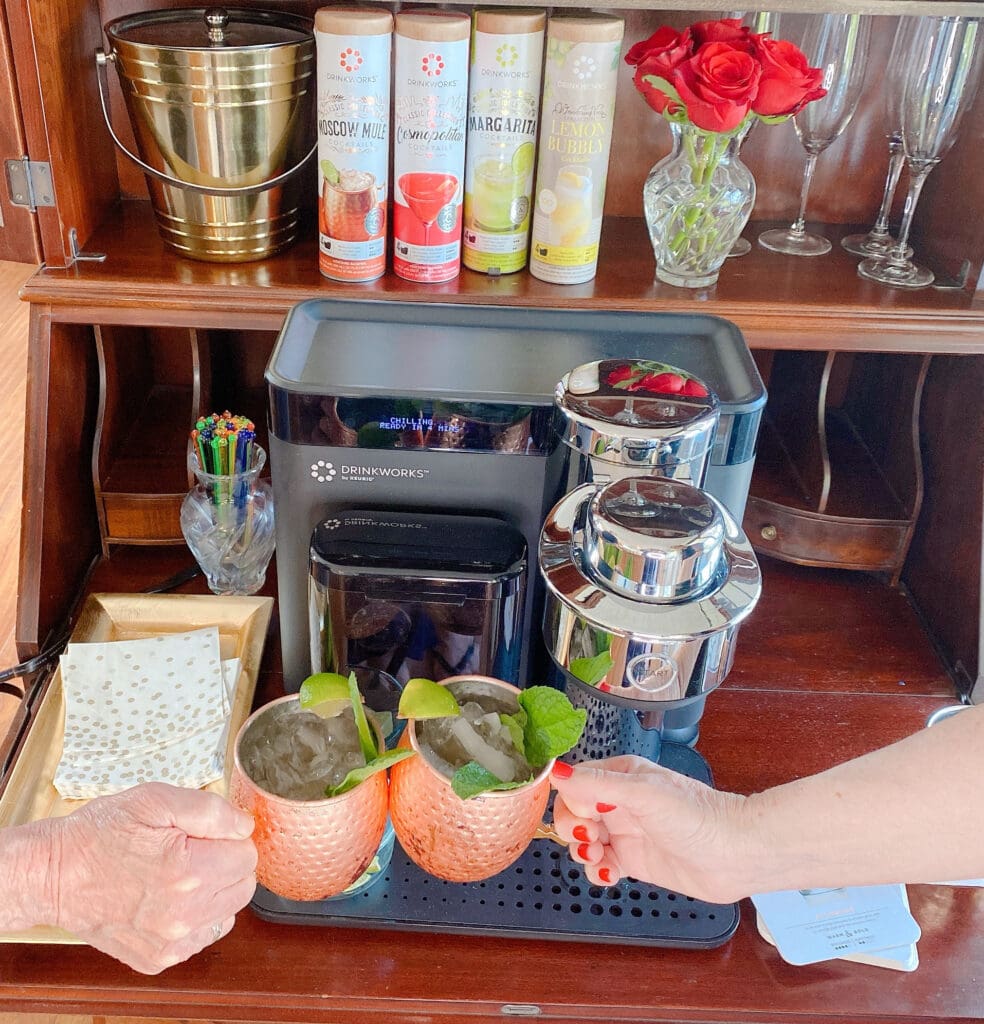 On Friday night, we tried a Moscow Mule. I had been given the lovely copper mugs as a gift some time ago, but I never took the time to learn how to make a Moscow Mule. I did not know if I would like the taste of Ginger Beer or how to make one from scratch. That is the beauty of the Drinkworks Home Bar. Each cocktail is perfectly delivered and the flavors meld together just like an expensive craft cocktail. All you do is pop in a pod, and press play!
Well, now the Moscow Mule is my new favorite adult beverage, at least until I try some of the other choices. The Ginger Beer has a distinctive taste and a kick to it but it is not overpowering. It is served over crushed ice and when you add a wedge of lime and a sprig of mint, it looks so festive, don't you agree?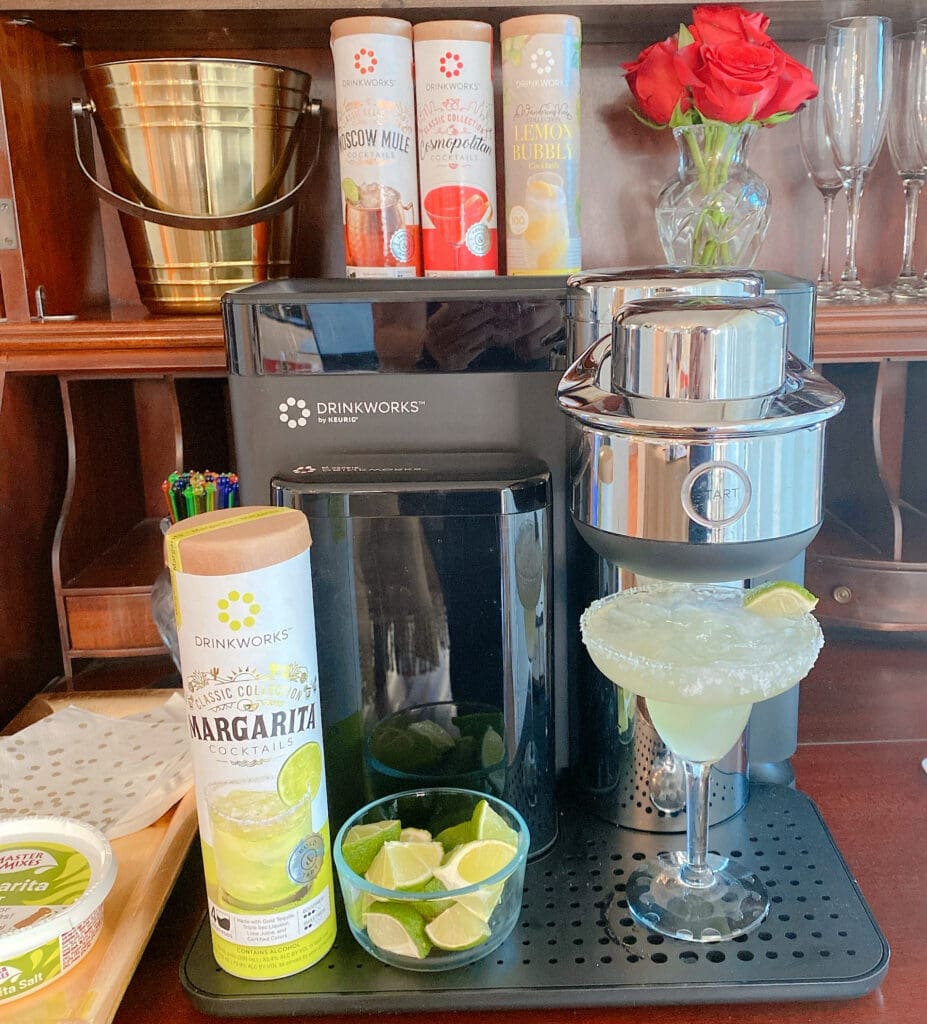 On Saturday night we made Margaritas because that has always been my husband's favorite cocktail. They came out ice-cold, and refreshing and so delicious.
On their website, there are so many other great choices that we are excited to try. You will see that the price of the pods is very affordable when you factor in how much just the liquor would cost or how much a craft cocktail would be at a restaurant or bar.
Some other pods I plan to try over the holidays are:
Old Fashioned
White Russian
Whiskey Sour
Long Island Ice Tea
Cuban Daiquiri
Gentleman Jack Manhattan
Plus there are so many more. I'm not sure how I will choose the next pod flavors to try. Maybe we will each make a selection or two. The holidays just got a lot more fun!
How to Use a Drinkmaker
I smiled when the Drinkworks said hello to me and I agreed, "let's get this party started!"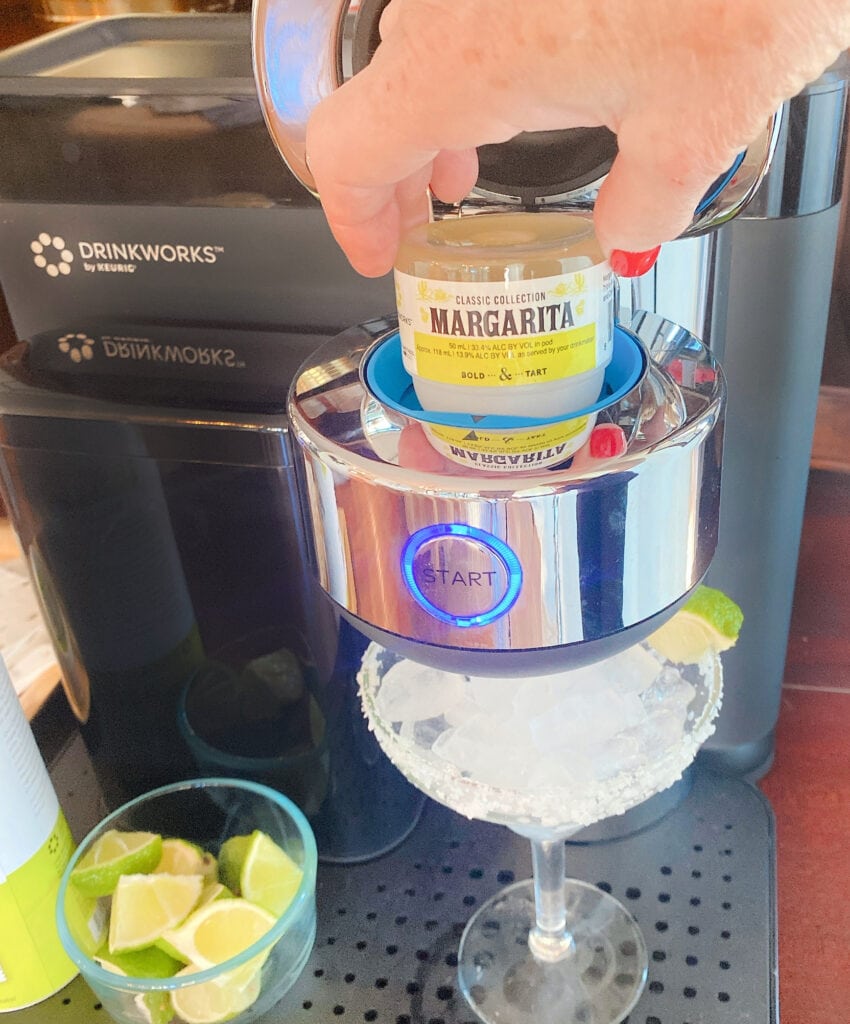 Fill the Tank
There is a tank on the front that you fill with water. There is a mark inside which makes it easy to see the amount of water to add.
Pop In the Pod
The Drinkmaker Home Bar by Keurig will read the proprietary pod, you just put the appropriate glass with ice underneath, press the button and in seconds, your drink is done and it is perfect! The water, carbonation, chilling and mixing is done as the cocktail cascades into your glass. Just like a bartender, the Drinkmaker knows how each drink should be made and dispensed and they taste like craft cocktails. You don't have to shake or stir!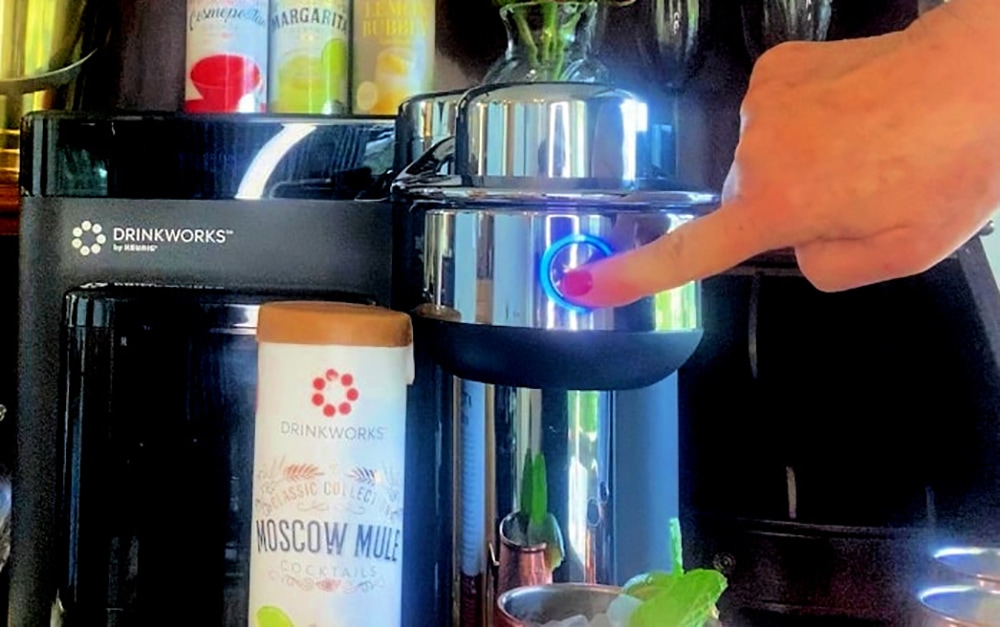 Press Start!
My Highlights
The drinks come out fast- at the press of a button!
Over two dozen drinks are available to choose from with even more coming soon.
Sustainability commitment – includes a free pod upcycling program with Loop Industries.
Once we are entertaining again, our Drinkworks Home Bar will be perfect to share with family and friends too. There's no need to buy expensive mixers or keep a fully stocked bar. Everyone can make the drink they want and even try some new ones just like we did this weekend. I don't have to be the bartender either. I can relax and enjoy my guests and truthfully the machine is fun to use and quite the conversation starter!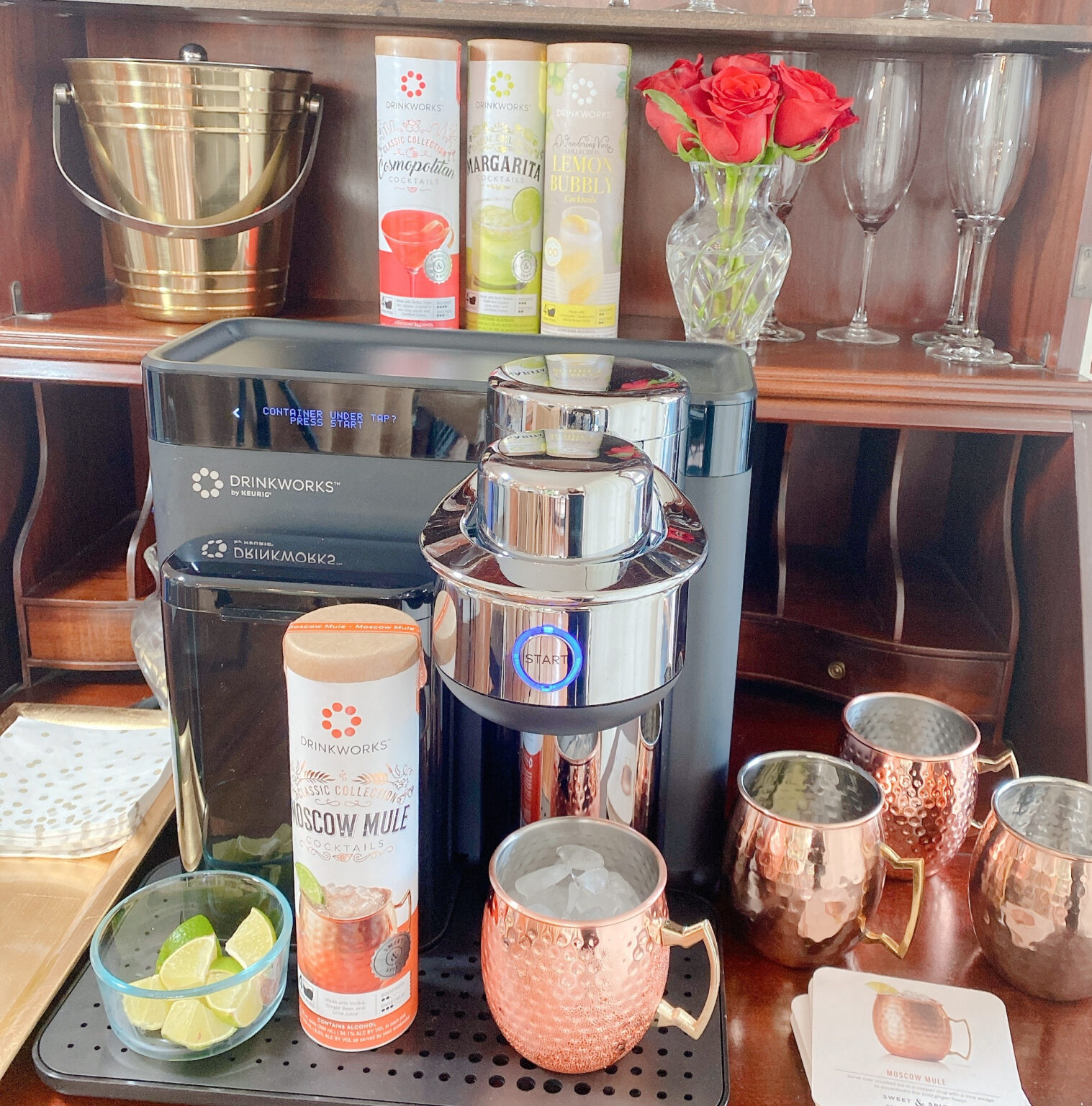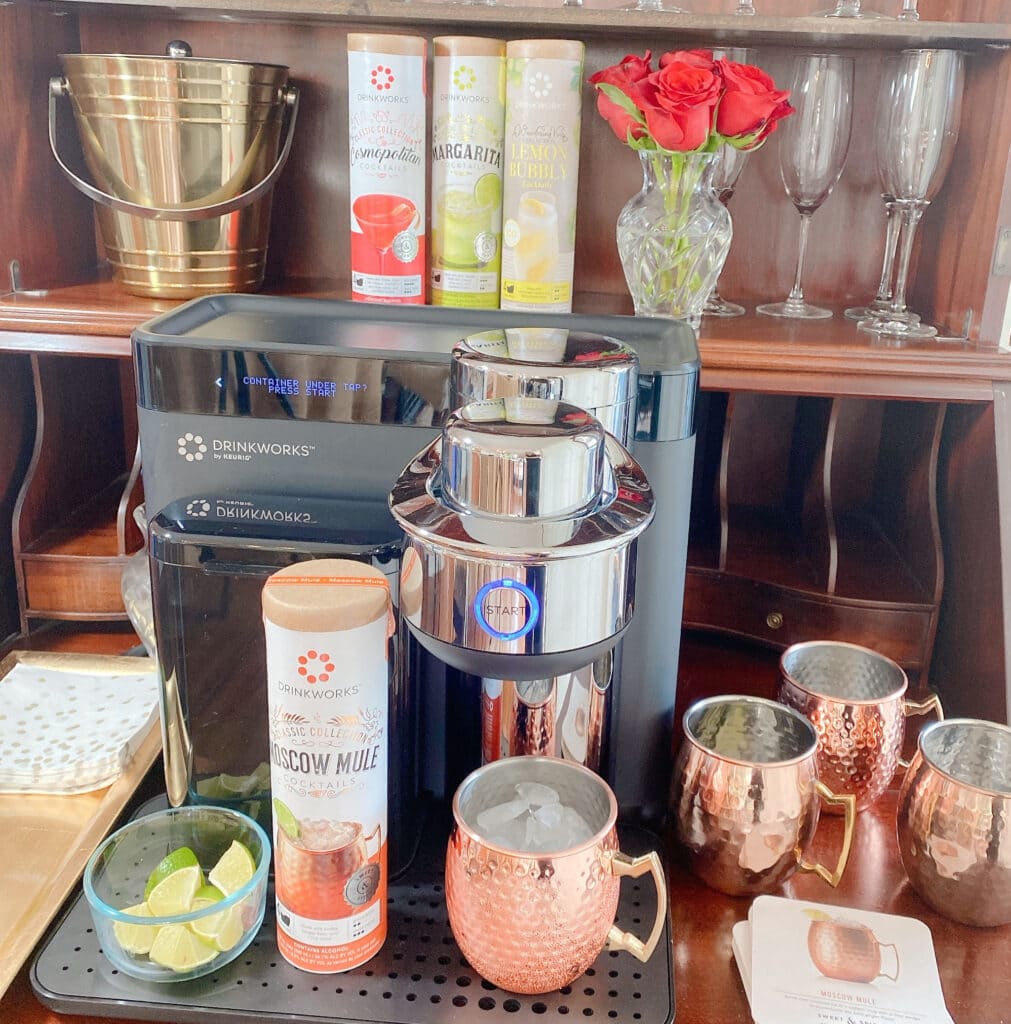 Press.Play.Gift
Drinkworks is changing up the way we buy, create, and enjoy our favorite cocktails. After a long year of challenges, do you have someone on your gift list who would be delighted to receive one?
Visit Drinkworks.com to purchase one today and to learn more about how the Drinkworks Home Bar by Keurig will fit into your holidays and be sure to try the seasonal Fireside Collection pods (variety includes Ginger Snap White Russian, Pomegranate Elderflower Spritzer, Spiced Punch & Winter Mule).
I cannot think of a more fun gift to buy for yourself to enjoy at home and to gift to friends and family this year!
Press Play and watch Drinkworks make a tasty Margarita in seconds!
This is a sponsored post written by me on behalf of Drinkworks® Home Bar by Keurig®.