Here are the products featured on Dish Nation. They are called Dish on Deals. Are you a fan of the show or just the hot deals they feature? If you love the TV deals seen on popular daytime shows but have a hard time finding them or keeping track of them, we track them and share them here on More with Less Today for our readers.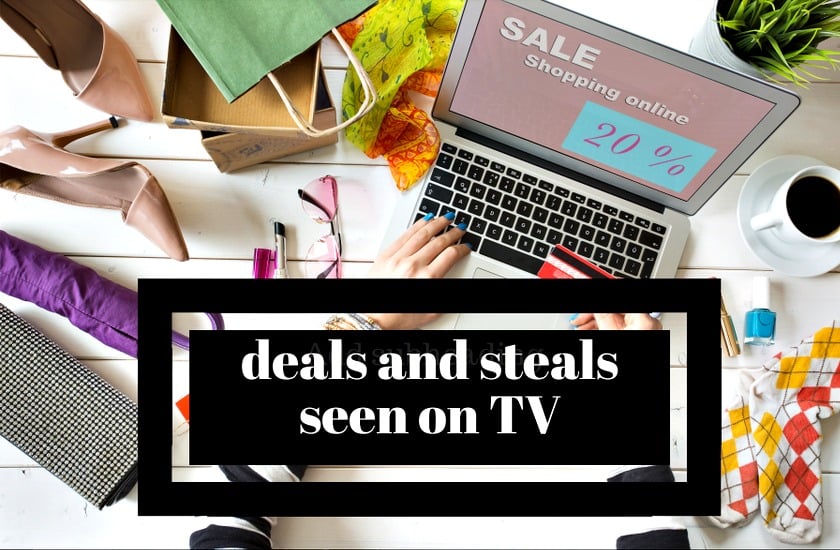 *Important note from More with Less Today– We are not associated with deals seen on Dish Nation or with the companies that are offering the items so be sure to write down the contact information if you buy an item. We proofread our posts, but occasionally we don't catch a typo. Please let us know if you see an error. Always double check prices and availability at the MorningSave website. As an Amazon Associate, I earn from qualifying purchases.
All photo credits are from Dish Nation Dish On Deals and MorningSave. We have affiliate relationships which means we may earn a small referral commission at no additional cost to you if you shop using our links.
Sign up to get my free email newsletter and get all the TV deals and steals sent straight to your inbox!
Dish Nation Morning Save Deals
Dish Nation Morning Save deal price 2 for $15 (retail price $50) save 70%
Dish Nation Morning Save deal price$6 – $19 (save up to 47%)
Dish Nation Morning Save deal price $12 (retail price $20) save 40%
Dish Nation Morning Save deal price $12 (retail price $20) save 40%
FAQs from the Dish Nation website
Where are the deals seen on Dish Nation from?
The Dish Nation deals are offered by Morning Save which also brings us deals and steals from:
The Doctor's TV – Dr's Retail Therapy
How do I purchase an item seen on MorningSave.com Dish Nation?
Once you click on a link to an item, you will be instructed to create a new account at MorningSave or to log in to your existing account. Once logged in, follow the prompts to place your order.
How does shipping work when you buy a deal seen on Dish Nation?
What is Membership?
Our $4.99/month membership includes unlimited free shipping. You may join at our membership page, or during your next purchase. You may cancel your membership at any time from the same page (visit Membership from the menu at the top of our site).
Delays Due to High Volume of Orders
Due to a high volume of orders, delivery times are longer than usual and support response times are delayed.
Once your order has shipped you will get an email. You can also find tracking information on Your Orders page.
How do I contact customer support?
Visit the customer support page at morningsave.com/support
Is there a promo code needed for the Deals Seen on Dish Nation?
No promo code is needed for these exclusive deals. Just click on the links to see the limited-time special offers from Dish Nation.
What other deals from TV shows do you follow?
These are our reader's favorites!
Today's Deals and Steals from Access Hollywood
Trendy @ Wendy – deals from The Wendy Williams Show
Jill's Deals and Steals from The Today Show
Deals and Steals Good Morning America
Fox and Friends Mega Morning Deals
View Your Deal – Seen on The View
Favorite site for luxury shopping for less