Here is Southern California, we are always reminded to be prepared for earthquakes. We have emergency kits in our homes and in our cars, but it is important to have a disaster plan for our pets too.

When disaster does strike, the Hill's Disaster Relief Network is positioned to quickly respond with shipments of pet food to the impacted communities. Hill's established the first-of-its-kind national network in 2013 as an extension of its Food, Shelter & Love® program.
In the last three years, the Hill's network has delivered free pet food to more than 60 different shelters and veterinary clinics across the country in response to 25 major incidents – including floods in Colorado, fires in Idaho and Arizona, the fertilizer plant explosion in Texas, the mudslide in Washington state and tornadoes in the central and southern regions of the country.
The responsibility for shelters during a disaster really stretches an already overwhelmed staff and their resources to the breaking point, as they are not just caring for shelter animals, but also caring for pets that have become separated from their owners.
ID your pets
Make sure that your cats and dogs are wearing collars and identification tags that are up to date. You'll increase your chances of being reunited with pets who get lost by having them microchipped. It is best to have both a pet tag and a microchip. Neighbors won't be able to scan your pet's microchip but they can read the pet's tag and look for you.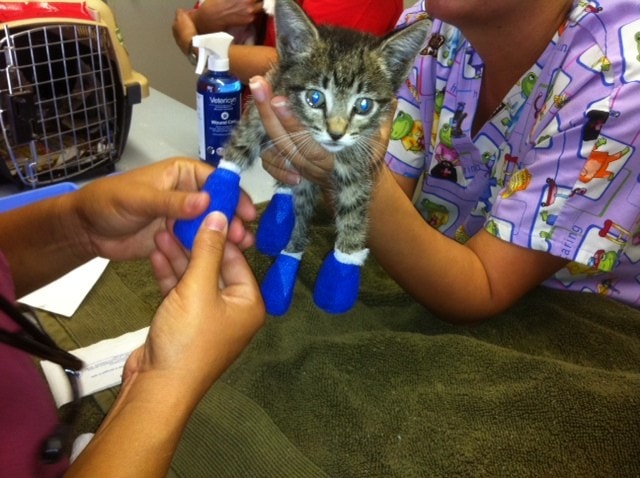 About Hill's Pet Nutrition
For over 75 years, it has been Hill's mission to help enrich and lengthen the loving relationship between people and their pets. Covering everything from the right nutrition, to preparing for a disaster or emergency, Hill's is dedicated to ensuring your family can have many happy and healthy years with your pet!
Hill's Food, Shelter & Love® program has already provided over $280 million worth of food to nearly 1,000 shelters, 365 days a year helping over 8 million pets find a new home! For more information about the Hill's Food, Shelter & Love Program, please visit their website.
The Hill's Disaster Relief Network recommends these Seven Tips to Ensure Your Pet's Safety in an Emergency:
Display a pet rescue decal on your front door or window to let first responders know there is a pet in the house. Include your veterinarian's contact information.

Learn where your pet likes to hide in your house when they are frightened. Finding them quickly will help you evacuate faster.

Carry a picture of your pet in the event of separation.

If you need to evacuate, consider taking a pet carrier or crate if possible, for transport and safekeeping.

Identify a location to take your pet if you need to leave your immediate area. Keep in mind that disaster shelters for people may not be open to pets.
Contact hotels and motels ahead of time and ask if they accept pets. Ask about any restrictions on number, size and species. Inquire if a "no pet" policy would be waived in an emergency.
For help identifying pet-friendly lodgings, check out these websites:
Bringfido.com

Dogfriendly.com

Pet-friendly-hotels.net

Pets-allowed-hotels.com

Petswelcome.com

Tripswithpets.com
Take time now to put together a plan for your pets in case of a disaster or emergency.
This is a sponsored conversation written by me on behalf of Hill's® Pet Nutrition, Inc. The opinions and text are all mine.
PIN this post and save it for future reference!