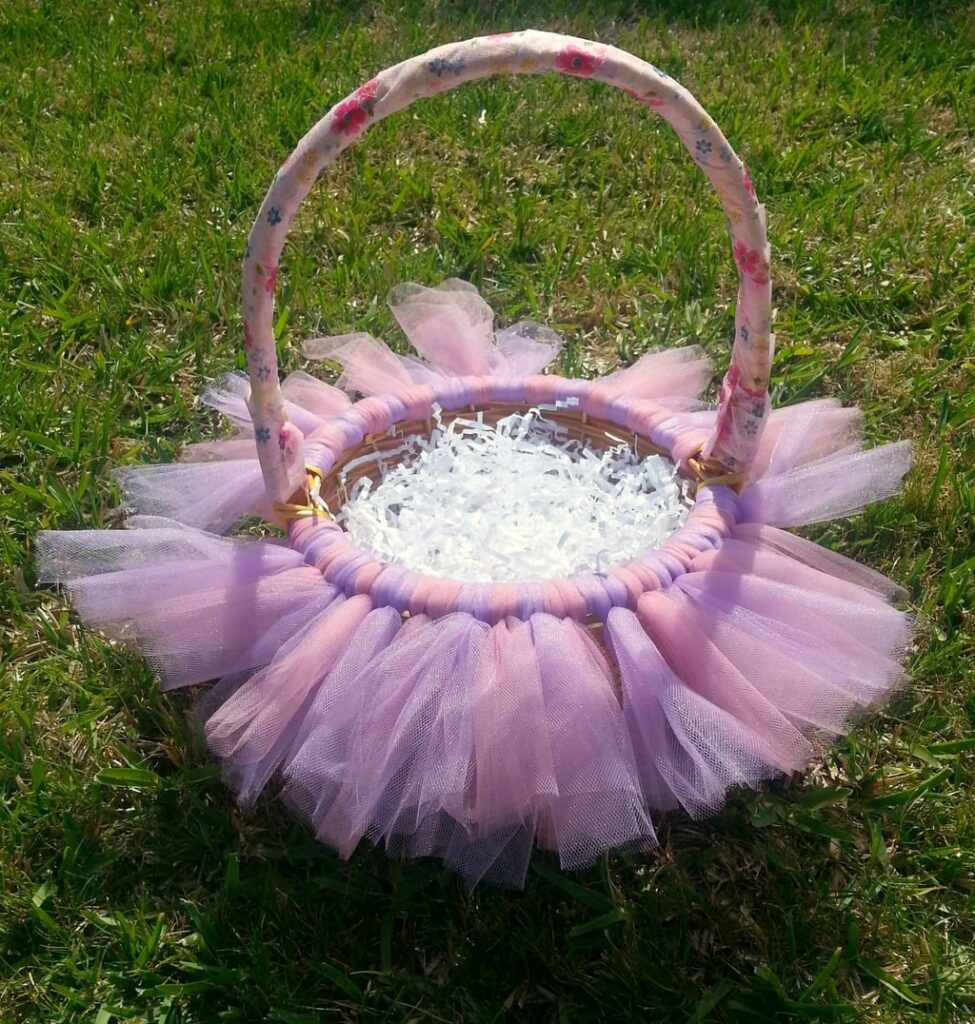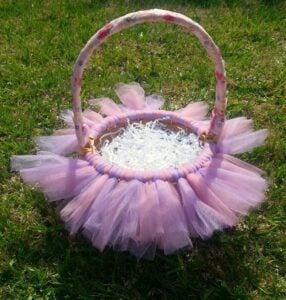 DIY Goodwill Easter Basket Fit For a Princess
Wouldn't the princess in your life be delighted to carry this DIY Tutu Easter Basket? It would also make a spectacular centerpiece for your Easter table.
You can make your own one-of-a-kind Easter basket. You can find many of the supplies at your favorite thrift store. We found ours at our favorite Goodwill of Orange County store.
What You Need:
Basket – easily found at your favorite Goodwill store. Look for one with open weaving.
Tulle – can be purchased for just a few dollars at your craft store. We used 2 spools which were 20 yards each. We cut 34 strips of purple tulle and 34 strips of pink tulle. Depending on the size of your basket, you made need a little more or less.
Ribbon
Scissors
Hot Glue Gun
Easy step by step instructions:
Step 1: Cut the tulle – First cut pieces to 6″ x 12″ (use as many colors as you want). Using two pieces of the cut tulle, fold in half horizontally twice to make a skinny long piece. Then fold the piece in half horizontally.
Step 2: Take the folded side of the tulle and push through a hole in the basket (if necessary use a tool to push through tight woven baskets)
Step 3: Complete a slip knot. Do this by finding the hole near the folded side of the tulle, pull the other end of the tulle through the hole to make a knot. (Make sure the excess tulle hangs on the outside of the basket)
Step 4: Placing the knots close together, repeat until the whole basket is covered in tulle slip knots.
Step 5: With the ribbon, wrap the handle and secure with a little hot glue. (Glue on the bottom side of the handle so that it does not show.)
Many of you know that we are thrift store junkies around here. We love to recycle, re-purpose and reuse the treasures that we find. If you are like-minded, we invite you to visit our popular Pinterest board, Goodwill Finds Repurposed, where we share great ideas from clever and thrifty DIY decorators. We would love to connect with you on Pinterest!