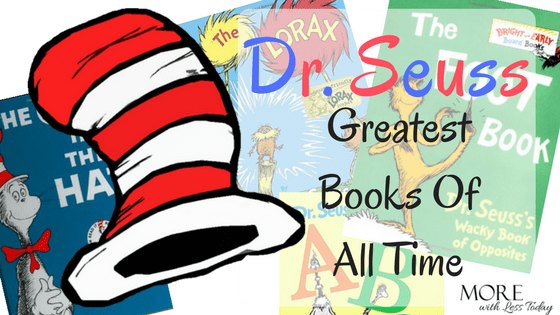 Dr. Seuss – Greatest Books Of All Time
Did you know that some of these classic Dr. Suess books were published in the 1950's? Talk about standing the test of time! According to The Washington Post, his books have been translated into 17 languages and have sold 650 million copies in 95 different countries.
Celebrate Dr. Seuss's birthday on March 2nd which is also National Read Across America day!
These Dr. Seuss greatest books of all time should be shared with children of all ages and make great gifts for baby showers too!
Dr. Seusss Beginner Book Collection Cat in the Hat, One Fish Two Fish, Green Eggs and Ham, Hop on Pop, Fox in Socks
The Little Blue Box of Bright and Early Board Books by Dr. Seuss Bright & Early Board BooksTM
Dr. Seusss Second Beginner Book Collection
Hop on Pop Book & CD Book and CD
The Wonderful World of Dr. Seuss
Bartholomew and the Oobleck: Caldecott Honor Book Classic Seuss
Oh Say Can You Say Whats the Weather Today?: All About Weather Cat in the Hats Learning Library
Classic Case of Dr. Seuss – 20 Books Set Includes Lorax New
Dr. Seuss's ABC: An Amazing Alphabet Book!
The Foot Book: Dr. Seuss's Wacky Book of Opposites
The Sneetches and Other Stories
What Pet Should I Get? Classic Seuss
How the Grinch Stole Christmas! Classic Seuss
One Cent, Two Cents, Old Cent, New Cent: All About Money Cat in the Hats Learning Library
The Butter Battle Book: New York Times Notable Book of the Year Classic Seuss
Yertle the Turtle and Other Stories
The Tooth Book Bright & Early Board BooksTM
Theres No Place Like Space: All About Our Solar System Cat in the Hats Learning Library
Which Dr. Seuss book is your favorite? I have to say The Cat in the Hat if I had to choose one.
Here are a few more classic books to add to your library:
Put Me in the Zoo I can read it all by myself Beginner Books
Are You My Mother? Bright & Early Board BooksTM
Go, Dog Go I Can Read It All By Myself, Beginner Books