Ellen DeGeneres has teamed up with Walmart to share her list of Ellen's Favorite Things for January. Ellen's favorite things checklist for January 2020 includes an adorable, affordable gym bag and a Brita water bottle with a filter. No excuses for the gym now!
All of the items on Ellen's favorite things are found at Walmart.com. We are not associated with these deals, we are just sharing them for our readers to check out. We have affiliate relationships which means we may get a small referral commission at no additional cost to you if you shop using our links.
Ellens Favorite Things – Checklist for January 2020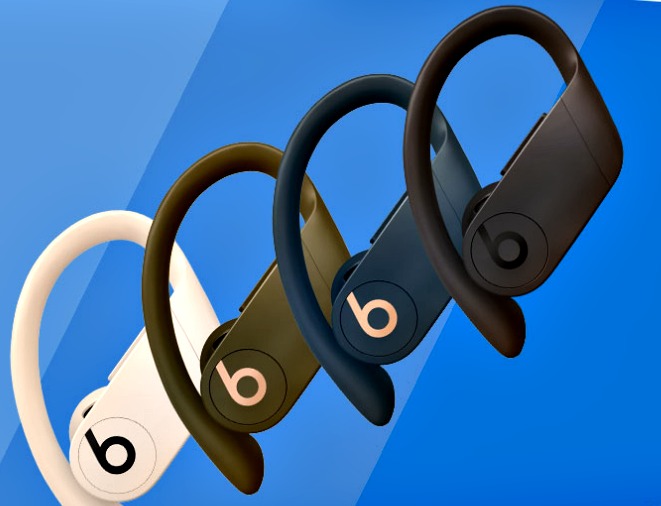 Powerbeats Pro Totally Wireless Earphones 
"These totally wireless Powerbeats Pro earphones are built to revolutionize your workouts. With zero wires to hold you back, the adjustable, secure-fit earhooks are customizable for extended comfort and stability.
Reinforced design for sweat and water resistance lets you take it to the next level. Each earbud has full volume and track controls and up to 9 hours of listening time to fuel your training with a powerful, balanced sound.
Long hours of training? Marathons? Bring it. Each earbud has up to 9 hours of listening time so you can keep your music going. With the charging case, you'll get more than 24 hours of combined playback. If you're in need of extra juice, 5-minute Fast Fuel charging gives 1.5 hours of playback when the battery is low (1). To further conserve battery, motion accelerometers detect when they're idle and automatically enter them into sleep mode. And when you're ready to use them again, simply put them back in your ears and you'll be off and running."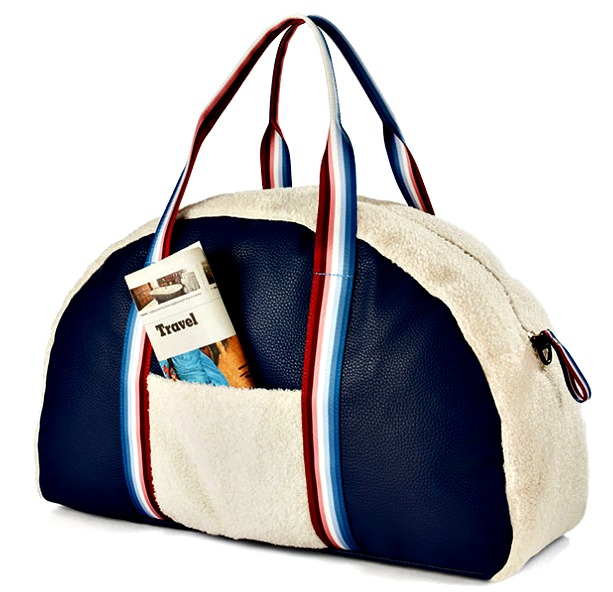 This is my favorite item from Ellen's Favorite Things for January.
"Off to an adventure or just going to the gym? This EV1 duffle bag is sure to fit all of your vacation and workout essentials and more! Made of durable textured faux leather and a touch of shearling material, this duffle is designed with easy-access front and interior slip pouches and a roomy main compartment. The EV1 duffle features a top handle and an adjustable crossbody strap for a comfortable fit."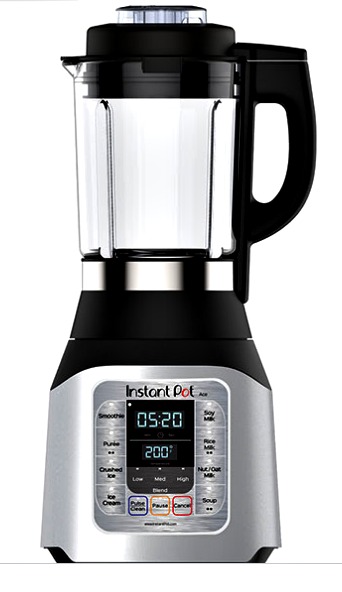 "The Ace Multi-Use Cooking and Beverage Blender is designed with 8 Smart One-Touch programs. With the Ace, preparing your favorite Smoothie, Purée, Frozen Dessert, Soy, Rice, Nut/Oat Milks, and Soup are as easy as pressing a button! Create homemade, Almond, Nut, Oat, Rice and Soy Beverages along with butter. Not only can you create unique beverages, but you can also prepare hot soups, purée vegetables, and baby food all in one pitcher. The Ace features 3 manual blending speeds, 4 cold blending programs, and 4 hot blending programs. Cold blending programs are ideal for Smoothies and Frozen Desserts. Whereas, hot blending programs provide you the ability to cook fresh ingredients combining boiling and blending for one-pitcher meals. The premium-glass pitcher is highly resistant to changes in temperature. During the cooking process, the display will provide you with real-time cooking temperatures (Fahrenheit or Celsius) so you can check on the cooking progress at a glance. A powerful and quiet motor with a speed of 23,000 RPM allows you to crush, blend and pulverize the toughest ingredients in seconds. The Pulse / Clean permits you to break up large chunks of food or thoroughly clean the blender."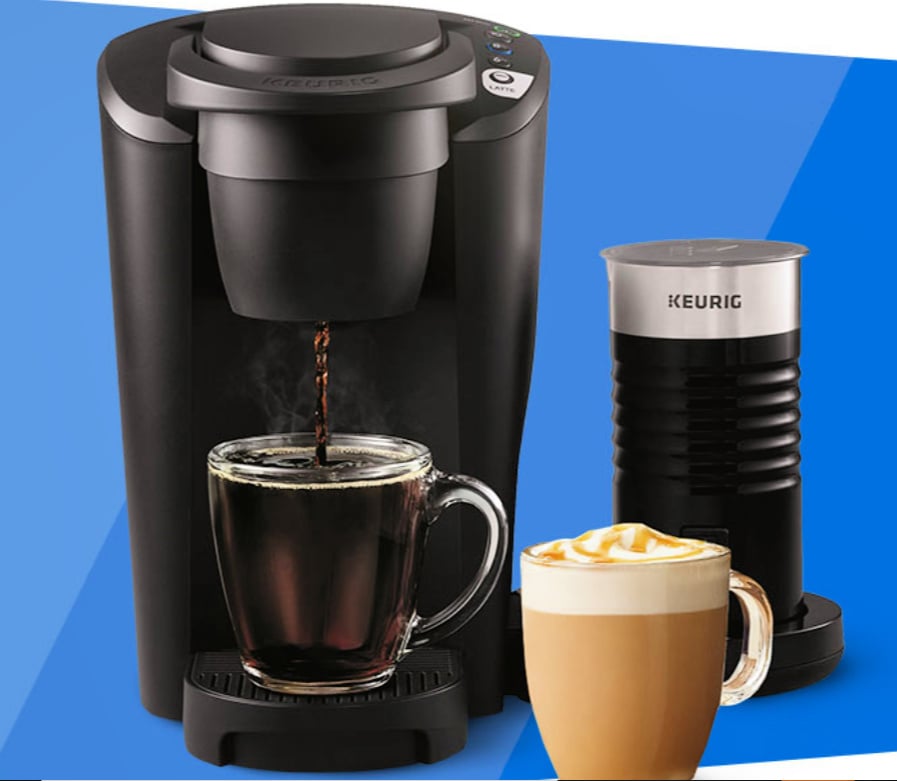 Keurig K-Latte Coffee Maker with Milk Frother, Compatible with all Single-Serve K-Cup Pods
This coffee maker has over 400 reviews.
"Versatility meets simplicity with the new Keurig K-Latte single-serve coffee and latte maker. Brew rich, full-flavored coffee and enjoy delicious, creamy lattes simply made in minutes. Whether brewing coffee or making lattes, the K-Latte brewer works with any K-Cup pod so the options are endless. Use the coffee SHOT to brew a concentrated shot of coffee perfect for making lattes. Froth your choice of fresh milk – including skim, soy, and almond – to create delicious, creamy lattes. Or, brew 6, 8, or 10oz of your favorite coffee, tea, or cocoa. The frother is designed to be easy-to-clean and the frother base flips up to save counter space. Enjoying your favorite beverages at home has never been so easy – just brew, froth, enjoy! Making a latte in 3 easy steps: 1. BREW a coffee SHOT using any K-Cup pod. 2. FROTH your choice of fresh milk, including skim, soy, and almond. 3. ENJOY your delicious, creamy latte."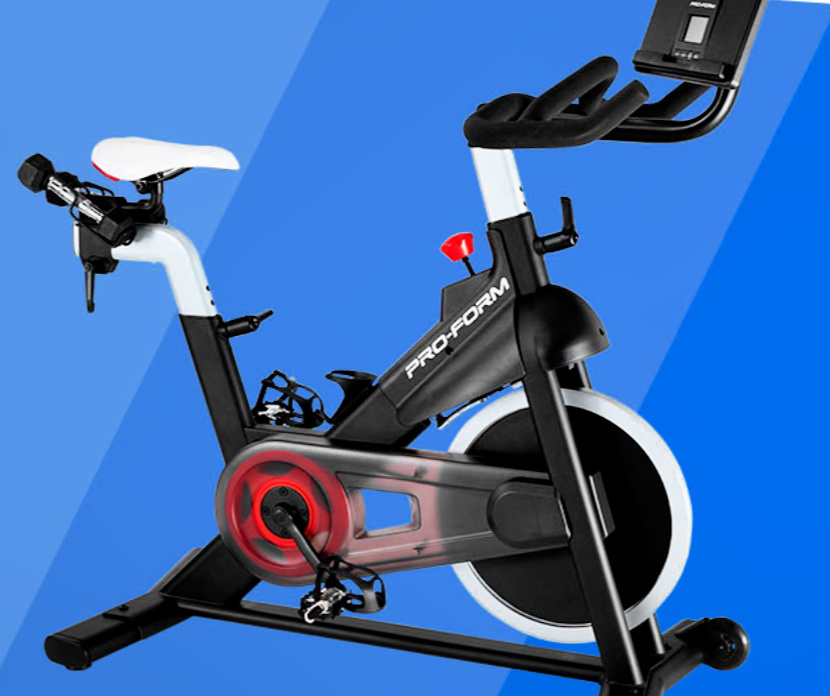 "Get a complete fitness experience with interactive personal trainers in your living room. The ProForm Carbon CX home Exercise Bike comes with a trial iFit membership (sold separately), bringing the power of personalized training into the comfort of your home. Embark on a virtual trip around the world, cycling from the breathtaking red rock deserts of Southern Utah to colorful Chilean streets. Transform your living room into a boutique studio class with on-demand video workouts led by charismatic coaches that automatically adjust your bike's resistance to meet your workout's requirements or mimic real-world terrain. An LCD window display with an incorporated device shelf provides a secure platform for your tablet or smartphone, and a SMART Bluetooth connection allows iFit to communicate with your exercise bike. A set of 3 Lb. dumbbells give you the ability to engage in full-body cross-training to develop comprehensive health, while 16 digital resistance levels give you total control of your workout while on your bike. Finally, an inertia-enhanced flywheel fortified with SMR Silent Magnetic Resistance delivers a smooth, quiet workout with every use – so you can train without waking the kids or bothering the neighbors. iFit Enabled."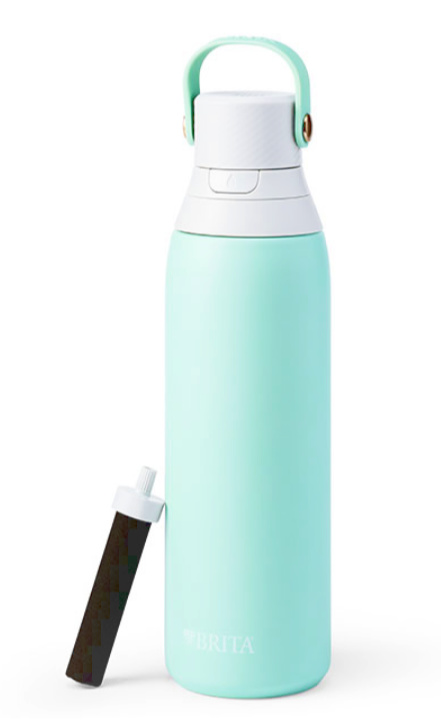 Brita 20 Ounce Premium Filtering Water Bottle with Filter – Double Wall Insulated Stainless Steel Bottle – BPA Free 
It comes in 7 lovely colors!
"Enjoy great-tasting tap water anywhere with the Brita 20 Ounce Ocean Stainless Steel Premium Filtering Water Bottle. The durable, double-wall insulated bottle stays cold for a full 24 hours. It includes 1 replaceable filter, which reduces Chlorine (taste & odor) as you drink. Featuring an enclosed, easy-sip straw, built-in carrying loop for grab-and-go portability, and one-handed push-button lid, this bottle is designed for effortless convenience. The bottle is car cup holder friendly and has a leak-proof design to help you avoid surprise drips and spills. Enjoy hassle-free hydration anywhere: at home, the office, a sporting event, or a trip abroad. One bottle filter can replace up to 300 standard 16.9-ounce single-use plastic bottles, so you can stay hydrated, save money, and reduce plastic waste. For best results, replace the filter every 40 gallons or about every two months. With Brita, take filtered water anywhere you go!"
See the Rest of Ellen's Favorite Things!
YOU MAY ALSO LIKE:
Walmart's Clearance Outlet – a great spot to find close-outs, markdowns and bargains.