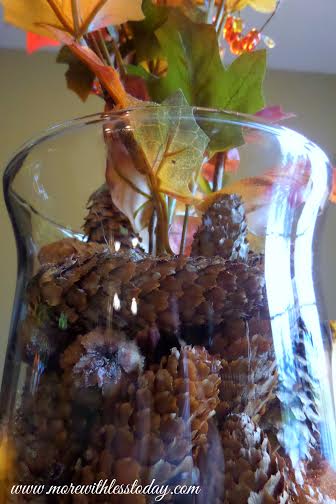 I absolutely love decorating for fall and one of my first things out is a beautiful but simple fall centerpiece. I think the house just feels more inviting and warm when there are hints of fall around us. This fall centerpiece is easy and affordable to put together and it will look great through late November!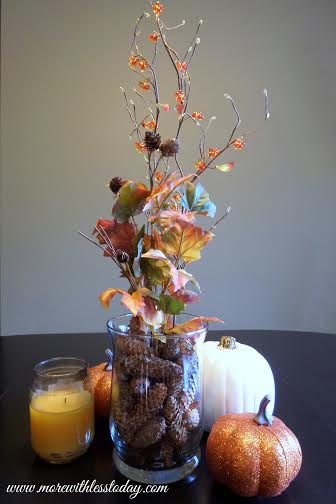 Fall Centerpiece
Supplies:
2-3 sprigs of fall foliage
2 -3 long stems of beaded fall berries
several pinecones
medium glass vase or hurricane
Instructions:
Fill your glass vase or hurricane with the pine cones. I found my pine cones in my yard but most craft stores sell bags of pine cones for decorating. The pine cones I used have a more papery texture and are long and skinny. I just love the look!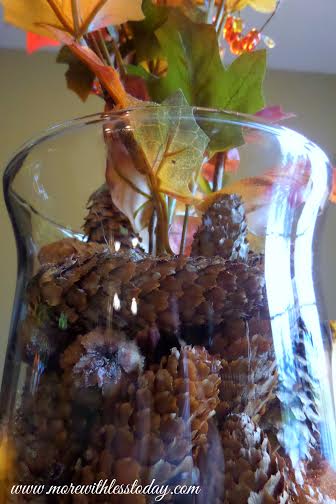 For the fall foliage, I splurged and purchased the more expensive pieces. I don't mind artificial flowers or greens but I'm really picky about them looking very real. The sprigs I purchased actually have real pine cones mixed in with the fabric leaves and such. This really helps to make the whole bouquet look real but the artificial means they will last all season and be usable next year as well.
For the tall stems, I found these beautiful pieces that look like twigs with berries and leaves. The berries and leaves are made from glass beads and add such a sparkle to the centerpiece.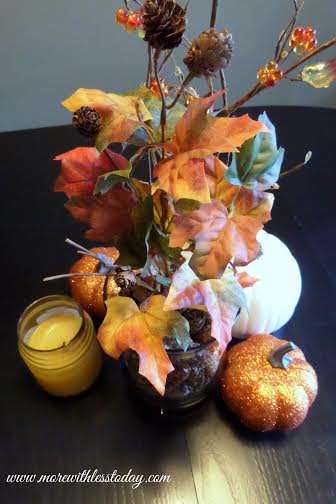 Stand the stems of foliage and berries in the vase, using the pine cones to conceal the stems. The pine cones will also keep the stems standing upright.
Display the centerpiece on your table with candles of varying sizes in shades of fall colors. Add artificial pumpkins to the display as well. I chose a white pumpkin and a couple of smaller pumpkins coated in beautiful copper glitter.
I can't wait to gather around the table and my beautiful centerpiece for many fall dinners!