I'm excited to show you more of the fall fashion finds I found at Walmart, yes Walmart! They have been stepping up their fashion game with on-trend options for all body sizes plus all of their key pieces are budget-friendly too.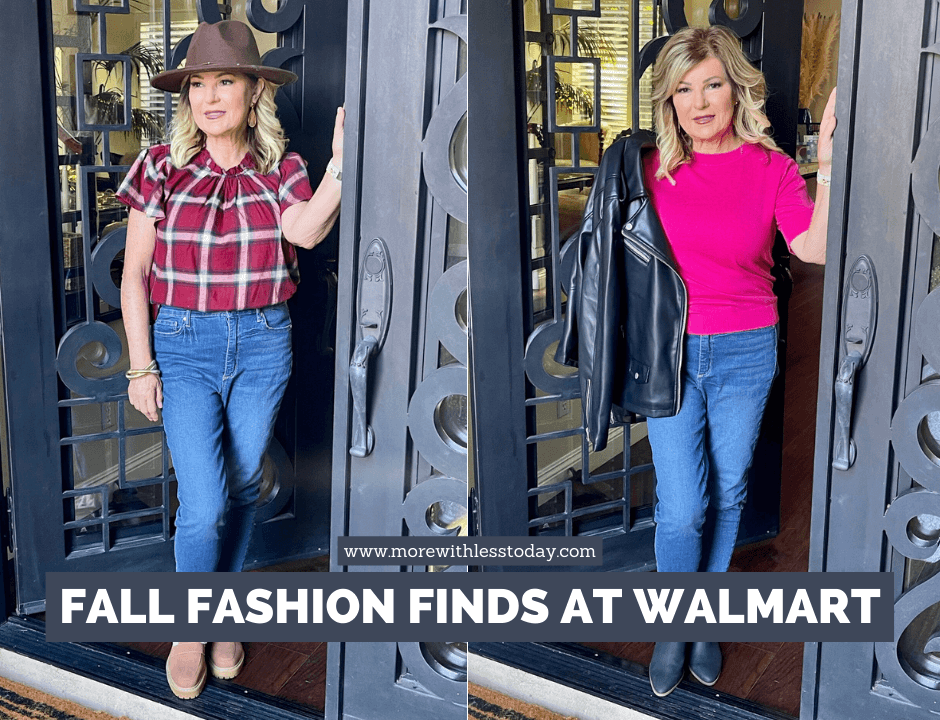 Transitioning to fall (my favorite season) is easy on Walmart.com. They have the looks you want at the prices you'll love. Now if the fall weather here in Southern California will cooperate, I'm ready for fall!
I'm a Walmart Partner and I have an affiliate relationship with Walmart which means I may earn a small referral commission at no additional cost to you if you shop using my links.
Fall Fashion Finds from Walmart
Outfit #1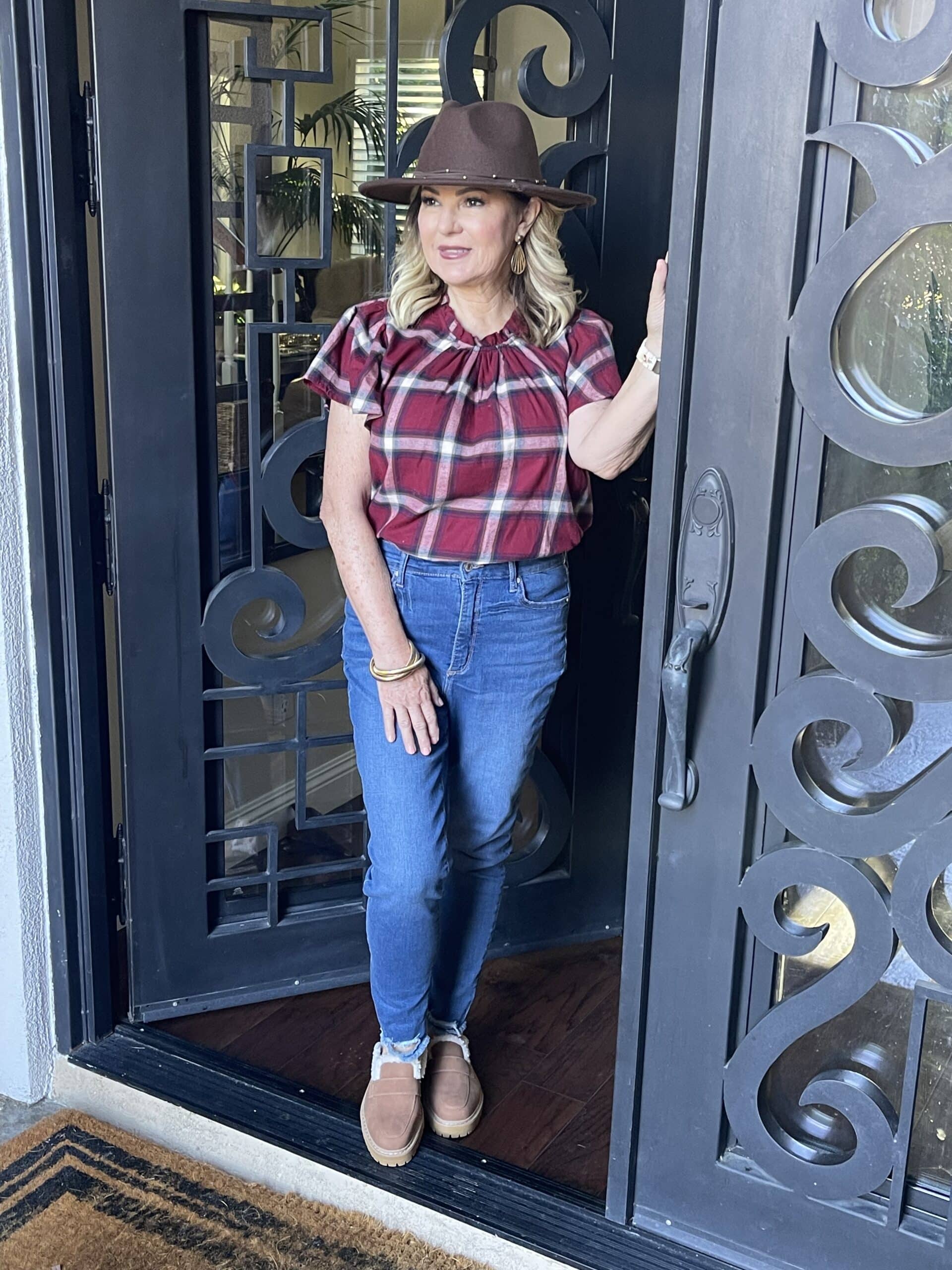 Flutter Sleeve Blouse | Hat | Jeans |Shoes| Earrings| Bracelet
The Flutter Sleeve blouse is perfect for fall days that start out cool and then get warm. It comes in 4 different patterns and colors and is size exclusive from XS – XXXL. It is from Time and Tru.
Outfit #2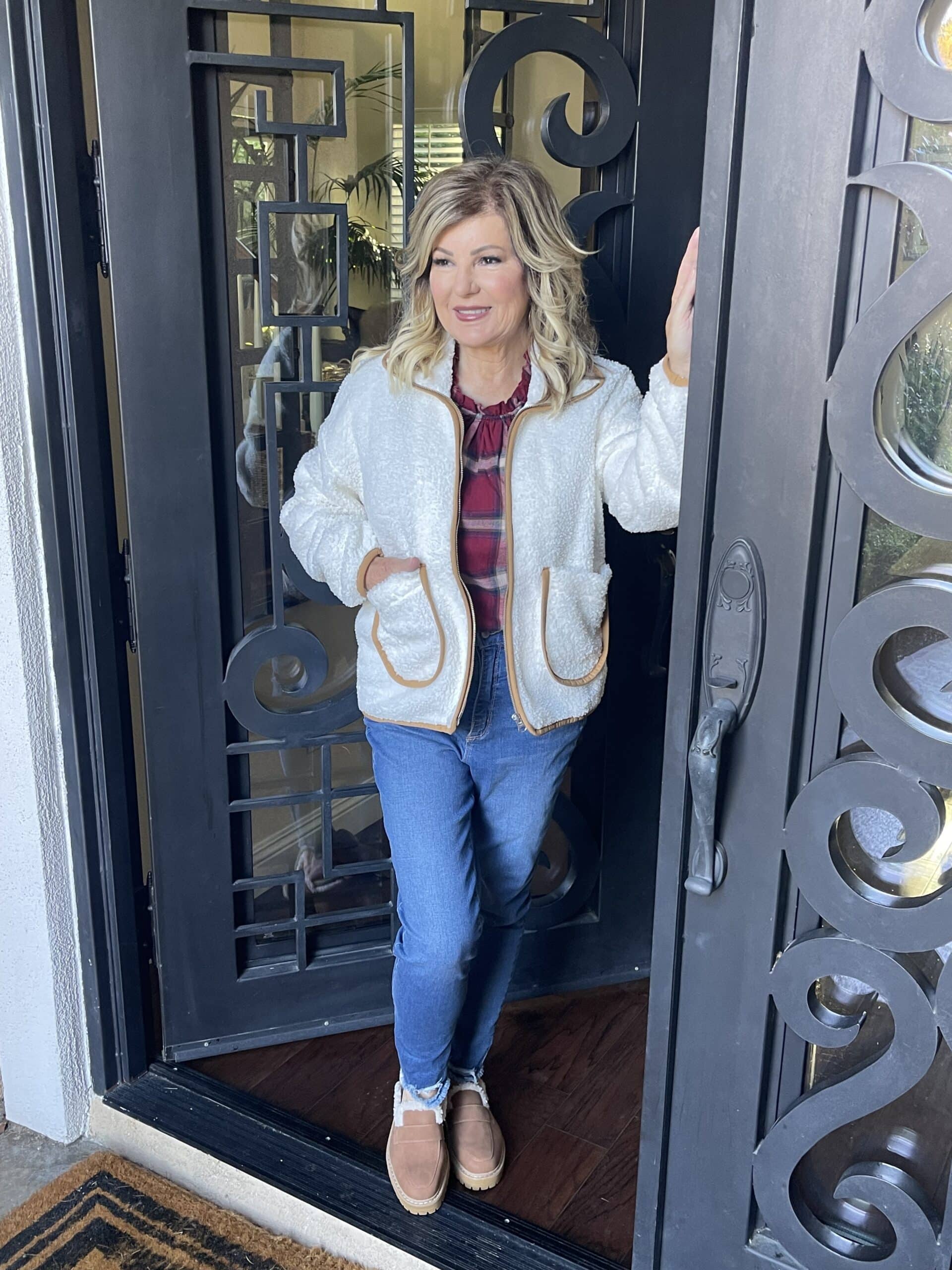 Sherpa Jacket | Flutter Sleeve Blouse | Jeans | Shoes | Earrings
The Sherpa Jacket is so cozy and cute! It is already a best-seller from Free Assembly. It comes in 3 different color options and the sizes run from XS – XXL.
Outfit #3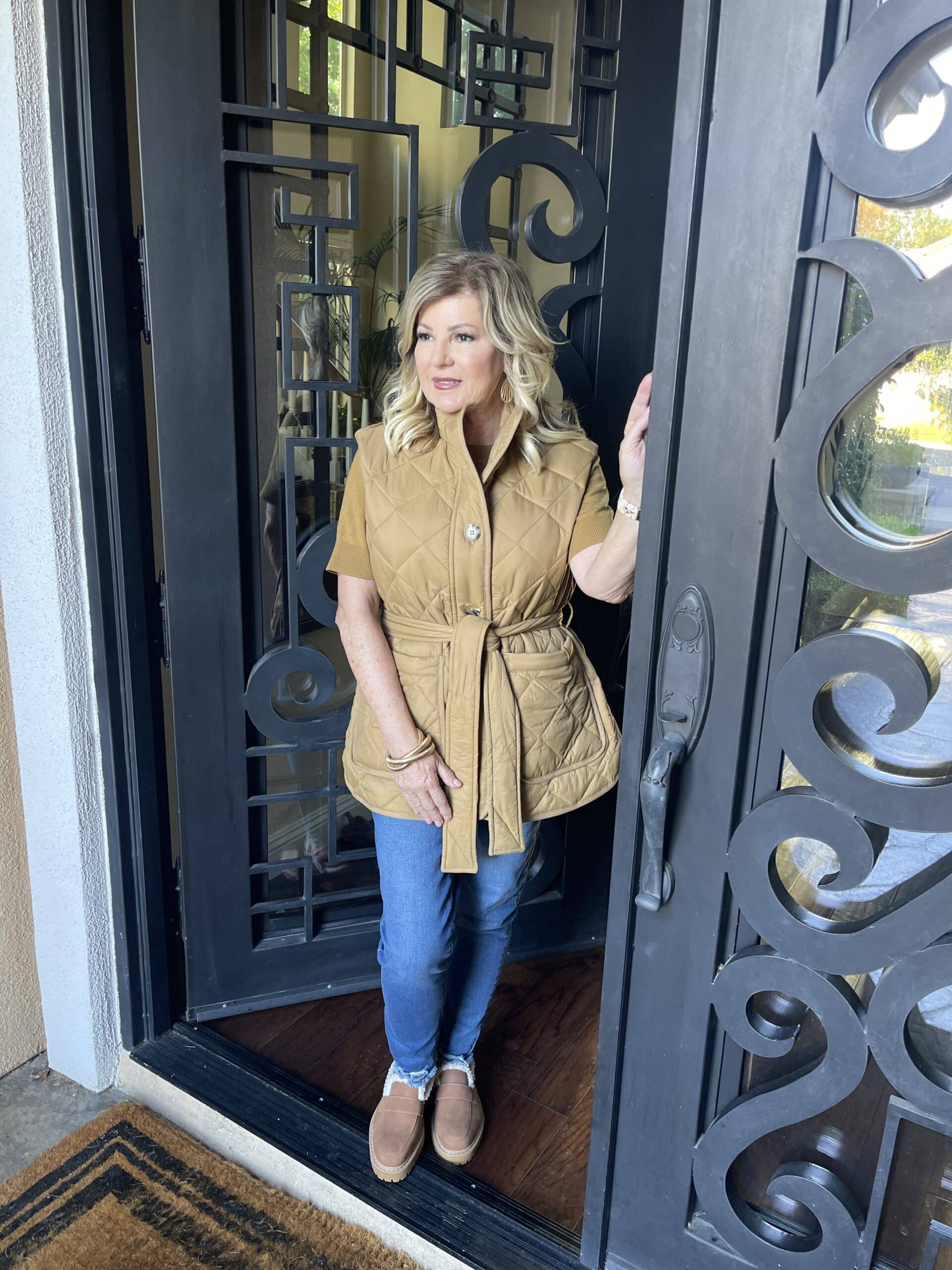 Vest | Sweater | Jeans | Shoes| Earrings | Bracelet
Another great layering option is this quilted vest from Free Assembly. It is also a best-seller for fall and comes in 3 different color options. The color I am wearing is Dijon and it comes in sizes XS – XXL.
Outfit #4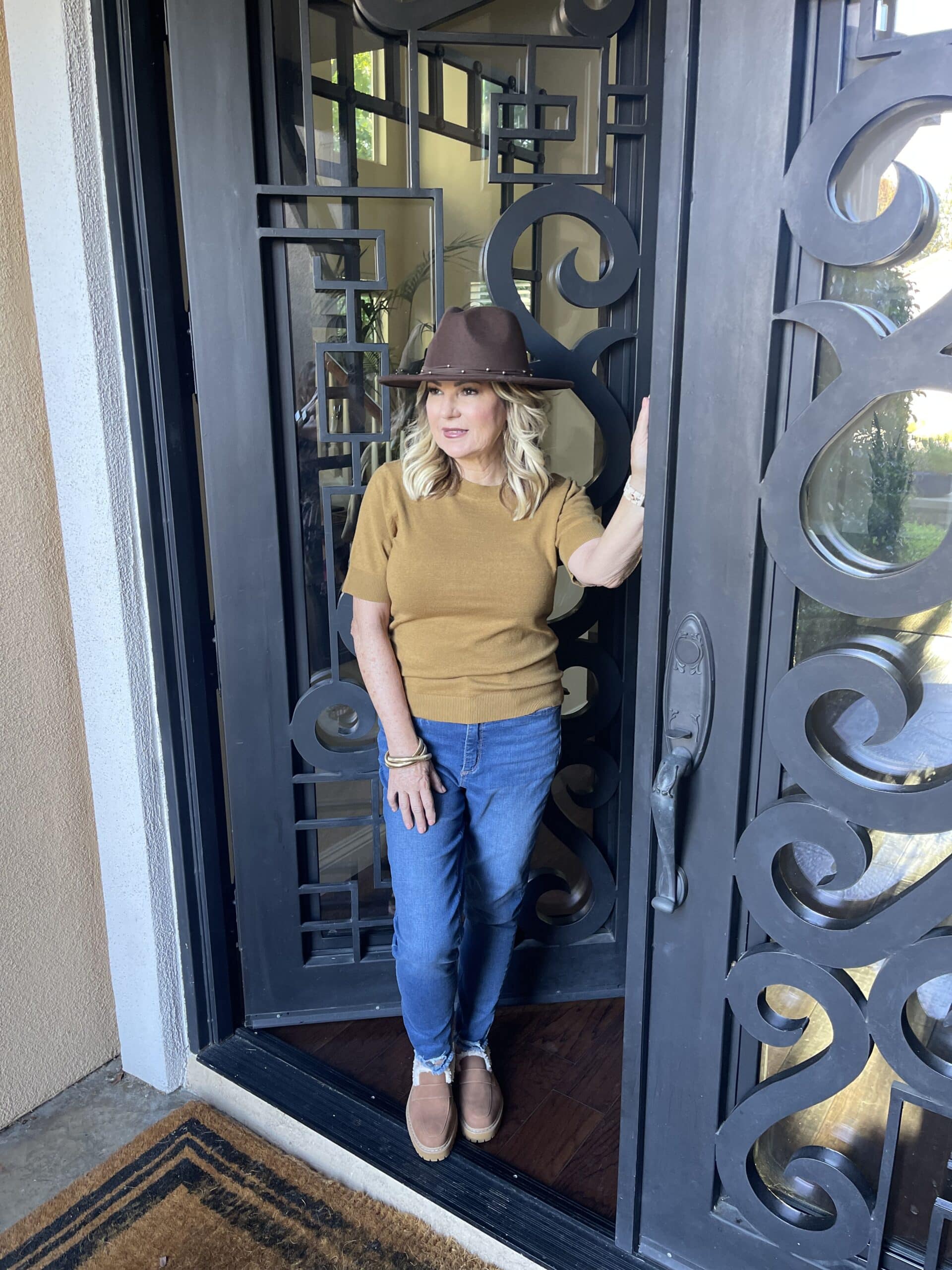 Sweater | Hat | Jeans | Shoes| Earrings| Bracelet
This lightweight sweater is also perfect for early fall. I'm wearing it in hot pink in the photo below. It comes in 6 different colors or patterns and my color is Dijon and looks great with the quilted vest above.
The short-sleeved sweaters are from Free Assembly and come in sizes XS – XXL.
Outfit #5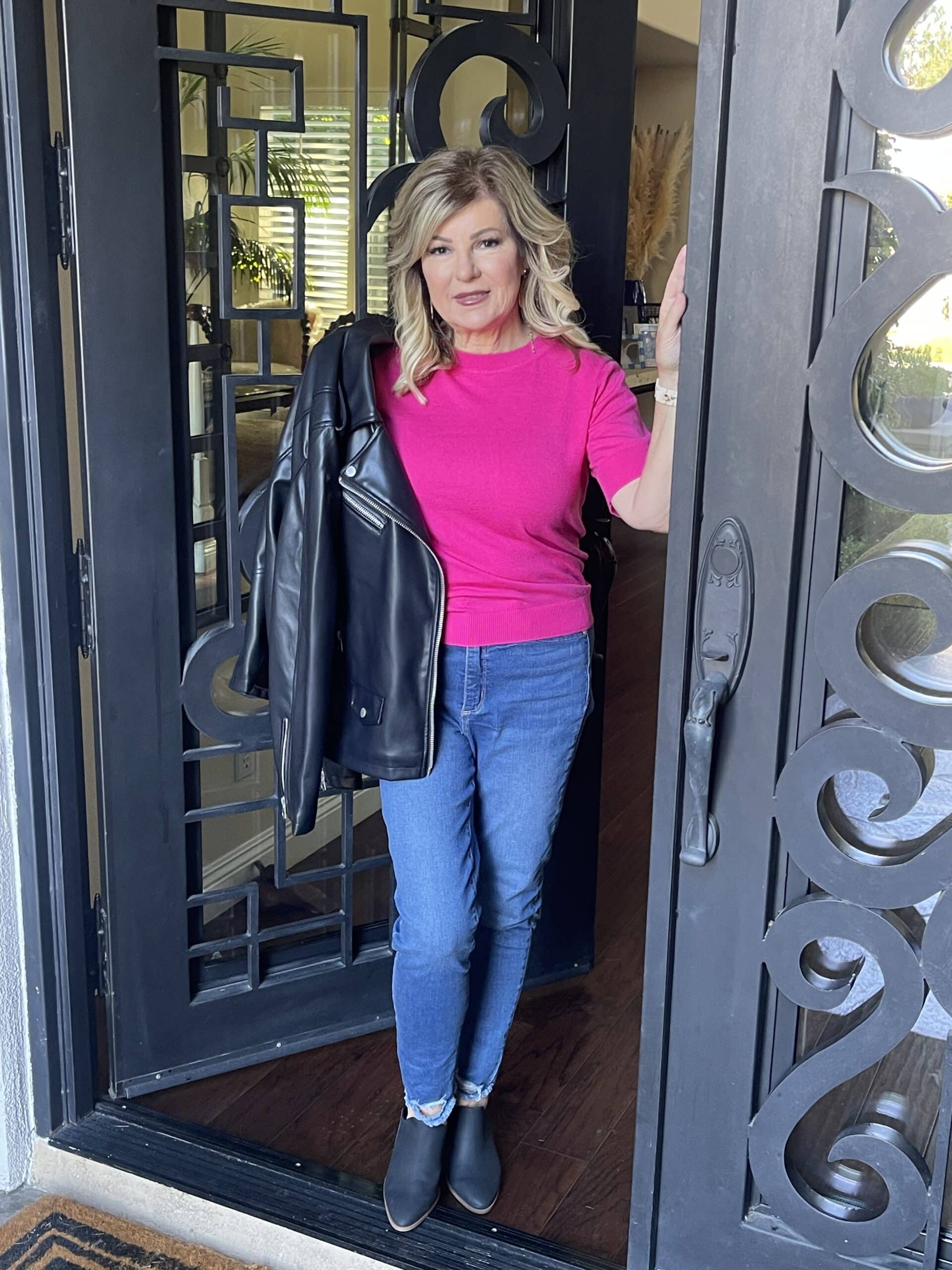 Pink Sweater | Moto Jacket | Jeans| Boots| Earrings
The Moto Jacket makes everything look cool! It is from Scoop and comes in 5 color options and sizes from XS – XXL. I'll be wearing it on repeat all season with dresses, jeans, and leggings.
Outfit #6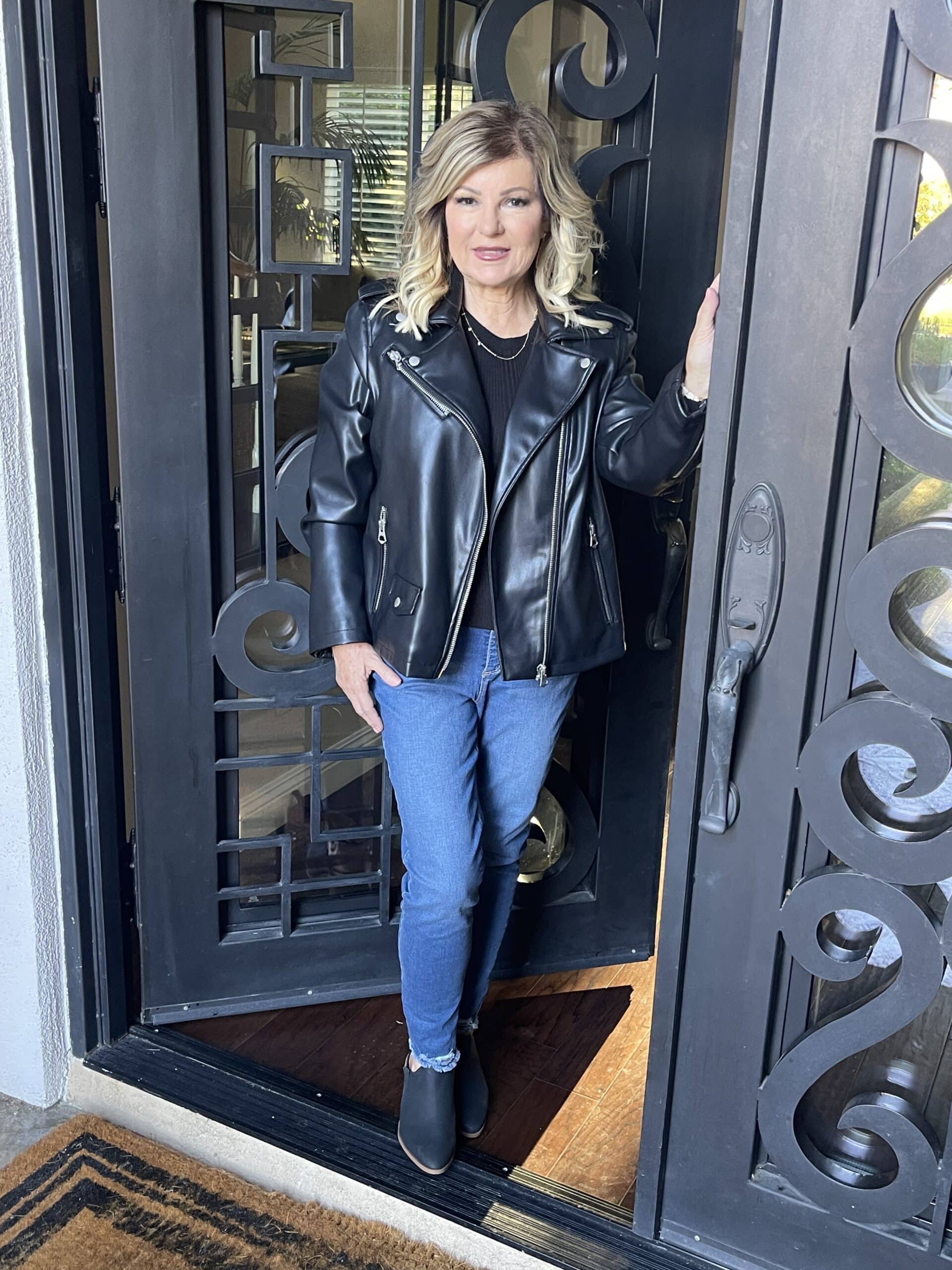 Moto Jacket | Black Top | Jeans | Block Heel Mules| Earrings | Necklace
The black Block Heel Mules are an easy-to-wear slip-on that is both comfortable (due to a Memory Foam insole) and stylish. They are on trend for both dresses and pants. With the budget-friendly price, you can get them in several colors (there are 3 color options).
Posts You Might Also Like
Don't forget to share this post with your friends and loved ones. If you are on social media, I would love to connect with you on Facebook, Instagram, Pinterest, or Twitter. Just click on the links to visit my profile. Leave a message and I will follow you back!