Hoda and Jenna's favorite things seen on the Today Show with Hoda and Jenna is one of my favorite things too! If you have been following my blog, you may remember that I used to share the Favorite Things featured on KLG and Hoda. I miss Kathie Lee, but Hoda and Jenna have such a nice camaraderie too. I enjoy watching them together.
When Hoda and Jenna share their favorite things on the show, we will try to find them and share them with you here. Their choices have ranged from favorite beauty products to books they are enjoying.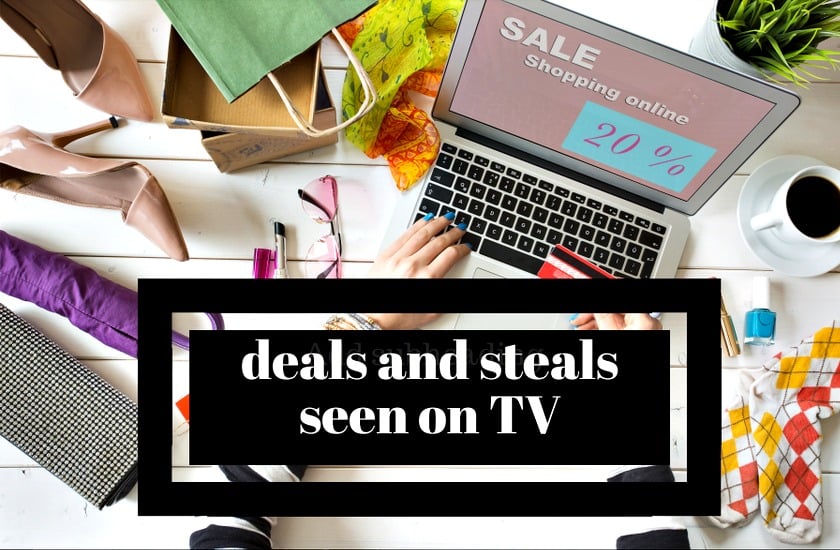 *Important note from More with Less Today —-I am not affiliated with The Today Show, I just share some of their deals with my savvy readers to evaluate. Many deals are non-returnable. Please write down the contact info if you make a purchase. I cannot help you with your purchase or follow up on your purchase.
We have affiliate relationships, so we may get a small share of the revenue from your purchases. As an Amazon Associate, I earn from qualifying purchases. Items are sold by the retailers, not from this blog. All prices are subject to change and items could sell out based on the merchant's inventory.
Now expired
December 15, 2020
Zeiss Fog Defender Kit
Find it on Amazon.com.You can also find it at CVS.
" These surprise soaps contain a hidden toy surprise, which you get closer to revealing the more you wash your hands. Be sure to snag these quickly! The soaps include unicorns and fortune teller toys and come individually or in packs, but the pack of three Ninja soaps is the only one in stock right now."
November 11, 2020
1. "Anne Neilson's Angels," by Anne Neilson
"Anne Neilson's Angels," by Anne Neilson
Find in on Amazon, Barnes and Noble and Bookshop.
From the lifelong artist comes
painter Anne Neilson's
latest coffee table book,
"Anne Neilson's Angels: Devotions and Art to Encourage, Refresh and Inspire."
While the book features new angel paintings by Neilson, Hoda's favorite aspect of the book is that it features 40 words such as "gratitude," "surrender," and "connect," and each is accompanied by a definition, scripture, prayers, and reflections from Neilson's life. Former co-host of TODAY Kathie Lee Gifford penned the foreword. "It's almost like an art piece," Hoda said of the book itself.
2. Callie's Hot Little Biscuit
Can't Live Without It Picks –

July 7th
Cheree Berry Napkins
"Jenna received a set of Cheree Berry napkins as a gift and thinks they're cute and comical. She notes that they can be used for outdoor barbecues and parties when you want to add a little laughter to your get-together.
The brand was founded by Jenna's friend in 2006, and Cheree Berry's website offers vibrant stationery, invitations, baby shower gifts and more. While you can't find her hot dog- and ketchup-themed napkins online, you can find other designs that are perfect for your next family gathering."
"Vacation," by Thomas Rhett
"Hoda's pick is a song from country singer Thomas Rhett. "We played it the whole time I was home," said Hoda. "Because every day should be a vacation when we're home."
Though she's not hosting a party or going out to restaurants these days, she finds that she can still boost her mood with a good song. You can find this one on Apple Music, Spotify, iHeart Radio or your favorite music streaming service."
Can't Live Without It Picks –

June 29th
Jenna sent the book CIRCE by Madeline Miller.
She is also enjoying Hot Little Biscuits, a small company from South Carolina. She did not give a link but I am pretty sure this is the right one- Callie's Biscuits.
Hoda is enjoying listening to Verzuz: Alicia Keys x John Legend live on Apple Music.
Can't Live Without It Picks –

June 15th
Yummly app
"Hoda loves using the Yummly App for meal inspiration for her kids. With over 2 million recipes, Yummly has a mission of becoming the smartest and most helpful food platform — and with the app it's easy to access meal ideas from just about anywhere.
It has a personalized discovery function that learns what foods you like, what ingredients you like to cook with and your cooking comfort level. It also has the capability to recommend recipes based on allergies, taste, diet and more."
Criquet Shirts
Jenna bought this shirt for Henry and her dad for Father's Day and says that they are "manly but vintage-looking." It's made with moisture-wicking material and has a classic fit that's tailored but not too tight.
Criquet makes versatile shirts and shorts with designs inspired by what the co-founders call a combination of "southern prep and east coast classic" style.
Can't Live Without It Picks – May 15th
"From hot sauce to a manicure kit, Hoda and Jenna share their favorite things
Find out what they "can't live without" this week!"
Polish Me Please Spa Manicure Set
"There's a very innovative manicurist. Her name is Alba," Hoda raves about her must-have manicure set. "She sends all the things you need … And a step by step tutorial!"
This kit has everything you need for the perfect manicure, including cuticle oil, nail strengthened, you Essie nail polish shade of choice a hand and foot scrub and much, much more."
Red Clay Verde Hot Sauce
Available at Amazon.com
"You can always find spicy condiments in Jenna's pantry, and her current must-have is packed with a ton of flavor.
"This is their Verde hot sauce. It kind of reminds me of Texas," said Jenna of her favorite hot sauce brand.
The South Carolina-based brand also makes a honey hot sauce that Jenna says is her "favorite kind."
Can't Live Without It Picks – May 4th
Sephora Coconut Water Cleansing Wipes
"While Hoda noted that these cleansing wipes weren't her "Can't Live Without It" pick, she loves beauty products made with coconut oil. "Every time I reach for something coconut oil I laugh inside because I remember [Jenna] saying that I do that … I have so many coconut oil products," Hoda laughed.
These coconut water cleansing wipes are just what Hoda happened to have on hand. They're soft and gentle on the skin but can remove tough makeup and dirt in a breeze. The coconut water extract also boasts soothing and relaxing properties to leave you and your skin feeling refreshed."
Jennifer Miller I Love You Mama Heart Necklace
"Hoda's "Can't Live Without It" pick is this adorable engraved necklace from designer Jennifer Miller.
"The long chain makes it easy to pair with other necklaces and dainty earrings, while the eye-catching gold finish makes it stunning enough to wear on its own.
The piece can even be engraved with the message of your choice, so the mom in your life can wear a message just as sweet as Hoda's close to her heart."
Dr. Teal's Muscle Recovery Soak
"Jenna can't live without this Epsom salt bath, which upgrades her self-care baths and helps give her a bit of relaxation. For her "Can't Live Without It" pick, Jenna shared that this muscle recovery soak makes her routine just a little bit better.
"This makes your muscles feel good," Jenna said. While she laughed that Hoda is not a fan of baths, Jenna noted that they tend to help her when she is feeling stressed."
This segment featured creative and fun things to do with kids as well as just for adults featuring lifestyle expert Ashley Bellman.
I was excited to see Lite Brite on Hoda and Jenna's favorite things list. It was one of my favorite things too!
5D DIY Diamond Painting by Number Embroidery Kits for Adults
This is highly rated and Amazon's Choice for these types of Diamond Painting Kits. You can also find it at Walmart and JoAnn.
Diamond painting uses small resin diamonds and an adhesive canvas to create a gorgeous image. It's similar to paint-by-numbers and is a great long-term craft for older kids who can put up with the small pieces and intricate placement."
Paint by Sticker Kids: Zoo Animals
found at BooksAMillion
"This is something for the whole family," said Bellman, calling it one of her favorite options. The kit comes with 10 different card stock pages, each with a unique animal design, and plenty of stickers to help put the image together. "It's really pretty. You could frame this, too, and the kids will feel really accomplished that they completed the art project."
Magical Microbes DoughLab Bake and Learn
from Amazon.com
"Jenna noted that bread baking has become a quarantine staple, with plenty of home bakers showing off their creations on social media. Bellman recommended this kit for anyone looking to dig deeper into the popular new hobby.
"You create three different loaves, and you get to see the difference that happens when you put the salt in one, when you put the sugar in one, the yeast in the other," Bellman said, calling it an experiment that the whole family can participate in. "It's really cool to see what the ingredients do — and don't worry, they all taste good."
Lite Brite Ultimate Classic
From Amazon.com and you can also find it at Walmart.
"The nostalgic 90's toy has been updated for the current era, combining the best parts of the classic craft with modern technology.
"All the things that we know and love from the classic craft (are here)," said Bellman, calling attention to the cube's variety of stencils and adding that people can also create their own designs. "I love this because you can put your art on display."
Padalily BalmDiggity DIY Lip Balm Kit
"This is so fun and it's so easy," Bellman said, reassuring Jenna that her girls would love the multi-step kit that allows kids to choose their own lip balm flavors and decorate the tubes. It's a little bit messy, but the craft is perfect for entertaining children of all ages."
Planters' Choice Succulent & Cactus Growing Kit
"For anyone looking to add some plants to their home, but not blessed with a green thumb, this prepared kit is the perfect first step.
"It comes with everything you need," said Bellman, noting that the kit includes soil, pots, seeds and a thermometer. Step-by-step instructions mean you learn all sorts of things about the planting and growing process, making it a fun and educational experience."
Solight Complete Candle Making Kit
"Another craft you can make at home: candles!
The kit comes with meltable soy wax and scented essential oils and tins. Mix and match colors, scents and more to make the candle of your dreams."
Pink Picasso Leading Lighthouse Paint by Number Kit
"If diamond painting is a little too detailed for your family, try a traditional paint-by-number kit. They're just as intricate and time-consuming, but you won't have to worry about small pieces. Bellman praised the Pink Picasso brand, which sends you the canvas, paint, and brushes in one neat kit.
"I like the idea that you can have one at your house, send one to your mom or best friend, and then you can organize a virtual paint and wine night," Bellman said. "And then you'll get this beautiful piece of art when it's done."
Check back here soon for more of Hoda and Jenna's favorite things!
Want More Deals and Steals?