Looking for special sister gifts? We found inexpensive and unique gift ideas that she will love!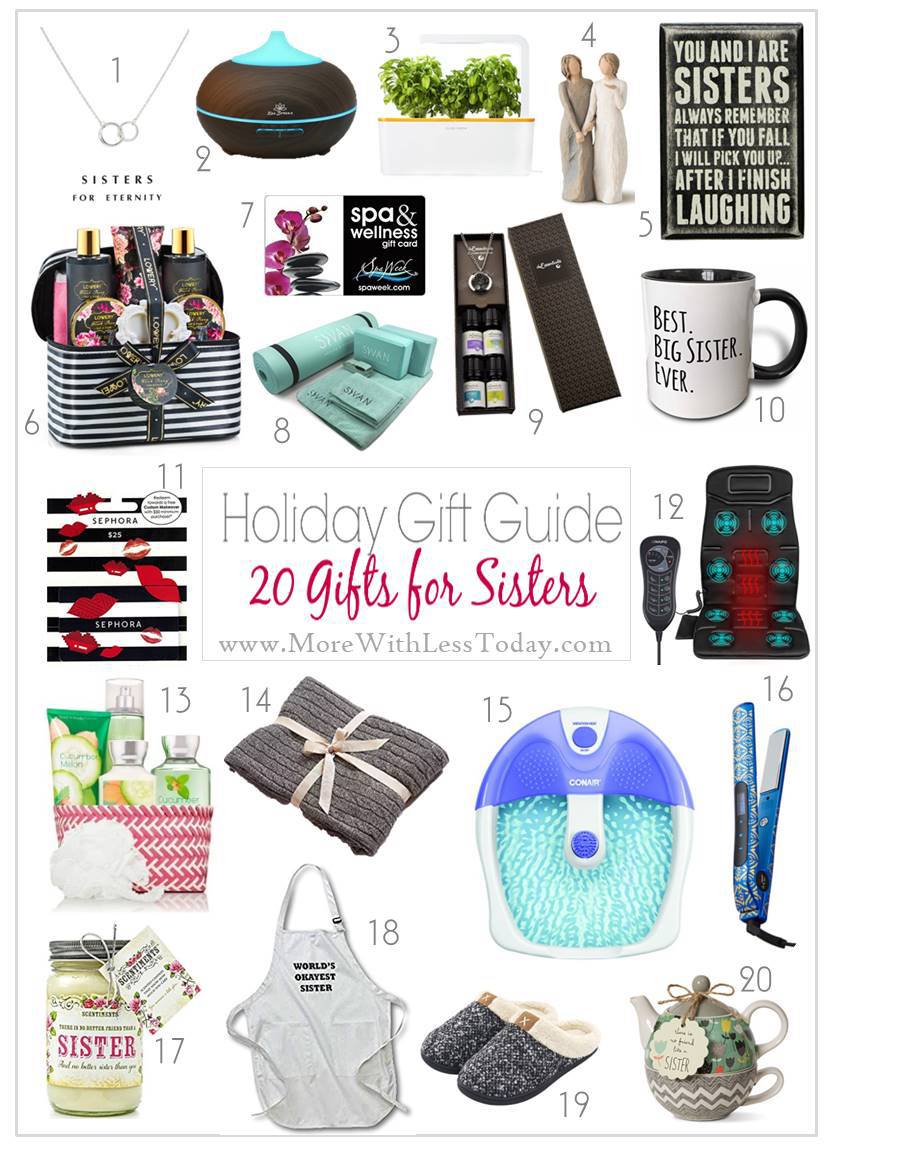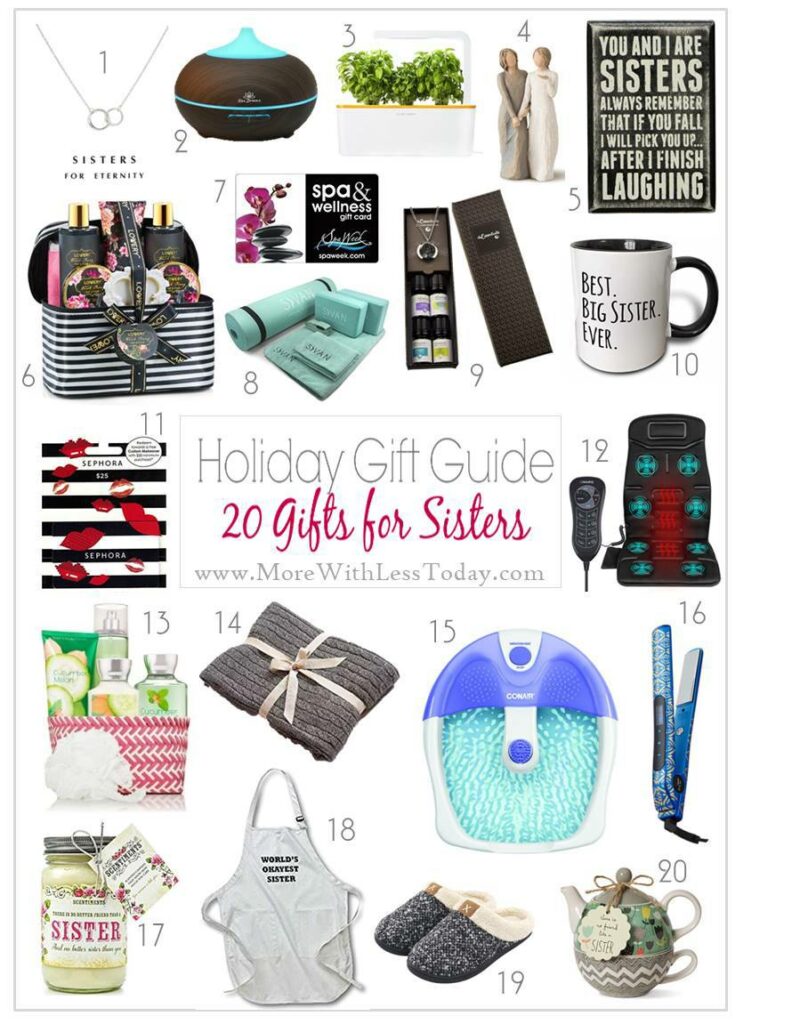 All of these "sister gifts" are available from Amazon.com. Double-check availability and shipping before you purchase. We all know things change rapidly, especially this time of year! As an Amazon Associate, I earn from qualifying purchases.
Sister Gifts – Lots to Love and Less to Spend!
These timeless interlocking circles represent the bond you share for now and infinity: Eternal friendship and sisterhood. These necklaces show your sisters (by blood or …) that you are forever linked. For little/big sister, friends, and daughters.
Cool Mist Safe for Children with an adjustable mist timer and auto-shutoff when water levels run low.

Click & Grow Smart Garden 3 Indoor Gardening Kit (Includes Basil Capsules)
Grow Fresh Herbs and Vegetables Indoors. Th: energy-efficient LED grow lights ensure your plants thrive no matter the weather. Just drop in the included plant pods, fill the water reservoir, and plug the self-watering planter in – your herb garden starter kit is good to go. Choose from over 50 pre-seeded plant pods for your herb garden like cilantro, basil, lavender, wild strawberries, thyme, and even chili peppers. No green thumb needed!
Willow Tree My Sister My Friend
"Walk with me. And along the way, we'll share… everything" written on Enclosure Card and packaged in fitted box ready for gift-giving. Artist Susan Lordi hand carves the original of each Willow Tree piece from her studio in Kansas City, MO. This piece is cast from Susan's original carving and painted by hand."

Signature Primitives by Kathy wooden box sign with sentiment and distressed detailing.

Home Spa Gift Basket, Luxurious 8 Piece Bath & Body Set
Pamper your body with a luxurious at-home spa treatment. Contains a Shower Gel, Bubble Bath, Body Lotion,, Bath Salt, Body Scrub, Heart Shaped Bath Soap, Exfoliating Loofah Back Scrubber and Cosmetic Bag with a handle for travel and storage.

A Massage, Spa, or Manicure Gift Card is always a welcome gift. If she cannot use it now, she will have something to look forward to, hopefully soon!

Sivan Health and Fitness Yoga Set 6-Piece
The set includes: 1/2″ NBR Yoga Mat, 2 Yoga Blocks, 1 – 68"x24" Yoga Mat, 1 – 30"x20" Yoga Hand Towel, and 1 Yoga Strap
Tree Of Life Essential Oil Diffuser Necklace Stainless Steel Locket Pendant
"We pair our essential oil diffuser locket with a gorgeous 24" chain. Complete with a solid back and two magnets for a secure close, you'll never have to worry about getting oil on your clothing. Every order includes Lavender and Peppermint, as well as two of our incredibly soothing and unique synergy blends, Zen and Inner Calm."
Best Big Sister Ever Mug
White ceramic mug with black interior and handle. The image is printed on both sides. This is manufactured in the United States.

"Sephora offers a vast and diverse selection of prestige beauty products online and in our 250 stores nationwide. From classic brands like Clinique, Bare Essentials, Dior and Philosophy to hard-to-find brands like MAKE UP FOR EVER and Fresh, you have easy access to over 13,000 products and more than 200 brands. The card is redeemable for merchandise sold at Sephora stores, online, or at Sephora inside JCPenney stores."
Massage Seat Cushion Full Back Massager Car Seat Cushion
"This massage seat cushion with 8 powerful vibrating massage motors targets the upper back, mid-back, lower back, and thighs to help relieve muscle pain, tension, stress. You can even select all 4 zones at once or individually to your liking for back massager. Our car seat cushion Heating pad with auto shut off target full back and seat, to radiating gentle warmth, to soothe and loosen tight and soreness muscles and improve blood circulation. massage seat cushion back."
SNAILAX Vibration Massage Seat Cushion with Heat 6 Vibrating Motors and 2 Heat Levels, Back Massager, Massage Chair Pad for Home Office use
Snailax provide each customer with the most innovative relaxing, therapeutic, health and personal care massage products including massage pillow, massage cushion, foot massager, handheld massager,etc.
Enjoy the benefits of the massage seat cushion with heat in the comfort of your home office everyday. The vibration seat cushion with heat has 6 vibrating motors and 3 heat levels targets upper back, mid back, lower back, and thighs to help relieve muscle pain, tension, stress.
Bath & Body Works Signature Collection Cucumber Melon
"Pamper her with all her favorites: super-lathering Shower Gel, hydrating Body Lotion, skin-loving Fine Fragrance Mist, and nourishing Ultra Shea Body Cream. Plus, she'll enjoy the ultimate cleansing experience with our luxurious shower sponge."

100% Cotton Cable Knit Throw Blanket
20 different color choices!

Conair Foot & Pedicure Spa with Vibration and Heat
"This foot bath features soothing vibration creating a spa-like experience and massage nodes plus pinpoint massage attachment for a full foot massage. Nonslip feet keep it in place for a soothing spa-quality experience."
CHI Smart Gemz Volumizing Zirconium Titanium Hairstyling Iron with Clips and Bag
"Includes styling iron, heat-resistant bag, and three hair clips. 1" GEMZ zirconium and titanium plates. Pre-set temperatures: Low 370F for fine hair, Medium 390F for medium hair, High 410F for coarse hair; plus adjustable temperature settings."
Hair Straightener, Bigrace Pro Flat Iron for Hair 2nd Diamond Ceramic Ionic Flat Hair Iron Dual Voltage 10S Instant Heat Flat Irons (11 Adjustable Temp, LCD, Incl 1Glove, 2 Hair Clips, 1 Bag, Black)
Fast & Safe for 10s Instant Heat Up with Diamond Ceramic Plate:Compared with conventional ceramic plate, Bigrace 1″ ceramic plate fused with diamond powder helps straighten thick or coarse hair, eliminate frizz and flyaways and create super-sleek, polished hairstyle in 10 seconds. This Bigrace hair straightener is made with the user's comfort in mind.
11 Adjustable Temperature & Digital LCD Display: Bigrace flat iron can heat up in 10s with 11 Temperature settings for all hair kind. The temperature is displayed in two ways on the both the Digital LCD and the unique 3-color Wavy Temperature Indicator.Plus, the LCD display screen clearly displays helping you choose the desired temperature. Investing in multiple temperature settings best flat iron is wise because ultimately, this is going into your hair.

Scentiments SISTER Gift Candle Vanilla Scented Fragrance
"Handmade and poured in the USA using only 100% Soy wax. We ensure that they will get the cleanest and safest burning candle possible."
Worlds Okayest Sister Full Length Apron
Does your sister have a sense of humor?
This full-length apron has two waist-level patch pockets, an adjustable neck strap, and ties around the waist.
Women's Memory Foam House Slippers
"Comfortable microfiber upper and wool-like plush fleece lining cover the inside of the cozy slippers."
Designed by Amylee Weeks, "There Is No Friend Like A Sister" text is printed onto the attached tag, while the teapot itself has a floral design printed onto it.
5 PCS Ceramic Tea Sets 4 Tea Cups and 24oz Tea Pot with Bamboo Handle Japanese Tea Kettle Beautiful Asian Porcelain Art Teapot Set Service for Kungfu Tea Lover Party Gift for Women (Red Fish)
Japanese Tea Sets Cups and Tea Pot with Bamboo Handle Ceramic Kungfu Tea Kettle Beautiful Asian Porcelain Art Tea Set Service for Tea Lover.
5 Piece Tea Set: 4 tea cups + 1 tea pot, safely packaged in a beautiful gift box, perfect gift giving for travel, birthday, Valentine's Day, Christmas, Thanksgiving, Mother's Day, Father's Day, Housewarming.
Don't Delay!
It's time to get your shopping done. With inventory and shipping issues becoming commonplace, it is important not to wait any longer to avoid disappointment and extra stress!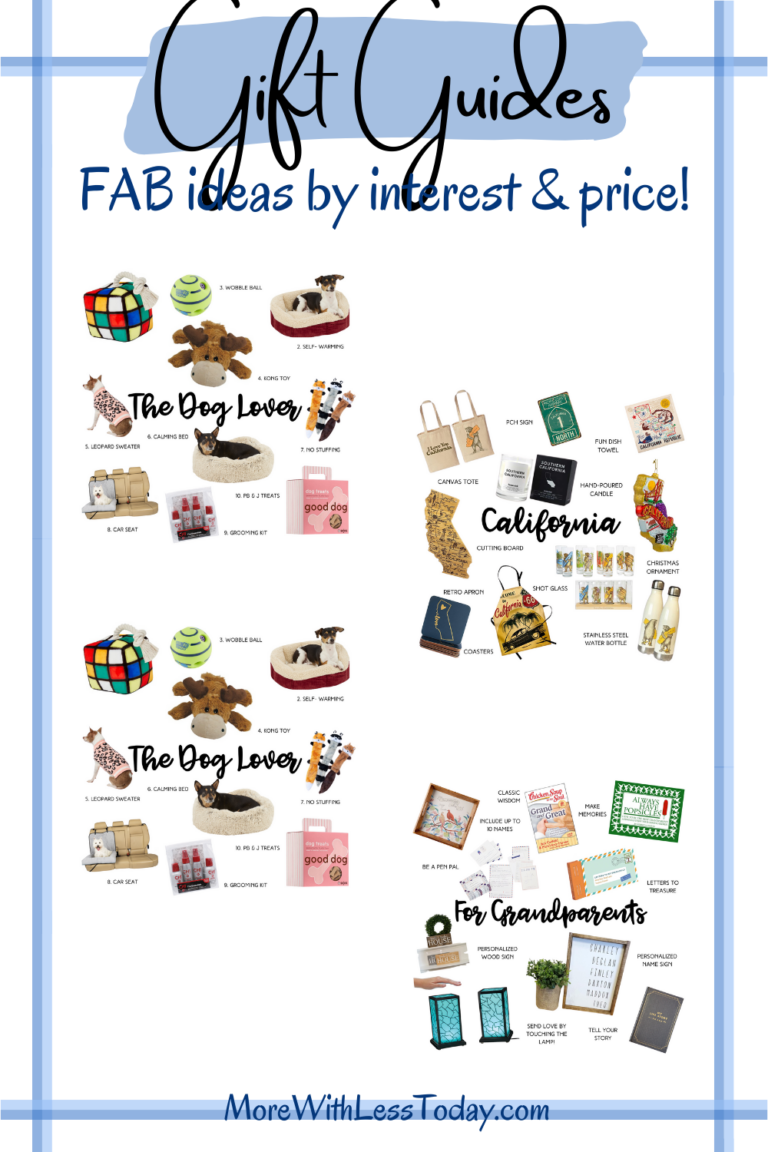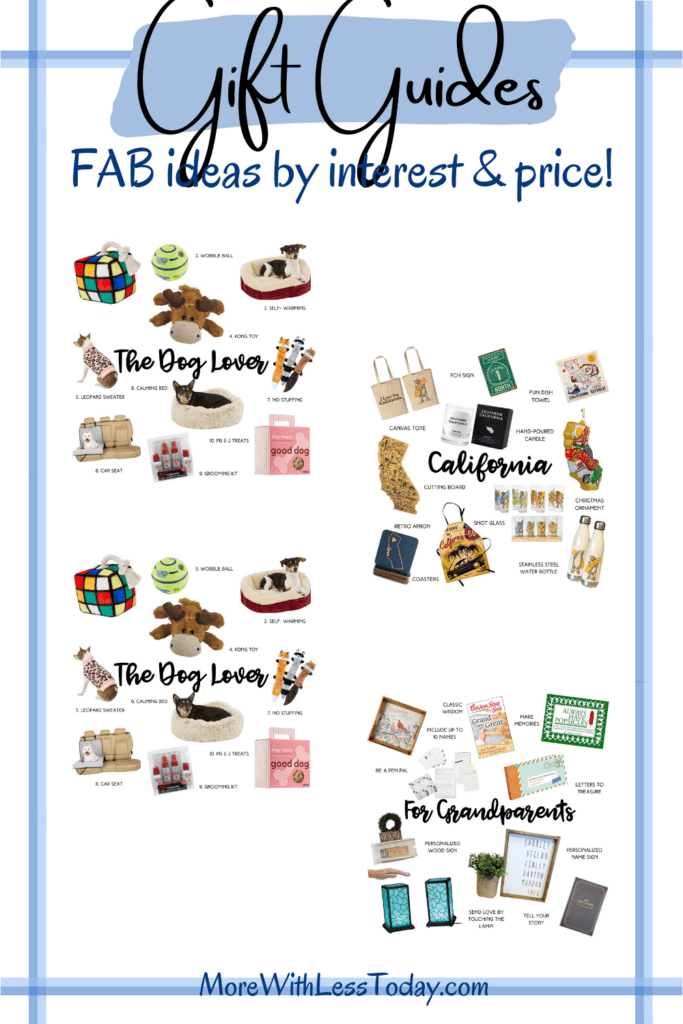 Matching Family PJs for the Holidays – A favorite tradition!
We will be putting together more gift guides in the days ahead. If you have a topic that would be helpful, just let us know! You can email us at morewithlesstodayteam [at] gmail.com.