This is a sponsored post by Groupon Coupons, but as always, all opinions are 100% mine.
In addition to great deals on dining out, entertainment, gifts, and getaways, did you know that Groupon also has coupons?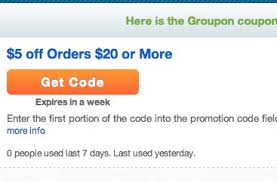 What are Groupon Coupons?
Think of Groupon Coupons as a free database of retail coupons with money-saving promo codes from more than 8,000 stores.
It's well organized and easy to use. You can search by store or by category. In addition to all of your favorite retail stores such as Best Buy, Target, Macy's, Kohl's, Walmart and Nordstrom, plus you can also find coupons for health and beauty at favorite retailers like GNC, Estée Lauder, Sephora, and Avon.
Before you plan a trip, search the Groupon Coupon database to save on hotels, rental cars and airlines to really stretch those hard-earned vacation dollars.
If you know the category of what you are looking for such as jewelry, computers or pet supplies, use the search by category feature to help narrow down your options.
One of the features I appreciate is that coupons also display an expiration date making it easier to plan to save if you are not making your purchase right away.
I recommend bookmarking this page and then logging in to Groupon coupons before you make your next retail purchase. We would love to know how much you saved!