I found some creative homemade teacher appreciation gifts to make from some of my favorite bloggers. Often, just a small thoughtful gesture of appreciation can make a world of difference to a teacher.
As challenging as this year has been for parents, it has been equally as challenging for teachers. These easy and affordable DIY teacher gifts will make your favorite teachers feel appreciated. Do you have a favorite teacher appreciation gift to share?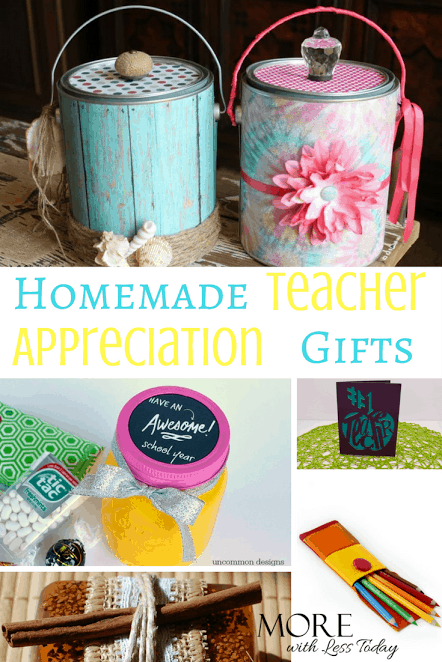 Homemade Teacher Appreciation Gifts
Teacher Buckets – by The Magic Brush Inc
Made with an empty paint can.
Flower Pen Teacher Gift – by Housewives of Frederick County
"Flower pens are a great DIY project to make with your child while showing your appreciation for their teachers!"
Fall Scented Soap – by Happy Deal Happy Day
"I'll show you how to capture that perfect blend of these autumn aromas into homemade honey glycerin fall-scented soap."
Back To School Mason Jar Printable – by Uncommon Designs Online
"Gather up some small treats like mints, Kleenex, lip balm… and chocolate! "
Felt Pencil Case – by Apple Green Cottage
"Make a simple patchwork and use it to make a colorful back-to-school felt pencil case."
Teacher Cricut Card – by The Inspiration Vault
Have you used a Cricut?
Hand Sanitizer Printable – by Kenarry
"All of the kids in class will be healthier this year thanks to this free Hand Sanitizer Printable reminding them that just one pump leaves the germs behind."
Pencil Mason Jar Teacher Appreciation Gifts – by A Night Owl
This is adorable and so cheerful!
"Thanks for Making Us Smarties!" Teacher Appreciation Gift by B-Inspired Mama!
Using Smarties and Lifesavers- so cute!
Rubber Band Ball Teacher Appreciation Gift by Tried & True
"It takes less than 15 minutes to make and the supplies cost under 5 bucks!"


Pressed Flower Teacher Appreciation Gift by Blooming Homestead
It does take a while for the flowers to dry, but the end result is worth it!
"I'm Stuck on You" Teacher Appreciation Gift by One Artsy Mama
This is so practical for an elementary school teacher. I know my daughter goes through tons of glue sticks each year.
Supherb Spring: Teacher Appreciation Gift by Stuffed Suitcase
Done in 15 minutes!

Washi Tape Pillow Box Teacher Appreciation Gift by It Happens in a Blink
The Washi Tape makes the box look so pretty!
Teacher Appreciation DIY Painted Jars by DIY Beautify
These look like they would be fun to make with kids!
If you are not the crafty type, I can also tell you that a small gift card from Target, Walmart, Amazon.com, or an office supply store will also be appreciated. According to a recent study, teachers spent an average of $398 out of their own pocket on supplies for the classroom. I know first-hand that my daughter spends quite a bit more than that every year.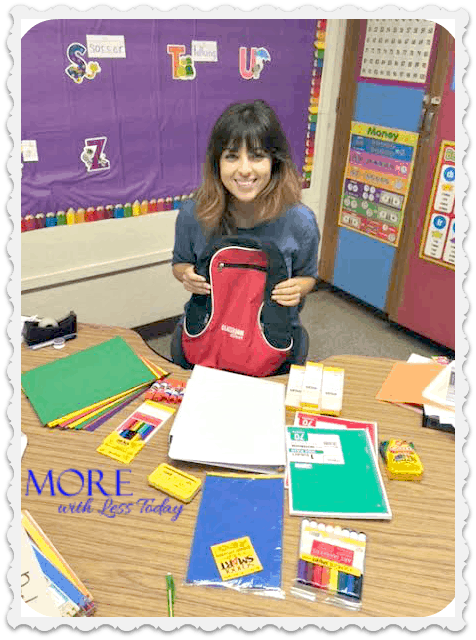 I am the daughter of a teacher and now the proud mother of a teacher and I know firsthand how challenging the days can be.
Do you have any homemade teacher appreciation gifts to share with us?