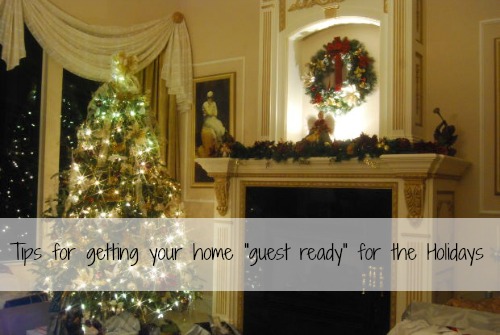 Are you having house guests for the holidays? Here are 10 easy and frugal tips to get your house ready. Making your home comfy and inviting does not have to be stressful or cost you a lot of money and time.
Plus, having house guests or throwing a party are the best ways that I know to get those "honey-do" project finished STAT!
1. Gather "things to do" for your house guests from local attractions, places of interest, shopping, and from their hobbies. If they exercise, offer a guest pass from your gym. If you have coupons for local entertainment, save them for your guests. Do not feel like you have to accompany your guests on every excursion. Prior planning prevents misunderstandings. Let your house guests know when you are available to play tourist with them and those times when they will be on their own.
2. A meal plan mapped out ahead of time can save money and frustration. Aim for "dollar-stretcher" meals, cook-once-and-use-twice meals, and use your slow cooker during the day so dinner is ready at night. Make some easy desserts ahead of time too.
3. Take time to de-clutter and make room for your guests to hang up their items and unpack. Living out of a suitcase is not ideal. Go to the dollar store and get some laundry baskets. If time is short, just de-clutter into the laundry baskets and stash them away until the guests are gone.
My daughter recently returned home from college. I found great items at my local Goodwill store to help her organize her bedroom. You don't have to spend a lot of money.
4. Put a small basket in the bathroom for them to keep their toiletries in. If you have samples of shampoo, soaps and other toiletries that you have collected, offer those for your guests to use and place them in the basket. If you have an empty mason jar, place that in the bathroom for a toothbrush holder for your guests. Make sure your bathroom is stocked adequately with extra toilet paper etc.
5. If you can purchase a few items to freshen up you home, I recommend new towels for your guests in a different color from those your family is using. These can become your permanent "guest towels" if you don't put them back in rotation after the guest have gone.
6. You can also purchase new bedding if needed, bed pillows, reading lights, ear plugs, and a night light. Store your new items away so you can have them when you have house guests again.
7. Have your glasses, silverware, dishes and coffee cups seen their better days? This is a great time to get new kitchen items. I recommend buying white dishes and simple clear glasses. You can buy place mats and napkins for each holiday.
8. Freshen up your living room with new pillows. Place some coordinating blankets over the chairs. My east coast family keeps their house too cold for me and my California family. We are always bundled up in sweatshirts, cuddled under the blankets while they lounge in T-shirts.
9. If you have a little more time, painting is an easy way to give your house a freshening up. You can also plant some new flowers near your entrance, replace an old welcome mat, add a wreath to the front door, buy new candles, and add fresh flowers to each room.
10. If you are not sure whether or not you need an item, buy it and keep the receipt. If it it turns out that you didn't need it, just return it. Know the return policy from the store and return on time!
Picture yourself as a guest in your own home. What might be missing if you were spending the night? What simple items could you add to make guests more comfortable? Often guests don't want to keep asking for things so they might go without instead of "bothering you."
What has worked for you in your home and as a house guest? What would have made your stay more pleasant? I welcome your ideas!
Are You a Pinner?
Are you on Pinterest? I am sharing tons of great boards and ideas from savvy savers, other bloggers and from my readers. I would love to connect with you on Pinterest. You can find me here: www.pinterest.com/morewlesstoday.