If you've been curious about how to make whipped instant coffee, Dalgona creamy coffee, it is easy and fun to make!
What is whipped instant coffee or Dalgona coffee? It originated in South Korea and it's the opposite of a latte. Instead of spooning frothy milk on top of your coffee, the whipped fluffy coffee goes on top of the milk. Just mix together equal part instant coffee, (any brand) flavored creamer (optional), granulated sugar, and water—about 2 tablespoons of each.
I recommend whisking your ingredients in a KitchenAid mixer or with an electric whisk. The goal is to make the texture light and airy, like making whipped cream. Once your coffee begins to form stiff peaks, you know you're done.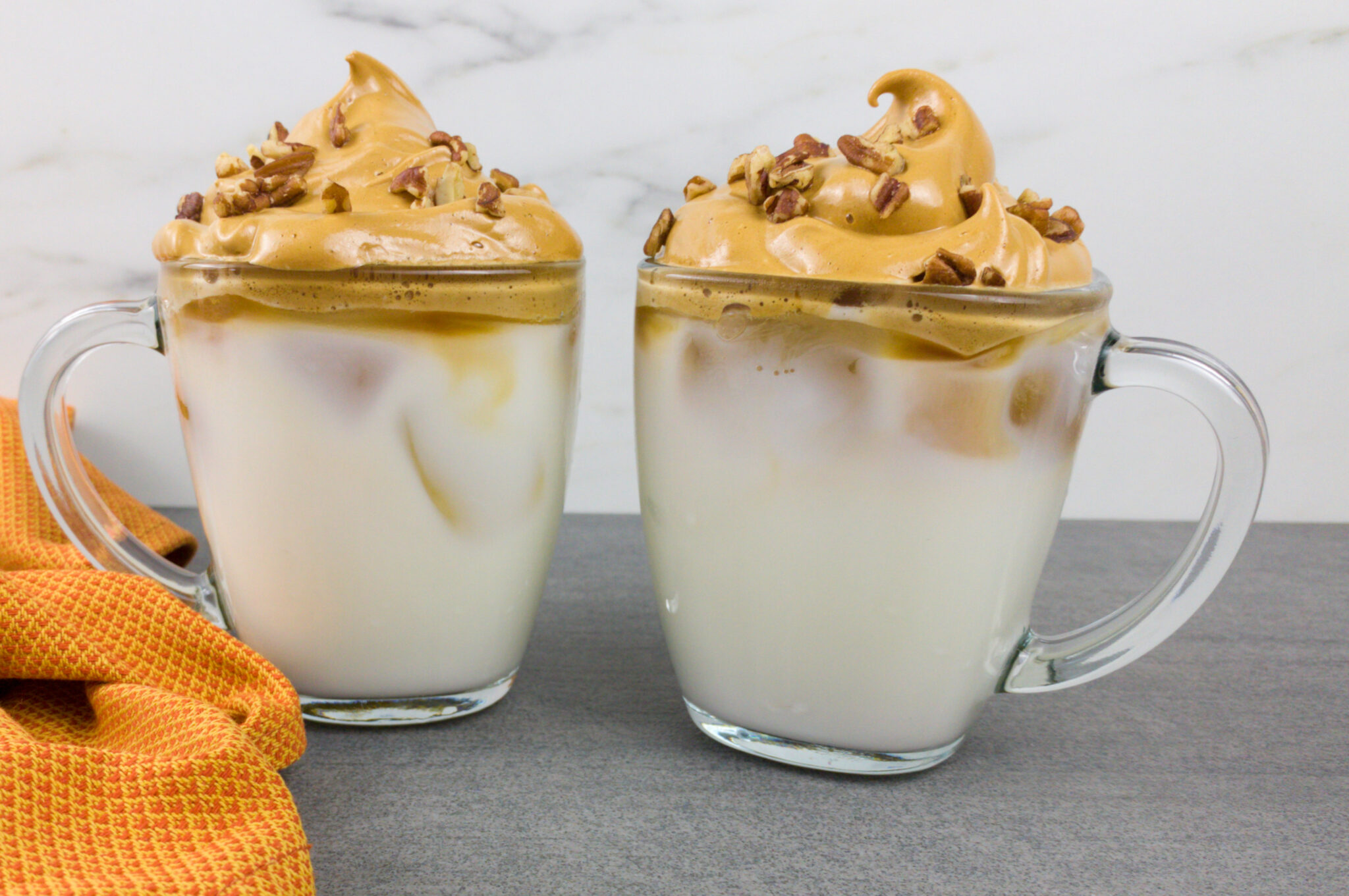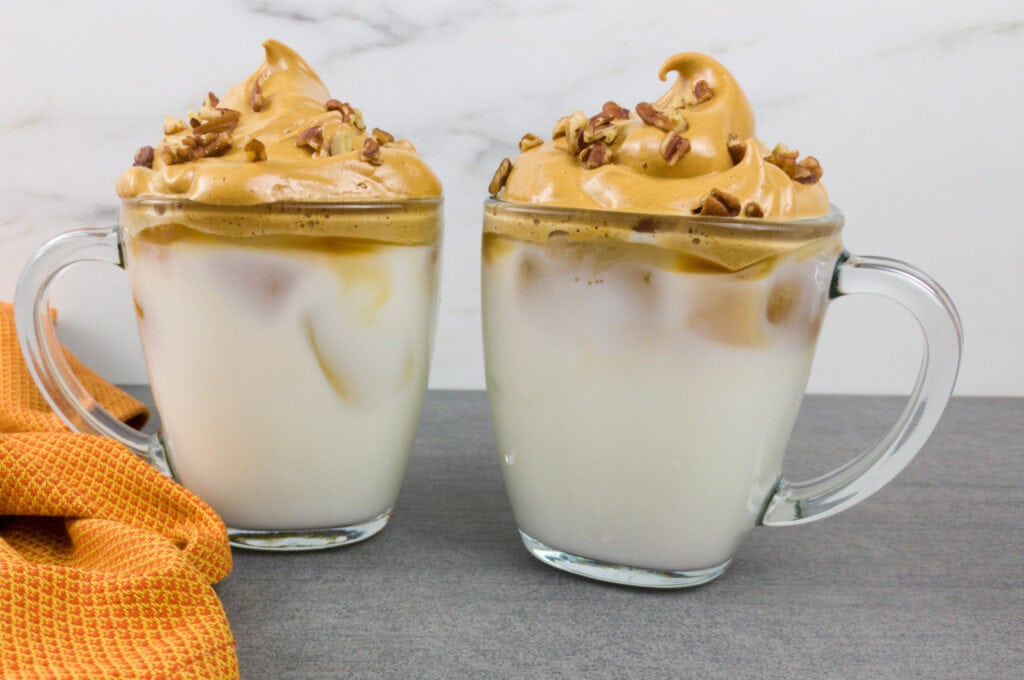 It is named after a Korean candy, called Dalgona. Some are calling it whipped or beaten coffee. Whatever you call it, it is very tasty and can be customized according to your preference.
Fill a glass with some ice and add your favorite milk of choice about 1/2 full, I used 1% milk. Next, you will spoon the Dalgona creamy coffee mixture on top. You can even make it with decaf coffee if you want a sweet dessert coffee that won't get you caffeinated. For those with a dairy sensitivity, I've seen some it made with Almond Milk and Oat Milk. Keep experimenting and use what you have in your pantry!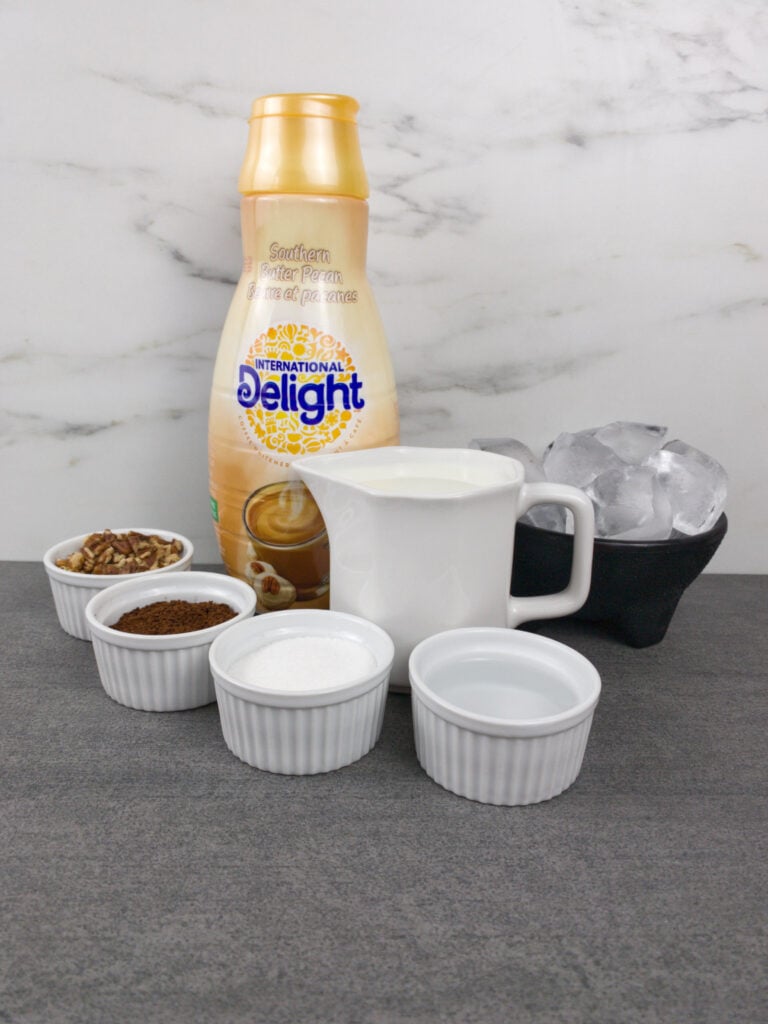 Ingredients for Whipped Coffee with Flavored Creamer
2 tbsp of instant coffee
2 tbsp sugar
2 tbsp hot water
Flavored Creamer ( I used International Delight Southern Butter Pecan Cream) you can eliminate it and make it plain
Milk of choice (we used 1%)
Ice cubes
Makes 2 Servings
Instructions for Dalgona Coffee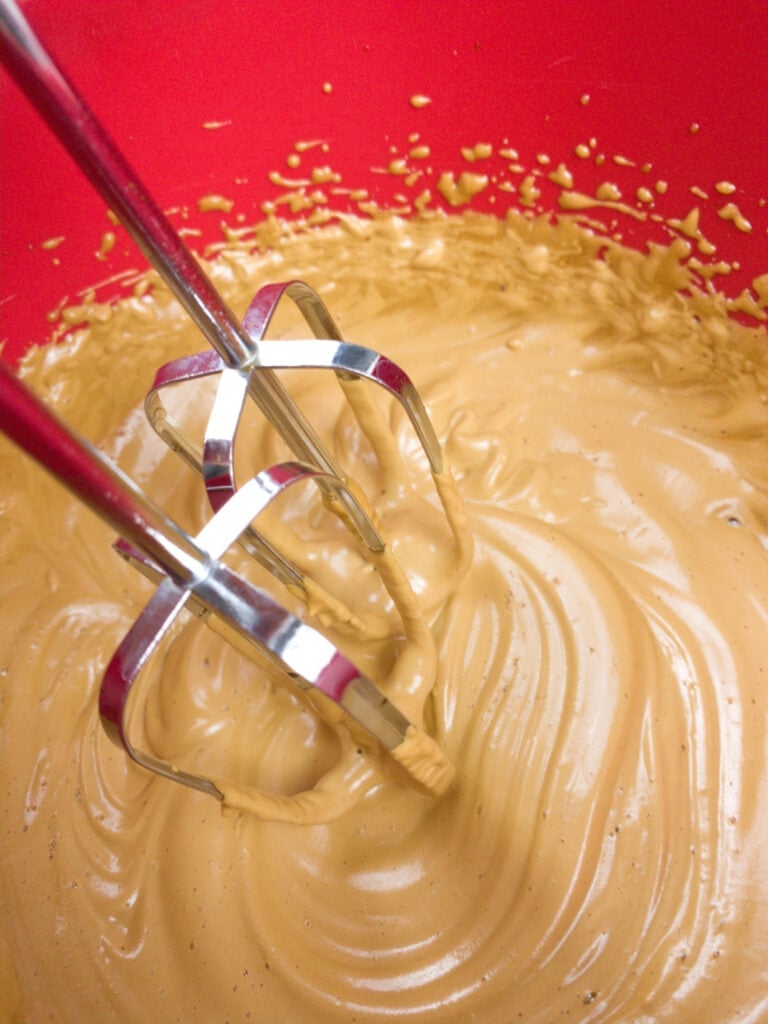 Whisk together instant coffee, sugar, and hot water and flavored creamer. If you use flavored creamer (optional), start with a teaspoon and then add more if you want more of the flavored taste and not as much coffee flavor, until peaks are formed. The hot water helps the instant coffee and the sugar to dissolve faster.
You can use a hand whisk, a hand mixer or a stand mixer. If you are using a hand mixer, start with low speed and increase to high for about 3-5 minutes. If you are whipping it by hand, it will take about 20-25 minutes for maximum foaminess!
You'll notice that the Dalgona creamy coffee mixture is a little sticky and it wants to stick to the whisk or mixer. Whip until it is foamy. The mixture will begin to thicken as you continue to whip it.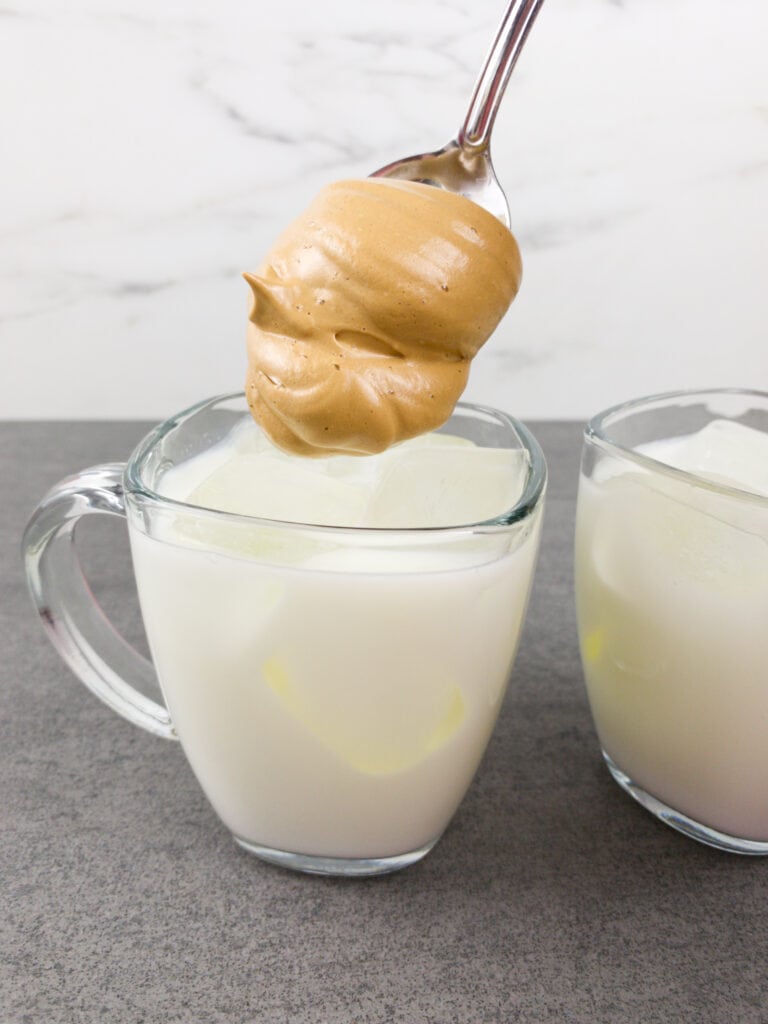 Fill a glass with ice cubes and top with the desired amount of the coffee mixture. Use a spatula to gently scoop the whipped topping.
Optional – crush pecans and sprinkle on top of whipped coffee.
PIN it Now and Enjoy It Later: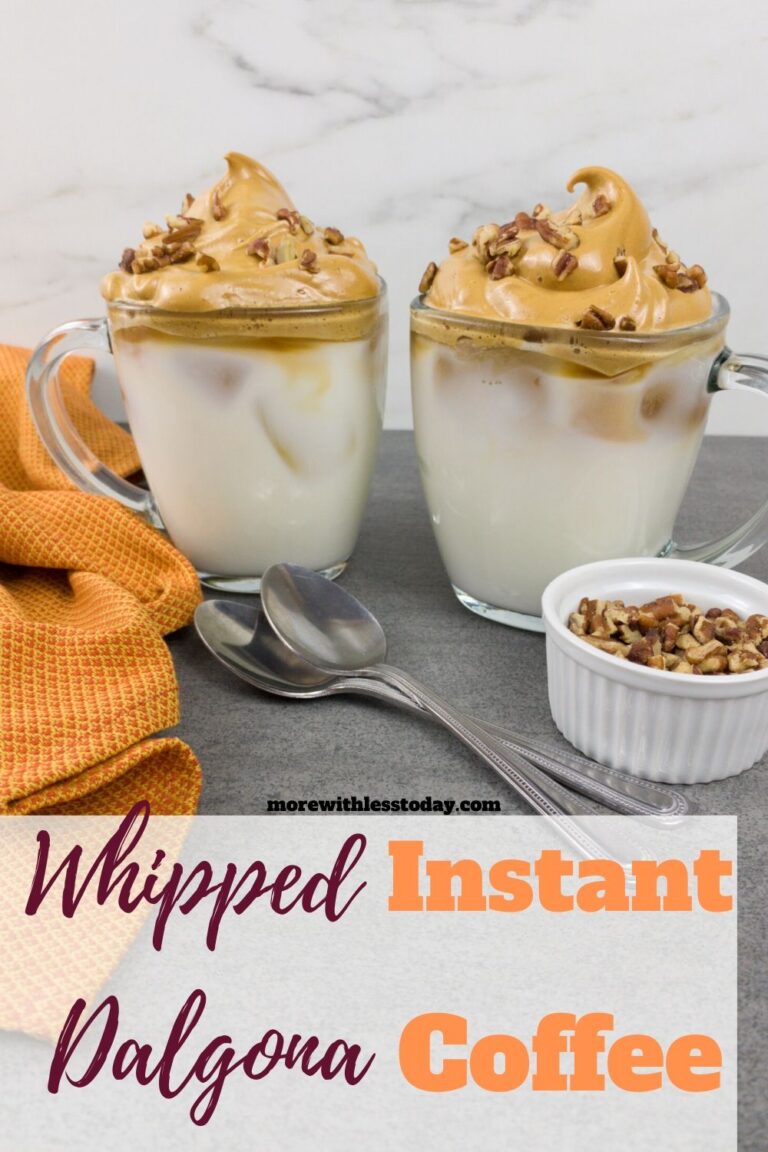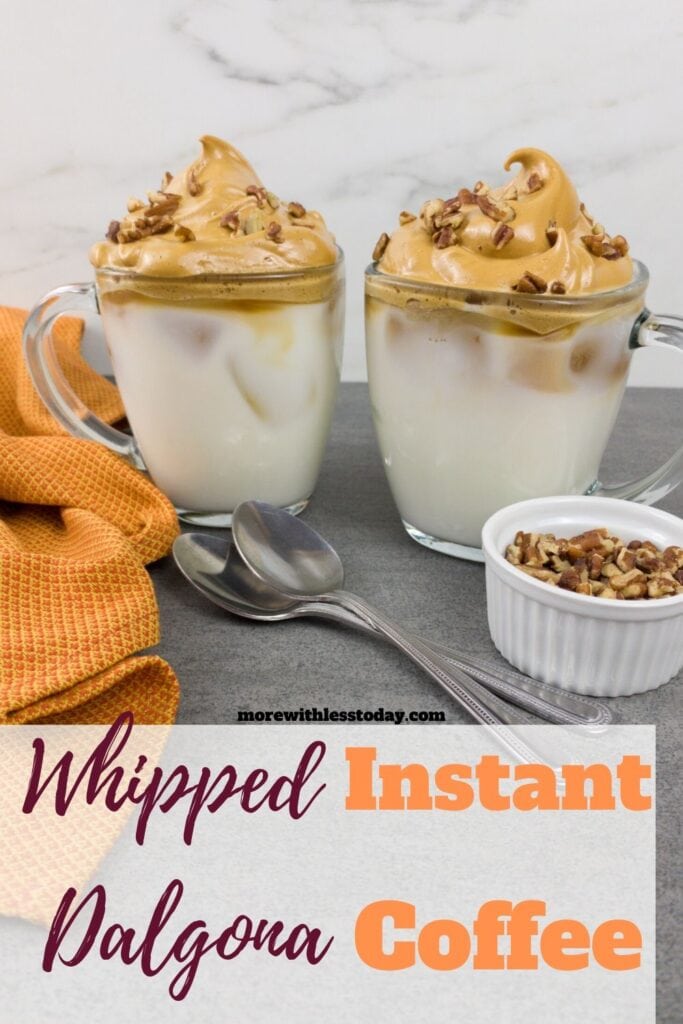 Try our Chocolate Coffee Almond copycat coffee shop recipe!