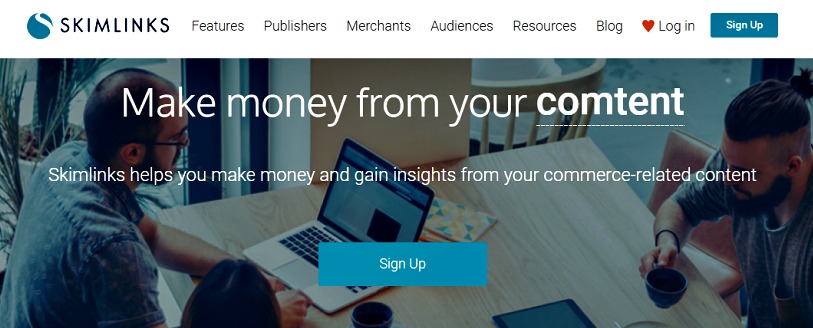 Skimlinks is the easiest way to monetize your blog and add affiliate links. With Skimlinks, you don't have to belong to the various networks that the popular retailers use such as Commission Junction, Rakuten Link Share, eBay Enterprises, Share a Sale, etc. It is easy to use and it's free.
Once you install Skimlinks using the Setup Code, their technology will scan your content for relevant, unaffiliated merchant and product links. You can drive traffic to the merchant's home page or you can create deep links that take your readers straight to the product that you are featuring.
You also don't have to meet the minimum payment thresholds from various networks and then wait to get paid. You can even monetize your Amazon links through Skimlinks. I find it much faster than building links through Amazon. You can read a little more about my strategy for Amazon links at the end.
Almost every store that I write about can be affiliated through Skimlinks. Now that Pinterest is allowing affiliate links again, you can monetize your pins as well as all of your other social media channels right now with Skimlinks.
Get started now! Sign up for Skimlinks.
Create affiliate links for social media
You have two simple ways of creating affiliate links for your social media channels.
The Skimlinks Editor browser extension is the perfect sidekick to your monetization efforts because it alerts you when you visit a Skimlinks merchant site and gives you an affiliated short URL on the spot. Then you can immediately post products or brands you love to Pinterest, Instagram, Facebook, or any other social media.

Here is how to use the link generator found under the Toolbox tab.
Go to the Toolbox in the NAV bar and click on Tools.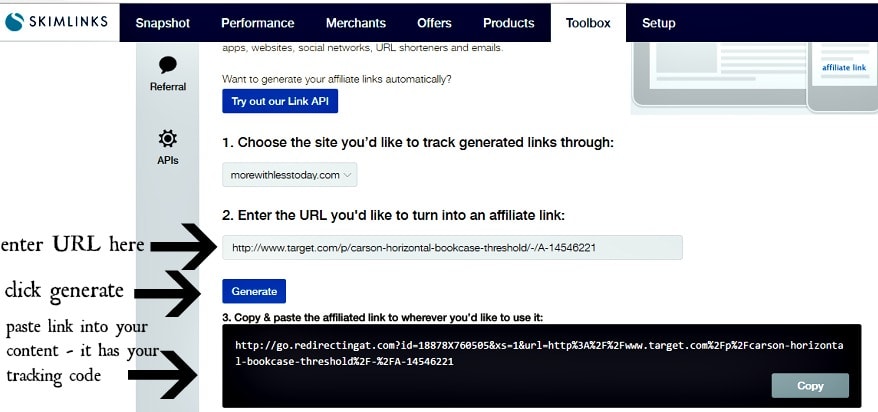 The Link Generator in the Publisher Hub is another easy way to create affiliated URLs – just paste the link you want to affiliate and you're ready to go.
Once you have created an affiliate link using Skimlinks Editor or the URL shortener, you can immediately start posting it to all your social media channels but also to newsletters, email feeds, or even use it in instant messaging with your friends.
Tip – When my family and friends are looking for something, I find them the best price, make a Skimlink and then email them the information.
How I Monetize Amazon links:
If I am in a hurry or if I want to test to see if an Amazon item converts well, I will often start by using Skimlinks. If I notice in the Skimlinks dashboard that the item is generating interest, I may convert that link to an Amazon Associates link.
Rumor has it that Amazon is changing the compensation structure soon and will pay by category instead of the stepped up commission schedule that resets each month at 4%. I will be re-evaluating my Amazon strategy as soon as the new structure is rolled out.
If you prefer, you can use the Amazon Overwrite function and redirect existing Amazon affiliate links through Skimlinks. I do not have this enabled at this time.
Use the Skimlinks Editor Chrome Plugin
Skimlinks Editor is a Google Chrome plugin that helps you monetize your content straight from your browser. Once downloaded, the icon will animate whenever you visit a retailer in our merchant network. It'll give you more information about that merchant, tell you how much they pay for referrals, and let you easily share and/or shorten monetizable links without logging into the Hub. When possible, Skimlinks Editor also highlights alternative purchasing options for the products you are browsing.
Check your Performance
I look at my performance reports several times a week. If a product is doing well (or not doing well) this helps me plan future content.
Check the Merchants tab to search and be sure the retailer is part of the Skimlinks network. They have over 20,000 stores and retail partners you can affiliate.
Get started affiliating your links with Skimlinks and watch your earnings grow!