Amazon changed the rules on how to share your Amazon Prime membership with coworkers and family as of 7/31/15. In the past, you were able to share your Prime Membership with up to 4 people.
We did find a new way to share your Amazon Prime membership with one other adult and four children with Amazon Households. This adult doesn't have to live with you, but both adults need to be present to set up the account and verify their accounts to create a household. Both adults have to agree to share their credit/debit card information so the account needs to be set up with someone you trust. If you have that type of relationship with a friend or coworker, you can set up an account together.
You also get access to the Kindle owner's lending library, Amazon's video streaming service and early access to Amazon Prime sales.
From the Amazon Household website:
"Free trial or paid Amazon Prime members can share certain Amazon Prime benefits with one other adult by forming an Amazon Household."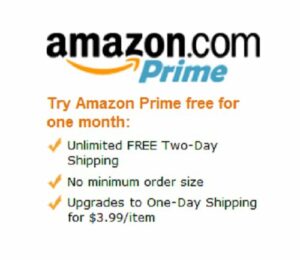 Thinking about getting an Amazon Prime membership this year? You can try a FREE 1-month trial of Amazon Prime HERE to test it out and see if it saves you money. Now that I have one, I use it to buy household products that save me money plus trips to the store.
My Amazon Prime membership has me spoiled. I love getting my Amazon.com items in two days without paying extra for shipping. Plus I can score Amazon deep discounts and deals without paying for shipping which often cancels out most deals.
Free unlimited photo storage for you and 5 others
Your Prime membership comes with free unlimited photo storage through Prime Photos, which lets you securely save as many photos as you like and see them on your phone, computer, or tablet. You can share this Prime benefit and give free photo storage to up to 5 family members or friends.
Here are some of my favorite ways to save:


Today's Amazon Lightning Deals
Earn Free Gift Cards 
I have been using Swagbucks since 2011 and earn free gift cards just for searching the web–something we do every day. It's a very easy way to earn free gift cards at retailers like JCPenney, Lowe's, Barnes & Noble, Target, and Starbucks. My personal favorite is Amazon.com. Learn more and start earning too with Swagbucks.