This is a sponsored post written by me on behalf of Megaphone Influence and #Soapbox for #BonjourJouviance. The giveaway is sponsored by the Kendal King Group. As always, all opinions are 100% mine.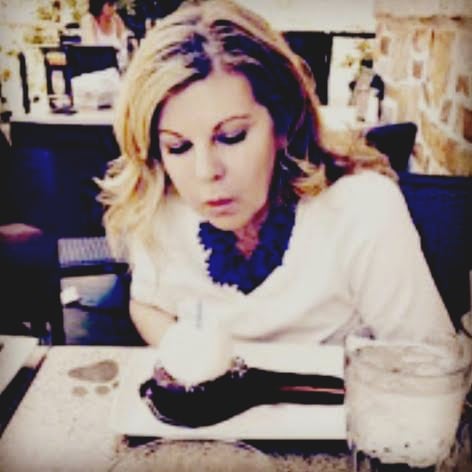 Another birthday has come and gone. I don't often stop to think about my age except every once in awhile when I see myself in a close up photo. I have earned every wrinkle and smile line but that doesn't mean I want them to take center stage in my close-ups.
When I attend blog conferences and meet ups, I am often the oldest person there. It can be humbling to be photographed with twenty and thirty somethings when you are in your fifties. I still want to look and feel my best and be comfortable in my own skin. I love what I do and want to keep doing it for as long as possible.
Before I was a full time blogger, I worked at a medspa for 5 years. One of my favorite perks was getting to try the skin care products that the reps would drop off. I would start out full of enthusiasm for the latest regime and line up all of the products and give them a try.
Inevitably, I would stop because it was just too many steps. I don't know about you, but that feels like another job that I do not have time for. It was also inconvenient because you would need to reorder your products through the medspa. I want high quality skin care products that are convenient, effective, affordable, and free of harmful ingredients.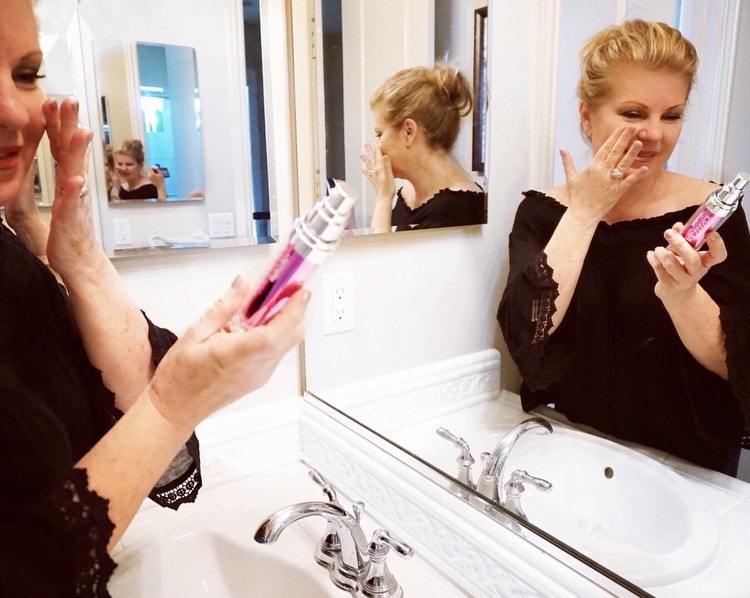 When I was approached to try Jouviance, I was thrilled to try two powerful anti-aging products, Jouviance Restructiv SRD Coactive Anti-Aging Formula Cream (Restructiv) and Jouviance Restructiv Collagen Boost Needle- Free Wrinkle Filler Serum (Collagen Boost) which has the same visible skin-plumping effect as hyaluronic acid injections without the needles, that got me really excited ……
The anti-aging products are exclusively available at CVS and CVS.com. I have been using them for several days. They feel light and not greasy on my skin and they absorb quickly.
All Jouviance products are developed by a dermatologist and they feature high concentrations of active ingredients backed by clinical studies and supported by patented technologies. They are focused on minimizing irritation and allergic reaction while treating and protecting sensitive skin. Jouviance is one of Canada's fastest-growing dermo-cosmetics brands and the #1 Canadian developed skin care line.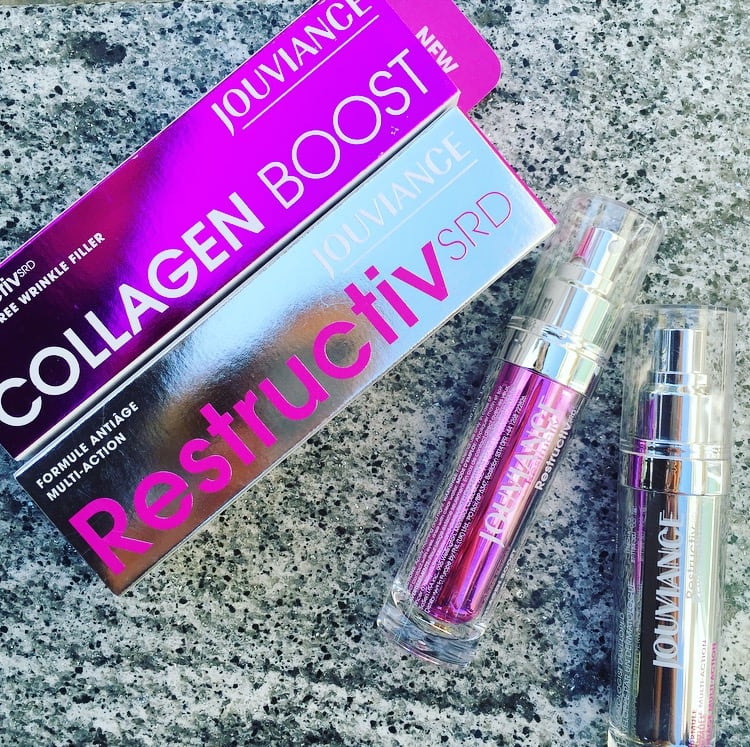 More Info about RestructivSRD from the Jouviance website:
"New generation age-fighter combines 2X the concentration of pure retinol* with the proven efficacy of peptides and hyaluronic acid. A powerhouse combination that leaves skin looking dramatically smoother, plumped and redensified.
Lightweight and fast-absorbing, dermatologist-developed RestructivSRD uses patented RovisomeTM sustained release technology (SRD) to deliver 2X the concentration of pure retinol* into the skin without risk of irritation. Proven† to deliver faster results across the 8 clinical signs of skin aging.
This anti-aging cream combines the strength of pure retinol, peptides and hyaluronic acid to restructure the skin matrix and fight the 8 clinical signs of skin aging: fine lines, wrinkles, uneven skin tone, enlarged pores, uneven skin texture, dull complexion, dehydration and age spots.
WHO'S IT FOR?
Women seeking an overall anti-aging product containing retinol.

Women seeking new products, innovative technologies and the latest dermatological trends.
* Versus most non-prescription anti-aging creams.
† Tested under clinical control."
More Info about Collagen Boost
from the Jouviance website:
"Inspired by the latest in dermatological skin rejuvenation procedures* this cosmetic alternative is an ultra-effective needle-free wrinkle filler which offers a visible skin-plumping effect in just 2 weeks*. Formulated with Pro-Collagen Activator (PCA), a unique amino acid copper complex that helps skin to look plumper and fine lines and wrinkles to appear diminished for a more radiant, youthful appearance. Get the visible volumising effect without the procedure.
WHO'S IT FOR?
Women seeking to quickly reduce the appearance of fine lines and wrinkles, increase skin elasticity and effectively improve skin hydration.

Suitable for all skin types"
Dermatologist developed for sensitive skin and free from harmful ingredients…..


Jouviance products are free of parabens, sulphates, phthalates, mineral oils, colorants, artificial fragrances, animal-based or potentially irritation-causing ingredients while still featuring high concentrations of active ingredients that are backed by clinical studies–plus Jouviance products are never tested on animals.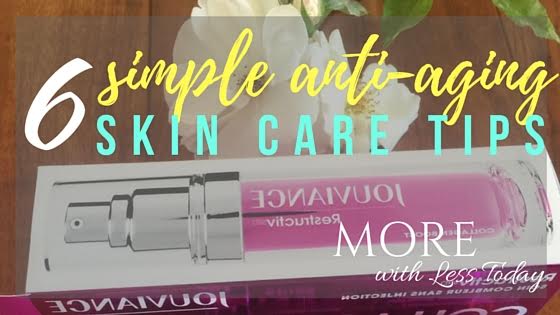 Here are 6 simple anti-aging skin care tips:
Get into a Skin Care Routine
Remove your makeup and clean your skin every night. On those nights when I am extra tired, I remove my makeup right after dinner. Be gentle around your eye area and don't pull or tug the skin. Use high quality skin care products without harmful ingredients.
Hydrate
If your skin is not getting the sufficient amount of water, the lack of hydration will show up in dry, tight and flaky skin. Dry skin has less resilience and is more prone to wrinkling. I also notice that my energy plummets when I am not drinking enough water. I fill a pitcher of water each morning and add fruits like strawberries, oranges or blueberries and sometimes lemon, cucumber and mint. Drinking infused water is much more appealing to me then drinking it out of a plastic bottle plus it tastes so much better. You can also make fruit-infused ice cubes.
Eat right and limit sugar
According to the Mayo Clinic, foods that are high in antioxidants have a protective effect on the skin, while a diet that is high in processed foods and refined carbohydrates promotes skin aging. One of the worst foods for your skin is sugar, since it causes inflammation in the body and contributes to the breakdown of collagen, a fibrous protein that keeps skin firm. Collagen breakdown leads to wrinkles and sagging skin. A study in the Journal of the American Aging Association found that people with higher blood sugar levels were considered older-looking than those with lower blood sugar. Dietitians and health practitioners encourage us to eat a balanced diet that includes lots of fruits and vegetables, whole grains, and nuts, seeds or other healthy fats.
Wear Sunscreen
Protecting your skin from the sun is one of the most important things you can do to keep your skin looking younger, longer.
Get More Sleep
I am going to bed an hour earlier these days. I never thought I could do it. I have always enjoyed being a night-owl and I used to make fun of my husband and my dog who like to knock out before 10 PM. Now, most nights I join them and I am sleeping better and feeling more refreshed when I wake up.
Alleviate Stress
We all have it and we need to learn to manage it. Set aside time every day to do something you enjoy. It can be as simple as a relaxing soak in the tub or a walk around the neighborhood. Breathe deeply and count your blessings! Stress shows in our face first and it plays a major part in the health of our skin.