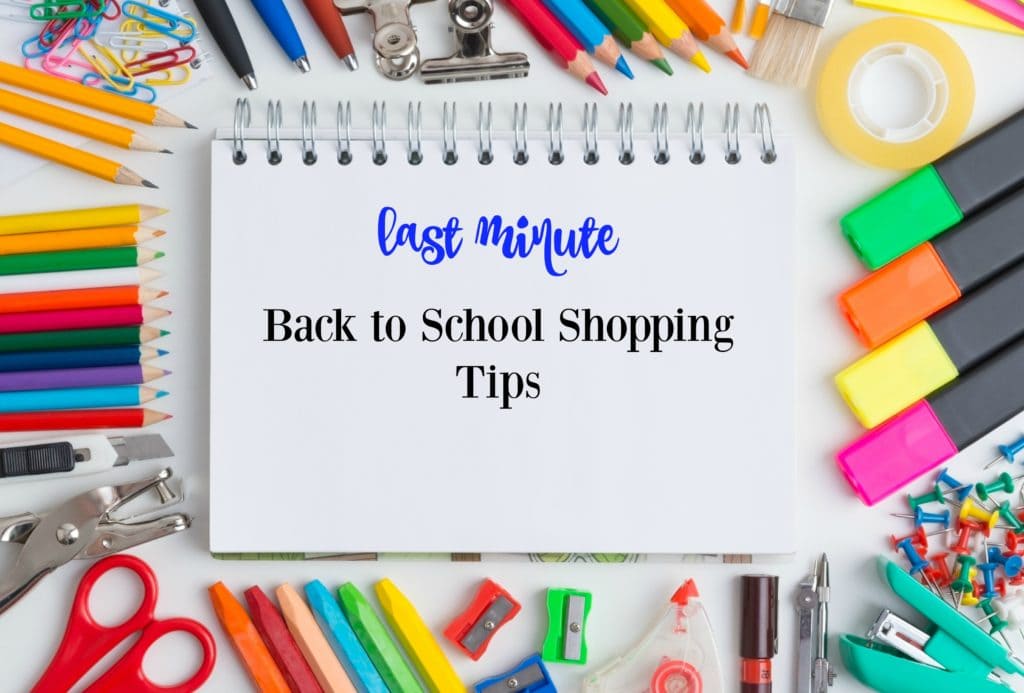 Back to school time is here. I know some of you are already finished with your shopping as I have been helping many of you find the sales and deals all summer long.
For those of you who still have some back to school shopping to finish, here are some last minute tips for back to school shopping from the savvy savings experts in the Dealspotr Influencer Network.
You many recognize one of the contributors, yours truly, sharing one of my favorite sites for saving money.
Here are just a few last minute tips for back to school shopping. Be sure to read the entire list here.
Shop the week after school starts
The best time to shop back to school is about a few weeks after kids go back to school. Everything goes on clearance. Think of it like holidays..once the holiday is over everything gets marked down. So your biggest savings are going to be after your local school district goes back wait about a week or two after to do your school shopping. If you must get the supplies right away, check Dollar Tree and Staples for the cheapest sales. – Nicole of Mom's Coupon Binder
My best hack is to shop the after schools starts sales. You can find all the items for pennies. Put them all in a big Rubbermaid container and label it school supplies. At the end of each year, my kids always bring home many unused school supplies. Put those into the Rubbermaid containers too. This week while we were looking at our school supplies list I had 8 Rubbermaid containers to pull out and we found many of our items on the list in there. Last tip. Target often has a lot of these items on their cartwheel app, so use that and shop the clearance area for great deals! – Sara LaFountain of Cook With 5 Kids
Always wait a day or two after school starts to purchase your supplies. Sometimes teachers will change their mind about what you really need. Or, they'll tell students that certain things on the list are really optional – or not needed until the 2nd semester. Plus, you'll be able to stock up on the clearance prices. – Ellen LaFleche-Christian of Confessions of an Overworked Mom
Shop in groups
Find a friend (or friends!) at the school and buy in bulk with coupons! Many retailers offer better prices on the larger packs of items and there are great coupon codes out there to save even more. Have you signed up for their emails? Often times that nets you a 15-25% off purchase coupon. Perfect when buying things like folders or notebooks online! – Kristina Bainbridge of Savory Savings
Go in with friends and buy school supplies at a large wholesale store like BJ's or Sam's. Always search for coupons on supplies you'll need. For instance, search "Notebook paper coupons". Find a coupon match up website that will give you info on a particular store's sales and what coupons are available for those items. And when school supplies go on deep clearance this year, snap them up for next year! – Vicky Floyd of Coupondipity
Use coupons at dollar stores
I never spend over $15.00 for school supplies. My biggest tip is use coupons at dollar stores, many people do not realize you can do this! – Debra Barrows of Crossing New Bridges
Try SchoolToolBox
I went through every school supplies item for Walmart, and it came out to over $150. I went online to School Tool Box and I found everything I needed for under $100 with free delivery. I was able to skip the crowds and long lines! – Mandi Eschenbach of Sweet Tiny Blessings
Buy in bulk & stock up for next year
Buy in bulk and re-use the extra! For example, extra supplies can be used to fill Operation Christmas Child boxes at holiday time. The white t-shirts my kids need for art class, I buy in my husband's size and refresh his t-shirt stash every fall with the extra. Similarly, I restock our own art supply stash at home, or I will even buy a large box of pencils and save half for the next year. As for the class lists of what donations the teachers would like? I match the two lists up for commonalities. This year, both listed sanitizing wipes, glue sticks, hand sanitizer and markers, so I bought all these items and bulk and split them up. Bulk-buying is the way to go! – Meredith Spidel of Mom of the Year
When we purchase school supplies and find a fantastic sale, we stock up not just for this year, but for future years, too! We have a HUGE box of three-prong folders, tons of glue, loose-leaf paper, binders, pens and MORE from gigantic sales from the past. We can skip half the shopping list year after year with our "stock" and we replenish every year with additional sales we find. – Lisa Douglas of Crazy Adventures in Parenting.
Try these Office Depot savings hacks
The Office Supply Stores and Walgreens is where the deals are at. With Office Depot/Office Max penny deals you can't go wrong! Get the best deals to reach your $5.00 limit each week and the penny deals and that is it. I get enough supplies to last all year long there. If they are out, Staples is my go to. With their 110% Price Match Guarantee, I can't go wrong. I bought a $20 Stapler for under a $1.00 this year! I also love Walgreens deals. I go in for only the lowest priced items. I even do a Back To School Series on the website to show you the best deals at these locations. For $10-$15 a week (in an average of 10 weeks), you can stock up on your children's school supplies all year long! – Jailee Singer of You Saved How Much
Use Walmart's Savings Catcher
As a mother of five, I've learned that the best way to save money on back to school supplies is to save and re-use supplies from the previous year. My kids had old folders that were not ripped so we saved them for this school year. I usually shop at Walmart for nearly everything for my household including school supplies because they have this app called "Savings Catcher." You scan your Walmart receipt after you are done shopping with the app and they compare the prices of all the other stores in your area and they make sure their prices are the lowest. If they are not the lowest they pay you the difference. You can place the money you get from the Walmart Savings Catcher into a special debit card, Blue Bird, sponsored by American Express and then use the money for future purchases at Walmart. -Cascia Talbert of Healthy Mom's Magazine.
Look for bags / pre-filled sets of school supplies
Stay away from brand names and trends! Wal-Mart now sells a bag of common school supplies for $15 and it includes everything kids need for back to school. – Vanessa Page of Vanessa's Money
Set up a swap with other parents
Set up a uniform swap with the other parents. Our school has a Facebook page where parents can post items that they no longer require and then other parents can either buy, borrow or just have the items. It's a great way of saving money and also reducing the amount of waste we produce. – Gina Caro of Gypsy Soul
Skip the character backpacks and notebooks, which have a huge sticker price and usually an issue with quality. Instead, get some plain school supplies and some basic art tools – paint, markers, stickers, and even colorful duct tape. Then let your kid's imagination run wild. He'll have a blast decorating and personalizing his school gear while you save money! -Megan Nye of Prioritized Living.
Use Sears Shop Your Way
With a free Shop Your Way account, (rewards program for Sears and Kmart) not only will you save a ton with their promotions, you will earn points on every purchase which you can use on your next purchase. You can get necessities for close to free when you begin to learn all the ways to save. – Lori Felix of More With Less Today.
And of course, use

Dealspotr

!
You can do your back to school shopping for free or nearly free by getting involved with a coupon site like Dealspotr. You can earn points for posting your favorite back to school deals and you can redeem those points for Amazon gift cards or cash through PayPal. In the process, you're helping others save money on their back to school shopping but ultimately doing yours for free or nearly free with your earnings through Dealspotr. – Angie Bailey of Precisely Mine.
Do you have any last-minute tips for back to school shopping?