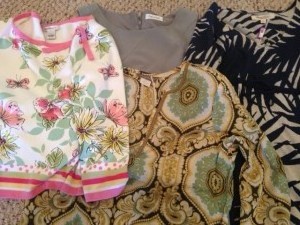 Look what I found at my Goodwill store…
A vintage -looking sweater from Harold's – 50 % off, I paid under $3.
A Calvin Klein gray sleeveless sheath dress with soft, silky fabric for $14.99. This is a classic that looks great with a cardigan sweater.
Two Tommy Bahama items- a navy dress with a leaf pattern for $19.99 and a retro looking blouse for $9.99 that I am wearing with white pants and sandals.
I also scored a pair of Tory Burch black driving loafers for my sister that I paid $7.99 for!
Have I convinced you yet that thrift store shopping is a treasure hunt?
Tell me about your favorite thrift store score? Mine is an entire wardrobe of St John Knits. You can see my big score here!