This post is sponsored by Savings.com.
How do you celebrate the start of spring? This year I'll be visiting with family on the East Coast when it officially becomes spring. I live in California, where I get to enjoy spring-like weather all year long. My family says it's been a mild winter so fingers crossed that it'll be nice warm weather and I won't have to deal with any snow. I'm looking forward to wearing one of the spring dresses that I just picked up on sale at Macy's when we go out to eat and another one for Easter next month. If you have a special occasion coming up, don't miss this sale on spring dresses from Macy's.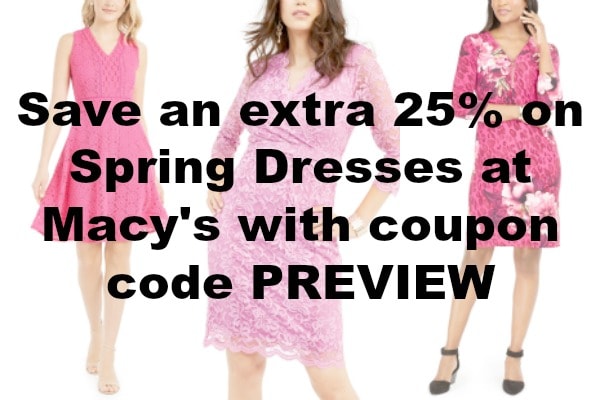 Today thru Monday March 9th, you can save an extra 25% on Spring Dresses at Macy's when you use Coupon Code PREVIEW. Some restrictions may apply so make sure the extra 25% off offer is listed below the item's price prior to adding it in your cart. Here are a few of the dresses that caught my eye while I was taking advantage of this sale and updating my spring wardrobe before my trip.
Macy's Spring Dress Sale – Save an Extra 25% Now!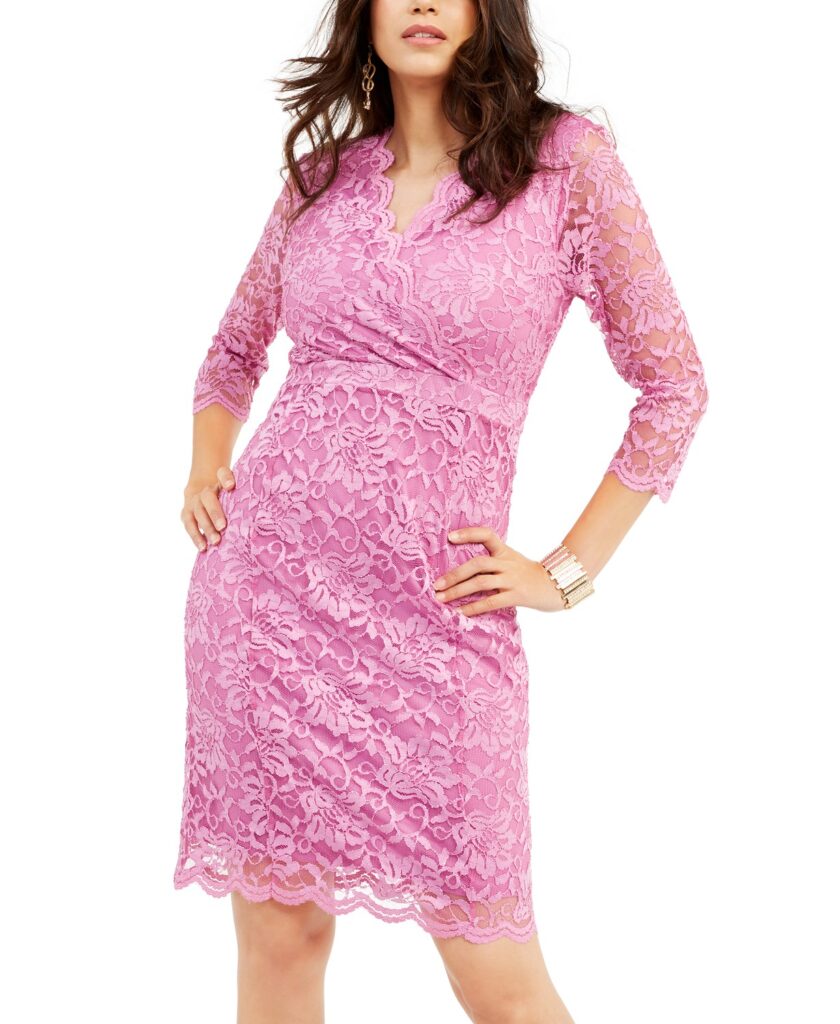 To me, floral and lace just scream spring. That's why I fell in love with this Thalia Sodi Lace Sheath Dress. This dress is originally $89.50 but is currently 50% off and then when you use coupon code PREVIEW it's only $33.56. This Lace Sheath Dress features allover lace, a v-neckline, empire waist and 3/4 sleeves. The Bright Mauve color is perfect for Easter or get it in one of the other six colors available for the same price.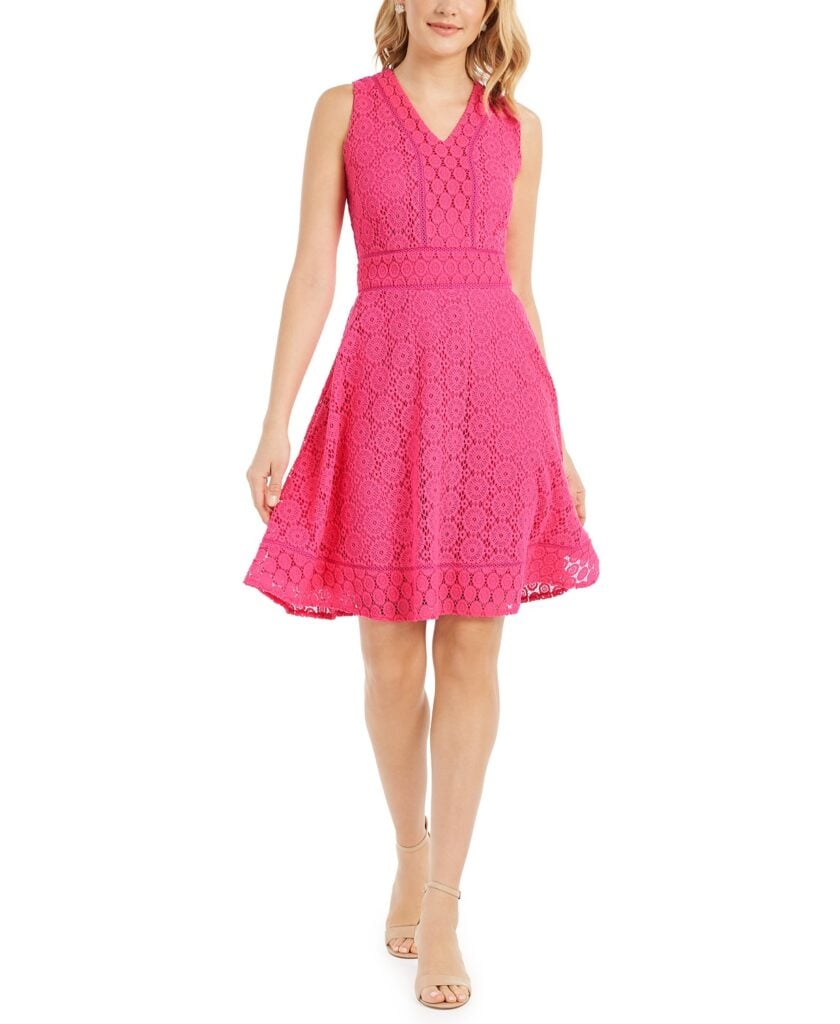 I had a hard time deciding between that Lace Sheath Dress and this Charter Club Lace Fit & Flare Dress in Preppy Pink. It's a little more expensive at $55.97 after coupon code PREVIEW, originally $99.50. It has an A-line silhouette with a V-neckline and hidden back zipper closure. It's available in 8 different colors, including Deep Black and Vintage Cream so don't let the bright pink scare you away from checking this Lace Fit & Flare Dress out.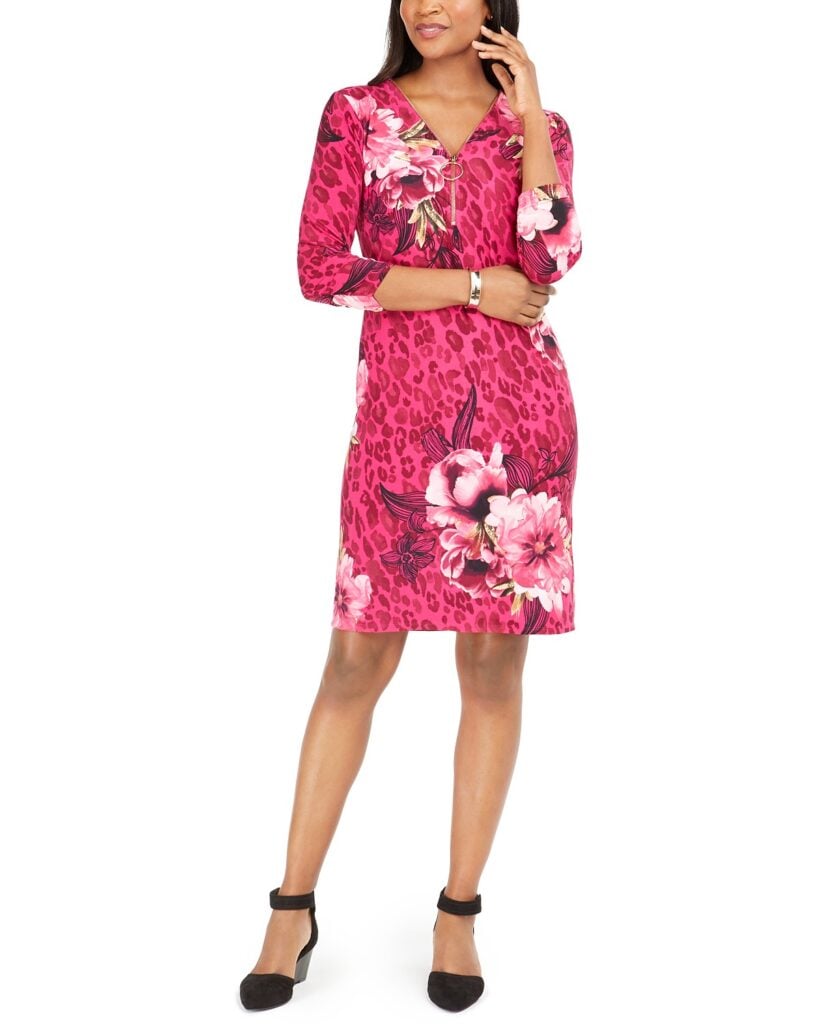 If lace isn't your thing, don't worry Macy's still has plenty of great dresses to choose from, like this JM Collection Printed Zip-Neck Sheath Dress that's currently 40% off (orig. $59.50) and after you use coupon code PREVIEW it'll only cost you $26.78. It features a sleek sheath silhouette and bright floral pattern that works any time of day. This Printed Zip-Neck Sheath Dress also has 3/4 sleeves and a gold-tone ring zipper that outlines the V-neckline. Please note that the product details suggest sizing down for the perfect fit due to generous sizing.