Get off your duff! I can remember my Dad saying that to me. What a funny expression! It came back to me recently, but more on that later…..
Bufferin invited me to take part in a project which involved making my own bucket list and creating a visual to accompany my wish list of things I still wanted to do while there is still time.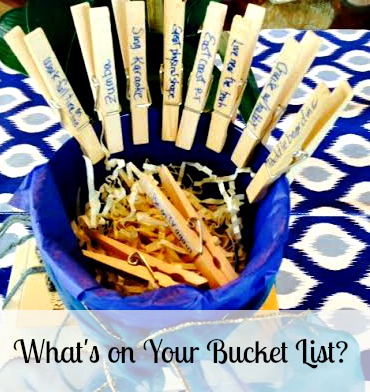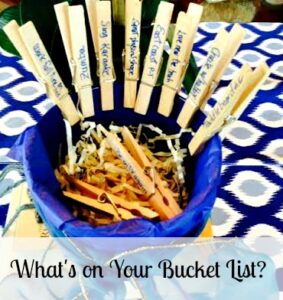 While pondering this project, lo and behold, I had a health scare that made me think about this is a more relevant, right now kind of way. There was something transformational that occurred as I completed this simple project and it has set the wheels in motion for me to get off my duff and make some significant changes in my life.
I made a "bucket list in a bucket ." I wrote "to- do" list on clothespins and then clipped them to outside. The clothespins inside represent the bucket list items that I have already accomplished. Hmm… not too many of those.
I am an empty-nester now and in theory, I should have more time for seizing the day and living life to the fullest.
Hubby and I made a pact to schedule one fun date or activity each month. We both work during the week, plus I write this blog almost every day. A weekly date night was just too much planning and scheduling. Often we just need "down time" on the weekends. A once a month date is just right for us and we take turns choosing activities that the other person will like.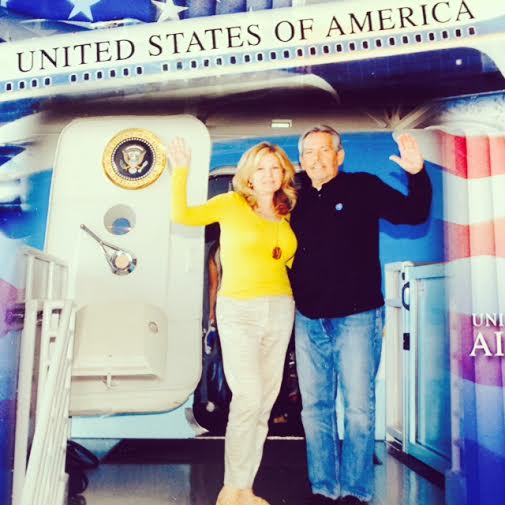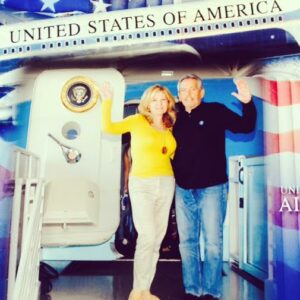 Here is a picture from last weekend when we took a day trip to the Reagan Library in Simi Valley, CA. I had not stopped to ponder how many historic events, (both good and awful) took place during his administration. Visiting the library has been on my wish list since it opened in 1991! Getting to go inside and tour Air Force One was a thrill. I highly recommend a visit if you are in southern California. Checking something off your bucket list, small or large, can be very gratifying.
Workin' It
As a young girl, I loved to dance and be part of a cheer squad. It has been many years since I tried to move like that. Recently, I started taking Zumba classes. Often you will see me turning to the right when the whole class is turning to the left, but I am getting the hang of it and I don't let my lack of coordination or rhythm stop me. The music is fun and upbeat and the time spent dancing and sweating is good for me.
This is where Bufferin comes in. Often this old body does not want to cooperate the next day, but I am bound and determined not to act or feel my age for as long as I can.
Bufferin "tough on pain, gentler on the tummy" is the only non-prescription, non-steroidal anti-inflammatory drug (NSAID) that's gentler on the stomach. You can purchase Bufferin at Walmart and Walgreens.
On a future date, I want to try paddleboarding. Bufferin, be my wingman for that adventure!
The Bucket Got to Me
Just this weekend, after living with my bucket list in a bucket for a few weeks, I told my husband that I am now ready to make the leap to working online full time. I faced my fears and re-entered the workforce about 5 years ago after being a stay at home mom for about 20 years. Now I go to an office each day and often come home wiped out. Can you relate?
Between my health scare, pondering my bucket list, and coming up to my 57th birthday, I am ready for a new chapter. I realized that in order to accomplish some of my bigger bucket list goals, I will need more flexibility in my schedule, so I am ready to commit to making that happen. This is a huge and scary leap for me.
Once I take that step, I want to spend more time on the opposite coast with my family, travel more and get myself into better physical shape.
Thank you Bufferin for getting me off my duff in more ways than you know. Stick around and see where this is heading!
Get the latest information on Bufferin at www.bufferin.com.
This is a product-provided, sponsored conversation that contains affiliate links. I received a full-sized bottle of Bufferin® Buffered Aspirin and the craft supplies for my own personal use. All opinions, text and experiences are my own.