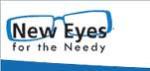 New Eyes for the Needy purchases eyeglasses for poor children and adults living in the US and recycles donated glasses for distribution to indigent people overseas.
Read more about New Eyes for the Needy here. You can donate used eyeglasses and hearing aids as well as items for their charity auction. You can sponsor a collection drive in your community, school, office or place of worship, and you can volunteer to help them distribute eyeglasses.
Due to overwhelming demand, New Eyes for the Needy has a waiting list with over 900 people wanting vouchers for eyeglasses.I first heard about this charity in the November 2010 edition of Woman's Day Magazine.
Be sure to get the your kids involved collecting unwanted eyeglasses and hearing aids. I hope you can make this a family project!