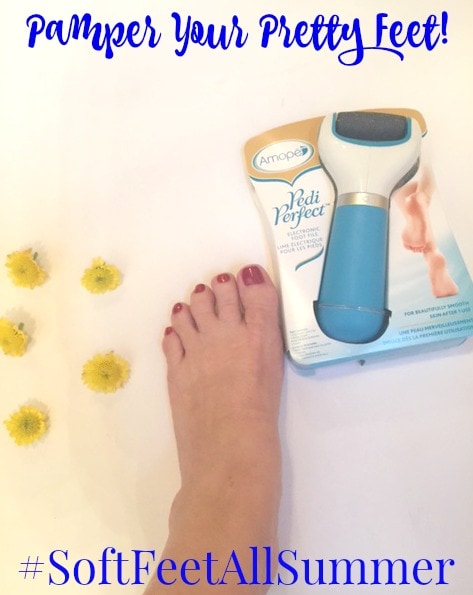 Since the day we first started dating, my husband has told me that my best feature is my feet. At first, I was a little insulted, my feet? I thought he was joking, but I have come to embrace the fact that he was not.
He always notices my feet. The best part of my day is often one of his amazing foot massages.
When my feet start to get calloused and scratchy, those foot massages are harder to come by.
I like to pamper my pretty feet with pedicures during the summertime when I am always in sandals but that is a very expensive way to go. I have never minded polishing my own toes, in fact, I enjoy it but the caring for my feet and removing the dead skin was something I did not do.
My sister told me awhile ago that she bought the Amopé Pedi Perfect™ electronic foot file

and raved about it, but when I first saw it in CVS, I thought it was a little pricey. Now with the new $15 off coupon ( keep reading to score your coupon!) and my last pedicure bill for almost $30 + tip, I realized that the Amopé™ would pay for itself with one use!
I love to walk barefoot around the house and even into the yard and garage. This habit contributes to the hard skin that forms on my feet, especially on my heels. I purchased my Amopé™ yesterday. I am leaving on vacation tonight so I was excited to pamper my feet right away. Once you remove it from the packaging, unscrew the cap. You'll remove the plastic ring as well as the orange plastic from the battery compartment. Once you have screwed the cap back on, just turn the silver band to the right to turn it on. It comes with batteries too which is always appreciated.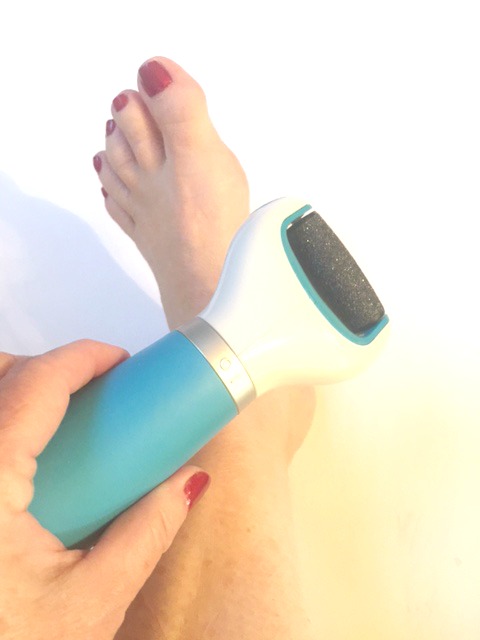 Gently glide the roller head over the hard skin on your feet and the dead skin will gradually exfoliate. Use only on your dry skin and don't press too hard or the unit will stop. It only takes 3-4 seconds per area to buff away hard skin. Afterward, apply a moisturizer like Amopé Pedi Perfect™ Daily Moisturizer and massage it into your smooth pretty feet. If you can do this right before bedtime, try sleeping in a pair of cotton socks to let the moisturizer work overnight. You'll notice your beautifully smooth skin after 1 use. I sure did!
Amopé™ is derived from "love my feet" in Portuguese and were created out of the idea that beauty and skin care shouldn't stop at the ankles. Their specially designed foot care and pedicure products were developed by foot care experts.
Save $15 – $25 at CVS!
Head into your local CVS with this coupon: www.coupons.com/amope. You will get $15 off one Amopé device, or $25 off two. You can save on the Amopé Pedi Perfect™ electronic foot and nail files.
If you have never used Coupons.com before to print coupons, just follow the prompts to clip it and print it. You will see the UPC code and CVS will scan it at checkout, just like any other coupon.
Hurry! This great offer ends on 8/28/16.
Think ahead! The Amopé Pedi Perfect™ electronic foot and nail files make great gifts. Why not get one for yourself and one for a gift and save $25! You can put together a pampering gift basket with some nail polish. Who else could use a little pampering?
Follow along on social media with #SoftFeetAllSummer.
This is a sponsored conversation written by me on behalf of Amopé™. The opinions and text are all mine.