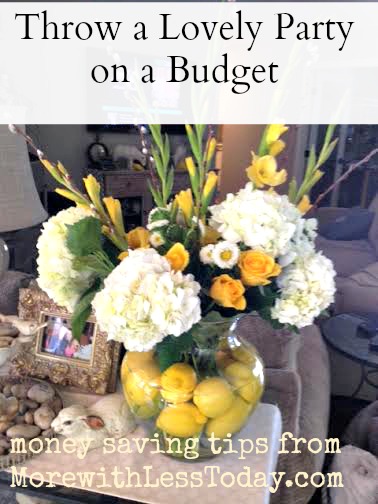 Recently, I had the opportunity to guest post for ValPak, the blue envelope full of coupons that arrives in your mailbox. My topic was a fun one! "How to Throw a Lovely Party on a Budget."
I worked with my favorite decorator, Mindy, from Mindy Laven Interiors. She has such a great eye on know how to replicate high end looks on a real person's budget. She is a savvy saver and can make your party look fabulous.
I hope you will enjoy reading the post and viewing the photographs. Mindy has some great and affordable ways to give your next party that WOW factor!
Here are a few of my money-saving tips, to see the entire list, go here.
I like to feature a taco bar, baked potato bar, ice cream bar or hot chocolate bar where guests can assemble their own food and treats.
Consider asking guests to bring a specific item such as a dessert or side dish. You will save money and avoid having unnecessary hostess gifts to re-gift later!
If you are using a caterer or restaurant, let them know your budget and allow them to suggest alternatives to keep costs down.
If you cannot throw the party at home, search for low-cost venues such as a park, clubhouse, YMCA, American Legion hall, the beach or the lake.
Think about hiring a teen as a babysitter or kitchen helper.
Use digital invitations such as Evite and get an accurate guest count. You may have to nudge people a few times to RSVP but this is more cost effective than having too much food.
Plan to use your leftovers – you can cut your grocery bill for a few days following the party and freeze what you can for later.
If serving alcohol, offer one signature drink that fits into your party theme instead of an open bar.
Focus on fun and making memories. Don't let your celebration be marred by overspending. Long after the guests are gone, the debt will remain.