Looking for a handmade gift for Father's Day? We made these Photo Coasters for Christmas and they were a huge hit! They are easy, they just require a little time. Follow our steps and give Dad a special handmade gift for Father's Day this year.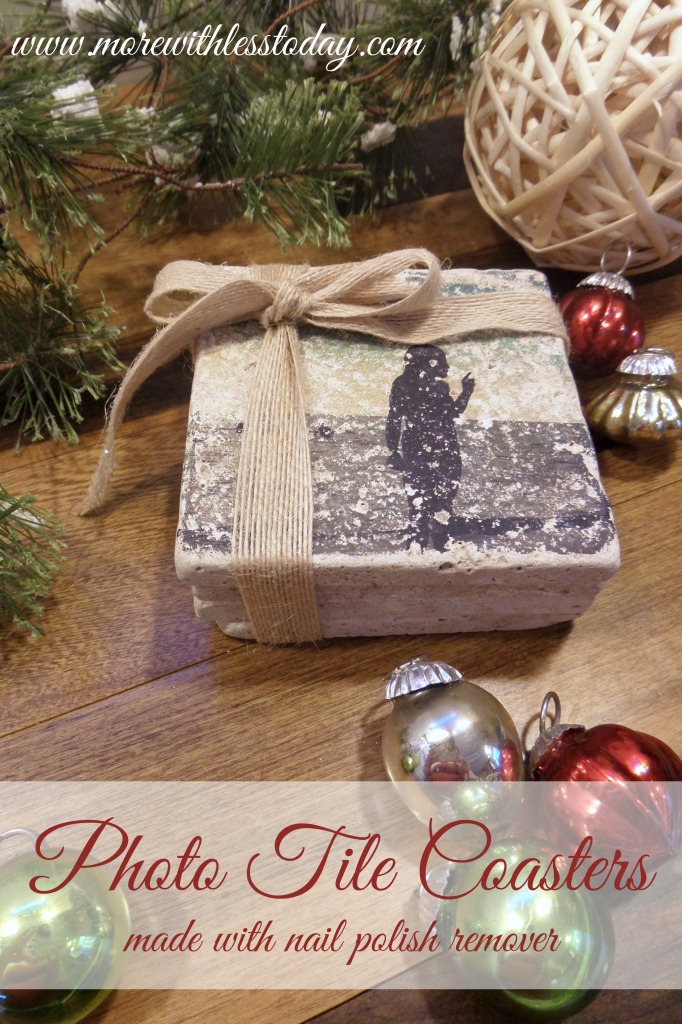 Photo Coasters Made With Tiles and Nail Polish Remover
Supplies:
4″x4″ stone tiles – I found that they need to be stone vs. ceramic for the photo transfer to work
inexpensive nail polish remover – it should contain acetone but not be pure acetone
paper copies of your favorite photos – the darker the image, the better the transfer
1 sheet of acetate
a knife or boning tool to use for applying pressure as you transfer the photo
tile sealer
foam brushes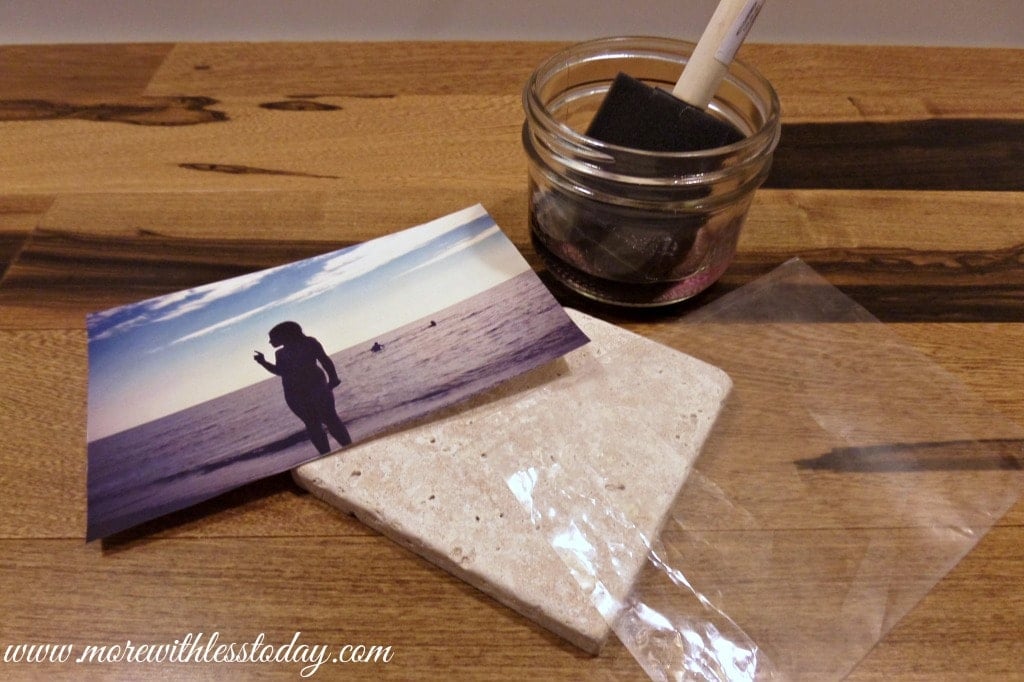 Note: The paper copies need to be made on a copy machine or printer that uses TONER not ink. This will not work properly with ink or laser jet printers. Most local office supply stores or local printing companies use toner. Because the image will be transferred face down, consider reversing the image before printing it.
Instructions: Open the window to ventilate the room while using the nail polish remover
Begin by cutting your photo to the same size as the tile you are using. It can be slightly larger as the excess paper will rub off.
Turn your photo face down on top of the tile.
Use the foam brush to apply a generous amount of nail polish remover to the back of the photo
Cover the photo and tile with the sheet of acetate and use the knife of boning tool to rub across the acetate. The acetate protects the photo while you rub and apply pressure. It take time, elbow grease, and patience. But, it is so worth it in the end! Continue rubbing the acetate with the knife. Lift the acetate off and apply more nail polish remover. Replace the acetate and continue rubbing.
After a few applications of nail polish remover and rubbing, carefully lift the corner of the photo paper to see if the ink is transferring. If it has not completely transferred, repeat the above process.
Once the image has transferred to the tile, remove the paper and use your fingers to rub any stuck on paper off.
Rinse the tile off and let it dry.
In the image below you can see the original photo I used for the tile. I did several tiles using different photos but the photos with darker and more contrasting colors turned out the best.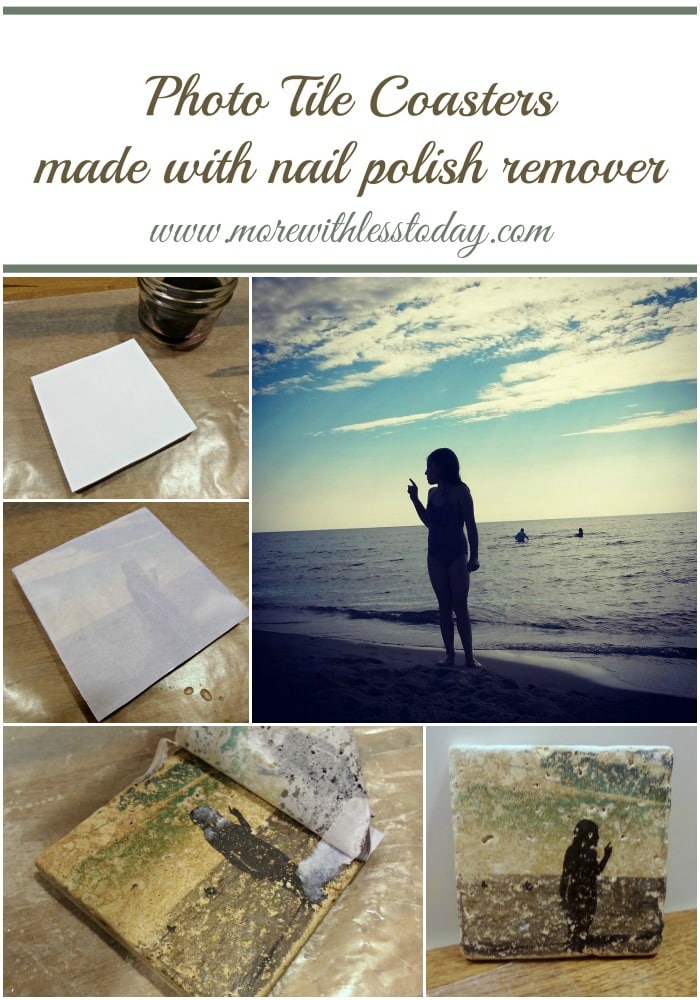 To finish the tile, apply a coat or two of tile sealer over the image.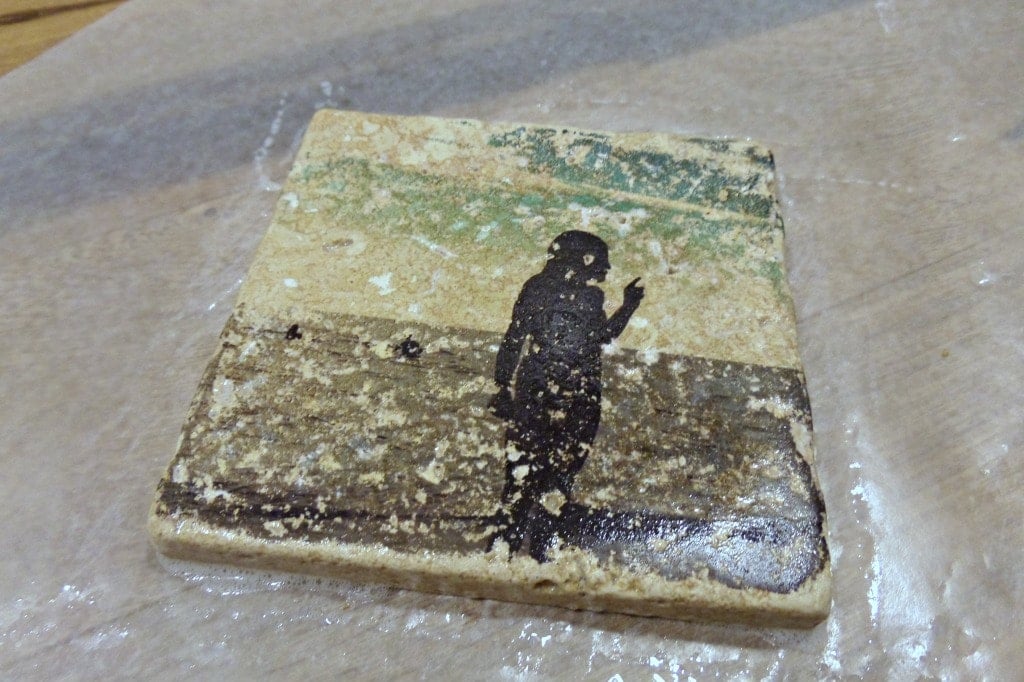 When the sealer has dried, stack the set of photo coasters together and tie a piece of ribbon or twine around them. They will make a beautiful and meaningful gift!
Are you on Pinterest? Let's connect! Follow me on Pinterest and I will follow you back.