I was so excited to get a copy of the The Prep Ahead Meals from Scratch Cookbook in the mail to review. I have tried several of the recipes with my family and we are all on board with the idea of prep ahead meals. The cookbook explains batch cooking and has done all the recipe organizing you need to get a delicious dinner on the table fast, even on the busiest nights.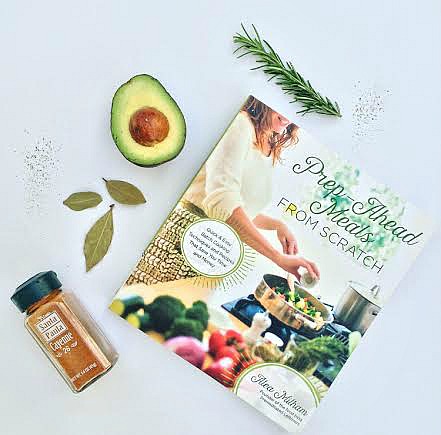 Have you tried batch cooking? The concept makes so much sense. You spending a little bit of time cooking and prepping food ahead and then you combine the ingredients into different recipes for several meals. The plan is flexible, so you can adapt it to your family's schedule.
Quite a few years ago, I tried the once a month cooking plan but I could not keep up and did not want to spend the entire day cooking and freezing meals. This cookbook works so much better for a busy household because you can work ahead for a week or a few days. If you see a good price for the main ingredient, this cookbook gives you exactly what you need get several tasty meals out of it.
You save time and money because nothing is wasted. You don't have to order out, drive through or serve less than healthy meals because you are pressed for time. Batch cooking and prepping several meals makes life so much easier. Once I have a meal plan and the prepping part done, I can have my husband or my daughter finish making the meal if I am running behind.
What I love about the Prep-Ahead Meals from Scratch Cookbook, is the recipes are well thought out and grouped by proteins; chicken, pork, and beef. She also includes vegetables, and filling meals you can make with beans or rice. At the end of the book she shares pantry staples that she always has on hand to save time and money. None of the recipes are too exotic and don't require you to shop at specialty stores to find what you need. With each recipe, she offers gluten-free options too.
The cookbook is beautifully photographed and would make a lovely gift especially for someone learning to cook, for someone who just added to their family, or for any busy person who strives to put good food on the table every night.
I give it my highest recommendation!
You can find the Prep Ahead Meals from Scratch Cookbook at Amazon, Barnes and Noble, Target, Walmart and at Books-a-Million, Indie Bound and The Book Depository
I made Honey Mustard Chicken Salad Wraps found on page 31 of the cookbook for our Sunday lunch. I had all of the ingredients on hand except the chicken. I stocked up this week and look forward to trying the Pineapple Teriyaki Chicken recipe next.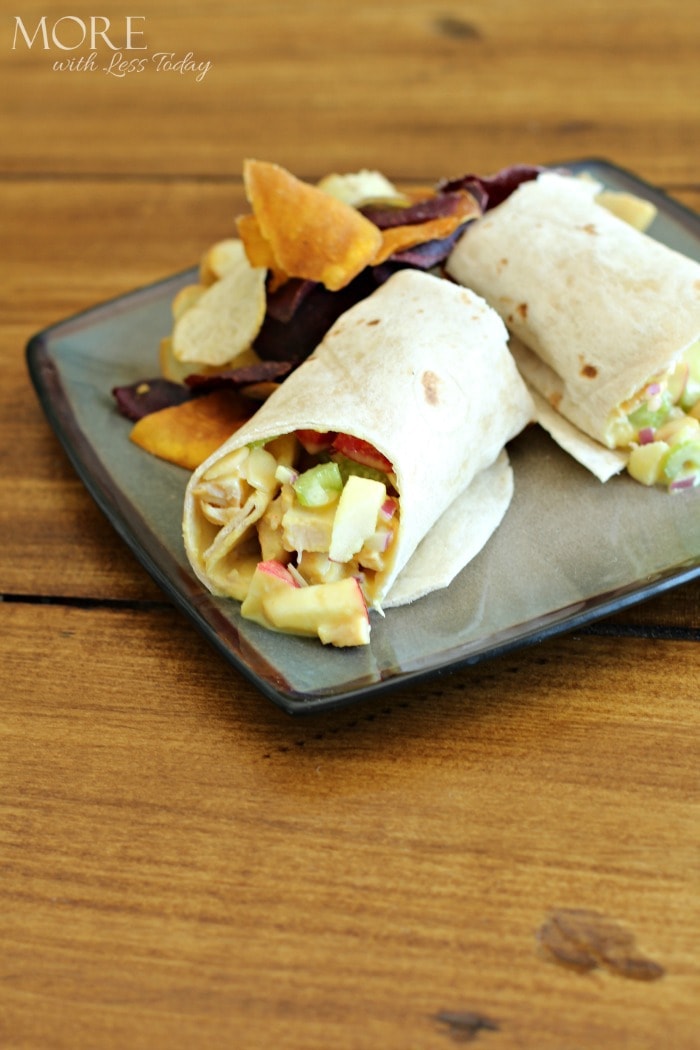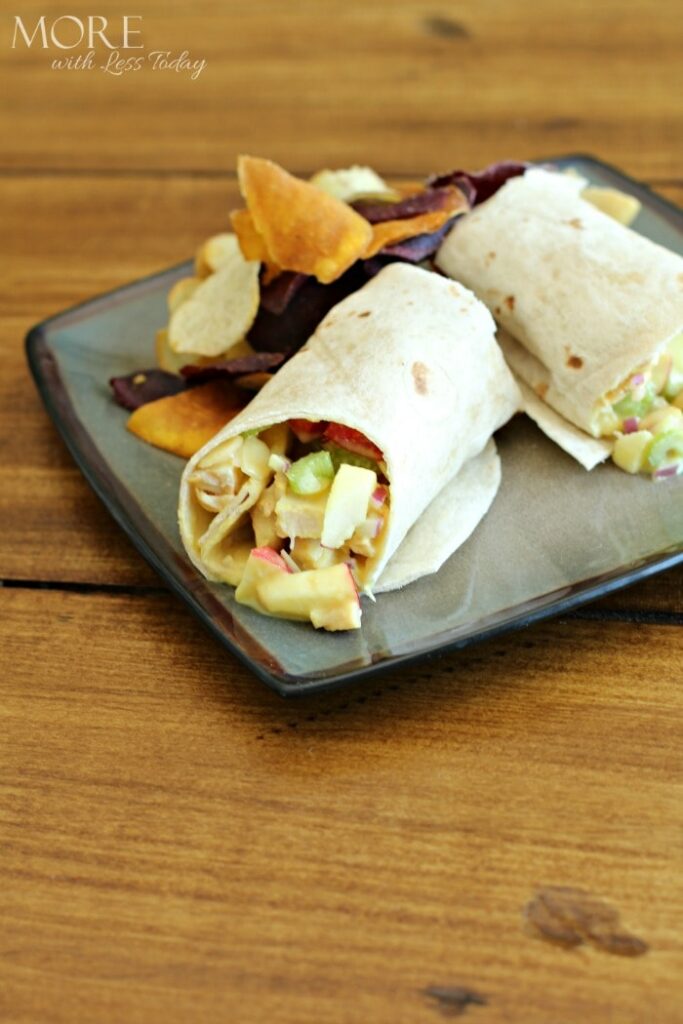 Although I have made chicken salad many times, I had never made it with a honey-mustard dressing. It was delicious and the next time I need to make a double batch so we can enjoy leftovers.
Honey Mustard Dressing
1/3 cup (80 g) mayonnaise
3 tbsp (33 g) mustard*
3 tbsp (45 ml) honey
Filling
2 cups (280 g) diced cooked chicken
1 cup (150 g) diced apple
1/4 cup (40 g) diced red onion
1/4 cup (27 g) sliced almonds
1 celery stalk, thinly sliced
8 medium tortillas or wraps*
*Use gluten-free mustard and tortillas to make this recipe gluten-free.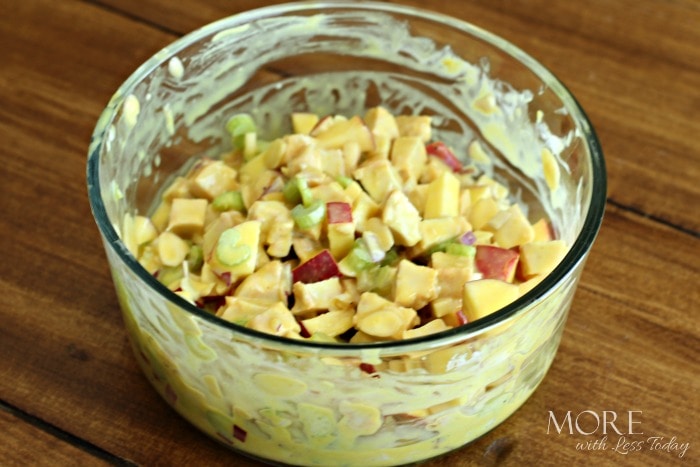 To make the dressing, combine the mayonnaise, mustard and honey in a small bowl.
To make the filling, combine the chicken, apple, onion, almonds and celery in a medium bowl.
Pour the dressing over the chicken salad. Stir thoroughly to coast.
If you have time, place the chicken salad in the refrigerator for 2 hours to let it chill.
Heat the tortillas in the microwave if necessary to make them more pliable.
Place 1/2 cup (60 g) of the chicken salad in the center of each wrap. fold the bottom up to cover the chicken salad. Fold one side of the wrap over the chicken salad, then roll to close up the wrap.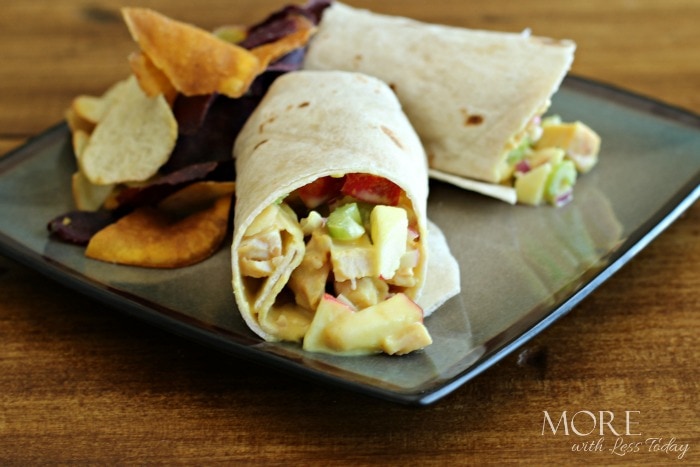 Once you get started, I think you will agree what this is such a less stressful way to feed the family. Give the Prep-Ahead Meals from Scratch recipes a try and come back and let us know which one is your favorite.