The holidays are history, but sadly the stomach pain from all of the overindulgence is not. The last two weeks have been filled with travel, gatherings, and lots of things to keep us busy. It seemed that almost all of it revolved around food and typically eating too much or eating things we normally don't allow ourselves to indulge in.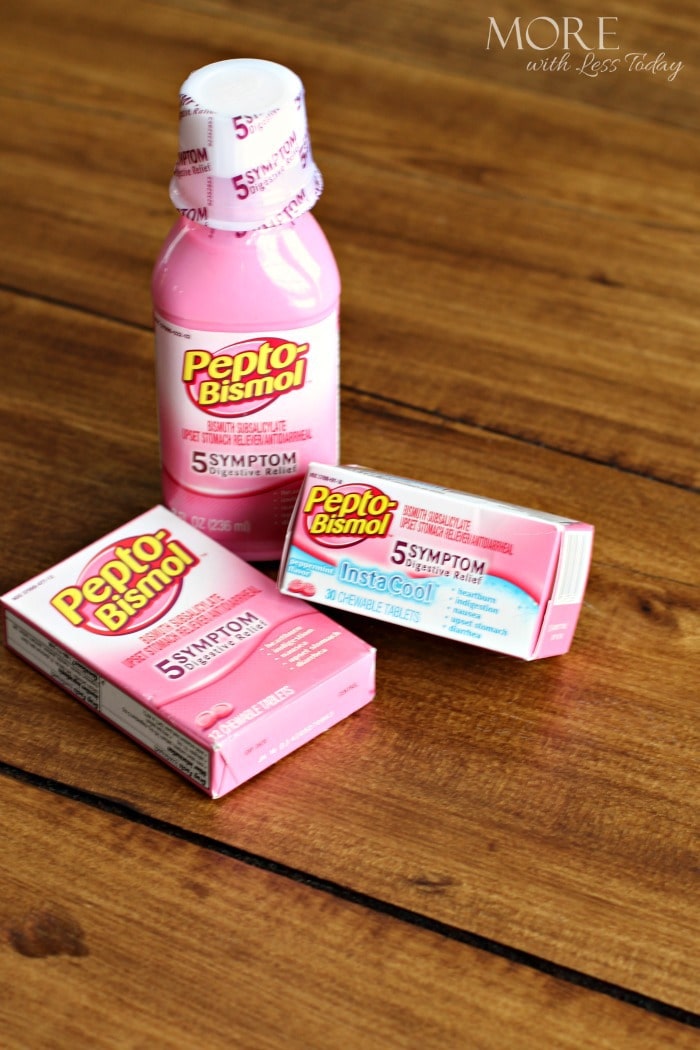 Between vacation, Christmas Eve and Christmas Day family gatherings, shopping and dinners out with friends, and our New Year's Eve trip to New York City, our family's stomachs have not seen our normal routine in weeks. I know by the time my husband and I arrived home from New York yesterday, we were both feeling really miserable. I let myself have gluten and corn and other foods I normally avoid and my husband had just a little too much of everything. We were beyond thankful to reunite with our Pepto-Bismol when we got home! Today we're recovering from post-holiday stomach pain.
Recovering from Post Holiday Stomach Pain
Pepto-Bismol has been around for as long as I can remember. I can remember it in the medicine cabinet as a child and my mom turning to it when one of us was not feeling well. It's known for it's 5 Symptom Digestive Relief – heartburn, indigestion, nausea, upset stomach, and diarrhea. I won't go into detail about what we were feeling when we got home last night but I'll say that the Pepto-Bismol had us covered. We were feeling much better quickly so we could enjoy being back home with our kids.
Pepto-Bismol is great to have on hand for not so great feeling stomachs. To help your stomach feel better quickly and begin recovering from post-holiday stomach pain, I've put together some helpful tips in addition to keeping the Pepto close by.
Eat Healthy, Mild Foods
When you're stomach isn't feeling well you want to stay away from foods that will only make matters worse. As a mom I first learned about the BRAT diet when my oldest was a baby. The BRAT diet isn't just for babies and kids though. It's perfect for any stomach that's recovering from not feeling so well. Made up of Bananas, Rice, Applesauce, and Toast the diet is easy on the stomach. These foods won't aggravate your already irritable stomach.
Heating Pad
When your stomach isn't feeling well and you're experiencing cramping and bloating a heating pad can ease discomfort. Whether it's a hot water bottle, an electric heating pad or blanket, or a homemade heating pad snuggle up and give yourself a chance to recover.
Drink Lots of Water
This is pretty self-explanatory. Staying hydrated is so important when your stomach is not in great shape. Lots of water will also help flush your system of all the ick that is making you sick. While water is best there are other fluids that are good too – try drinking warm broth or teas too. Chamomile tea can be especially helpful.
Mint
Add a little peppermint oil or fresh peppermint leaves to a cup of boiling water. Let the water set for several minutes and sip. The peppermint can help relax stomach muscles and aides in digestion. Adding lemon to your water instead of mint can also aid in the digestion of your food.
Regardless of what's caused your stomach pain between these tips and Pepto-Bismol you're sure to be feeling better soon. As for us, someday we'll learn not to overindulge or eat things we know we shouldn't but until then we'll keep Pepto-Bismol in our medicine cabinet.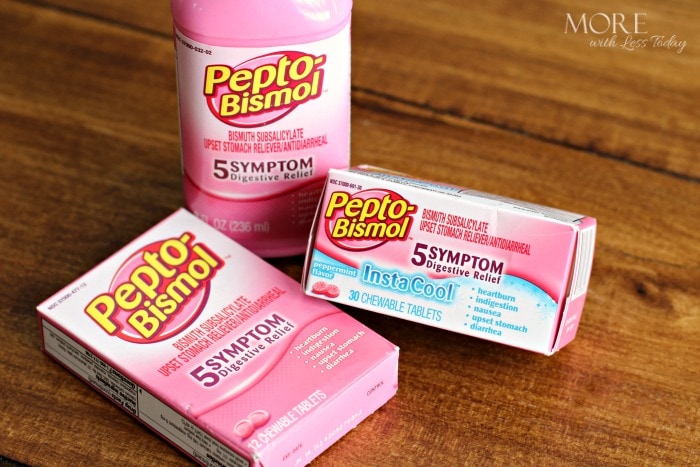 What is your go-to remedy for post-holiday stomach pain?
I received product for this post from Smiley360 in exchange for my honest review. All opinions are my own.