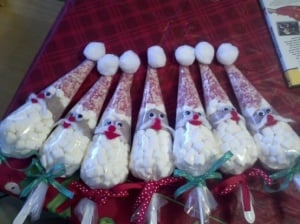 I just love these Santa bags for individual hot cocoa mixes.
Are you making any Christmas gifts this year? I would love to share your ideas!
Fill a clear cake decorating bags or cello bag with peppermint chips, hot chocolate mix & marshmallows. Insert a spoon dipped in chocolate for stirring then tie the bag with a ribbon. Glue a white pom pom, wiggle eyes, felt nose and mouth & a cotton mustache on the outside and voila! Individual Santa Hot Cocoa Bags!
You can even pair this with an inexpensive mug for a terrific, adorable gift!
Thank you to Idelle Colon for posting this great idea on Pinterest. See the original link I found here: (I'm not sure who the original creator is but if you know, please let me know!)
http://pinterest.com/pin/169799848420611417/
You may also want to check out the step by step instructions here; http://eggyolkdays.wordpress.com/2012/12/02/santa-hot-cocoa-gift/.
She even lists some helpful tips that I would not have thought about.
Are you on Pinterest too? Follow my pins here and I will follow you back!