True confession time. Do you hate to use coupons? If you just can be bothered, or have tried and failed, don't despair, we can show you how to save on your groceries when you hate to use coupons. So put down those scissors and let's start saving money on your food bill!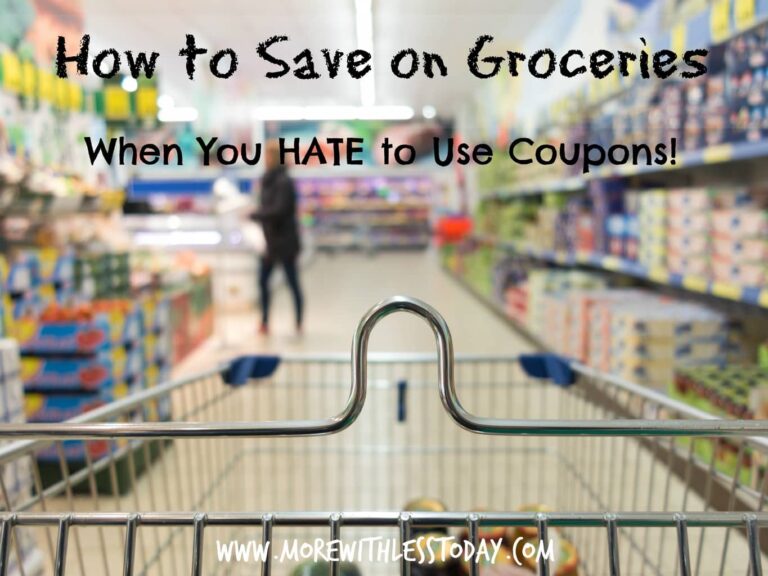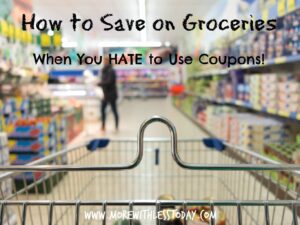 How to Save on Groceries When You Hate to Use Coupons
The average family of four spends about $7,000 a year on food and groceries, or about $583 a month, according to a recent survey. How much do you spend? Will a little advance planning and a few strategies, you should be able to save up to $200 a month on your groceries without clipping any coupons.
What would an extra $200 a month mean to your family?
How to Save on Groceries When You Hate to Use Coupons
1. Make a meal plan for the week based upon what is going to be on sale at your grocery store. If you only do this step, you will save money! Look at your grocery store flyer each week and buy and serve what is on sale.
2. Plan theme nights for easy menu planning. On Monday, make a meal with chicken. Make every Tuesday Taco Tuesday and make a Mexican themed meal. On Wednesday, serve a pasta meal. Thursday night is meatless, plan a vegetarian dinner. On Friday, make your own pizza and use leftovers from your other meals. Saturday is a meal with beef, and Sunday is for leftovers or cooking from your pantry. Adapt this weekly plan for your family and take the guesswork out of coming up with new ideas.
3. Fast 5 – have a repertoire of 5 fast, easy and inexpensive meals that you can serve faster than ordering a pizza. These Fast 5 are for those extra busy nights so you won't have to "drive-through" to get dinner. Keep them on a notecard, or saved on your computer or smartphone.
4. Plan one or two nights each week where you cook once and eat twice. You can cook a chicken or a roast and make at least two meals out of it. Pasta dishes are excellent dollar stretchers. If you are washing and chopping something for a recipe, chop enough to use in one or two additional meals for the rest of the week.

5. Try going meatless one night a week.
6. Cook from your pantry and plan one or two meals a week with just the items you have on hand. The weekend is a good time to use what you have and not let anything go to waste.
7. Use a calendar or an online calendar to plan your meals based on your schedule and the kids' schedule. It doesn't make sense to shop for elaborate meals when you will be getting home late from soccer practice and just need something quick.
8. Find more slow cooker recipes to put into your meal plans. Come home to a fully cooked meal.
9. If you have left-overs, search online for recipes by searching "easy recipe for (insert the name of your leftover).
10. Freeze extra food for a future meal. Use up the frozen meals within the next week. Add it to your meal plan calendar so it doesn't get buried in the freezer and then tossed out.
11. Spend time getting organized at home before you go grocery shopping. Allow time to make an inventory, a meal plan, and to think about the week ahead. The quicker you can get in and out of the store, the more money you will save. Don't wait until you are in the grocery store to wander the aisles and figure out what you need.
12. Learn the layout of your grocery store. Often you can print a map from the store's website. Make your master shopping list by aisles of your store for faster and more organized shopping.
13. Try to leave the kids at home. Take turns watching the kids with a friend so each of you can grocery shop, focus on saving money and get everything you need in one trip
14. Use technology to help you to plan your shopping trip. Start a master list on a word processing program or in your cell phone. Don't rewrite your list every time you shop. Improve your master list continually by adding a "buy now' price when you know you should be stocking up.
15. Buy the loss leaders. Grab the store flyer when you first walk in and note the items on the front page. Those are this week's loss leaders and biggest markdowns. Typically items are on a sales cycle of about every six weeks.
16. Stockpile the non-perishable items that you will use for the next 3 months. When you see a great deal, consider buying 3 months' worth of toothpaste, deodorant, pasta, etc. You can keep a running list of what you have in your stockpile on your master list. Note the price you paid on your master list so you can refer back to it.
17. Check the unit pricing. Sometimes the largest size is not the most economical. Buy in bulk when it makes sense for you.
18. If you see a sign for buying multiples to get a discounted price, find out your store policy. Often you can get the sales price on just one item. Carefully read the tag and ask if you are unsure.
19. Use e-Coupons Many grocery stores have electronic coupons that you can load right to your store loyalty card ahead of time. Swipe your card at checkout and those coupons come right off your bill.
21. Pick one drug store; CVS, RiteAid or Walgreens and follow their sales. Check the Sunday flyer to see their loss leaders for the week. You can save so much money on your toiletries, beauty products, paper products, OTC medicines, and more when you shop this way.
22. Reconsider the warehouse store – if you shop at a big box wholesale club and feel like you are spending too much money, scrutinize your purchases and your impulse purchases. Not everything purchased at these warehouse stores is a bargain. Sometimes we find ourselves consuming more because we have more, or throwing out perishable items because the quantity is too large.
23. Stay out of too many stores. If you are visiting several stores for just one or two specialty items, visit once a month and buy what you need for the entire month. Limit the number of stores you frequent.
24. Try buying some of your groceries online. Try Amazon Fresh if it is available in your area or see if your local grocery store will allow you to buy online and have them delivered to your door. You may find that not being distracted in the store allows you to plan more and save more. You can stock up on your beauty products, toiletries, snacks cleaning supplies and more at Amazon.com. Use the Subscribe & Save feature for those items you need all the time, You can save additional money and change this anytime. Order enough to get free shipping if you do not have an Amazon Prime membership
25. Try the dollar store in your area. The dollar stores are really competing with grocery stores these days. Check the frozen foods, produce, canned goods, and more. You will see many brand names now when a few years ago it was mostly off- label goods.
26. Start a produce and herb garden. Make this a family project and share your surplus. You will be amazed at how many ways you can serve zucchini!
27. Shop for local produce at Farmer's Markets. The website Local Harvest will tell you what Farmer's Markets are in your area.
28. Set a goal for saving a certain amount of money on your grocery bill and then plan a special family activity with some of the savings. I recommend getting everyone involved in the process. Make a prop to continually track your progress to keep everyone motivated.
Not ready to give up on clipping coupons? Put your kids in charge! If your kids are old enough, pawn off the job of clipping and organizing coupons. Split the savings with them and call it their allowance. Think of all the lessons you can incorporate by including them in the meal planning, price comparing, and the money-stretching needed to run a household.
Keep chipping away and try a new technique once or twice a month!
If you have additional ideas to share, please let us know. Together, we can find more ways to stretch our dollars!