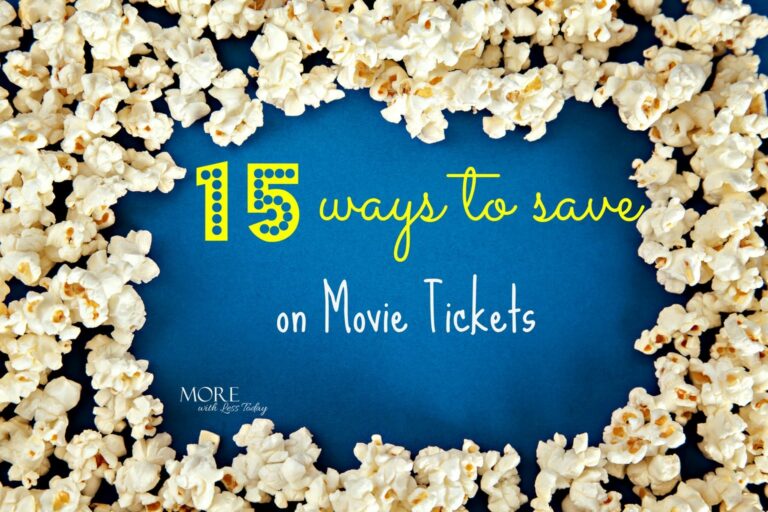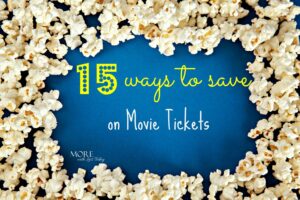 Going to the movies can be so expensive, especially for a large family. We want to help you with Saving Money at the Movies so we put together this list of 15 Ways to Get Discounts on Movie Tickets.
2020/2021 update- due to present circumstances, the post information from 2018 won't be valid. I will update the information as soon as conditions dictate. Stay well, my friends.
We welcome your ideas too. Do you have any tips you can share with all us of to help save money at the movies? Do you have a favorite local theater that offers movie discounts nearby? This post may contain affiliate links which means we may get a small referral commission at no additional cost to you if you use our links.
According to Wikipedia, the largest movie chains in the US are:
Regal Entertainment Group
AMC Entertainment Inc.
Cinemark Theatres
Cineplex Entertainment
FYI- Carmike Cinemas Joins AMC Theatres
We're thrilled to announce that Carmike Cinemas (which includes Wynnsong, Muvico, Ovation, and Sundance Cinemas) is now part of the AMC Theatres family, and we're so excited to start this new chapter together.
15 Ways to Get Discounts on Movie Tickets:
1. Get in FREE
If you don't mind getting there early, you can see FREE movie screenings before everyone else! Here are 5 websites that can help you to find FREE movie screenings near you:
Gofobo.com: Enter your zip code and select a movie to see if there are free movie tickets available near you. Be sure to register so they can contact you if a new screening becomes available in your area.
advancescreenings.com : Select a movie and see if any free movie tickets are available for the screening in your area.
GetScreening.com – They are updating their website at the time of this posting.
Lionsgate – Enter your zip code to see if there are any free movie screenings of Lionsgate films in your area.
SeeItFirst – This is where you can find free movie tickets for Disney movie screenings.
2. Go Early
Cinemark Early Bird – discounts for the first matinee show of the day, every movie, every day. See their list of early bird discounts near you from participating movie theaters.
3. Go on a Weekday
Cinemark – Monday is Family Value Day
Regal Crown Club – Value Day See the list of weekday movie discount locations near you.
4. Buy Ahead of Time
At Fandango, you buy your tickets ahead of time online, read movie reviews, and can get discounts. There is a convenience fee.
5. Go Mobile and Social
Movie chains may send special offers and coupons through their mobile APPS. Join and save!
Cinemark CineMode APP
Regal Mobile APP
Follow your favorite movie theaters on Twitter, Instagram, and Facebook. They often have special promotions just for fans.
Subscribe to the Cinemark email for concession stand discounts and special offers.
6. Buy in Bulk
AMC Group Sales – get details about purchasing movie tickets in bulk.
Cinemark Reel Family Time – discounts for large parties or large families. Program valid only at participating Cinemark Theatres.
Costco – you can purchase discounted movie tickets at Costco and online. There are 3 choices: AMC Gold a 10 pack for $84.99, ($8.49 each), Regal Premier Super Saver, 8 tickets for $84.99($8.49 each) or Cinemark Theaters 10 pack for $79.99.
Regal – corporate and bulk rate tickets available
7. Go to the Drive-In
You can often watch two new-release movies at a drive-in for less than the cost of one ticket at a traditional theater.
8. Get an AAA Discount
AAA offers discount movie tickets to members for AMC, Century, CinéArts, Rave, Tinseltown, Regal Cinemas, Edwards, and United Artists theaters. Also, if you are a member of a union or trade organization, check your benefits for access to discounts on movie tickets and more!
9. Senior Discounts
AMC Theaters: up to 30% off ( 60 +) Tuesday is Senior Day at select AMC Theaters
Cinemark: up to 35% off with some exclusions
Regal Cinemas: 60+ discounts vary by location
10. Student Discounts
AMC Theatres – Make Thursday your movie night at an AMC Theatres location. It's the only day you can get discounted tickets with a student ID.
Cinemark has more than 30 theaters in 12 states offering discounted movie tickets with a valid student ID.
Regal – varies by the movie, show time and location
11. Join the Club for the Perks
Many theaters offer rewards programs with discounts and other promotions.
See up to 3 movies every week in IMAX®, Dolby Cinema, RealD® 3D, digital and more for just $19.95/month + tax. No blackout dates.
Cinemark Connections – join for free and redeem your points for awesome rewards like digital downloads, savings on concessions, trips/contests, premieres and more.
Regal Crown Club – free to join. Earn one credit for every dollar spent on tickets and extra credit for concession purchases. Once you reach 150 credits you earn STAR STATUS and you can get a free movie ticket.
Fandango has a VIP program that is free to join. You can return or exchange your ticket, earn rewards points from AMC Stubs, Regal Crown Club and more, plus get invited to free screenings, digital download discounts and more.
12. Get Summer Movie Discounts
Cinemark – Summer Movie Pass. At participating theaters, you can purchase a pass and watch 10 movies for only $5.00, yes, only 50 cents per movie! All of the movies are G or PG. Parents and kids can purchase the Summer Movie Pass.
Regal– Admission to the Summer Movie Express is only $1. Tickets available for purchase at the box office and all movies start at 10:00 am. A portion of the proceeds goes to the Will Rogers Institute.
Harkin Theatres – 10 Movies, 10 Weeks for less than $1.
13. Order an Entertainment Book
Order an Entertainment Book for your city. Then, use it to get movie tickets for as little as $6 each. Eligible theaters include Regal, United Artists, Edwards, Showcase, Multiplex, Cinema Delux and AMC. The movie ticket discounts alone will cover the cost of books. There are tons of restaurant and fast food deals too. Before your purchase, preview the book by typing in your zip code.
14. Buy Discounted Movie Ticket Gift Cards
You can buy gift cards to movie chains at a discount. Cardpool.com has discounted movie gift certificates from AMC Theaters, Fandango, Carmike, Regal, Muvico, iPic Theaters & more with discounts up to 17%!
15. Try Dealflicks



Dealflicks helps movie theaters to fill empty seats, like a Priceline for movie tickets. The best part for us, there is no convenience fee or electronic fees. Sign up is free: Save up to 60% on Movie Tickets and Concessions | Dealflicks
Refer-a-friend: Every time you share Dealflicks with a friend not only do they get 20% off their first purchase but you will receive a coupon worth $5 for yourself. The more you share the more you earn, you could even earn free movie tickets for the rest of your life!
Movie tickets make great gifts for teens and young adults, as thank you gifts and for teachers. Short of sneaking in or pretending you are 12 and under, do you have any money saving tips to share for Saving Money at the Movies?
FYI- If you are looking for information about Carmike Cinemas, learned this:
"We're thrilled to announce that Carmike Cinemas (which includes Wynnsong, Muvico, Ovation, and Sundance Cinemas) is now part of the AMC Theatres family, and we're so excited to start this new chapter together."
Do you know other ways to get discounts on movie tickets? Share in the comments so everyone can benefit!