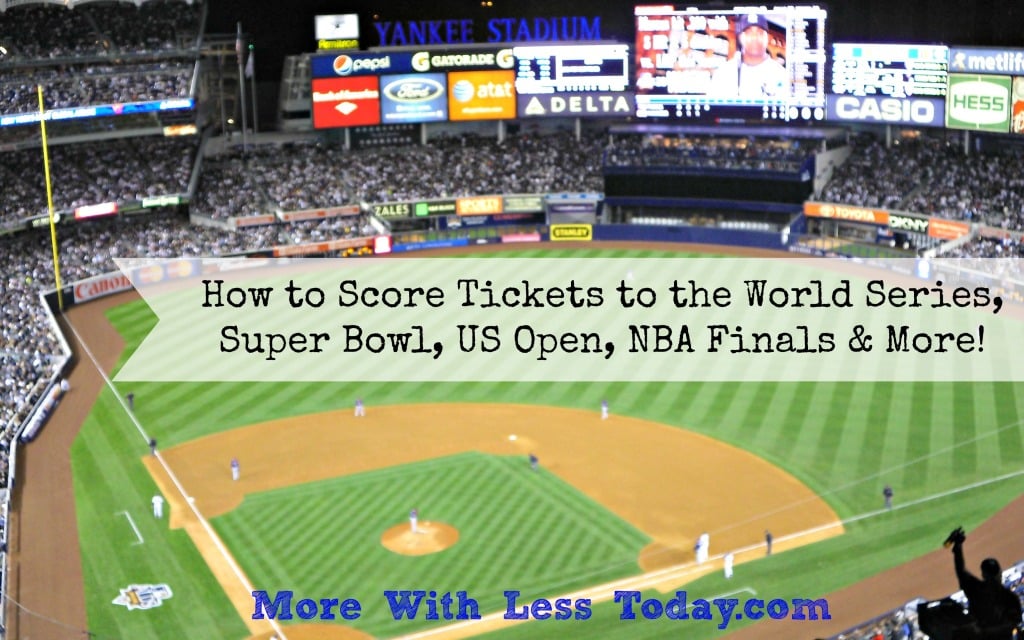 How to Score Tickets to the Super Bowl, World Series and more!
Scoring tickets to the top sporting events and championship games, can be a "bucket list" event for many fans. I have compiled a list of lotteries for sporting event tickets as well as a few tips on how to score tickets to the big game without paying top dollar.
Through a ticket lottery, you still have to purchase the tickets, but in most cases, the savings will be hundreds if not thousands of dollars less than what you would pay through a ticket broker or re-seller.
:: Major League Baseball World Series
In September, go to the website of your team and search for "Post Season Ticket Opportunity Registration".
There is no charge to register for the opportunity and no obligation to purchase the tickets if you are chosen. If you are chosen through the random drawing, you will be notified by email and have the opportunity to purchase a limited number of Postseason and World Series tickets at face value. If you purchase tickets to a game and the game becomes unnecessary, your money will be refunded.
:: Regular season baseball games – check the website of your favorite team to see if they have lotteries or random drawing for highly coveted tickets. Last year for Red Sox fans, there were drawings to purchase tickets for Opening Day, Green Monster seats, and a drawing for seats in the Budweiser Right Field Roof Deck. The registration for these coveted tickets was held in January and ended February. Although the deadline has passed for this year, you can view the information here. Do your research now and see if your favorite MLB team offers a lottery and then mark your calendar!
:: Super Bowl– Most of the tickets are allocated to the two participating teams, and to the other NFL teams. Remaining tickets to the general public are made through a random drawing. Here is the information from the NFL FAQ page:
Send your request by certified mail or registered mail to:
Superbowl Random Drawing (include your full name, city, state, zip code, phone number and email)
PO Box 49140
Strongsville, OH 44149-0140
One request per address will be accepted and duplicate requests will be disregarded. You must send your request by certified mail or registered mail between February 1st and June 1st of the year preceding the Super Bowl Game. You will be notified in late October or early November if you have been chosen (or not). Those selected will have the opportunity to purchase 1 wheelchair and 1 companion ticket.
There are also a limited number of Super Bowl tickets available to the public for purchase at nflonlocation.com.
:: NBA – NBA.com is the official ticket marketplace for NBA tickets. You can search for tickets available from the team or browse the resale tickets available. This site allows season ticket holders to resell their tickets. Just click on the logo of your favorite team to view available tickets.
If your team is headed for the playoffs or the NBA finals, this site offers several social media options for staying connected and getting information on purchasing tickets for post season play if they become available.
:: Golf
The US Golf Association conducts a lottery for U.S. Open golf tickets. Go to usga.com and fill out a General Public application. If you are not a member of the USGA, you can usually apply between mid-June and mid-August for the following year's tournament.
You can also join the USGA and enter the members only lottery. Go to members.usga.org for more information.
The Masters Golf Tournament
There are a limited number of tickets available by lottery for the Masters practice rounds and daily tournament tickets. Pay attention to the deadlines. You apply by late May or early June for next year's tickets. Go here to get more information.
Other tips to score tickets to top sporting events:
Let season ticket holders know that you would be interested in buying tickets for individual games throughout the season. Often even the most devoted fans cannot attend all the games during the season. You can find them on the team fan websites, through meetup.com, Craigslist, and eBay. Use extreme caution when purchasing tickets from sites like Craigslist. It is a popular place for scammers to sell fake tickets.
If you have any tips to share, please send them to me so I can update this information for everyone!
Do you have a sports fanatic who would enjoy this post? Be sure and email it or forward to them!