Side Dishes for Easter
When it comes to planning out your Easter dinner, you cannot forget about the side dish recipes! It is often easy to plan the main dish, since many of us go with ham or lamb, but when it comes to finding the perfect side dish, it can get a little tricky.
Many of us have our favorite traditional Easter side dishes that we love to enjoy during the holiday. It's a tradition that we serve these side dishes and everyone looks forward to them. For some, those traditional Easter sides include carrots, homemade rolls, and other tasty vegetables.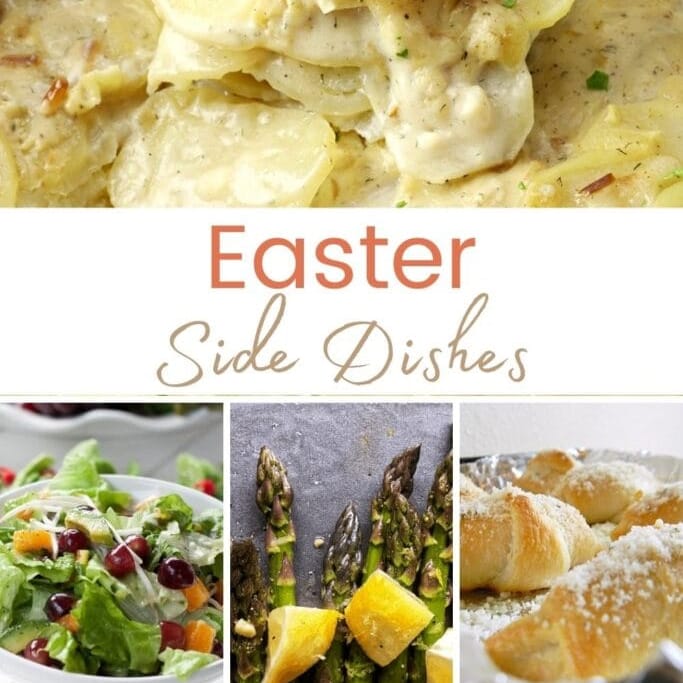 Of course, changing up your side dish lineup can never hurt so we have gathered a list of some traditional side dishes for Easter, as well as some new flavors you can serve to friends and family.
Roasted Asparagus with Egg and Parmesan Salad
"This delicious warm spring salad recipe will make a tasty side dish recipe for your Easter dinner."
"Tossed with a delicious homemade poppyseed dressing, this grape, and avocado salad is an easy side dish for Easter."
Simple Dill Scalloped Potatoes
"An easy side dish for Easter, these homemade scalloped potatoes have a hint of dill that everyone is sure to love."
"Creamy and delicious, these cheesy mashed potatoes won't last long!"
"With only 5 ingredients needed, this corn casserole is a delicious side dish that will have everyone asking for seconds."
"Both kids and adults will love these delicious and easy-to-make stuffed potato skins as an Easter side dish."
Garlic Parmesan Crescent Rolls
"Full of flavor, these garlic parmesan crescent rolls will bring a whole new flavor to the table this year."
"A healthy and delicious side dish, these air fryer carrot fries are easy to make and will be a hit at the dinner table.
Roasted to perfection, this side dish uses fresh asparagus that has a hint of lemon for a tasty Easter side dish."
Stove Top White Mac and Cheese
"Cooked over the stovetop until the cheese is completely melted, this tasty side dish is sure to be a hit with friends and family."
Chunky Parmesan Smashed Potatoes
"Filling and delicious, these smashed potatoes are combined with parmesan for a special flavor that is sure to delight."
Easy to make, these stuffed mushrooms will be a tasty side dish everyone will love.
"These homemade dinner buns are made from an old-fashioned recipe that can be served at Easter or any family gathering."
"Flavorful and delicious, these green beans are seasoned and mixed with a healthy serving of mushrooms for a tasty side dish recipe."
Roasted Carrots with Honey Butter
"Cooked on a pan in the oven then brushed with melted honey butter, they're slightly sweet but still healthy. "
You May Also Like