My husband recently said that he is getting tired of oatmeal and then this recipe for Strawberry Rhubarb Baked Oatmeal arrived in my inbox! I was sent a copy of the cookbook to facilitate my review, however, all opinions are 100% my own.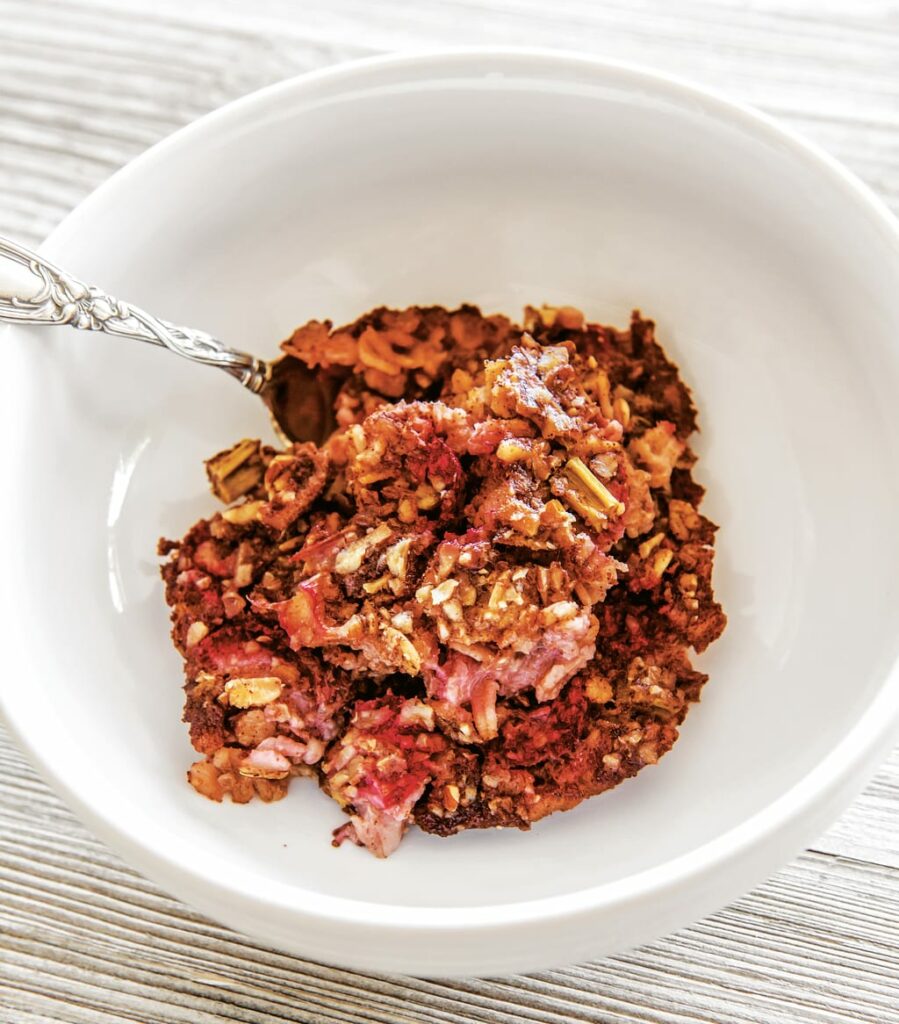 If you want to try a delicious new way of serving oatmeal, you will find this recipe and 74 others in my friend Alea Milham's newest cookbook, Prep-Ahead Breakfasts and Lunches 75 No-Fuss Recipes to Save You Time and Money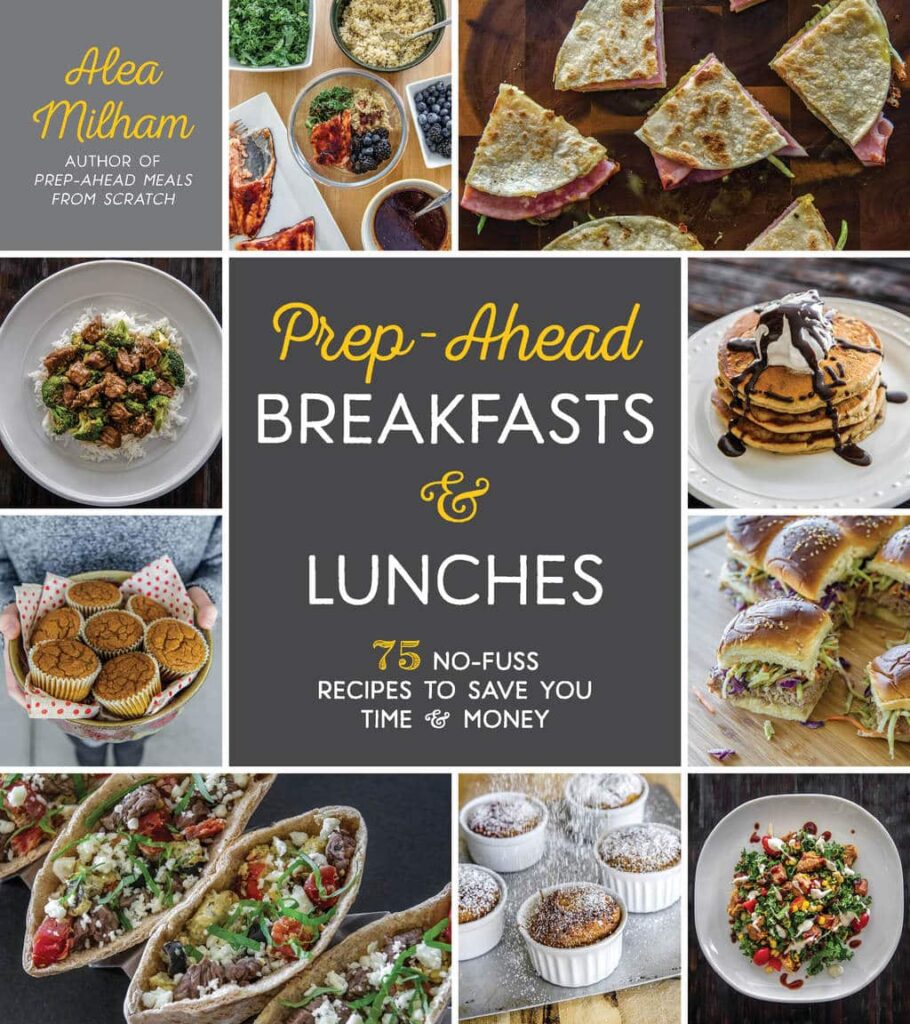 Now readers will never have a skipped breakfast morning or have a sad takeout lunch again.
"If our time is limited in the evenings," writes Alea in the introduction, "it often means we have even less time to devote to cooking in the mornings and none at lunchtime."
The 75 flavorful, no-fuss recipes in PREP-AHEAD BREAKFASTS & LUNCHES are a lifesaver for busy families. Chapters include Simple Egg Dishes And Breakfast Sandwiches (Pumpkin-Chai Egg Puffs, Italian Vegetable Mini Frittatas), Quick Breakfast Breads (Peanut Butter Chocolate Chip Blender Pancakes, Pumpkin Quinoa Muffins), One-Bowl Wonders (Mongolian Beef and Broccoli Bowl, Turkey Taco Rice Bowl), Salads On The Go (Chopped Chimichurri Steak Salad, Lemon-Dijon Chicken PastaSalad), and even Make-Ahead Desserts (Apple-Blueberry Cobbler in Mason Jars, Upside-Down GermanChocolate Cakes). Alea also includes how to store and reheat each dish, advice for meal planning, and money-saving grocery tips.
This Strawberry Rhubarb Baked Oatmeal is tasty enough that you could get away with serving it for dessert. The texture is similar to coffee cake, which makes it an enjoyable way to eat oats and fruit in the morning.
Here is Alea's recipe for a delicious new way to enjoy oatmeal:
STRAWBERRY RHUBARB BAKED OATMEAL
Serves 12
INGREDIENTS
2 large eggs
2 cups (480 ml) milk
3 tbsp (42 g) butter, melted
⅔ cup (96 g) brown sugar
2 cups (160 g) old-fashioned rolled oats
1 tbsp (12 g) baking powder
2 tsp (6 g) ground cinnamon
¼ tsp salt
2 cups (303 g) diced strawberries
2 cups (340 g) diced rhubarb
⅓ cup (40 g) chopped pecans
DIRECTIONS
Preheat the oven to 325°F (163°C) and grease a 13 x 9-inch (33 x 23-cm) baking dish.
In a large bowl, whisk together the eggs, milk, butter and brown sugar. Add the oats, baking powder, cinnamon and salt and mix until thoroughly combined. Stir the strawberries and rhubarb into the oatmeal.
Pour the oatmeal into the greased baking dish. Sprinkle the chopped pecans over the top. Bake for 40 minutes.
STORING AND REHEATING
You can cover the dish with foil and refrigerate this baked oatmeal for up to 5 days. Reheat individual slices in the microwave on high for 30 to 45 seconds.
Allow the oatmeal to cool off a bit before freezing. You can cut the baked oatmeal up into individual servings, wrap and freeze. Microwave a frozen serving on 50 percent power for 3 minutes, or until it is heated through.
You may remember my recommendation for her first book, Prep-Ahead Meals from Scratch where Alea Milham provided a frugal and streamlined solution for getting weeknight family dinners on the table like never before. Her first cookbook explains batch cooking and she all the recipe organized so you can get a delicious dinner on the table fast, even on the busiest nights.
For Alea, PREP-AHEAD BREAKFASTS & LUNCHES is more than a tool for families to save time and money. It's also a way to take care of your family's well-being. "Cooking your breakfasts and lunches in advance will save you money and give you complete control over the ingredients, so you know your dishes are made with ingredients you can feel good about."
The cookbook is beautifully photographed and would make a lovely gift especially for someone learning to cook, for someone who just added to their family, or for any busy person who strives to put good food on the table every day. I give it my highest recommendation!
You can find Prep-Ahead Breakfasts and Lunches 75 No-Fuss Recipes to Save You Time and Money at Amazon.com.
Once you get started, I think you will agree that this is such a less stressful way to feed the family. Give the recipes found in PREP-AHEAD BREAKFASTS & LUNCHES a try and come back and let us know which one is your favorite.