Recently Unilever asked me to review a lovely and inspiring short movie about Project Sunlight called The Way Kids See It, to help to get the word out about kids from all over the world who are making a difference. If you missed that earlier post, you can watch it HERE, (it takes just a minute or two and it will brighten your day!)
[now expired]
I was also asked to help with a fun summer project to remind us to recycle our bathroom shampoo bottles, conditioner bottles, liquid soap bottles, body wash, face wash, lotion, and hair products in the trash. We love our health and beauty products don't we? Growing up, I think we had shampoo, and a bar of soap, that was about it. How times have changed!
Oops, we missed that step about recycling bathroom products…..
I confess. We have been tossing our bathroom trash (all of it) into the trash can. I am more than slightly embarrassed to admit this, but hey that is the point of the campaign, to build awareness, starting with my house!
My nieces, Jessica, Jamie and I put together a DIY box for the bathroom recently. I think it came out great and now I see it everyday and have the visual reminder right where I need it! These girls are first class recyclers and are ready to make a DIY recycling bathroom box for friends and other family members. What a great fun summer project!
You and your family may want to create a fun, DIY recycle box for your bathroom and make recycling easier and more accessible. When you involve the kids and make it a family project, it creates awareness, unity, and a commitment to the greater good.
"Teaching the next generation to live sustainably is essential to ensuring our children and our children's children thrive in a world with clean water and food on the table," said Sarah Michelle Gellar, Unilever Project Sunlight Ambassador, actress and mother. "Whether it's challenging their creativity to re imagine the use of a box, turning off the faucet while they brush their teeth or growing a summer garden, we can build a world where everyone lives well – if we all do our part."
Millions of people have already partnered with Unilever and their ongoing initiative to promote 'acts of sunlight': a promise to change their lifestyle to help preserve the planet for generations to come. At my house, we are going to step up too and start recycling more and tossing out less. Read more about Project Sunlight and discover additional creative ways to adapt even more green habits this summer!
Did You Know?
– Nearly 40 percent of Americans toss plastic bottles from the bathroom in the trash, not realizing that along with cardboard product packaging and toilet paper spools, many bathroom toiletry bottles – including Dove® and Suave® shampoos and body washes – are recyclable. Yup, that was me!
Not Sure What to Recycle?
If you're not sure whether a plastic bottle is recyclable, start by looking for the recycling logo along the back. Most personal care products are packaged in bottles made of PET (Polyethylene Terephthalate) or HDPE (High Density Polyethylene) plastics, so you'll find quite a few recyclable plastics in your bathroom. Unilever bathroom products such as Dove and Suave are all recyclable.
Unilever Project Sunlight has helped to create a brighter future for two million children in US, UK, Brazil, India and Indonesia. To date, it has also inspired over 70 million people worldwide to commit to living more sustainably by visiting www.projectsunlight.us and making an "act of sunlight" pledge. The Summer Sunlight Activities series represents the second phase of Project Sunlight in the US. It seeks to encourage US families to adopt new sustainable habits at home through a series of fun, green activities.
Make Your Own Special Place for Recycling in Your Bathroom – What You'll Need:
Empty cardboard box — a diaper box works great. I found my box at Costco. They always have extra boxes for the taking!
Spray adhesive or glue gun


Scissors

Ruler
Gift wrap or contact paper — choose one that will look nice in your bathroom!
Trash bag (optional)

Instructions: (it only took 5 or 10 minutes to make!)

Step 1: Measure the paper, you will need to cover the large sides of the box and the bottom, add 2 inches on each side; do the same for the small sides and the bottom of the box.
Step 2: Place one side of the box onto the paper leaving about 2 inches on each side and top. Lay the bottom and then cover the last side, then fold the extra paper into the box neatly and secure with adhesive spray or glue. Repeat the same steps to cover the other sides.
You can line your bin with a trash bag if you use decorative paper. If you use contact paper like we did, you can just wipe the contact paper if you get a spill.
(Optional) Create a divider -you can cut off the flaps of your box and cover with decorative paper to create dividers for plastics and cardboard recyclables.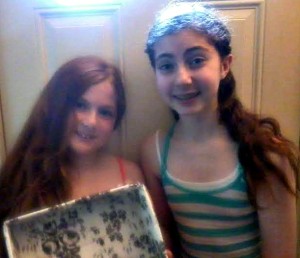 Unilever has made a strong commitment to reducing our overall environmental footprint. Let's do our part too!
This is a sponsored post from Unilever and Project Sunlight. All opinions are always my own! Join the conversation using #brightfuture