Have you checked out the new Studio McGee home collection at Target? The home decor is so stylish and affordable too. It is my new favorite.
You'll find pillows and throw blankets in solids and stripes starting at just $20. There is also a wonderful collection of decorative items for your shelves, coffee tables, and it can be used all over your home. You can decorate your front door, entryway or porch and then repurpose the decor elsewhere in your home when you want another refresh. I especially love the baskets and bins which you can never have too many of! You will also find tables, furniture, lighting, wall art, mirrors, area rugs and runners and more. I love the organic feel of her pieces. they look collected and organic and will go well with almost any decor.
"Meet Shea McGee, the designer, and stylist behind the brand Studio McGee. Founded alongside her husband, Syd, the studio is known for Shea's design of beautifully elevated spaces that encourage clients to surround themselves with the things and people they love. Now she's partnering with Threshold to offer Studio McGee's classic design in a new collection for inspired homes, everywhere."
If you are looking to elevate the decor in your home without breaking the budget, you should take a look at the Studio McGee Home Collection for Target. Hurry, some of the most popular items are on backorder already!
All photo credits are from Target/Studio McGee. We have affiliate relationships which means we may earn a small referral commission at no additional cost to you if you shop using our links.
Quick link to the Studio McGee Home Collection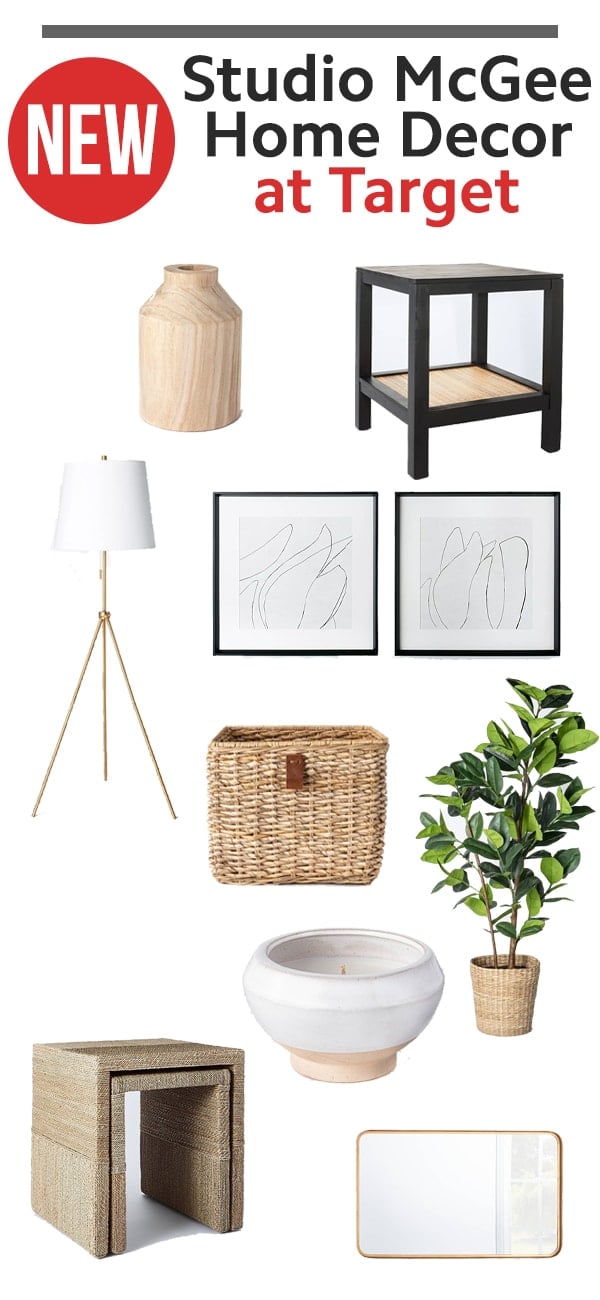 Target Decor Ideas – New Studio McGee Collection
Open Front Door with Traditional Console Table Collection – Threshold
You can see all of the beautiful design elements for this entry area here.
I love those beads and can use them in so many places!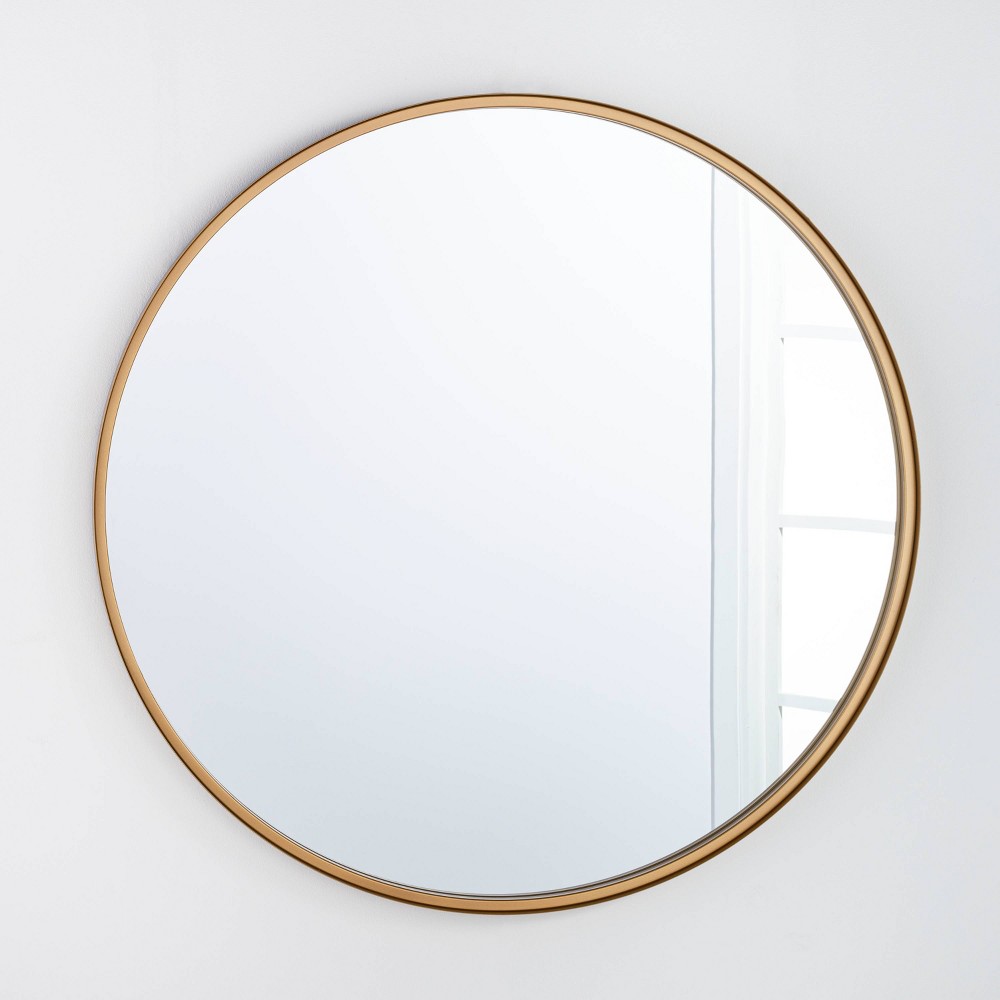 34″ Round Decorative Wall Mirror – Threshold designed with Studio McGee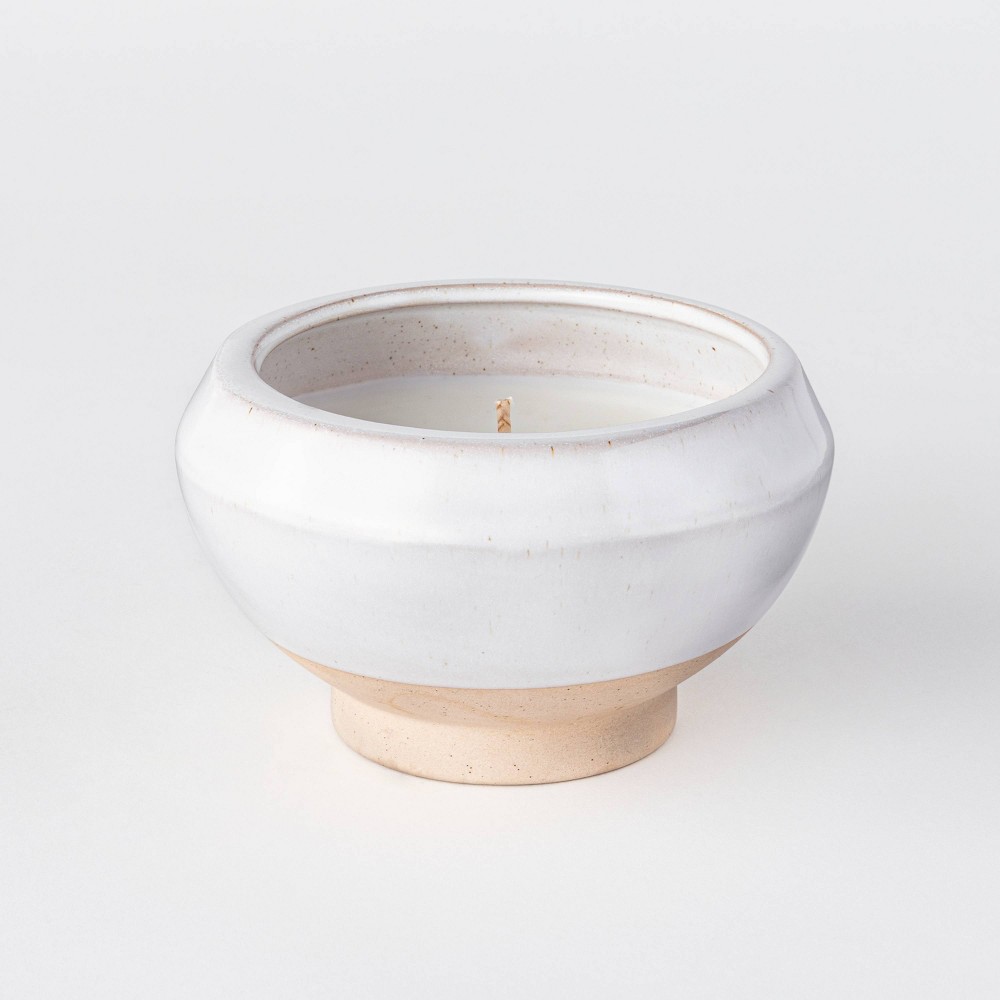 Textured Ceramic Jar Candle Sandalwood & Tobacco – Threshold™ designed with Studio McGee
"Add cozy appeal to any room in your home Textured Ceramic Jar Candle Sandalwood and Tobacco from Threshold designed with Studio McGee. This candle comes in a round jar in a cream hue with a wick that slowly burns to create a warm, inviting essence in your home. Its infused with scents of tobacco and sandalwood for a sweet aroma that creates a calm cabin vibe you will love. Perfect for family gatherings or a Friday night with a good book and hot cup of tea, this single-wick candle creates a relaxing ambiance in any space."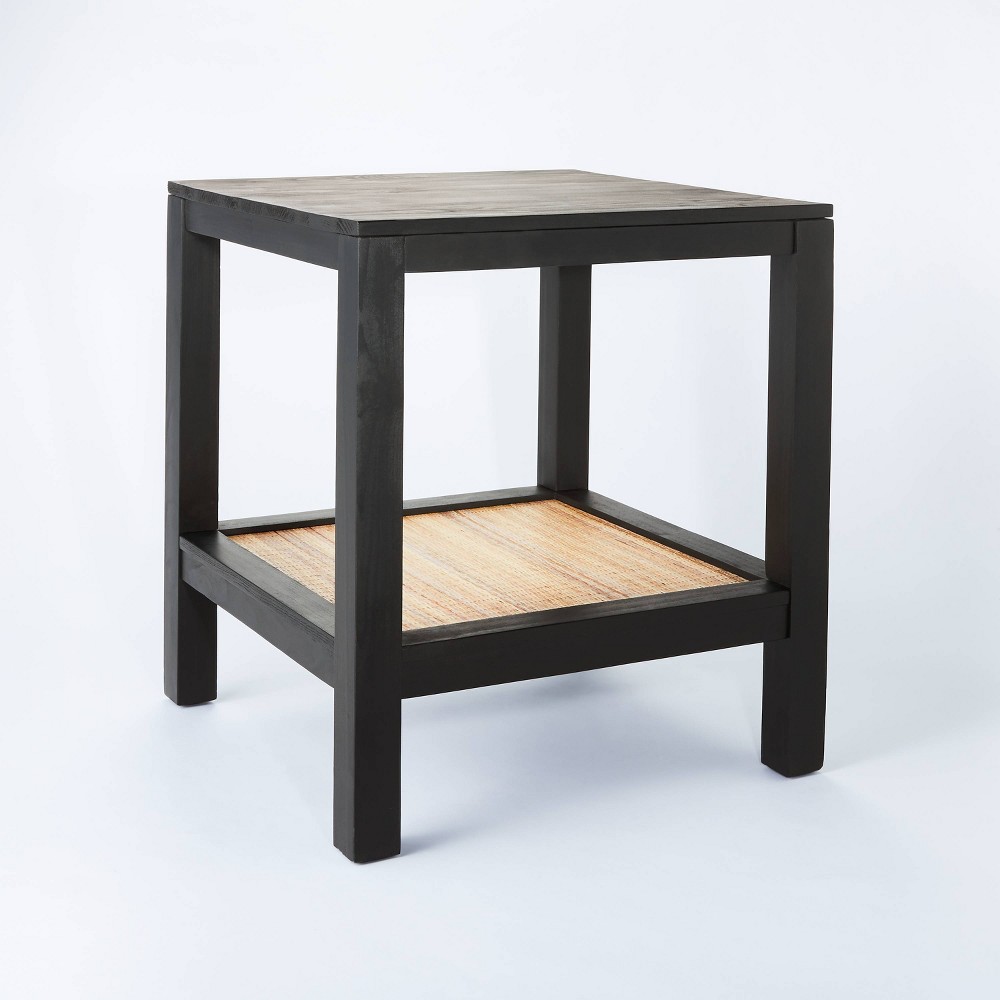 Accent Table with Woven Rattan Shelf – Threshold™ designed with Studio McGee
"You'll love how the streamlined design of this Accent Table with Woven Rattan Shelf from Threshold designed with Studio McGee brings just the right touch of interesting detail to any living space in your home. This square wood accent table comes in a matte black finish that is easy to pair with a range of different decor styles, along with having a lower shelf made from woven rattan in a light, natural hue for textural appeal. Whether you place it between two armchairs or next to a couch, this black accent table makes the perfect functional pick with its easy style."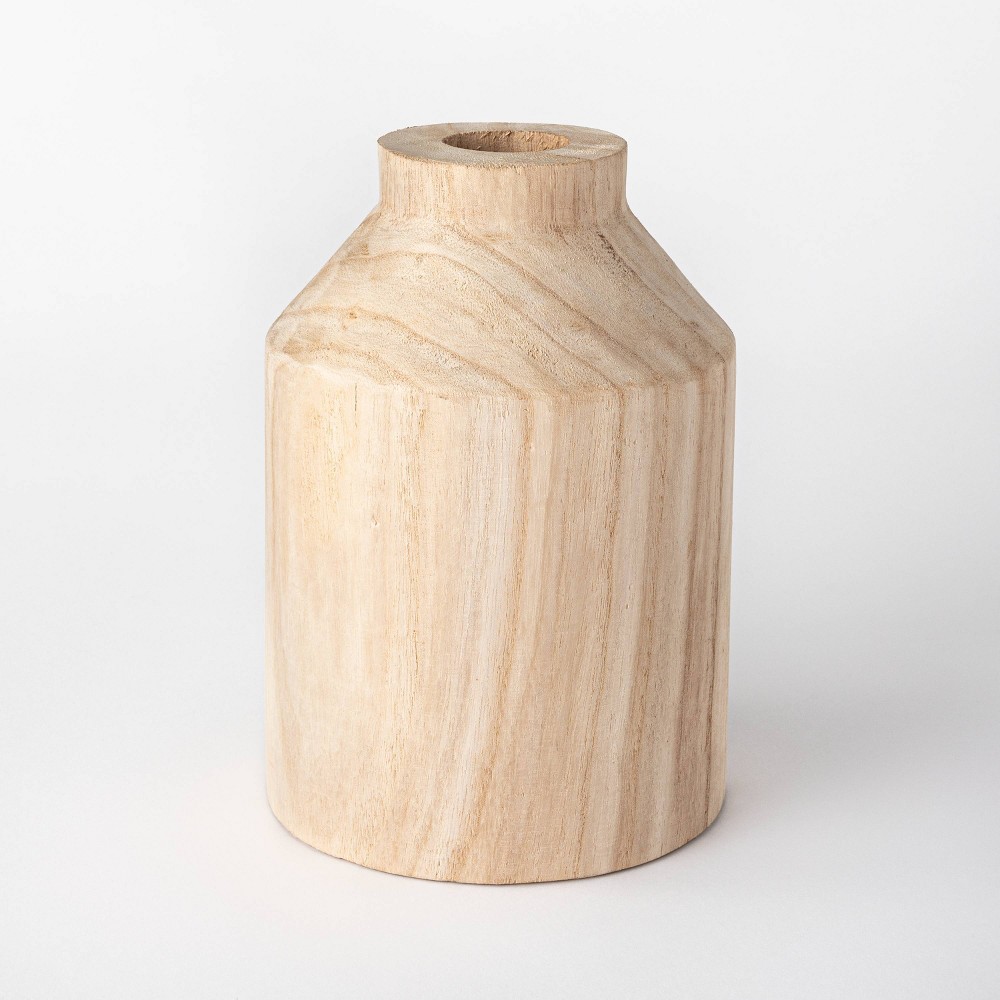 9″ Decorative Wooden Vase Natural – Threshold designed with Studio McGee
"Update your interior decorating with the Decorative Wooden Vase from Threshold designed with Studio McGee. This decorative vase features a cylindrical shape that tapers toward the top for a dynamic, modern feel that adds extra character to any room. It sports a natural finish so you can enjoy it as is or paint it with your favorite color to accommodate your color scheme. Perfect for end tables, shelves and mantels, this round wooden vase is sure to add a little charm anywhere you place it. "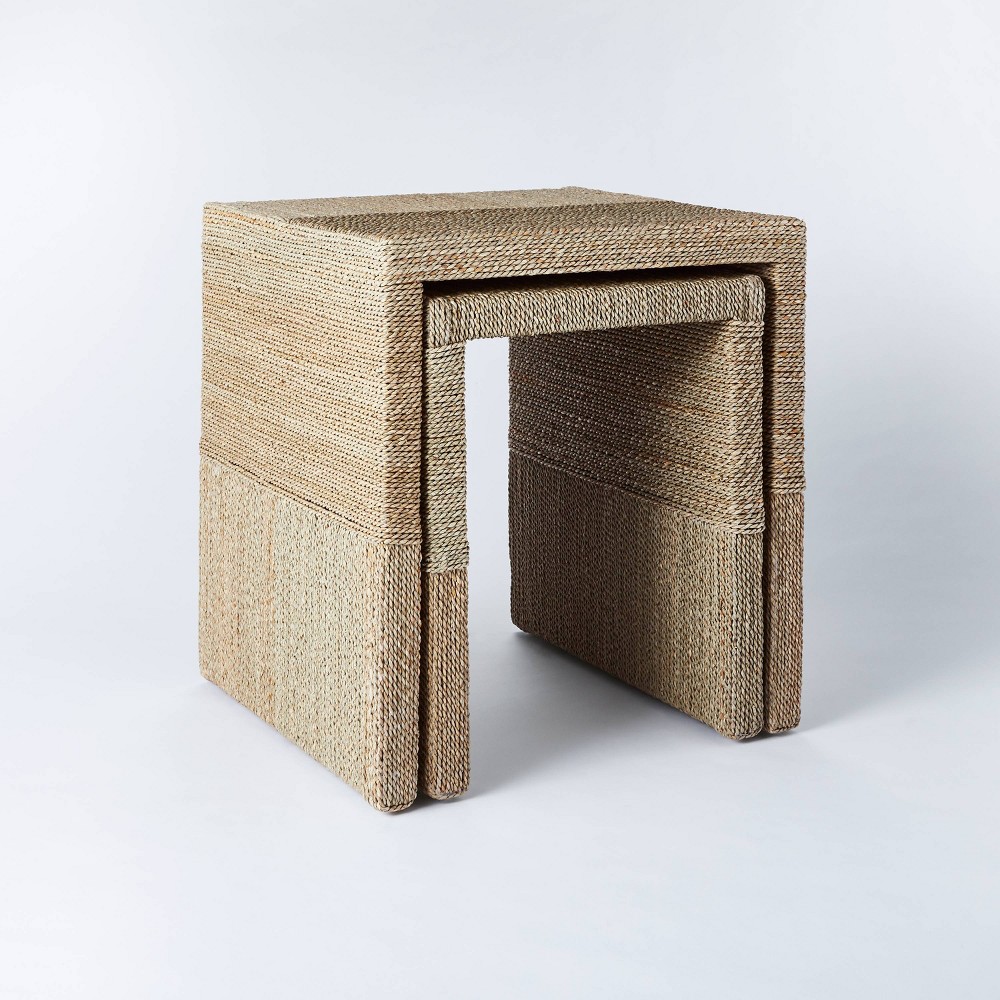 Set of 2 Woven Nesting Tables Natural – Threshold™ designed with Studio McGee
"Easily bring functionality to your home with the Set of 2 Woven Nesting Tables from Threshold? designed with Studio McGee, which instantly refreshes any living space with its streamlined style and interesting detail. This nesting accent table set comes in a natural woven design in a light color for textural appeal, while alternating panels add just the right touch of interest. Whether you place them between two armchairs or next to a couch, this woven nesting table set makes the perfect functional pick with its easy style."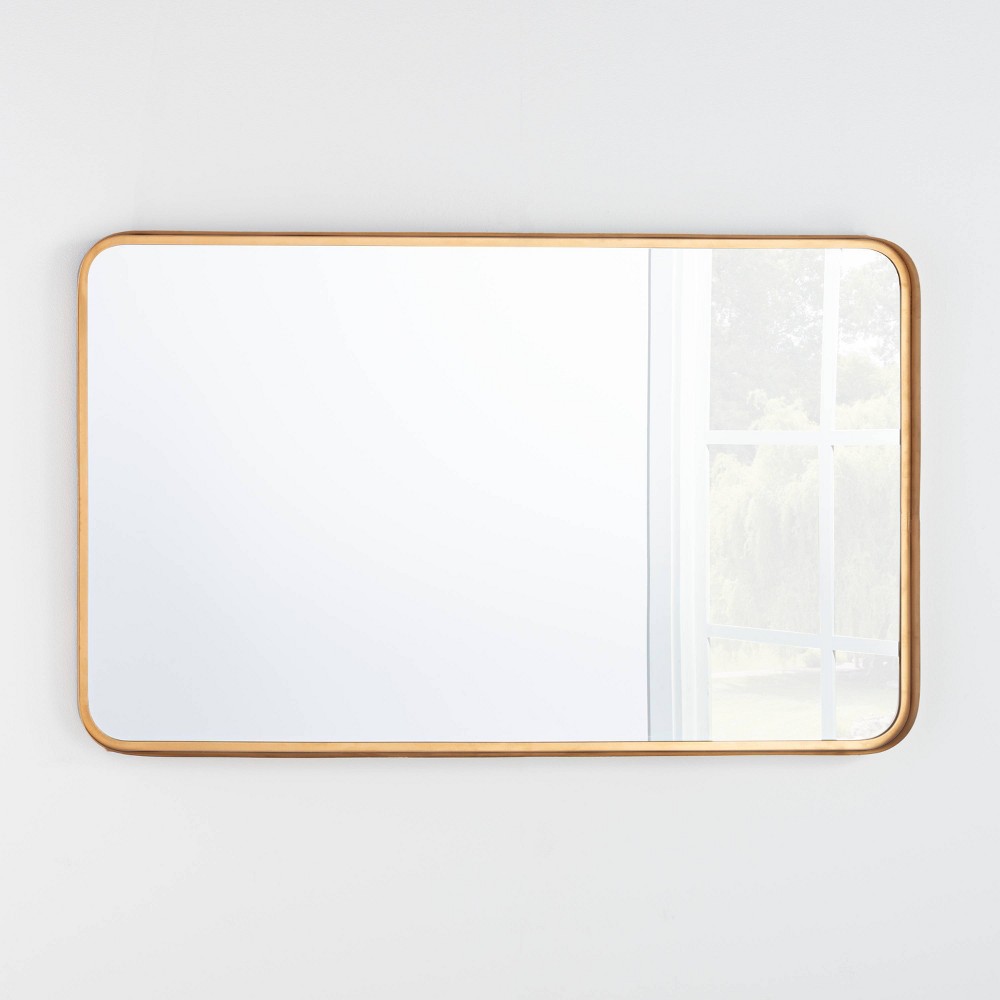 24″ x 36″ Rectangular Decorative Mirror with Rounded Corners Brass – Threshold designed with Studio McGee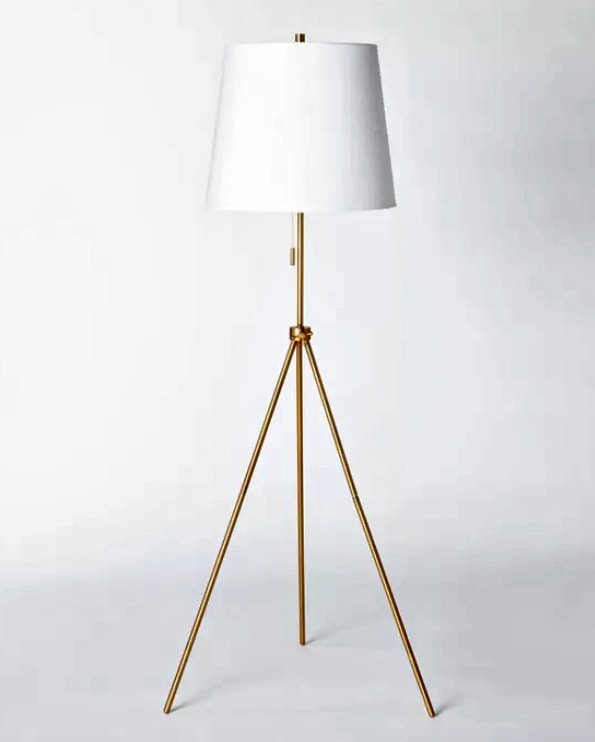 Metal Tripod Telescoping Floor Lamp – Threshold™ designed with Studio McGee