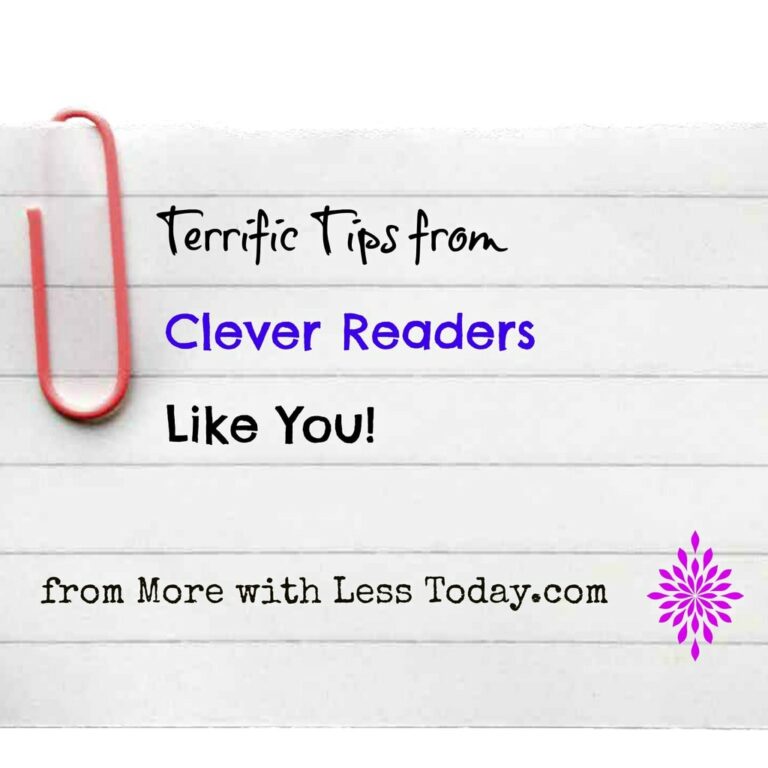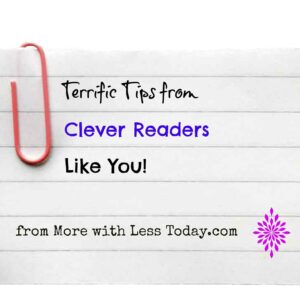 Do you love to learn clever, brilliant, and simple tricks that take just minutes and make you say wow! Me too! I have been collecting these for years and love to share them.
You may want to bookmark this page so you don't miss a trick. Please share this with your friends and share your favorite ones with all of us!
Keep wrapping paper neat by using toilet paper rolls as cuffs! great idea- Thanks to SiriuslyMeg.
Do you have clothes in your closet that you never wear?
Once or twice a year, remove everything from your closets. Wipe down the walls and baseboards and vacuum the floor. Turn all your hangars the wrong way and then, after you wear an item, rehang it in the opposite direction. Consider donating the clothing that is still hung the "wrong way" if you have not worn the item after 6 months.
Tack up a pool noodle to your garage wall where you park to avoid those door dings! This useful tip was found on Pinterest here.

:: Easy Green Cleaning Shortcuts:
Cleaning a water stain off a wood surface is today's useful tip from TLC "Green Home Cleaning Tips".
You can quickly get rid of the water mark by making a thin paste of salad oil or lemon oil and salt. Wipe the paste on, then lightly buff the area as you wipe it off with a soft cloth.
My blue pot was full of mineral deposits before soaking it in vinegar.
A quick soak in vinegar and a little scrubbing with a rough sponge. Pretty nice!
Read about 45 Uses for Vinegar (thank you to my good tipper Josephine!)
Using Leftover Coffee and Tea for Household Tasks
Household Uses for Leftover Coffee and Tea – I found several clever new ideas, read my post here. What do you do with leftover coffee and tea?
A Tip for Cleaning Greasy Tools
Coke or Diet Coke can be used to clean tools and mechanical items that have become gummed up with grease and oil. Soak them overnight in a bath of Coca-Cola or Diet Coke. This makes you think about what the Coke does in your stomach! From 1,001 Old-Time Household Hints: Timeless Bits of Household Wisdom for Today's Home and Garden
:: Health & Beauty Tips
You can improve your eyelashes, remove hairspray from mirrors, and more using simple items from the drug store.
Clean up self tanner: A q tip can clean up self tanner from your cuticles, elbows, and backs of your knees.
Control blemishes: Use witch hazel to reduce inflammation on pimples.
Grow your eyelashes: Put Vaseline on your eyelashes before bed to grow them longer and thicker over time.
Get hair spray off of mirrors: Wipe down your mirror with rubbing alcohol to get residue off.
De-oil your hair: Soak up excess oil from your hair with epsom salt.
Remove foot odor: Soak your feet in epsom salt to get rid of foot odor.
Protect rubber gloves: Put cotton balls under your nails to protect them and your rubber gloves from puncture.
Soften hard skin: Coat feet, elbows, and cuticles with Vaseline to soften them.
Get odors off your hands: With rubbing alcohol, you can remove harsh odors from your hands.
Get gum out of your hair: Work gum out of your hair with Vaseline.
Shrink under-eye bags: Witch hazel can tighten up skin and reduce bagginess.
Heal bruises: Dab on witch hazel a few times a day to fade bruises.
Conceal hair roots: Run a q tip with matching eyeshadow over your roots.
Soothe and prevent razor burn: Apply witch hazel to help irritated hair follicles.
Soak your toothbrushes in hydrogen peroxide: Kill germs on your toothbrush by soaking them in hydrogen peroxide.
Whiten your nails: Mix baking soda and hydrogen peroxide, and swab it over fingernails with a q tip.
:: Natural Pest Repellents
Make a homemade mosquito trap from a soda bottle- click here to learn how to do this.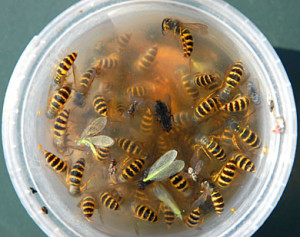 Recipe for a Homemade Wasp Trap using vinegar, sugar, and salt. Thank you to CompleteGarden for your tutorial!
Bugs in the Sandbox?
Try sprinkling cinnamon in the sandbox to repel the little bugs that like to play too. Test your child for sensitivity first. As an added bonus, they might come out smelling like a little cinnamon roll! From DoItYourself.com.
Keep Critters out of the Garden
Keep pests out of your garden with a mixture of coffee grounds and orange peels. This works for cats too who might want to use your garden as a litter box. Today's useful tip is from All You Magazine.

My beauty tip was featured in All You Magazine !

Stay tuned…. I will be adding even more terrific tips from clever readers to make life a little easier!
Follow My "Terrific Tips" Board on Pinterest HERE. Are you on Pinterest too? Send me your Pinterest link or name so I can follow you back!
Send me a favorite tip to share and join the "good tippers" found here at More with Less Today. Are you on Facebook? Post your tip to our Facebook page so everyone can benefit!