If you are a dog lover like me, check out these adorable and affordable products we found. My rescue dog Buddy always gets a gift or two, he is just a little bit spoiled. I am going to try the mess-free toys because he likes to pull the stuffing out of his toys in no time flat.
All of these dog-themed gifts for dog lovers are available from Chewy.com so you can read reviews too.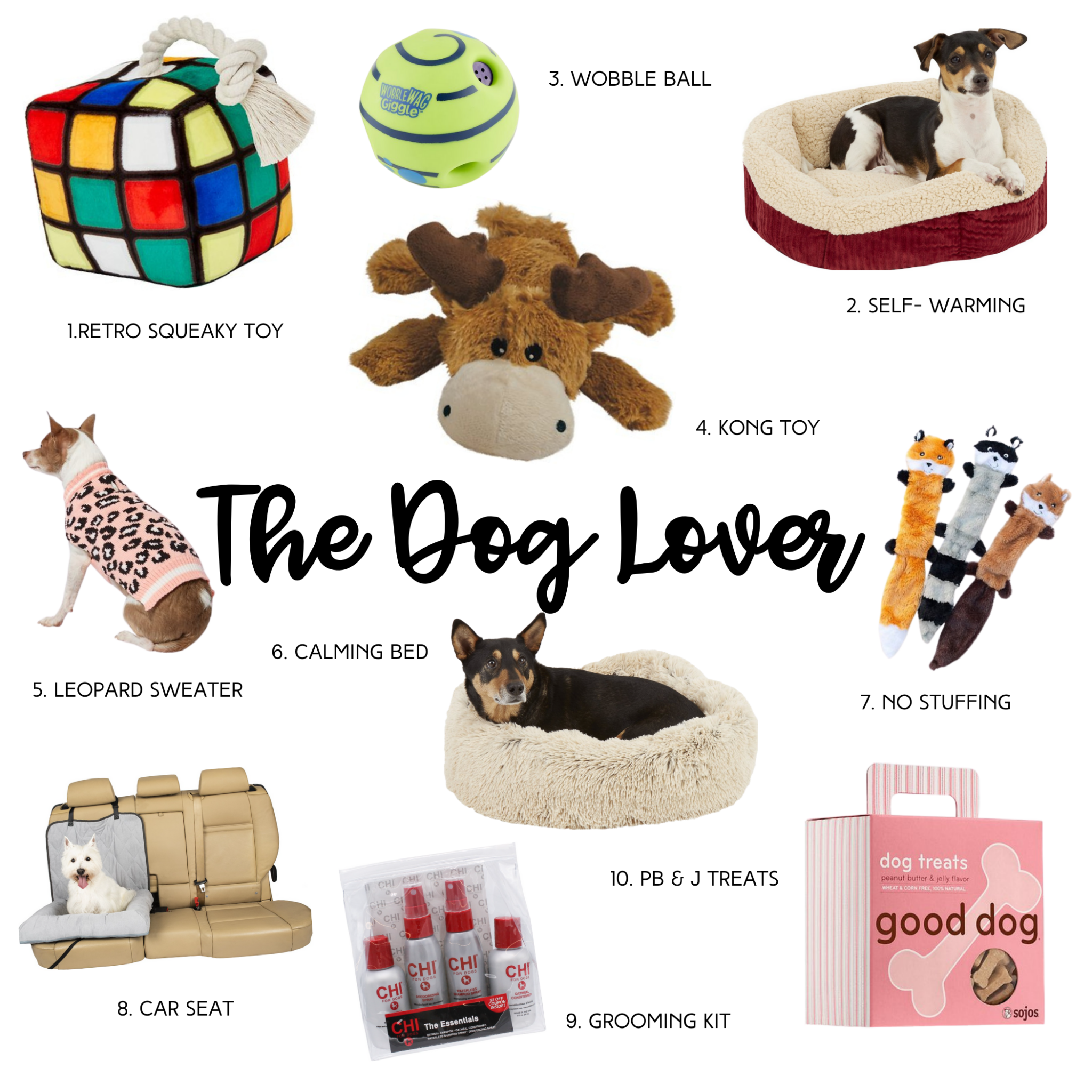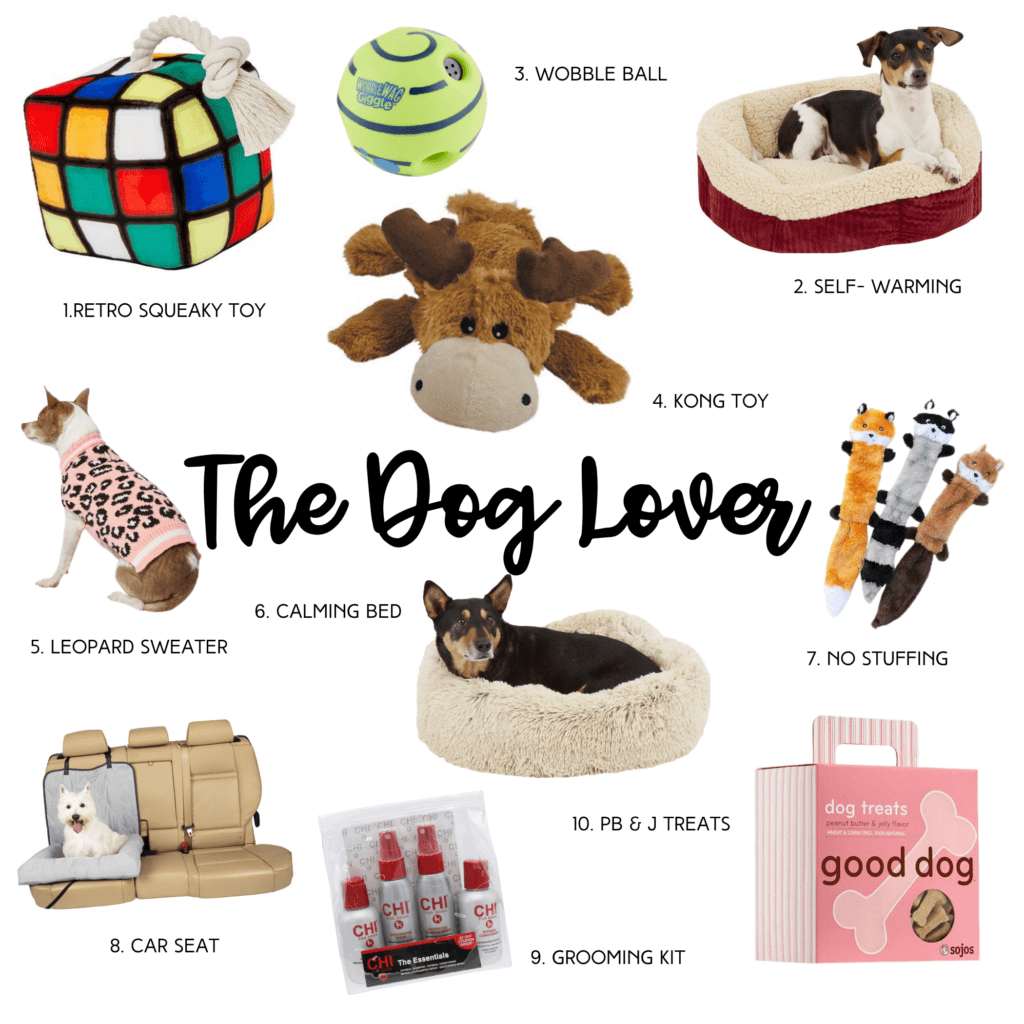 The Dog Lover – Gifts and Products for Our Dogs
We have affiliate relationships which means we may earn a small referral commission at no additional cost to you if you shop using our links. As an Amazon Associate, I earn from qualifying purchases.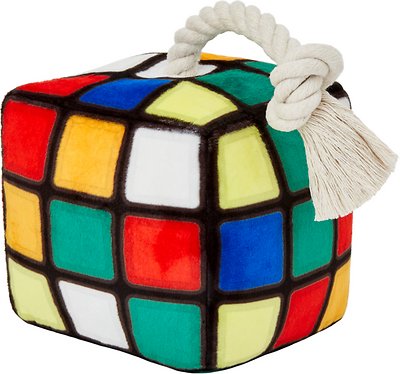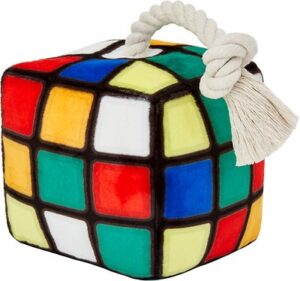 "This pup puzzle is perfect for nostalgic pet parents who love a throwback vibe! It's got a plush, polyester cover that's easy on your dog's mouth, it's stuffed with soft, squishy filling that's great for catching and carrying (with an exciting squeaker, too!) and it's got an attached rope toy so you can have some interactive playtime with your pet! Add a little flashback fun to their toy collection with this toy."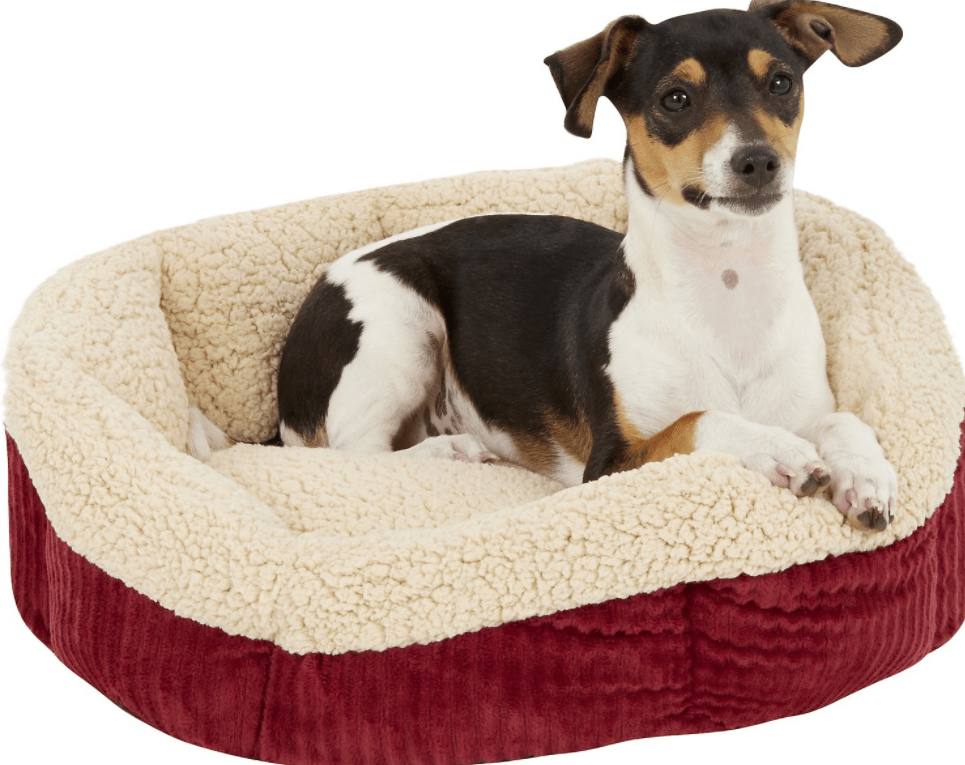 2. Aspen Pet Self-Warming Bolster Cat & Dog Bed, Warm Spice/Cream
"Aspen Pet self-warming beds utilize the same technologies used in items like space blankets to create a safe, convenient way for pets to stay comfortable in cold climates. Warm and cozy fabrics include faux lambs wool plush with contrasting corduroy."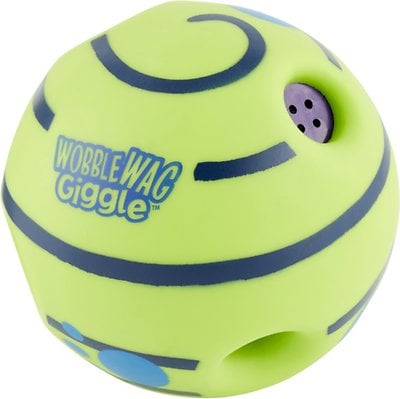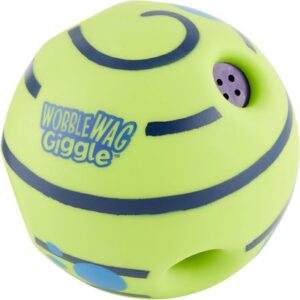 3. As Seen on TV Wobble Wag Giggle Ball Squeaky Dog Toy
"Wobble Wag Giggle Ball Dog Toy is an interactive play ball that engages your dog's natural curiosity and instinct to play, with super funny sounds, and unique colors and motion designed to mimic human laughter and joy. Three tubes inside the ball let out sounds when it rolls around, all without the need for batteries. Your dog will have tons of fun whether you're around or not, and the sense of accomplishment she will feel when she catches and shakes it will leave her happy and proud."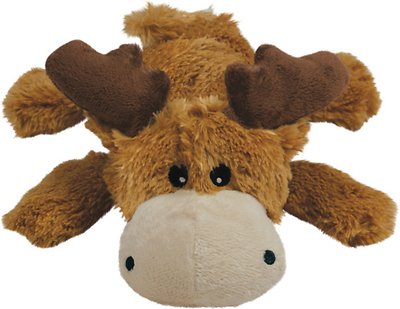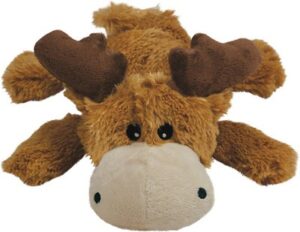 4. KONG Cozie Marvin the Moose Plush Dog Toy
"The KONG Cozies are cute, soft and cuddly plush toys made with an extra layer of material, so they're extra tough. Cozies are perfect for a game of fetch or as a comfort toy for your furry friend. Grab one of the 10 amazingly cute Cozie characters for your dog and we know your dog will love you for it."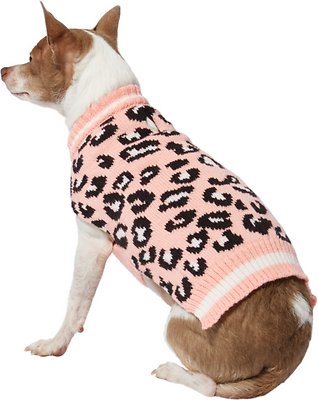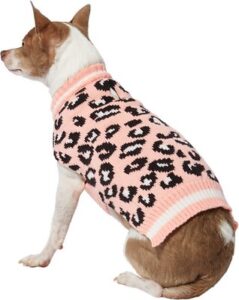 5. Frisco Leopard Print Dog & Cat Sweater
"For your furry fashionista at home, there's nothing better than leopard print! This fabulous, pullover sweater is not only adorable and fashionable, it's functional too. With its higher cut in the belly and leash hole in the back, your pet will never have to take it off, whether you're just out for a walk together or in the backyard for a quick potty break."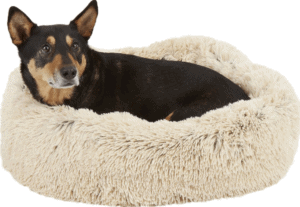 6. Best Friends by Sheri The Original Calming Shag Vegan Fur Donut Cuddler Cat & Dog Bed
"Help your furry friend get the restful sleep she deserves with this Luxury Shag Donut Self-Heating pet bed. The round design creates a protective atmosphere, while the bolstered edge gives additional orthopedic support and serves as a paw-sitively purr-fect headrest. Unique insulation layer radiates warmth from your pet's own body heat. It's machine washable, dryer-safe and comes in a soft faux-shag material that will keep your pal warm, cozy and comforted."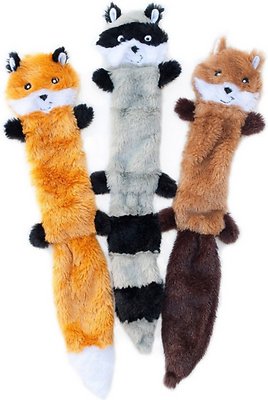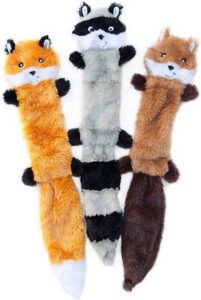 7. ZippyPaws Skinny Peltz No Stuffing Squeaky Plush Dog Toys, 3-pack
you can also find Zippy Paws dog toys on Amazon.com
ZippyPaws Skinny Peltz No Stuffing Squeaky Plush Dog Toys feature three cute woodland-creature designs. This set includes a fox, a raccoon, and a squirrel, and each large plush toy is filled with two round squeakers for hours of squeaking action. These fun toys are designed for medium-sized dogs who love to squeak — with no stuffing to ensure they last longer with less mess.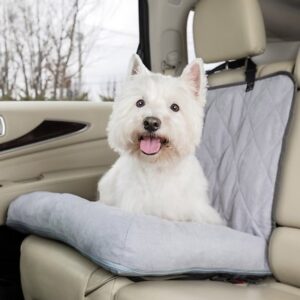 8. PetSafe Happy Ride Car Seat Dog Bed Bucket
"Your pooch can travel in comfort and style with the PetSafe Happy Ride Dog Bed Bucket. This bucket bed helps keep your pal comfy while along for a fun car ride. The soft microsuede lining and overstuffed bolster cushion helps provide a sense of security for anxious or restless pups. It features seat belt slits to allow the normal use of your car's seatbelts while the bed is in place. The adjustable strap is designed for easy set up on any front or back seat with a headrest. It includes a seat anchor and lower strap to help the bed stay put while the car is moving. The durable material also helps protect your seats from fur and other pet messes and is machine washable for easy clean up. A car ride was never so paw-fectly cozy!"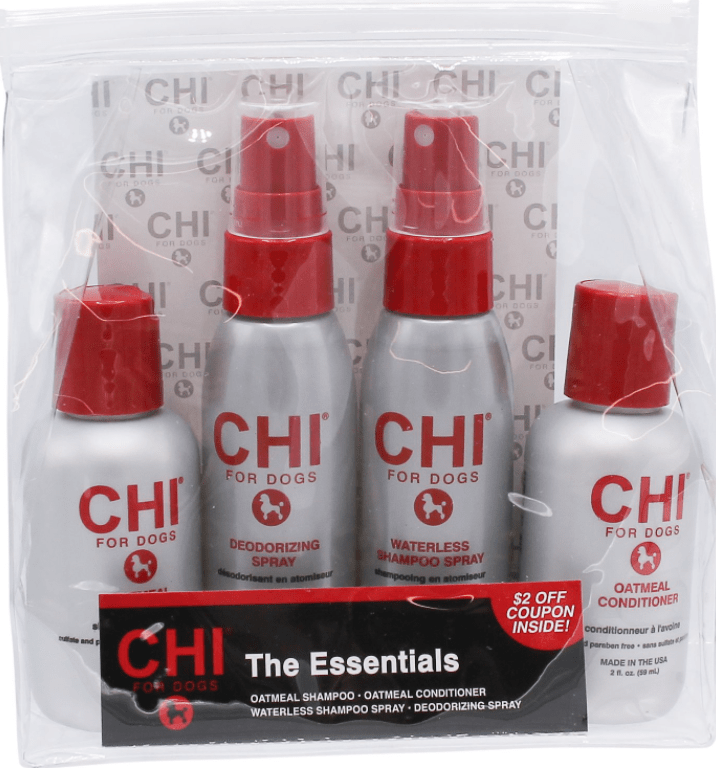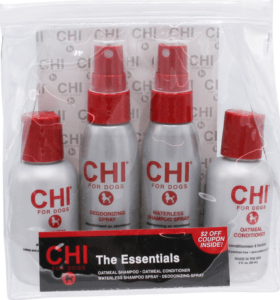 9. CHI Grooming Essentials Dog Kit
"CHI Grooming Essentials Kit comes complete with everything you need to get your dog looking her best! Kit includes CHI Oatmeal Shampoo, Oatmeal Conditioner, Waterless Shampoo Spray and Deodorizing Spray. All were developed with the same technologies as CHI's professional salon human lines. Paraben and sulfate-free, these products safely and mildly cleanse and condition your pup's coat."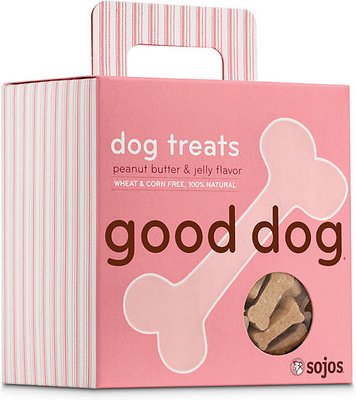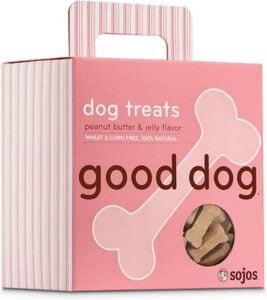 10. Sojos Good Dog Peanut Butter & Jelly Flavor Dog Treats
"It's always peanut butter jelly time with these Sojos Good Dog Crunchy Natural Dog Treats. These delicious bite-sized snacks are savory-sweet and full of crunchy good flavor, in a small bone shape that's perfect for little dogs and big buddies alike. They boast a short, simple ingredient list full of tasty ingredients you know, and they're wheat-free and corn-free to avoid allergies and upsets. Use them as yummy rewards, training treats and more. Your best friend will dance with joy every time you bring them out!"
Taking your dog on vacay? Check out our tips for pet travel.
PIN for Later