This is a sponsored post by Groupon Coupons, but as always, all opinions are 100% mine.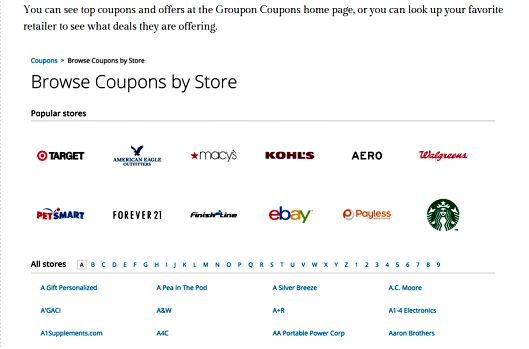 Did you know that you can get coupons to save at your favorite department stores from Groupon? That's right! In addition to saving your money on dining out, entertainment, gifts and getaways, just log in to your Groupon account to see how much you can save on retail shopping too.
If you are a regular reader of More With Less Today, then you already know that I hate to pay full price. I never shop without a promo code and I also like sites that make it easy to save money. I don't want to jump through a bunch of hoops to find a discount. Are we like-minded?
What are Groupon Coupons?
Think of Groupon Coupons as a free database of retail coupons with money-saving promo codes from more than 77,000 coupons from 8,900 stores. My favorite stores including Kohls, Nordstrom, Neiman Marcus, and Macy's all have current offers.
It's well organized and easy to use. The coupons display an expiration date making it easier to plan to save if you are not making your purchase right away. You can search by store or by category. If you know the category of what you are looking for such as jewelry, computers or pet supplies, use the search by category feature to help narrow down your options.
Save Big on Travel
Before you plan a trip, search the Groupon Coupon database to save on hotels, rental cars and airlines to really stretch those hard-earned vacation dollars.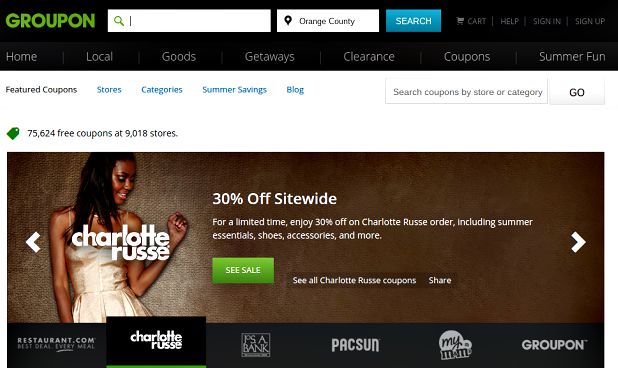 Back to school shopping time is here. If your kids are into certain brands, then you really need to make just an extra minute to stretch your dollars. Before you shop, log in to Groupon Coupons and see how much you can save!