This post is sponsored by Sivan Social. All comments and opinions are my own.
What is Facebook Portal? How to Stay Connected from a Distance
I haven't been able to visit my siblings since last year. When your family lives on the other side of the country, seeing each other frequently can be difficult in the best of times. I' m so happy I found Facebook Portal. It's like we're in the room together, even when we can't be.
I've been happier since using Portal. It is such an easy way to feel more connected. I've been missing my family so much. I know many can relate. I had to cancel two trips to visit them over the last few months and I'm not sure when I will see them again. If you have loved ones you are missing, whether they are near or far, Portal from Facebook can help you to bridge the gap until you can be together again.
Making time to stay connected with our loved ones is challenging these days but it is essential to our well-being. My husband can tell when I am feeling down even when I don't realize it myself.
I have Portal set up on my kitchen counter. It displays my Facebook photos just like a digital photo frame. Seeing pictures of my friends and family throughout the day really brightens my day. My husband and I have enjoyed seeing these pictures that have been buried in my Facebook account and it fills us with happy memories.
I can make a quick video call while I am doing dishes or starting dinner and the camera will follow me as I move around the room so the other person doesn't see a blank screen. It is so cool! I knew that Facebook Portal came out last year but I really didn't understand what it could do until I tried it. It is like several devices in one and it is so easy to use. Anyone who uses Facebook will be able to enjoy it.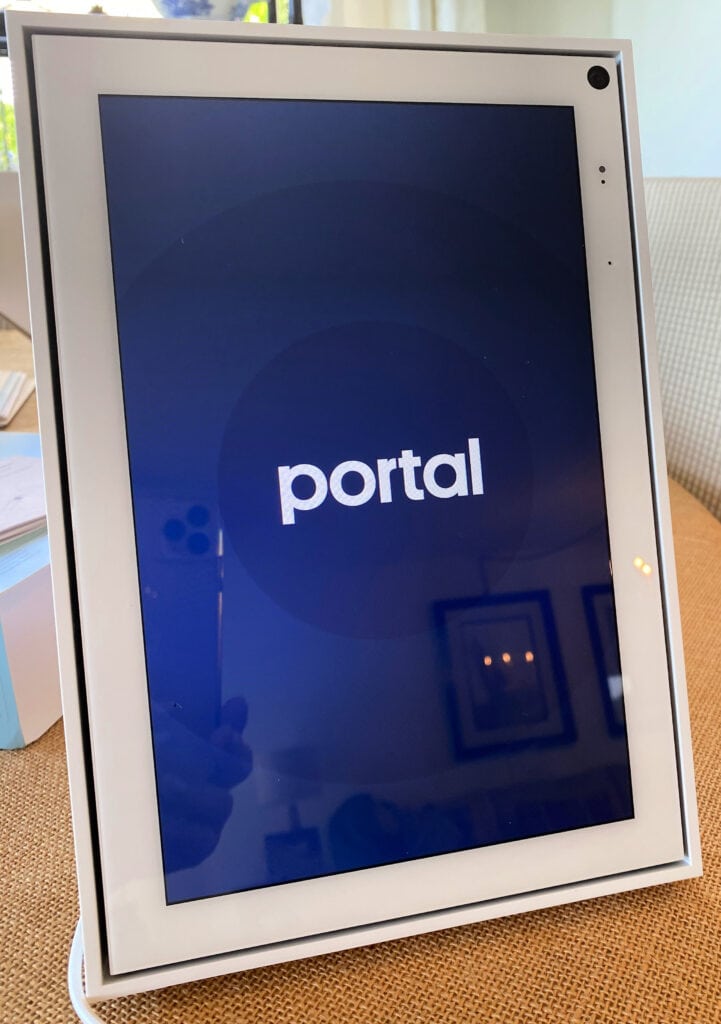 What is Facebook Portal?
Facebook Portal is a 10 inch HD Touchscreen video communication device that allows you to communicate with family and friends. It requires a Facebook account but your friends and family do not need to have a Portal to connect with you, just a Facebook account. You add them to your friend's list and then with a push, you can call them through Portal and it calls their Facebook Messenger.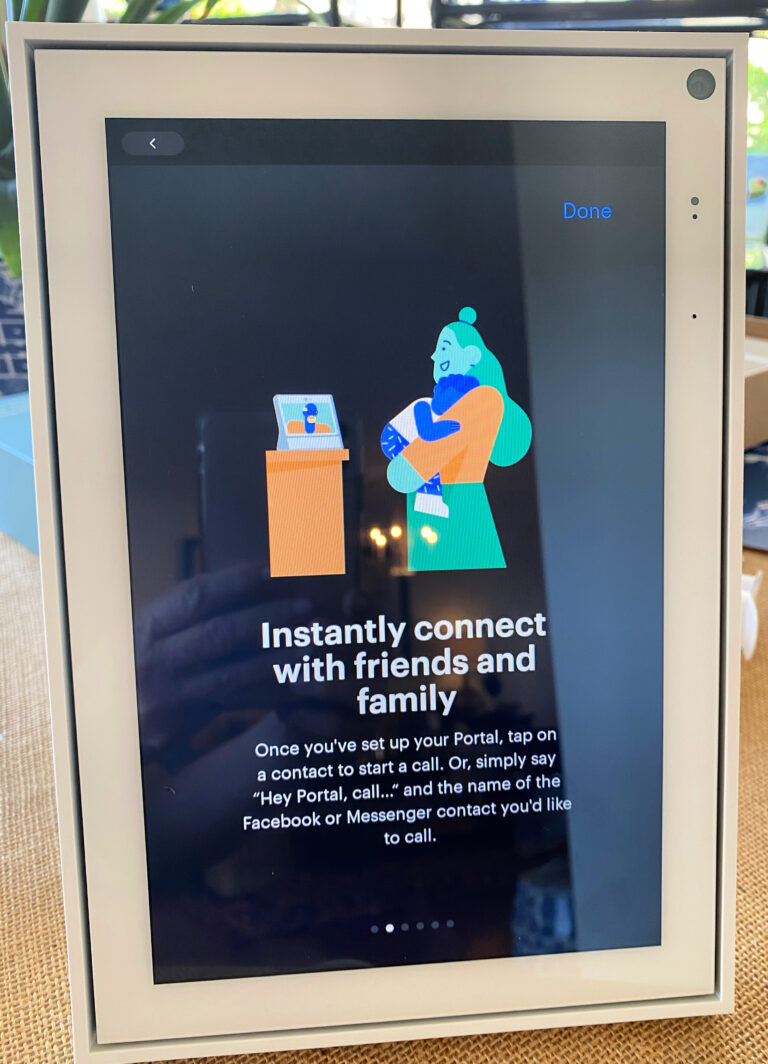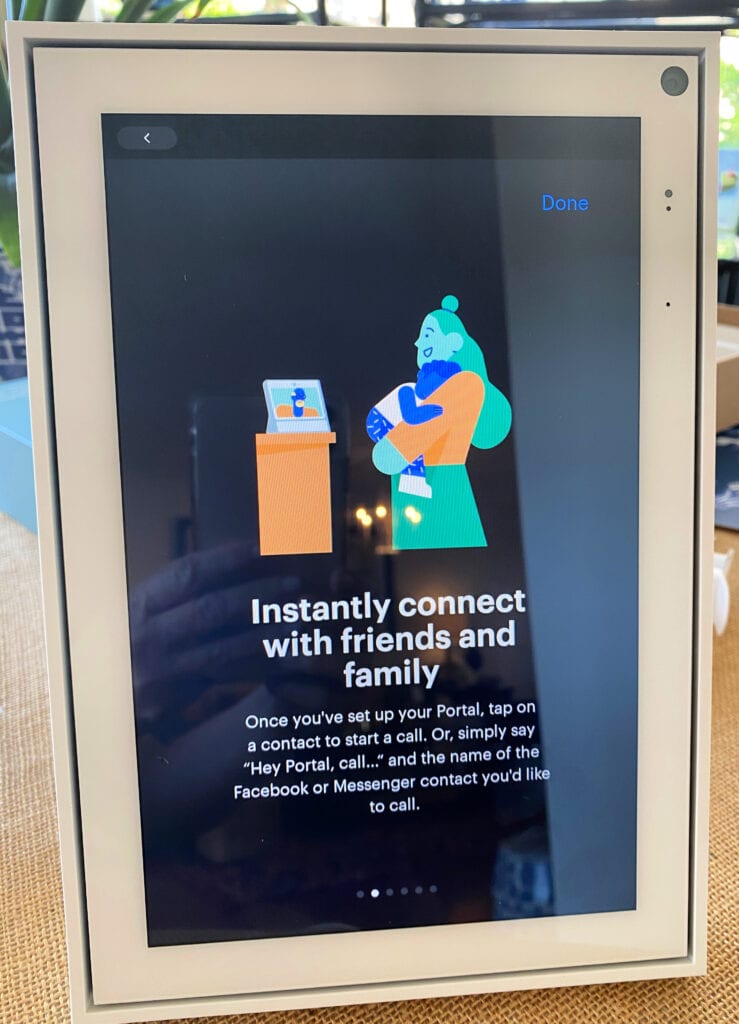 How Does Facebook Portal Work?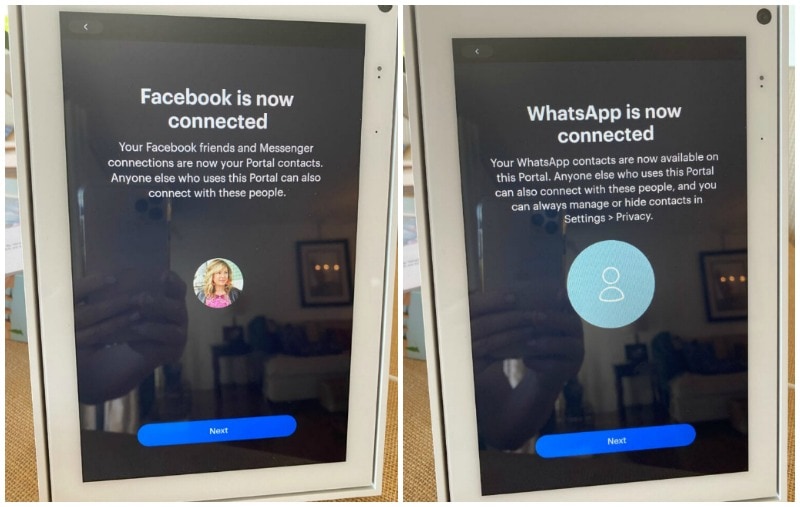 Facebook Portal works using your Facebook account/messenger or What's app and a wireless internet connection to make video calls. The person you are calling does not need to have a Portal. It can be used in portrait or landscape mode.
The first time you use it, you need to tell them that the call will not come through the phone, it will come through Facebook Messenger or What's app, whichever you use. Your call will appear on their phone, or tablet.
For privacy, you can close the camera feature anytime and also use a passcode to lock the screen. According to their material, Facebook does not listen, view or keep the content of your video or audio calls.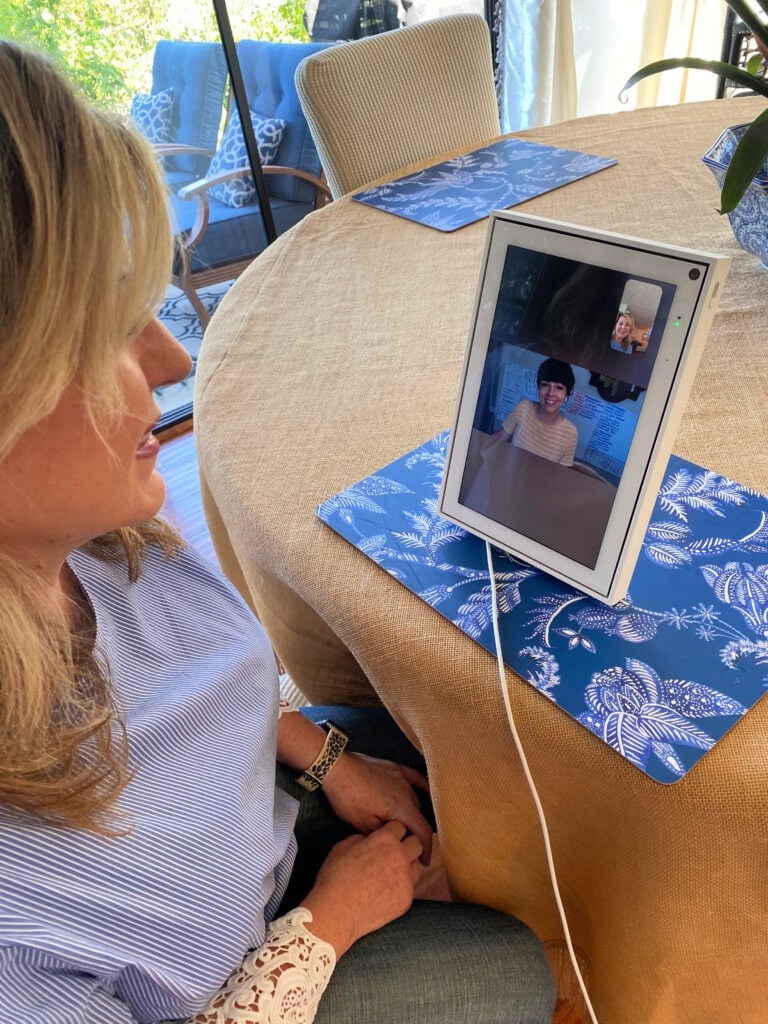 Features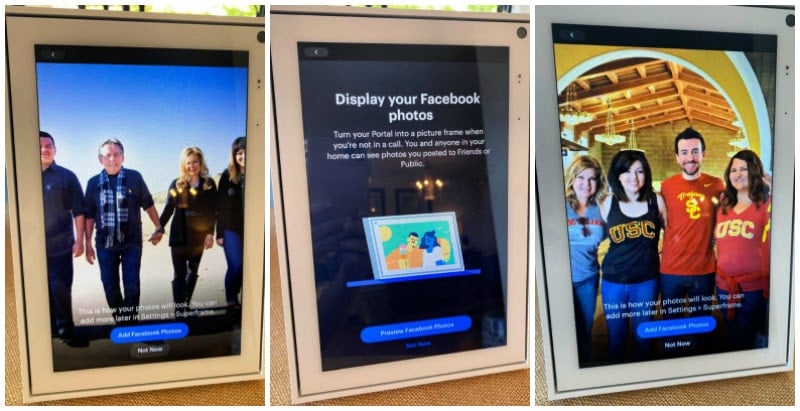 Facebook Portal features a 13 MP Smart Camera that uses AI to automatically pan and zoom so you never miss a minute of the action while the view widens to up to a 114° Field of View to keep everyone on screen. Smart Sound minimizes background noises while enhancing the voice of whoever is talking. Video calls are encrypted for security.
Use the Photo Booth feature to create and send themed cards. When not in being used for video calling, Facebook Portal is a photo frame that displays the pictures from your Facebook and/or Instagram account, provides birthday reminders, and shows you friends to connect with.
Apps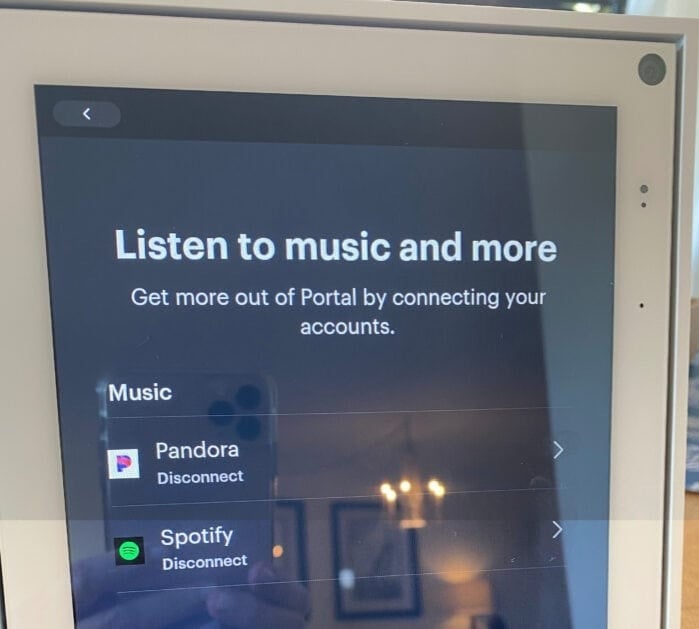 Facebook Portal includes many apps such as Alexa built-in, Workplace, Spotify, Pandora, Prime Video, Facebook Live, Facebook Watch, Instagram, Sling, ABC News Live, Words with Friends, and more.
I've been using Pandora to play my favorite music while I work. I've decided to stop watching the news so much. Listening to music helps my mood. How about you?
Facebook Portal and Alexa
With Alexa built-in, you easily use your Facebook Portal with your voice. During the setup process of your Portal, link it to your Amazon account and sign in to activate the Alexa feature. Wake Alexa up by saying "Alexa" then just ask to play your favorite music on Spotify or Pandora, set a timer, get the weather, watch the news, or control your smart home. A visual cue will show on the Portal screen to let you know when Alexa is listening. Access Portal features such as calling or answering by saying "Hey Portal".
Story Time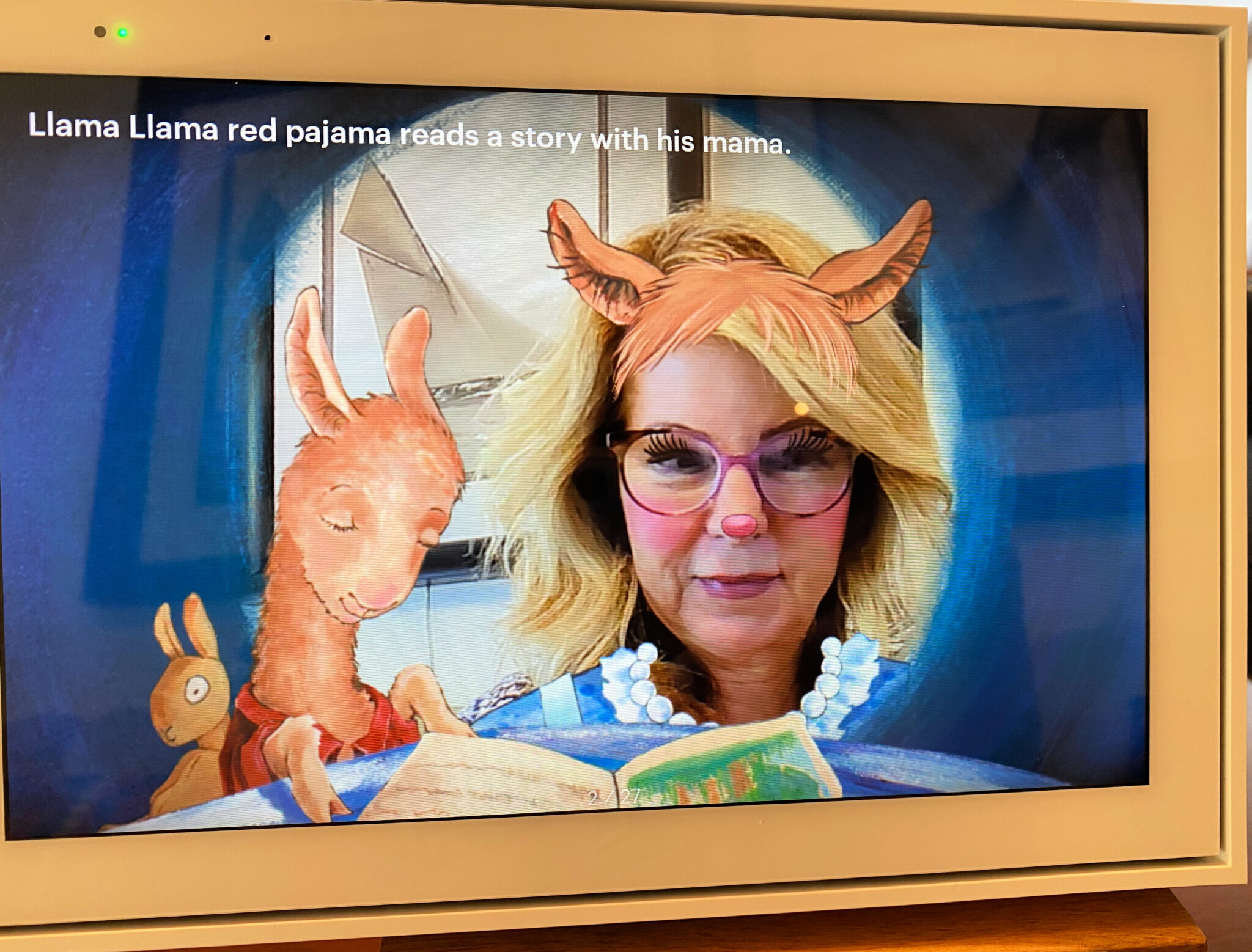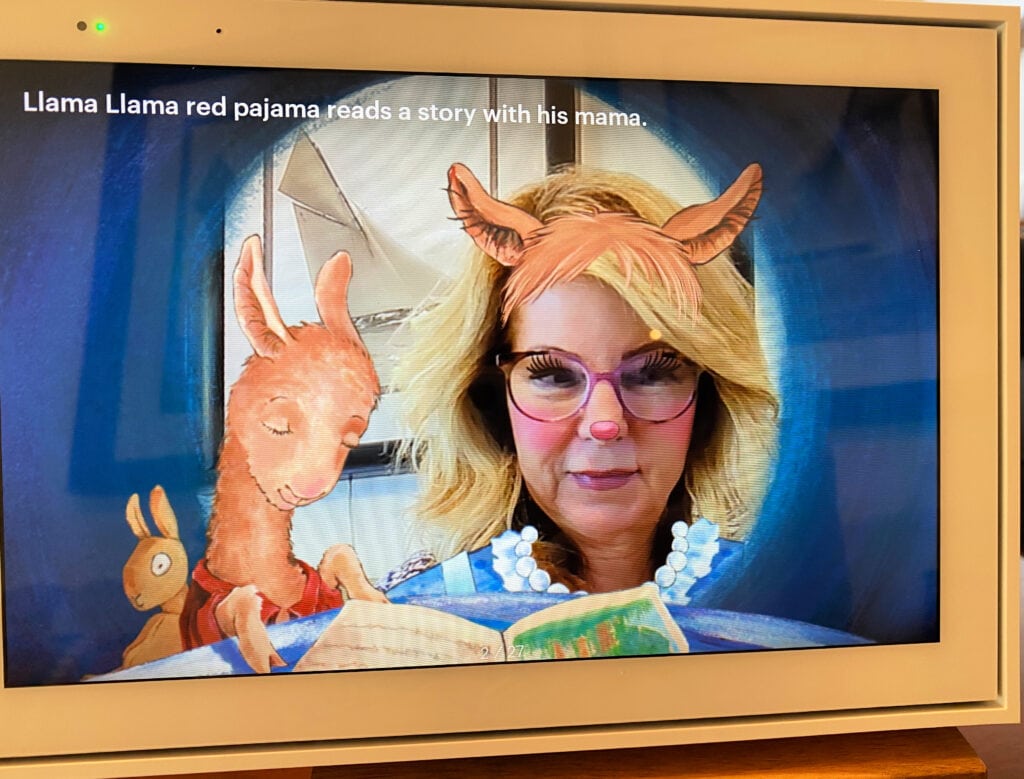 One of my favorite features of Facebook Portal is Story Time. It takes reading a story to my new grandson to a whole new level. Well-loved stories, such as Llama Llama, are brought to life with music, animation, and AR effects. You get to be part of the story while keeping others engaged with imaginative masks and animated characters inspired by the story you are reading. If you are familiar with Snapchat filters, the effects are similar and many of them have had my husband and I laughing out loud. It is delightful!
You can activate Story Time during a call or use it when reading a story together in the same room. A library of stories are built-in and more stories are automatically added to the library regularly for free.
Where to Buy Facebook Portal
Get your Facebook Portal at portal.facebook.com. Buy any two Portable devices and save $50, no coupon code required. Plus get FREE shipping. Order today! These make wonderful gifts for everyone, especially for those who are isolated right now. Mine came in less than a week so shipping was fast.
Here is a short video of me reading to my grandson. The special effects at the end are so precious! We've been having so much fun with our new Portal device. We are still exploring all of the features. I want to start sending themed cards since I am awful about mailing greeting cards on time.
For a more compact version, Portal Mini features an 8 inch HD screen or get a 15.6″ screen with Portal +. All versions have an HD adaptive screen that'll match the color and lighting of your room.
Take advantage of the $50 off offer at portal.facebook.com. Buy any two Portable devices and save $50, no coupon code required. Plus get FREE shipping. Buy one for your home and one as a gift. Staying more connected will make you happy too!