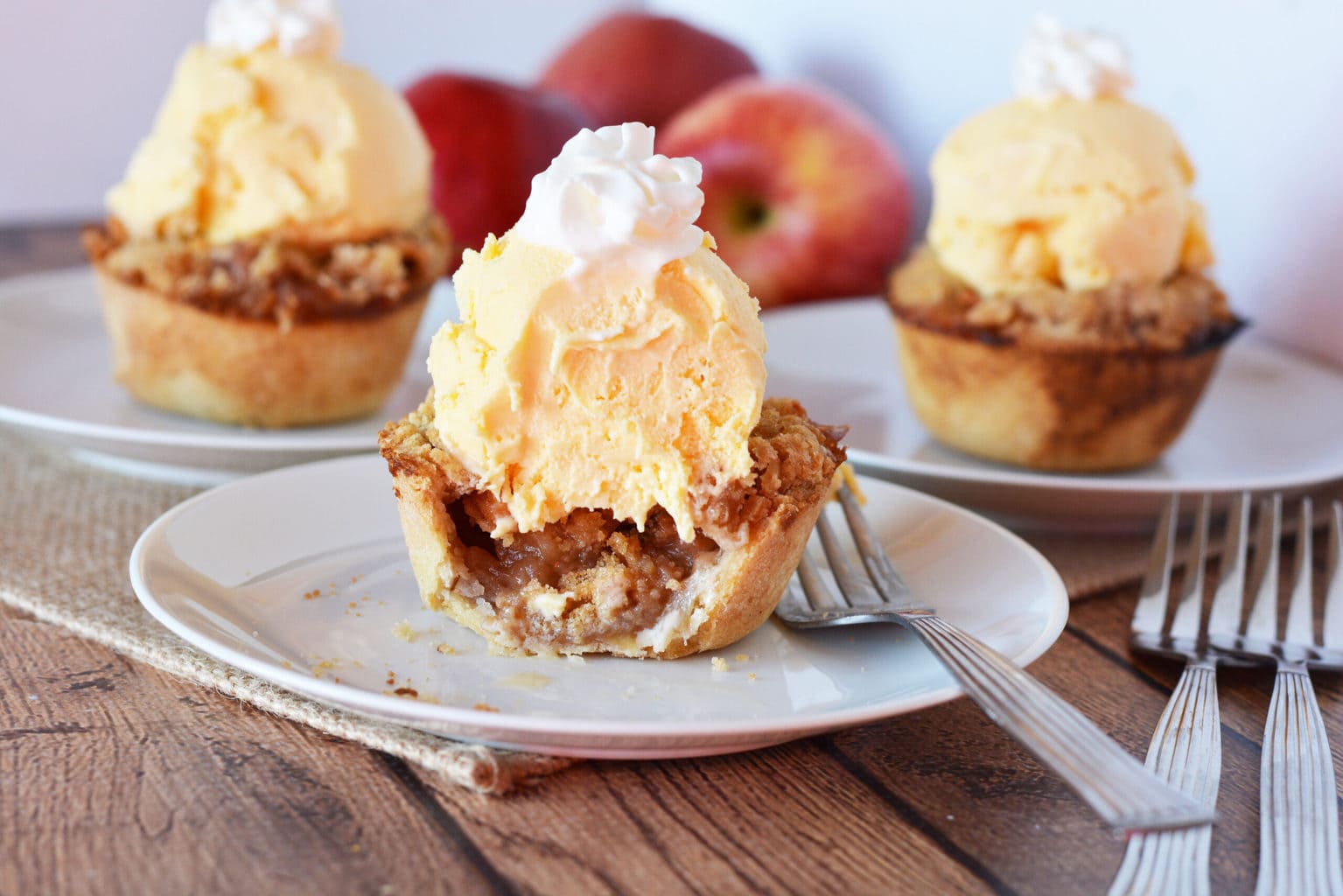 Mini Apple Pies
These mini desserts are made in a muffin tin. The recipe uses homemade dough, but you can use a refrigerated pie crust instead. Either way, these adorable mini apple pies are easy to make and the filling is so delicious. Everyone will be raving about them!
Topping Ingredients
1/2

cup

white sugar

1/3

cup

flour

1/2

teaspoon

cinnamon

1/4

cup

unsalted butter

, chilled
Other Supplies
Rolling pin

3

″ or 4″ round cookie cutters or use a large coffee cup turned over to make circles

Food Processor or Pastry Blender

Muffin Tin

Mixing Bowl
Filling Directions
Mix together the sugar, flour, cinnamon, salt, and cut up apples and set aside.
Crust Directions
Place butter, flour and salt into a food processor and process for 4-5 seconds. Add in water and process for 4-5 seconds more until dough forms. Or you can use a pastry blender and large mixing bowl to cut butter into the other ingredients.

Roll dough onto a lightly floured surface. Use a 3″ cookie cutter to cut out 12 circles. Place circles into a muffin pan, pressing them in the bottom and on the side.

Add the apple mixture leaving room for the topping.

If you are using a premade refrigerated pie crust, unroll it and use a large round cookie cutter to cut into round circles. Keep rolling the extra dough back and using a rolling pin to continue to roll out the crust. Press your dough into the muffin tin.
Topping Directions
Add all dry ingredients together and cut in butter with a pastry blender until crumbly. Sprinkle over top of apple mixture before baking.

Bake at 425°F until the crusts are golden brown and the apple mixture starts to bubble. It should take 18- 20 minutes depending on your oven.

Let the mini-apple pies cool in the pan and then carefully remove them with a butter knife. Serve with a scoop of vanilla ice cream or whipped cream on the top.