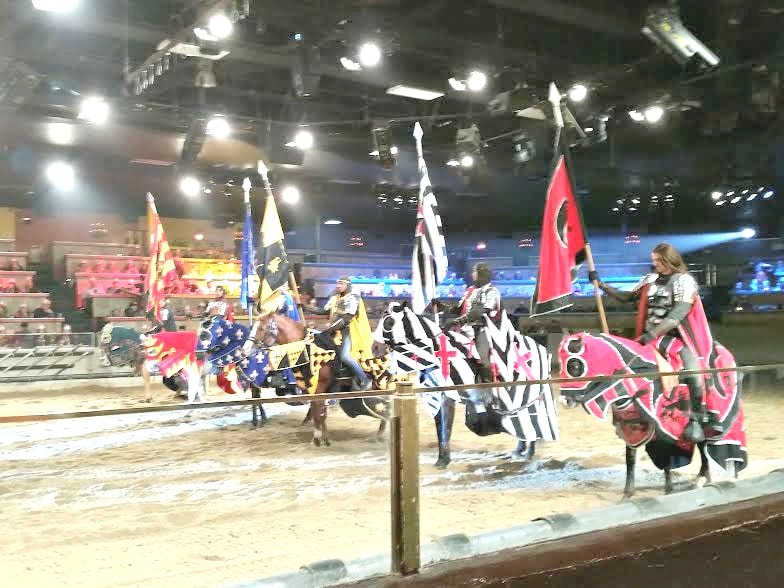 If you are looking for a very memorable family entertainment event, consider taking them to see a spectacular show at Medieval Times in Buena Park. My kids were spellbound and are still talking about it.
I wanted to start by commenting on the atmosphere when we arrived at the castle. They do an amazing job of making you feel like you just stepped into a 5th-century castle. This is achieved by the dress and demeanor of their employees/cast members and the beautifully designed displays.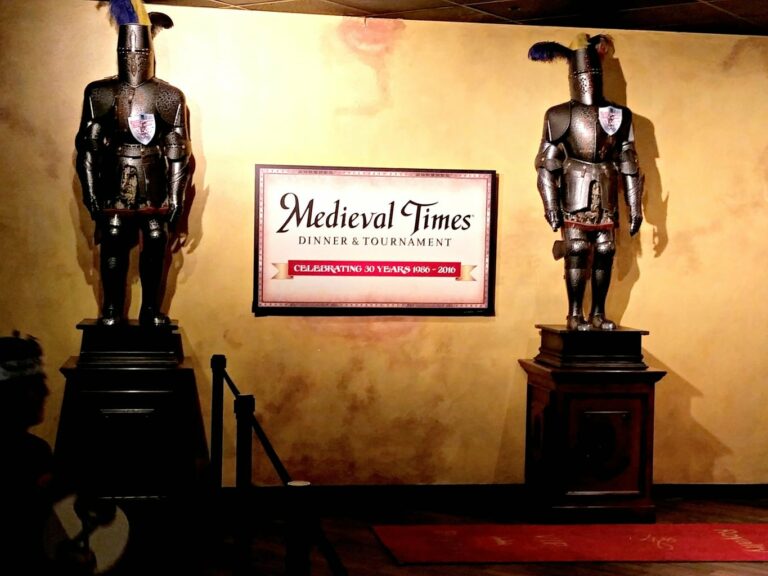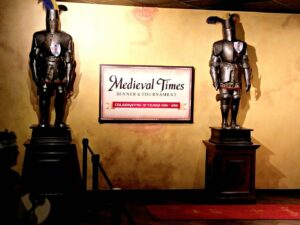 After being checked in we were assigned to a knight that we were to cheer for. This allegiance is established by the issuance of crowns that match the colors of our knight. We were given black and white, which made my sons day because his favorite "color" is black. Then we were seated in that knights cheering section.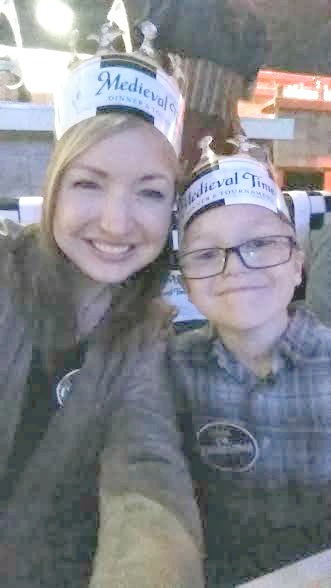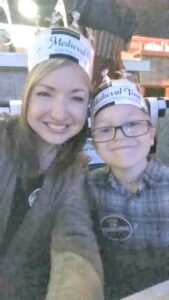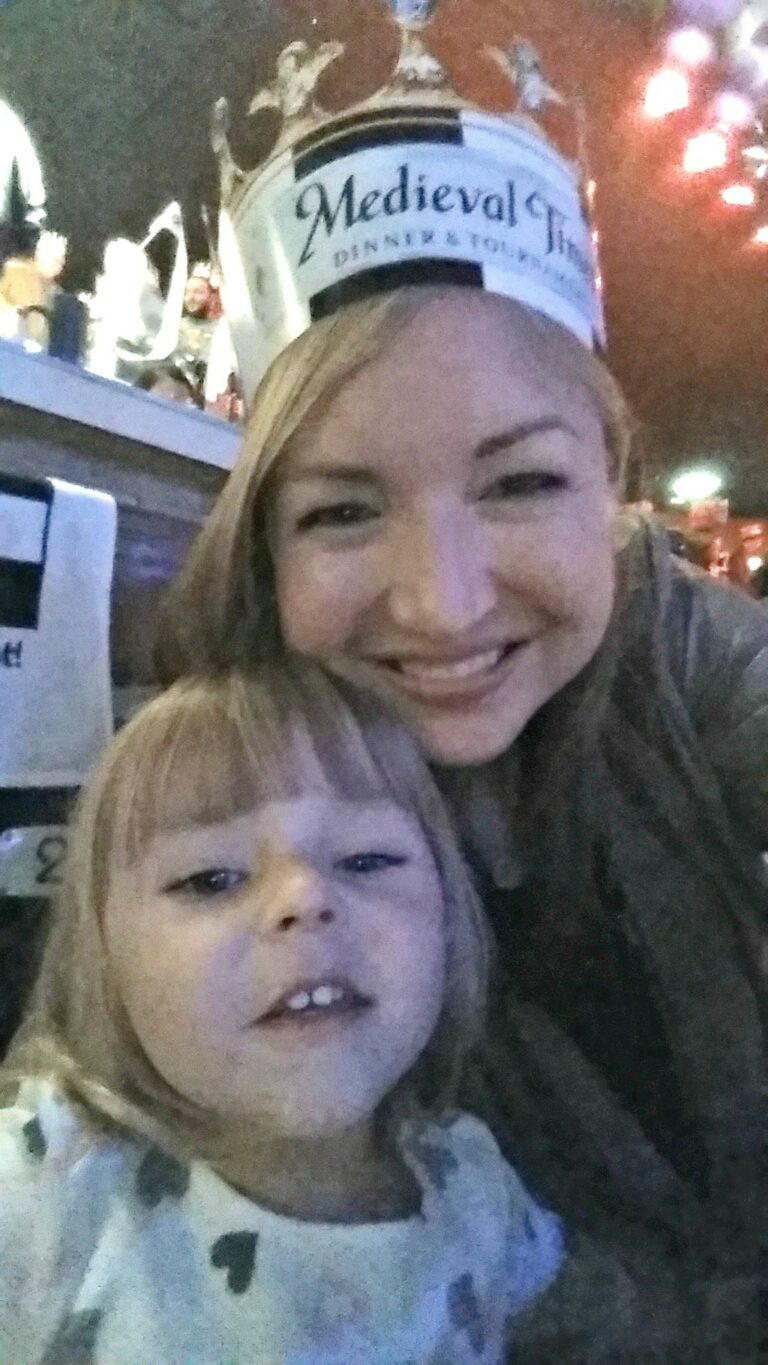 Soon after being seated the show starts with the introduction of the king and the princess who preside over the show. First,the king has his horse trainer display the amazing skill of the horses he has trained and we are given a brief education about their upbringing.
Then the knights come out to compete in one exciting battle after another. All start with the joust followed by hand to hand combat with weapons including; swords, spears, maces, and axes. One by one, the knights are eliminated until a champion is awarded.
We learned that all Knights begin their training as Squires – just as they did in the Middle Ages – learning horse care, sword fighting, and weaponry. It takes a minimum of six months of training to become a Knight. They perform with real metal weapons and wear authentic armor. During battle scenes, real titanium swords create sparks and every shield must be repainted after every show.
When jousting, the Knights charge at speeds of approximately 15 to 20 miles per hour and reach an impact velocity speed of about 30 to 40 miles per hour. Each year, 25 foals are born at Chapel Creek Ranch, where they spend two years training and then the horses enjoy retirement at the ranch after 15 to 20 years of performing. Medieval Times is the #1 breeder of pure Spanish horses in North America. You can get more information about the Medieval Times horses here.
At Medieval Times, 125,000 gallons of soup are served each year and 400,000 gallons of Pepsi are consumed.
At this point in the show, a menacing rider from a neighboring kingdom interrupts with a challenge that must be resolved. The only way that is fitting for such a venue is knight against knight. I won't tell you what happens because I don't want to spoil it for you but it is all very exciting.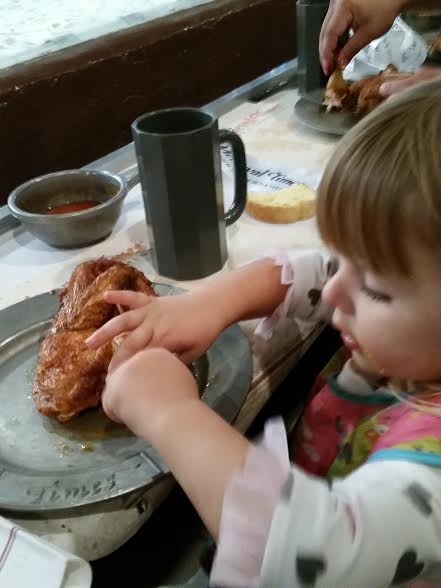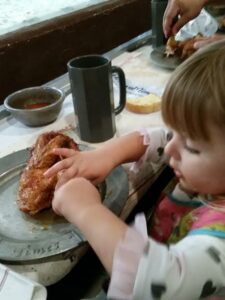 During the show, the standard fare is served including tomato bisque, bread, chicken, corn, and a beverage of your choice. The food was great and well received by both of my kids. My daughter couldn't get enough of the half chicken that she got to devour with her hands! Desert is a tasty pound cake and if you want you can have a cup of coffee.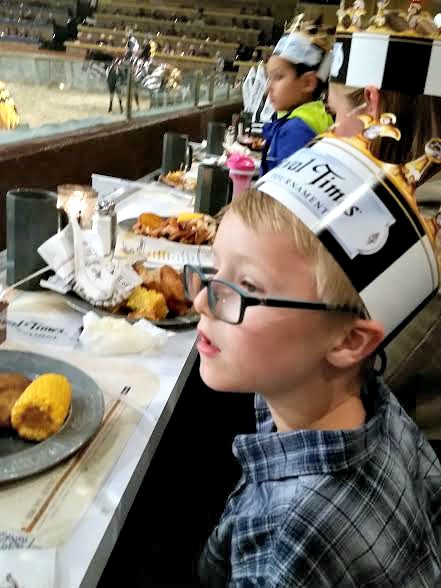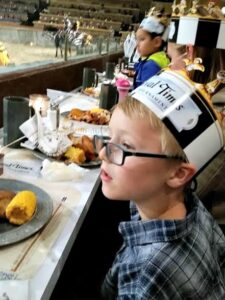 We really had a memorable time. Now is the perfect time to attend while they are running this great promotion:
Adults $36.95 and children (12 and under) $29.95 with the code MT3629 through 2/28/17. Go here to get your tickets.